The author of The Hundreds' daily streetwear, fashion, and tech reporting "The Feed," Peter Yeh, now brings us a weekly round up of the best of the best releases of the week. Beginning every Saturday starting today.
PUMA Disc "Crackle" Pack – Dat red crackle!!! Ever since Paul Walker wore Puma Suedes next to his Nissan Skyline R-34, the German sneaker brand has been on my radar. While I can't say much for the gimmicky Disc, I will say that the colorway was executed perfectly. Just enough black and white to keep the shoes looking clean, and the right among of red to get it to pop.
Once you acknowledge that Disc technology is nothing more than a novelty, you can appreciate the shape and silhouette of this PUMA runner. The uppers are comprised of soft nubuck and leather, and these premium materials lead up to the large plastic Disc system in the center. The contrasting midsole is where the crackle comes in, and there is just enough to give the running shoes its distinct look. The "Crackle" pack will be made up of three colors, and each pair is set to retail at $190.
Source: Overkill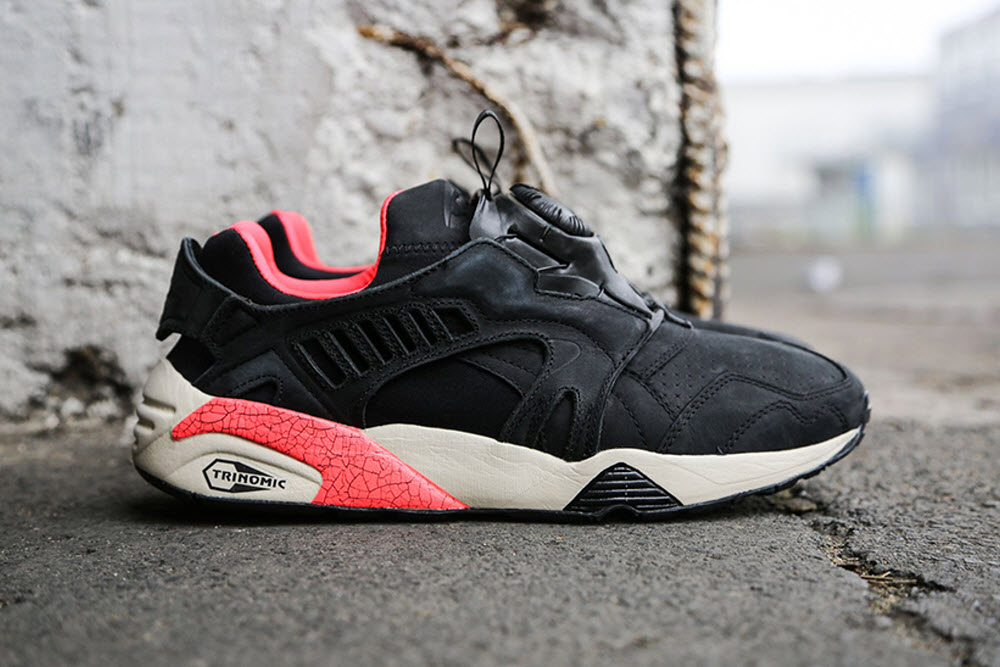 Self Edge 2015 Winter – Three words: Bobby Lee's Belly. This was a great way to showcase the ridiculously expensive denims that Self Edge carries, and totally makes this artisan store more approachable. I can't say much for the clothes (because I'm a cheap motherfucker), but the lookbook got me interested in the store, and the brands that they carried. Kudos to Self Edge.
With shelves of artisan denim and heaps of durable flannel, Self Edge looks to comedic actors Bobby Lee, Nick Youssef, Dean Delray, and Kevin Christy to showcase their winter goods. The lookbook is a tongue-in-cheek approach to denim that can easily top $400, and button-downs that don't fare for much less. Putting a casual spin on expensive workwear gives Self Edge's new winter arrivals an approachable and comfortable style.
Source: Self Edge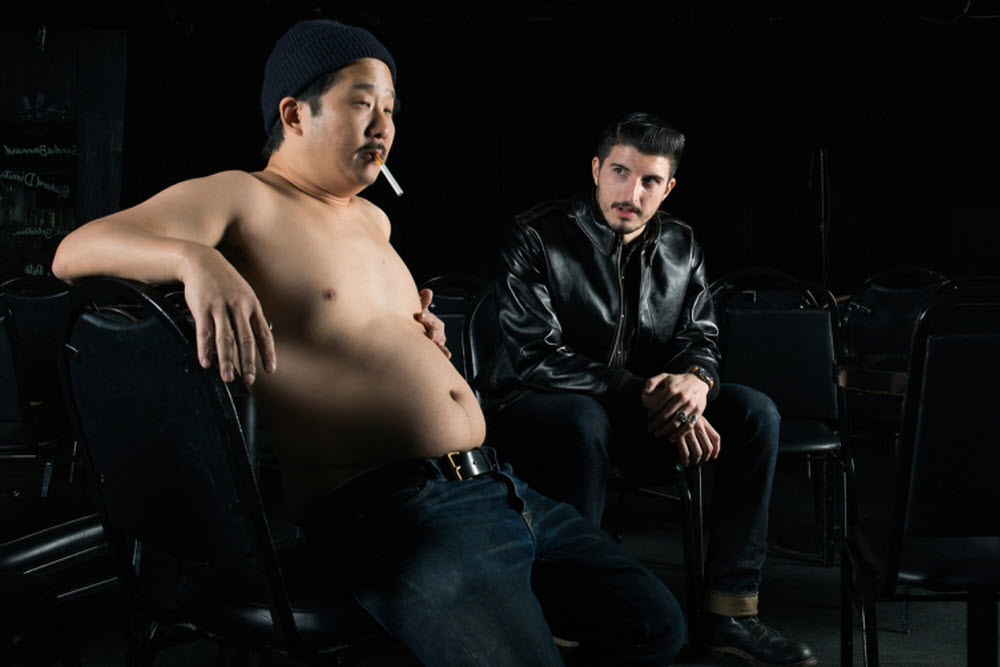 Gitman Bros. x Jack Spade – I love the fit of Gitman Bros. shirts. Anything in medium feels as if they were tailor-made for my body. They're a bit longer, so I don't have to worry about covering my ass when I bend-over, and their robust range of patterns make them awesome. Seeing them pair up with Jack Spade is a welcome sight. Two companies that are good at making simplicity look stylish is going to hurt my wallet.
If you're in the market for quality button-downs, then you'll be glad to hear that Jack Spade and Gitman Bros. come together for a collection of flannel shirts. As a purveyor of shirting, Gitman Bros. has established itself at offering unique patterns with fantastic cuts. This is perfect for Jack Spade's minimalist look and the collection feature slim shirts made with warm flannel, and includes details such as signature orange stitching. Look for the collection in stores, as well as the Gitman Bros.'s online shop.
Source: Gitman Bros.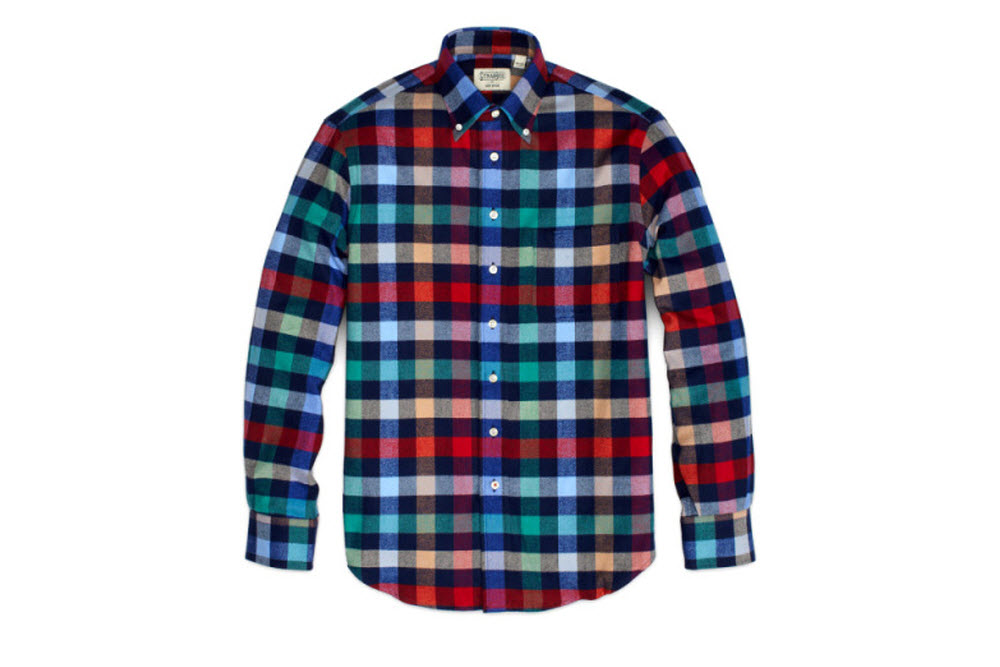 NASA Designs Travel Posters for Exoplanets – Let me show you how to bring some class into your home for under $100. Go here. The files are huge and can be printed poster size. Frame them with something from Michael's (wait for one of those 50% coupons). Voila! The way NASA put these posters together really brought back the intrigue of space. Blending nostalgic travel posters with tidbits on these exo-planets can get anyone excited about traveling to another world.
Take my money! Everything about NASA is awesome, but when the space agency released these retro-inspired posters for traveling outside of our solar system, I was mesmerized. Using 1920s-inspired travel artwork brings a level of mystique and intrigue to planets HD 40307g, Kepler-186f, and Kepler-16b. I'm just praying that NASA releases these poster for sale, because I have a dining room that could use all three.
Source: NASA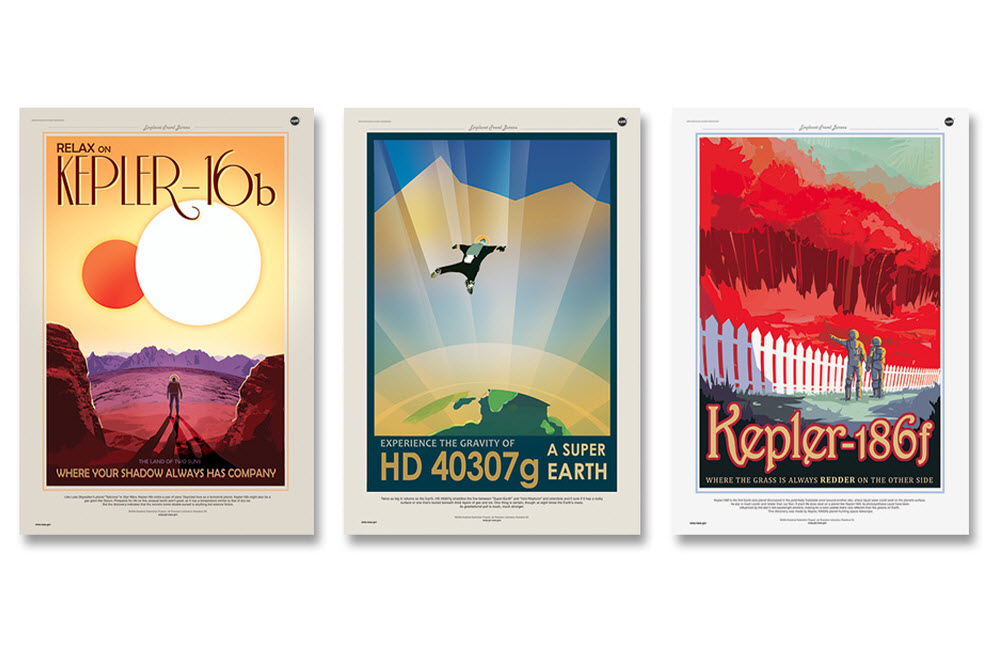 Nike Black History Month – I prefer things nice and clean and the LeBron 12s for Black History Month knocks it out of the park. I can't even front. I've hated LeBron ever since that media snafu where he announced to the world he was heading to Miami. But there is no denying that the LeBron 2s in this monochromatic colorway goes hard. Throw that with an icy blue sole and these are good on and off the hardwood. I just don't like how Nike got greedy and spit out 12 exclusives for Black History Month.
I loved this concept when it debuted a few years ago. A series of the most popular shoes to celebrate the efforts of African-Americans for February. But this year, it seems to be a bit too much. While most years incorporated only elite signature sneakers, 2015 sees twelve different shoes. LeBron 12, Kobe 9 Elite, Kyrie 1, KD7, Air Force 1, Air Max 1, SB Dunk, Mercurial Superfly, Air Jordan 1, and Air Jordan XX9 are all represented in a monochromatic black and white colorway. This is one of the strongest designs I've seen from the Nike camp for 2015, but at what point is enough, enough? This year's collection is nearly doubled, and Nike seems to be more concerned about their bottom-line than really celebrating Black History. I like to see Nike donate a portion of the proceeds of this collection to a charity because those LeBron 12s are fire.
Source: Nike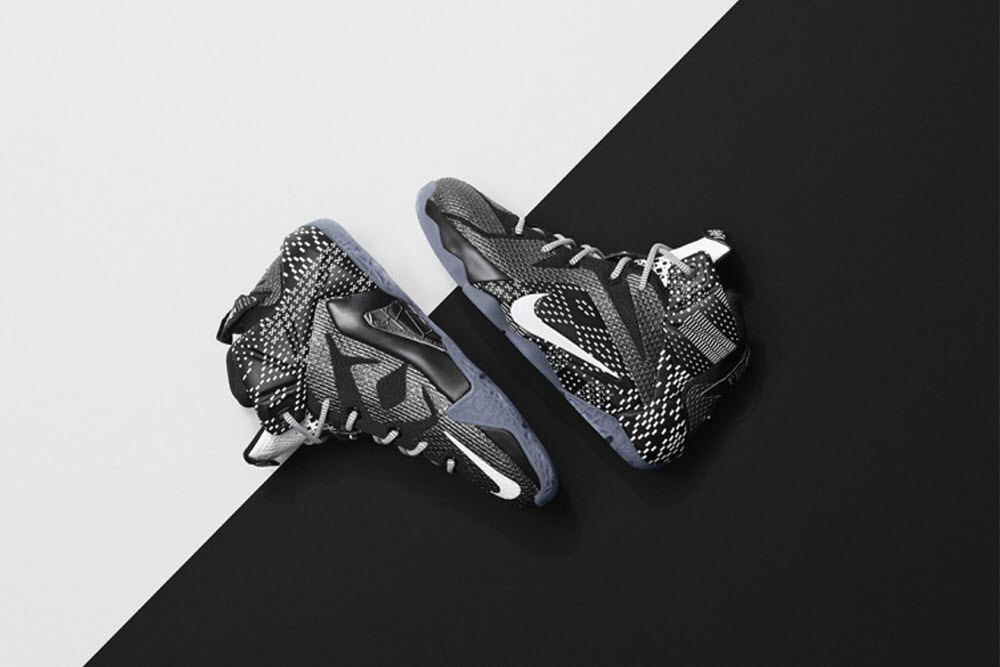 United Shapes Space Cadet – United Shapes does two things that I love: Small Companies and Snowboarding. Put these two together, price it at under $500, and you got a big win. I like how United Shapes kicked things off with an all-mountain board that can handle the pow. There might be those who like the flex in their park boards, but as an old dude, I just like to chill and shred. I won't even pretend that I can feel the difference between this and my Burton Custom X, but the fact that it's made by a small company gets my business. Hands down.
Remember when Burton boards were made in the US? United Shapes does, and they're taking manufacturing back to the US of A with their first Space Cadet snowboard. The all-mountain board is all about taking on any condition and has a camber profile to take on the ice, as well as a aggressive tip to slash through the pow. Using and aspen and pine wood core, the board also features a carbon ollie bar that has been battle tested by pro-rider Gray Thompson.
Source: United Shapes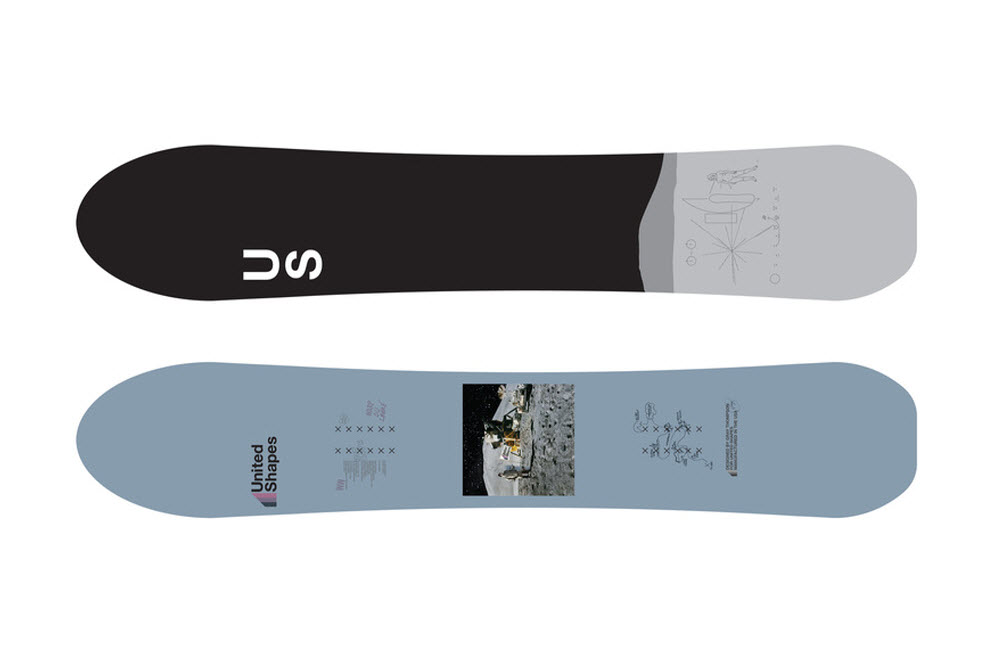 Montblanc Timewalker Urban Speed E-Strap – I don't want some fitness tracker to outshine my Omega Seamaster Planet Ocean. It took me a got-damn long time to save up for this thing, and it doesn't play second fiddle to nothing. Montblanc gets it, and offers something that does not detract from my beloved diver watch. With deployant clasps and leather straps easily over a couple hundred dollars, the Montblanc Timewalker Urban Speed E-Strap is a good buy for what it can do.
I'm not the least bit surprised to see that Montblanc is the first luxury brand to find an answer to fitness tracking. You have to remember that Montblanc is a accessories brand that made leather goods, pens, and cuff-links before it took a prominent position in the watches game. They're now about disrupting a market, and their new Urban Speed e-Strap is just the thing to get luxury watch buyers interested. First off, the strap is unobtrusive and takes nothing away from the expensive mechanical timepiece on your wrist. It operates off of a textile strap, and is based off of the deployant design. What it does is nothing short of what you can find in a $50 Misfit Flash, but the way it does this without detracting from the beauty of your timepiece is where it excels.
Source: Hodinkee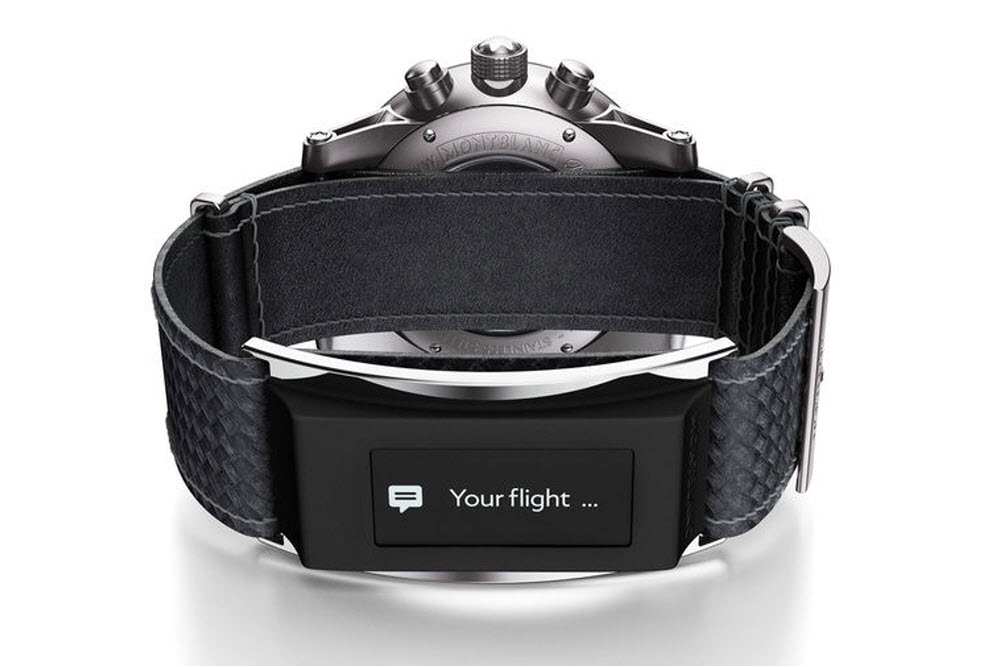 Bragi Dash – The Bragi Dash is an ambitious project, and Engadget has just confirmed that it's the real deal. The Dash just won the coveted distinction of Best Digital Healthy and Fitness Project. If you kept up with your CES news, you know that this was a hotly contested field with everybody and their mothers showing off some fitness tracking gadget.
Over a year ago, Bragi promised a set of wireless headphones that had fitness tracking built in. Within a few weeks, the Kickstarter campaign raised over 3 million and the project was underway. Even with the funding reached, many naysayers argued that the Dash was overly ambitious, but this year at CES, they proved everyone wrong. The Dash is ready to ship in February and besides the music and fitness tracking, the Dash also offers personal training. It can sense your heart rate and offer some motivating advice, and beyond these "next-level" features, Bragi plans to release an API so that third-party developers can begin creating for the Dash.
Source: Bragi