Growing up in the South Bay (basically south of LA) was pretty boring, so in high school, I used to take a creaky old bus up the 110 freeway to Little Tokyo to go to Max Karaoke and loiter in the empty mall. Years later, despite all of Little Tokyo feeling like a mall during lunch hours, its weekend-morphing into a confusing high school cosplay show, and Woori Mall's absurd post-modern bowling alley, I still have love for the area. Maybe now more than ever – despite difficult parking and worsening wait times. It's also really come into its own as a place for sneaker retail as well, with RIF LA, the new Jason Markk flagship, and Footland Sports tucked away in the plaza.
Sometimes, in true LA fashion, if I have nothing to do, I'll idly drive down Sunset with no destination in mind – and I always end up in Little Tokyo. It truly is one of my favorite places in LA. So without further ado, below are my 10 favorite places to eat in Little Tokyo.
Words by Alina Nguyen.
MEN OH TOKUSHIMA – 456 East 2nd Street
My personal favorite ramen spot. I can't stand the line at Daikokuya and Men Oh has its own parking lot. The bar's great for eating alone, and the tiny menu of only 3 types of ramen is a good indicator that these people know their noodles. I usually order the house Tokushima ramen and add chili oil and white pepper. The broth is fatty, creamy, and dank, with two types of pork in it. I always make sure to get an extra marinated soft-boiled egg because Men Oh gets their eggs 100% right, meanwhile Shin-Sen-Gumi up the street hard-boils theirs. Shin-Sen-Gumi is still great, though, albeit very loud. Get a pitcher of Sapporo on draft there and you're set.
Also, does anyone remember that nerdy Japanese mid-2000s alt band Asian Kung-Fu Generation? For like a year, Men Oh Tokushima ONLY played their music and it drove me nuts.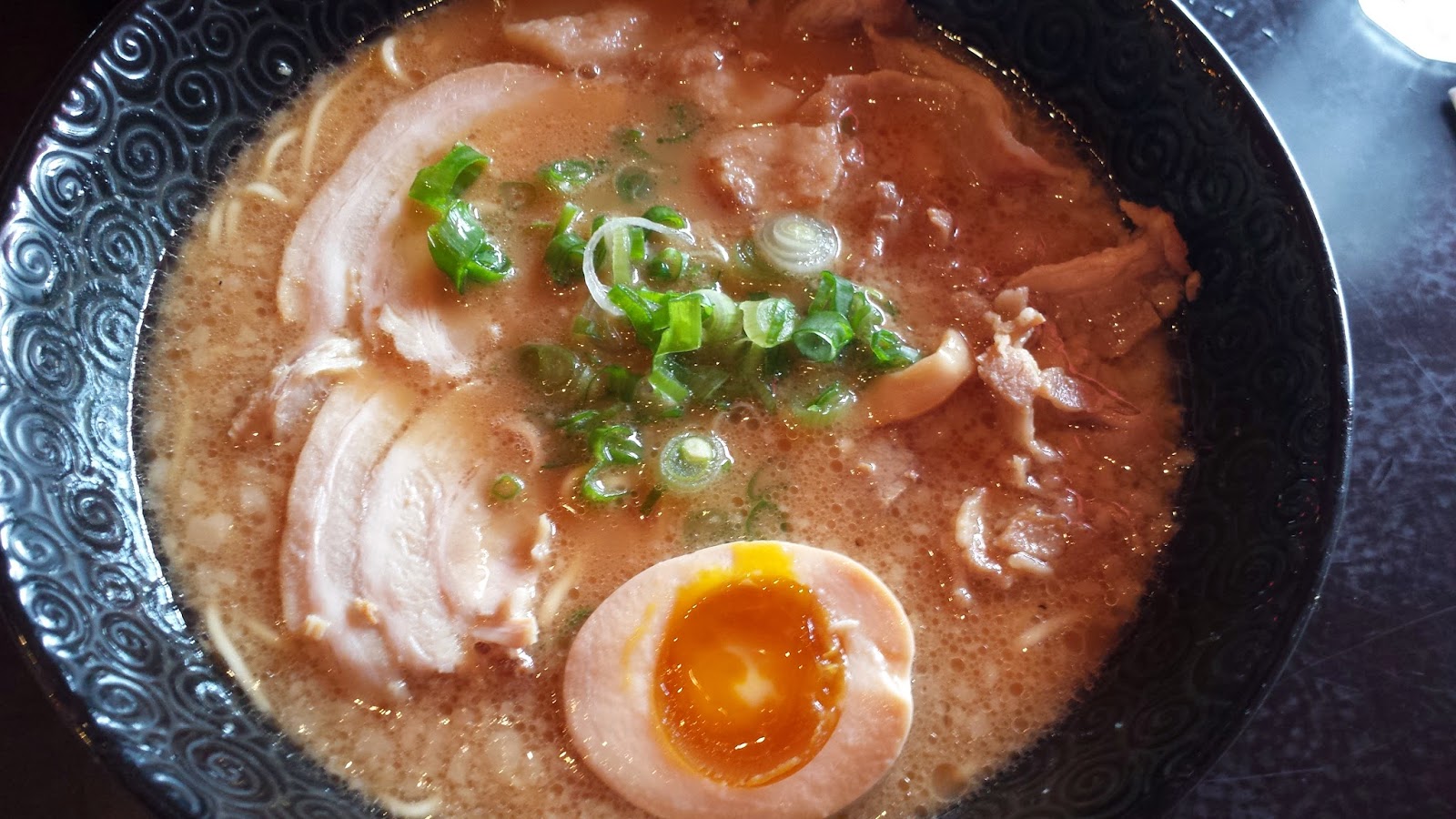 MARUGAME MONZO – 329 East 1st Street
Amazing freshly made udon. I like sitting at the bar area so I can just stare at the guy making the udon. They have weird creations like Squid Butter Udon and, like, Uni Carbonara (I know), but after trying a few of those, I prefer a classic tempura shrimp udon. The fried chicken skin in Ponzu sauce is amazing, but I like the chicken skin at Tokyo Fried Chicken Co. in Monterey Park more. Also, you have to wash the skin down with beer or else you'll begin to feel some feelings. The thinly sliced pork belly rice bowl is really fragrant and delicious, seasoned with lots of ginger and white pepper.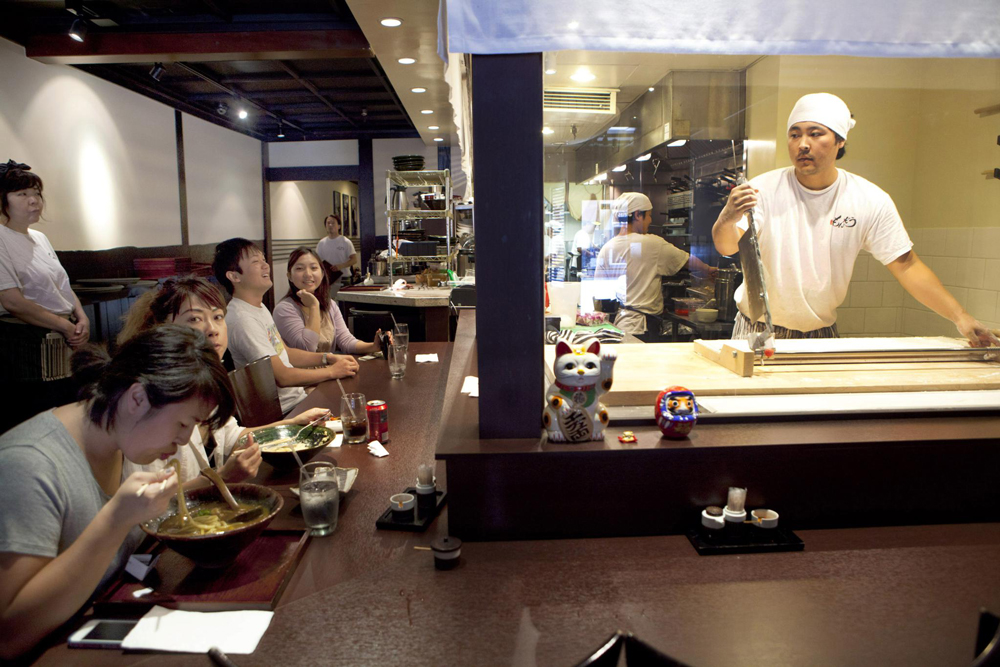 SHOJIN – 333 Alameda Street #310
Shojin is really weird and cult-y. I love it. It's a strange little vegan sushi restaurant located on the third floor of Woori Mall that feels like it's trying to be a 4-star joint, whatwith candlelit-ness and stoic staff. Meanwhile their completely pink women's restroom is decked out with Q-tips, various lotions, menstrual products, weird reading material, a journal, and a framed magazine clip of Alicia Silverstone. The… best. Surprisingly, vegan "sushi" is amazing – and the fact that they have a roll called the YELLOW MAGIC ORCHESTRA? Yeah. It's kind of heavy, but I really like their Purple Treasure roll, which has eggplant, seitan, and brown rice. Spicy "tuna" on crispy rice is also really good, along with their stuffed mushroom appetizer. Their mixed drinks aren't stiff by any means, even though they're delicious and made with fresh squeezed juice, so I'd recommend beer.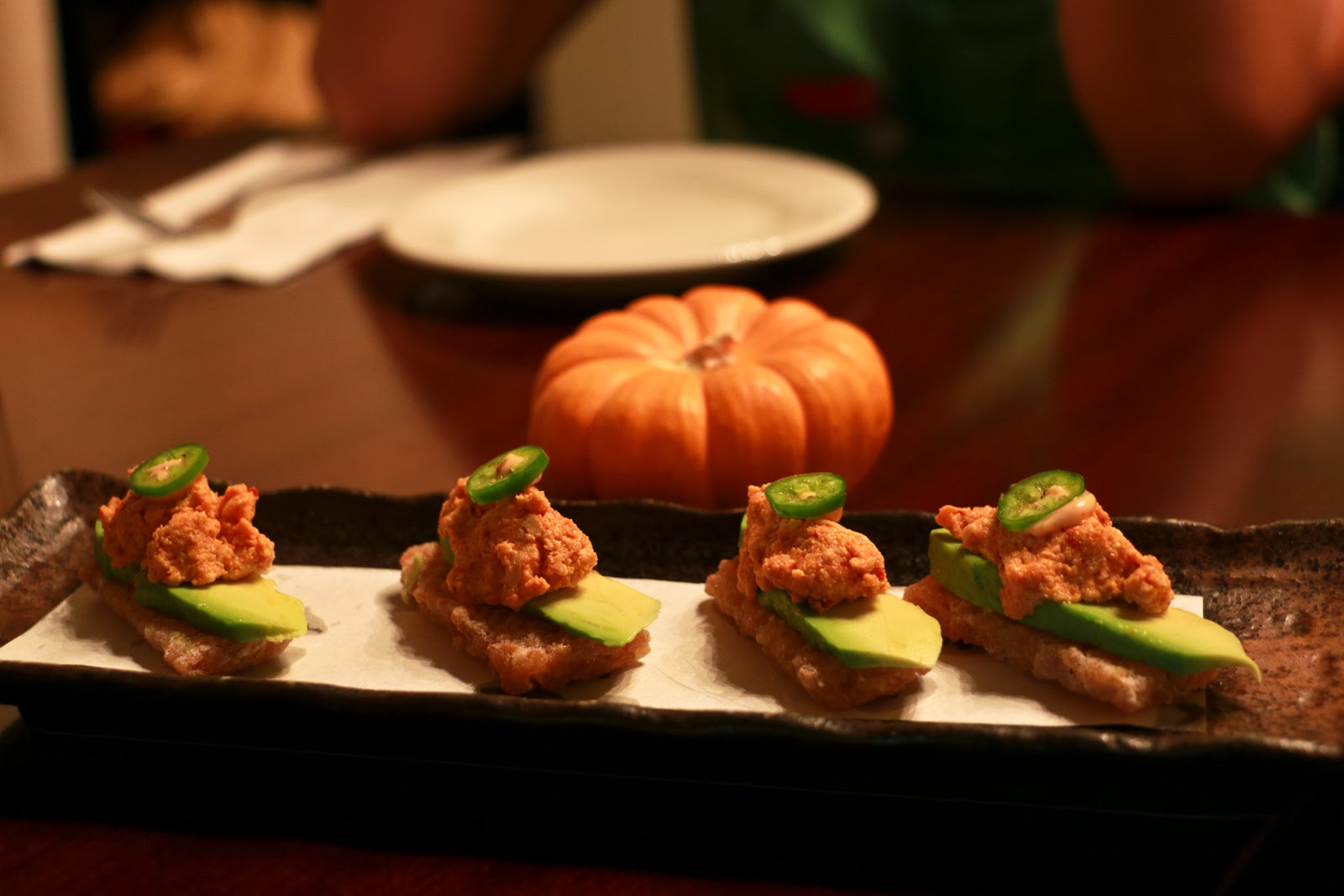 HAMA SUSHI – 347 East 2nd Street
Super fresh. I recommend the albacore sashimi, the uni, tuna toro, and scallop. Sure, once I thought I broke out in hives after eating the fresh monkfish from here, but it turned out the friend's house I couchsurfed the night before had bed bugs! But that's a whole different fucked up story I'll tell you if you ask me and I'm buzzy. If there's a wait, check out RIF across the street for sneakers or Pop Killer a few stores down – sometimes they have vintage Japanese embroidered jackets hung up high on the wall.

CAFE DULCE – 134 Japanese Village Plaza Mall Building E
Cafe Dulce is right in the middle of Little Tokyo plaza, next to this weird rock that every child for some reason impossibly and dangerously tries to climb. Obviously, it's a good cafe to sit and people watch. Cafe Dulce's Hong Kong milk tea (ordered hot) is so good, but I usually get the Earl Grey. Their desserts are kind of insane. The Spirulina churro is really good and if they have the green tea roti (Malaysian-style), get it.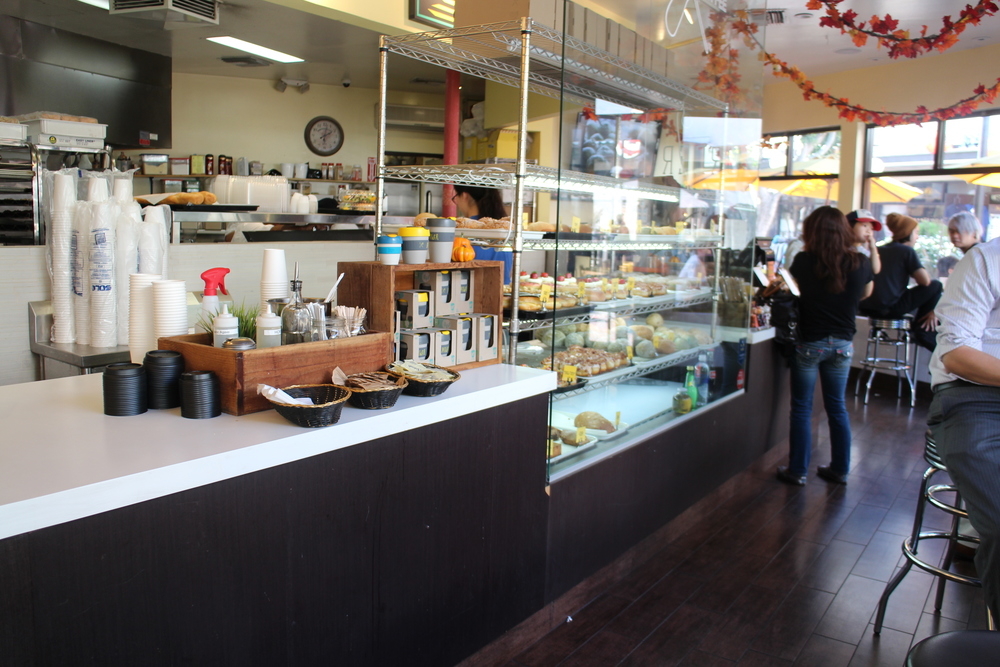 DEMITASSE – 135 S San Pedro St
Another coffee shop right up the street that makes the craziest lavender hot chocolate  – it's basically pure hot chocolate… thank god. Demitasse takes their coffee very seriously, and their Kyoto Cold Drip coffee is painstakingly made from dripping cold water tremendously slow onto coffee grounds (the sign says "about 42 drops per minute") so the flavor is outstanding. They have a great selection of premium dark chocolates and croissants. Order the ham and cheese croissant because it's smoky and delicious, but remove that tiny shriveled pickle in case they give you the one in the display case. Unless you like shriveled pickles.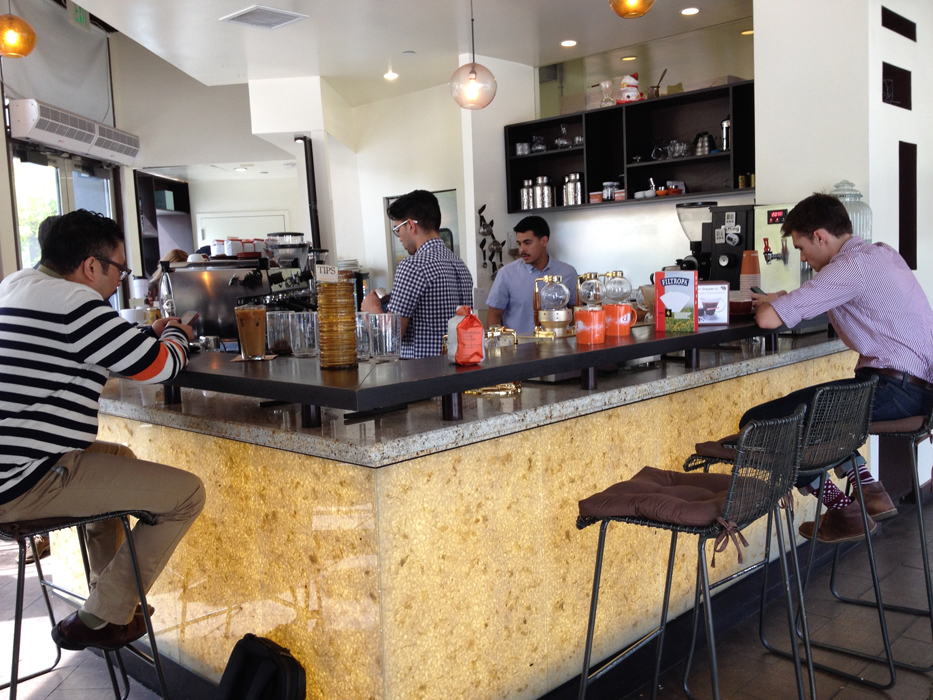 KaGaYa – 418 East 2nd Street
This place is really special. The best shabu shabu I've ever had, and it's located across from Men Oh Tokushima ramen in the same plaza. A friend has taken me here twice and ordered everything, so I have no idea what to order here, but I think it's prix fixe. All I know is that several small plates appetizers came out in quick succession before the shabu shabu and all of it was exhilaratingly good. I hate sounding like a food writer or foodie by any means, but seriously. [Redacted vilified semi-celebrity friend] claims there's a secret special "soup" served here that they'll only make for him – and honestly, it isn't even really a soup. It's just shabu water, black pepper, and egg. I'm like, my dude.

NIJIYA MARKET – 24 Japanese Village Plaza Mall
My favorite little baby market. I say baby market because the big one I used to go to with my dad all the time growing up is in Torrance and has an entire bakery attached. This one is a little market right next to the center of Little Tokyo plaza, where you can pick up some groceries, pre-made food, and snacks. Yes, the center of the plaza where they have public karaoke nights. My ritual is to get the tempura shrimp ball, Spam musubi with tamago, and a Calpis drink, which apparently "eggshell protein" in it the last time I read the ingredients. Also, the name Calpis sounds like "cow piss." But it's delicious. I also stock up on Japanese snacks here, like spicy shrimp chips and weird corn puff cheese butter-flavored stuff. Then I sit outside in the plaza and watch people sing while stuffing myself with MSG-laden snacks.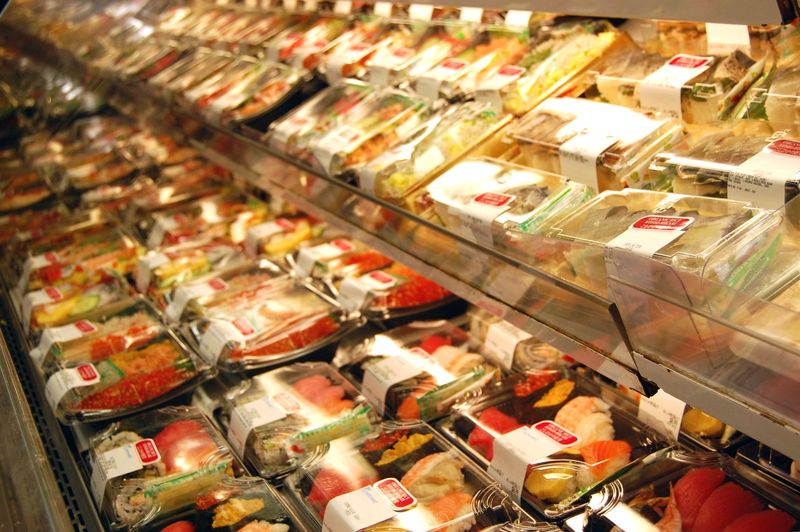 SUEHIRO CAFE – 337 East 1st Street
Suehiro's been in Little Tokyo for ages. I don't know much about it, except that it's a very democratic diner-feeling spot with homestyle food that tastes like my imaginary Japanese fairy godmother cooked them for me during my commute home from school. Is that weird? It's open 'til 1am on weekdays and 3am on weekends, so it's my go-to late night spot. My regular order is the tendon (tempura over rice), which comes with the tempura pre-dipped in sauce. It's soggy as hell and I can't say it's "just the way I like it," because I love crispy tempura – but there's something about the way they make it here, paired with an Asahi, that's just right. Also, the guy who works here is adorable. I began to ask for extra tempura sauce recently and each time they've given me more and more sauce, to the point where last time they gave me a rice bowl full of sauce with a soup spoon. They love their customers here.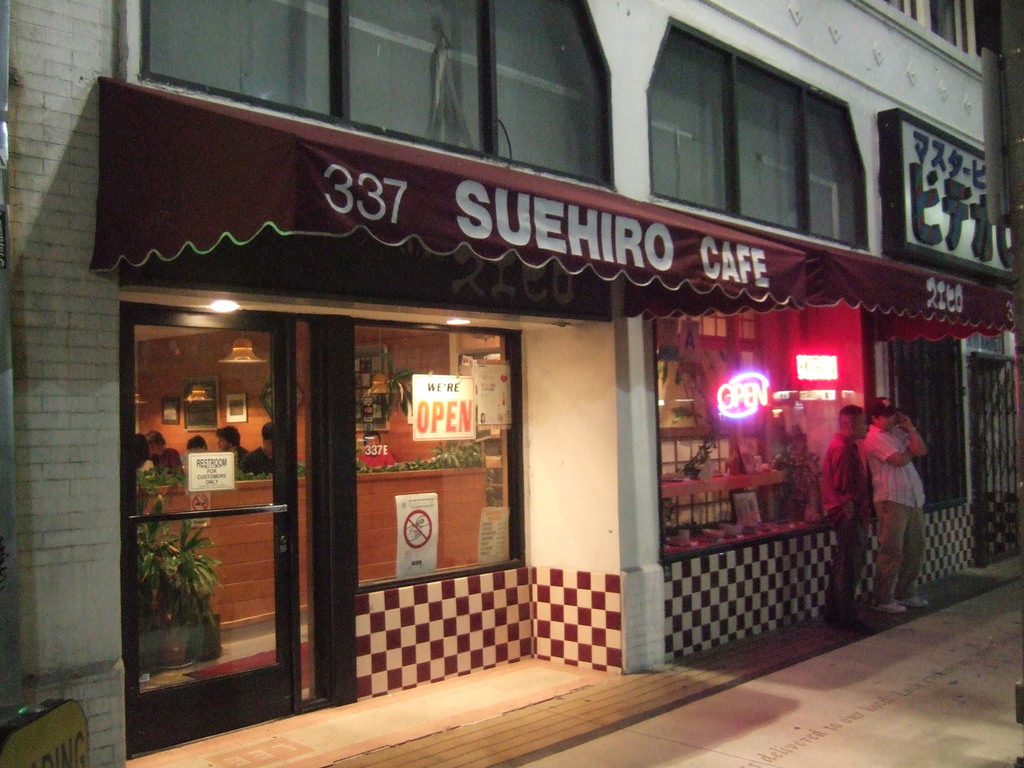 KOKEKOKKO –  203 Central Avenue
I've never been here, but Jesse Furman has raved about it on TheHundreds.com before. If you Google them, for some reason "Kokekokko Corporation" comes up, which I think is hilarious and makes this secret raw chicken eatery a place I want to try out even more. In Jesse's piece, he mentioned that there's a "large sous chef" that looks around to see if you're appreciative enough (he's in the middle below), and if you're lucky – or if you're with the right person – you can get a taste of this carefully made raw chicken. Sounds like a Japanese gameshow and I'm IN. Update: I just found out Kokekokko is closing at the end of this month, so last call! Update #2: it's just moved!