When I started doing what I do now, I didn't know it had a name: Benching. Urban Dictionary gives this definition: "The time spent photographing or watching graffiti on trains, more specifically passenger and freight trains." Which is correct – but it only portrays a small part of what my hobby is about. This is the time to tell you more. Since I am a commuter, I spend almost every single day of the week inside a train station doing graffiti spotting and when I can, I travel to different cities to have a look at the scene over there.
All this time on trains gave me the opportunity to watch and absorb the society surrounding me. I can spot which fashion trend is more popular between the girls and have a laugh at people running to catch their last train. Obviously, it's not all roses. I saw homeless people shooting heroin in their belly, insane people yelling and stripping off their clothes, and the most annoying thing to me: Having people asking me for directions, train stops, and all this informations that I don't know.
Below, I chose 10 pictures that represent the most interesting benching situations I encountered in the past year, alongside the growth of my blog, and the new discoveries I make each time I go out; always with a camera, since you never know when a whole­car will pop up on your route.
ALONE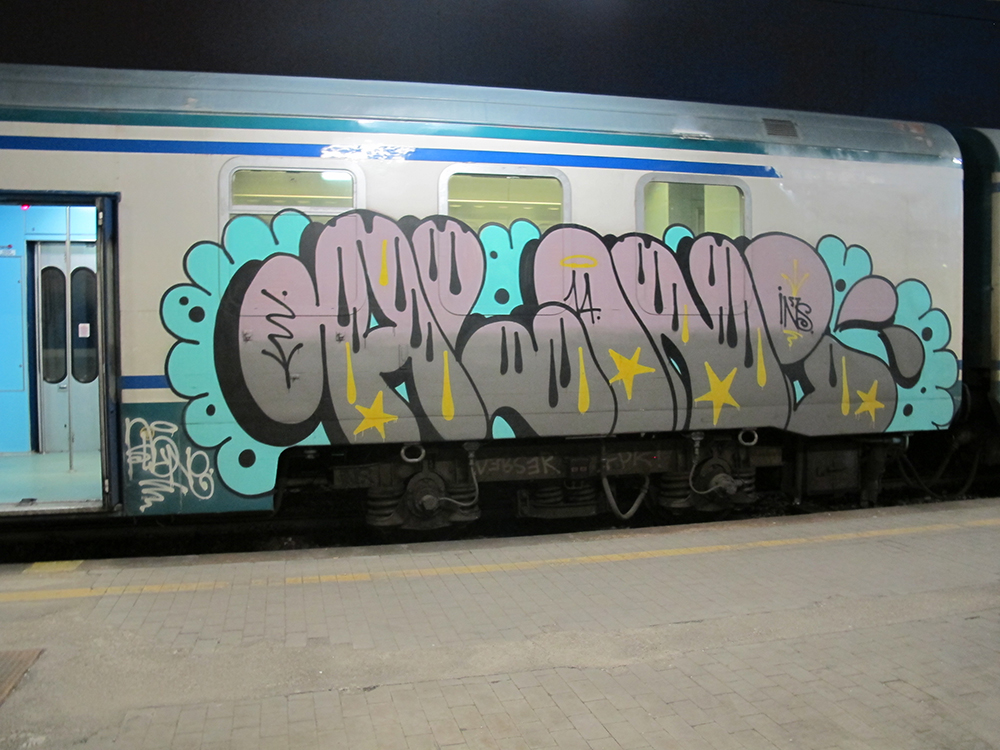 I was in one of Milano's train stations the evening I shot this Alone piece together with other panels. It was late February and I was moving from Milano back to Torino for a job opportunity. I didn't know when the next time I could go back to check out the scene in Milano would be, so I didn't want to miss a single one. The crazy part is that I was carrying with me one piece of luggage, a backpack, a shoulder bag, and a huge duffel bag. I don't know what people must have thought about me moving all my stuff from one trackside to the other, then stopping to take the picture and moving to the next one. I almost missed my train home, but at the end I was pleased with my flicks and satisfied for my hardcore benching.
PRONTOCIAO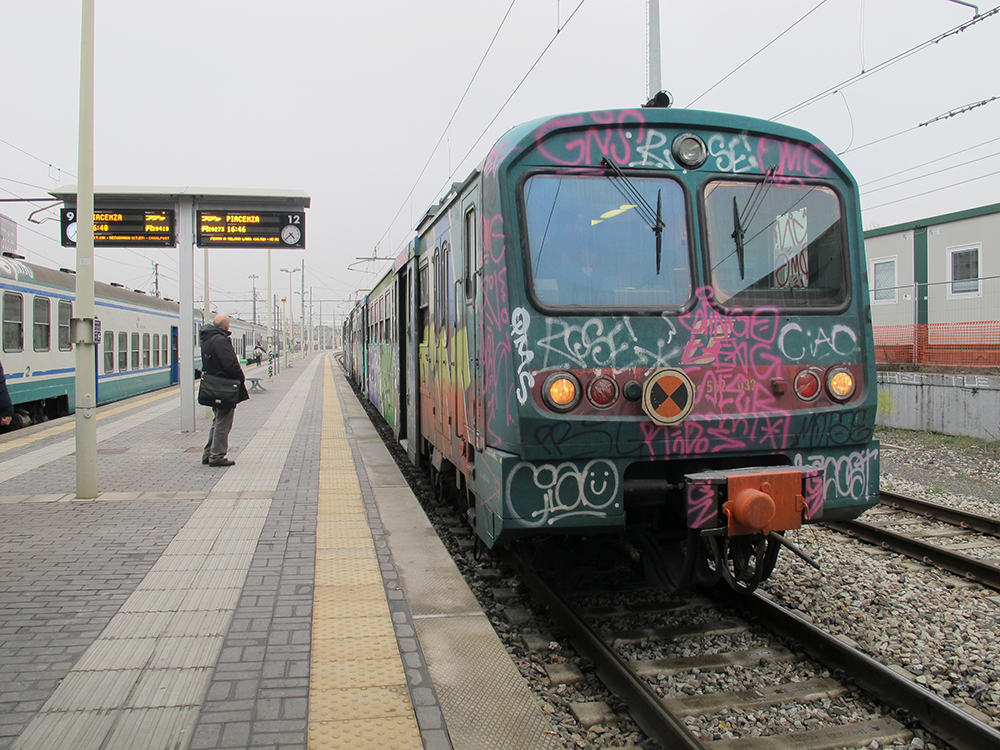 End of the day, ready to go home because it was getting dark, I turn around and decide to snap this picture of an old man looking at a massive bombed train. I liked the picture, and even if it's more about tags than a single panel, I decided to upload it anyway. Wrote the caption "prontociao" which refers to the Ciao crew tag in the front – it's also a typical sentence to say in Milano when answering the phone. Pretty much, I put it online for myself. I didn't expect this post would reach 2700 users on Tumblr. I love the Tumblr community, and being able to reach out to so many people that might have little knowledge of graffiti culture was unbelievable. Most people not only reblogged it, but also added quotes or poetry about traveling, freedom, and long distance relationships. Being able to move people is one of the main reasons why I like photography. I am not a professional one, but I'm on my way. Till this day, it's the most-liked picture on my blog.
CHAS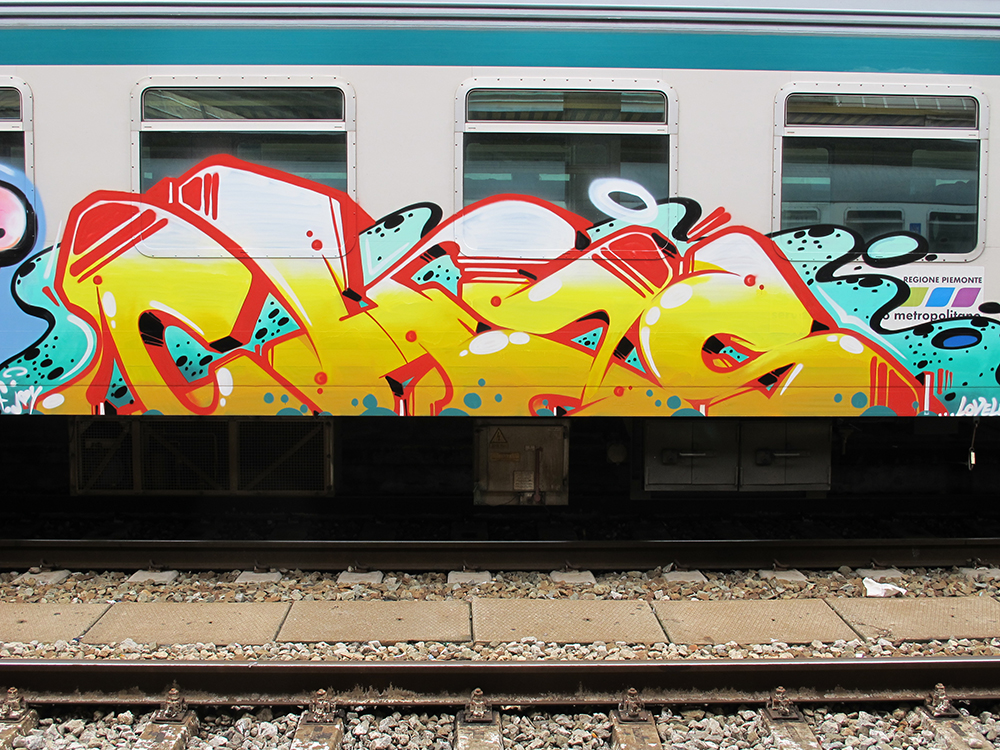 Last April, there was a famous event in Milano called Meeting of Style. It was the first time I actually heard about it and decided to go. In the 3-day event, graffiti writers from all over came and painted some legal walls. I think it's nice for them to see friends and meet new people. I was shy and mostly took some pictures of them while painting. First confession: Watching people painting walls is not my kind of fun, especially under a smoking hot sun. Second confession and the harshest one ever: If a graffiti writer doesn't hit trains, to me, their writing doesn't exist. This was a sad epiphany of that day. I went around, read their letters and "names," but they didn't ring any bells. Okay, you might point out that since trainwriting is illegal, why would they come out during the afternoon for a meeting? Well, some did, some don't care about walls, and lastly, the word "graffiti writer" really has different connotations for me now.
So the few trainwriters after the day fun went for some more fun at night. The following days of MOS were a blast because I could spot panels from foreign writers like this Chas one.
KCBR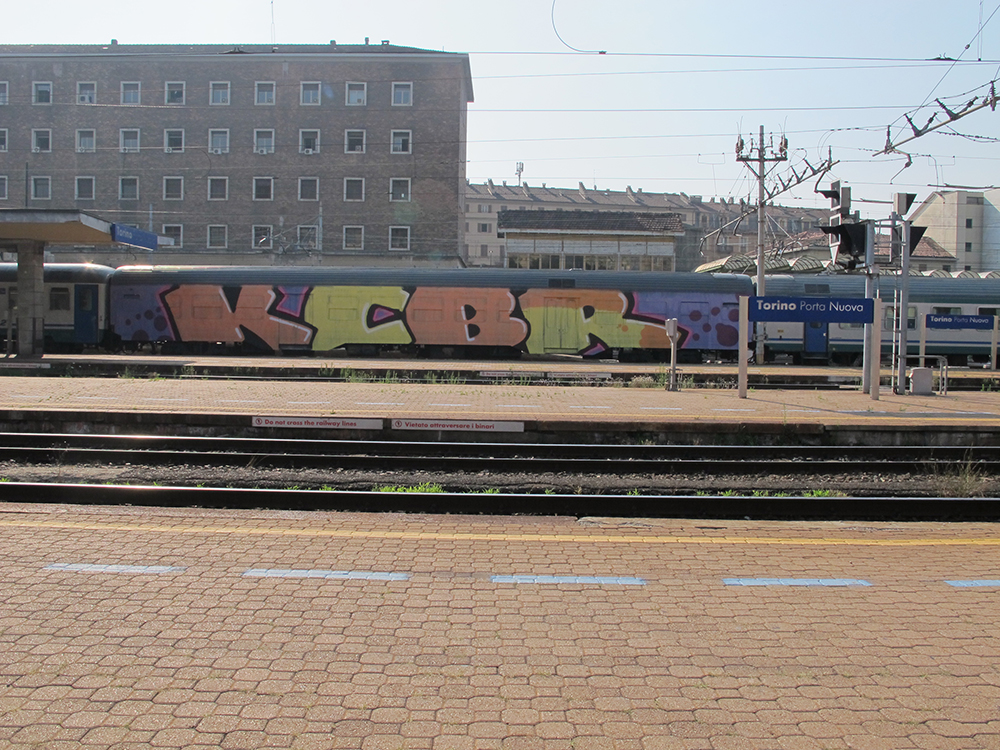 I should be part of the Insane crew (too bad I don't paint) because of the craziness I did to take this picture of a rolling wholecar. Let's say in my defense that I always wanted a really good picture of a wholecar in traffic, taken from the front, no angles, no pillars in the middle, the whole thing!
The story of this picture goes: First time I spot it, I am inside the train I take each morning to go to work. The wholecar is parked just outside the train station, so as soon as my train stops, I get off and I find the first train that would leave. I get on this train, but none of the windows can be rolled down to take a picture. So I go in front of the wholecar this time trying to snap a picture from inside the train. Horrible results. I get off the first station and get on another train to actually go back to work. Third time, I pass in front of it with no possibility of opening the windows, so I decide to film it. When I get off, I have no time to be sad because I'm rushing to work. I imagined it would have been gone soon, but I was wrong. The next morning, I saw it parked at the platform, empty. I knew that they'd soon move it somewhere, so not caring anymore about arriving in time at work, I stepped a couple of platforms back, walked to the beginning of the train station, and waited until he started moving. I snapped this picture and arrived more than 1 hour late to work, blaming it on Trenitalia (the trains), but was fully happy with what I captured.
CIAO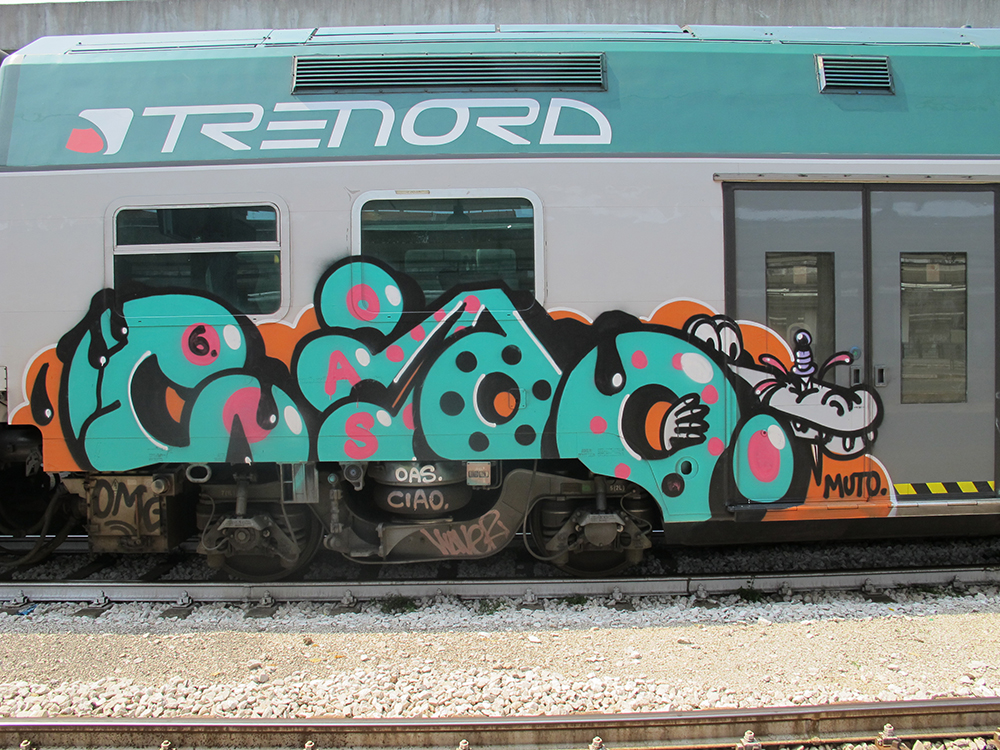 This picture has a hidden meaning for myself: Nobody can stop me. I made my blog unreachable for 2 months, and I was MIA from Instagram, because there were a few difficult situations about ongoing investigations into my work. For this reason, I stayed away from Milano for quite a long time. The day I decided to go back, this was the first panel I saw – and heck if I didn't want to share it immediately on Instagram. I missed benching in Milano a lot because it's pure dedication when I go there on the weekends. It's just me running after the trains and taking flicks. That's my passion, and until I stop enjoying it, I will keep on doing what I am doing.
SPRAYCATIONSEASON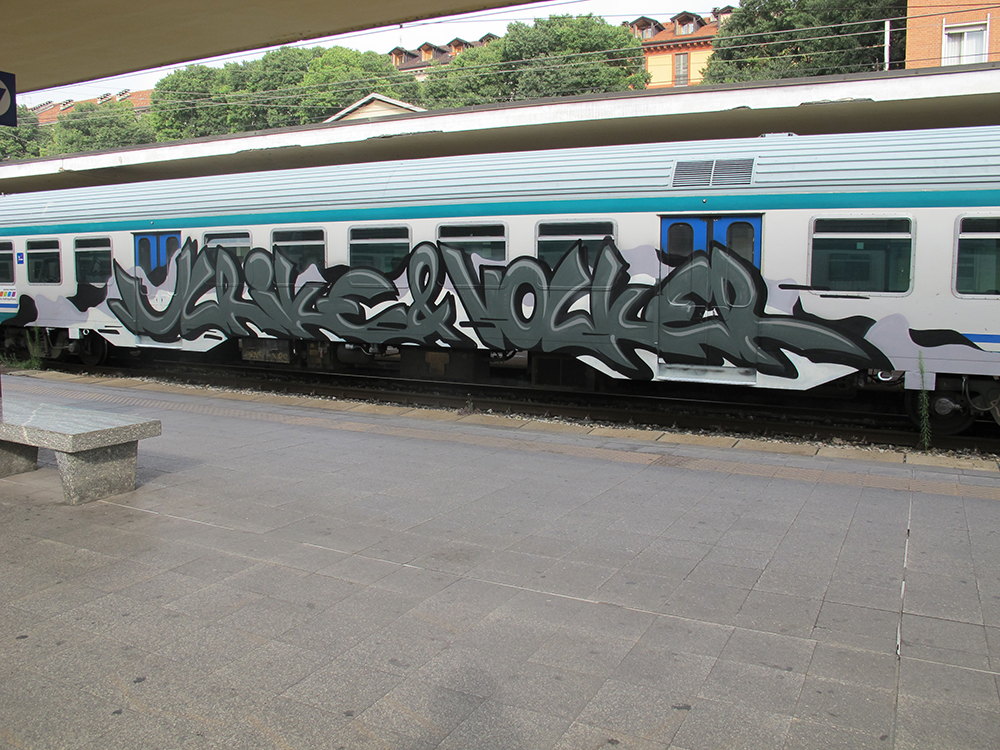 This year, I opened an Instagram (@spraytrains) where I am sharing panels as well. It gave me the opportunity to learn a lot about graffiti, especially about foreign writers: their style and letters. It also teached me some things and words. One word opened a whole universe to me and I believe it's quite a funny one: spraycationseason. I don't know who came up with that, but the concept is clear: The trainwriter's ideal vacation during which foreign trains will be bombed. And this picture represents the first time I saw it happening in my city. And summer time brought spraycationseason to another level: A real invasion.
NO OPEN WINDOWS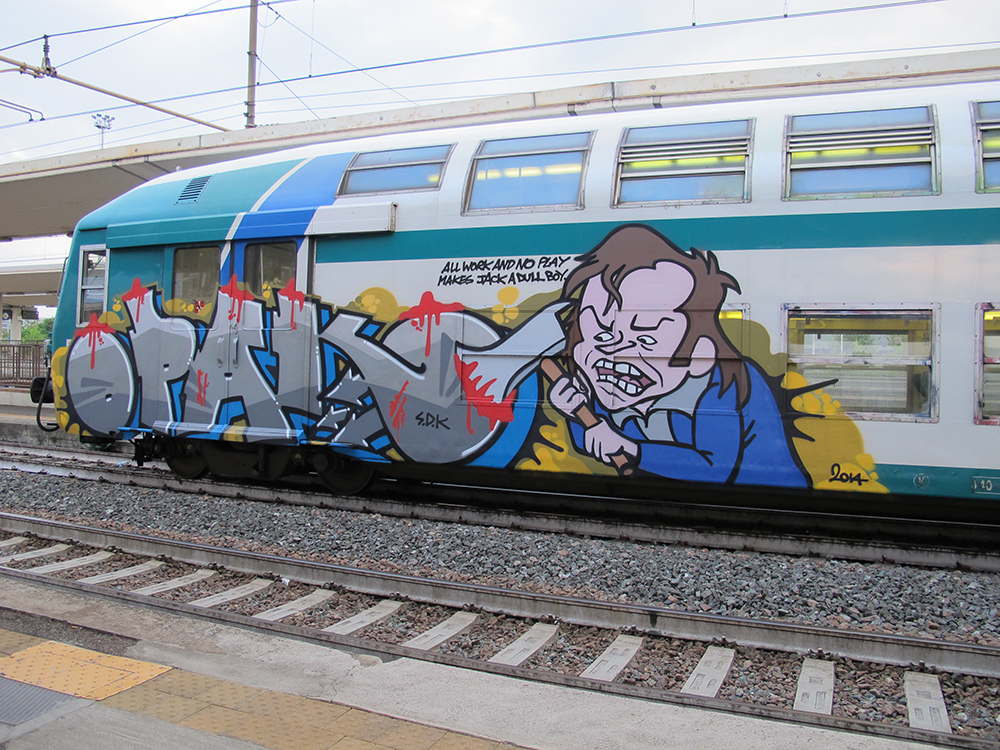 I am pretty determined when I want something, and there isn't something that I want more than all the windows closed perfectly before snapping a picture. I wasn't always like this – I learned the importance of having a good picture, and this means no half-open windows (unless the writer painted while it was down). For this picture, I waited for the train to come to a complete stop, ran across the tracks, pulled up the window, crossed back to the platform, and snapped the picture before the train would leave again. No big deal – just routine, like closing doors and yelling at people to get out of my way. The other benchers out there feel the same.
HOLLAND
If the trainwriters have spraycationseason, I will have benchingseason. (Please let me know if another proper name exists to describe the graffiti spotters that go abroad to check on the scene – otherwise, I will stick with this new word). This year, for the first time, I went abroad with this purpose – between other things of course – but mostly to spend time graffiti spotting. I went to Holland, and in my dreams I imagined to come home with 200 panels. In reality, they buff a lot over there. Holland is small, but very nice, and inside some train stations I was very pleased to find escalators that speeded my game. After this fun and interesting experience, I am planning to go graffiti­ spotting abroad more often.
WHEN IN ROME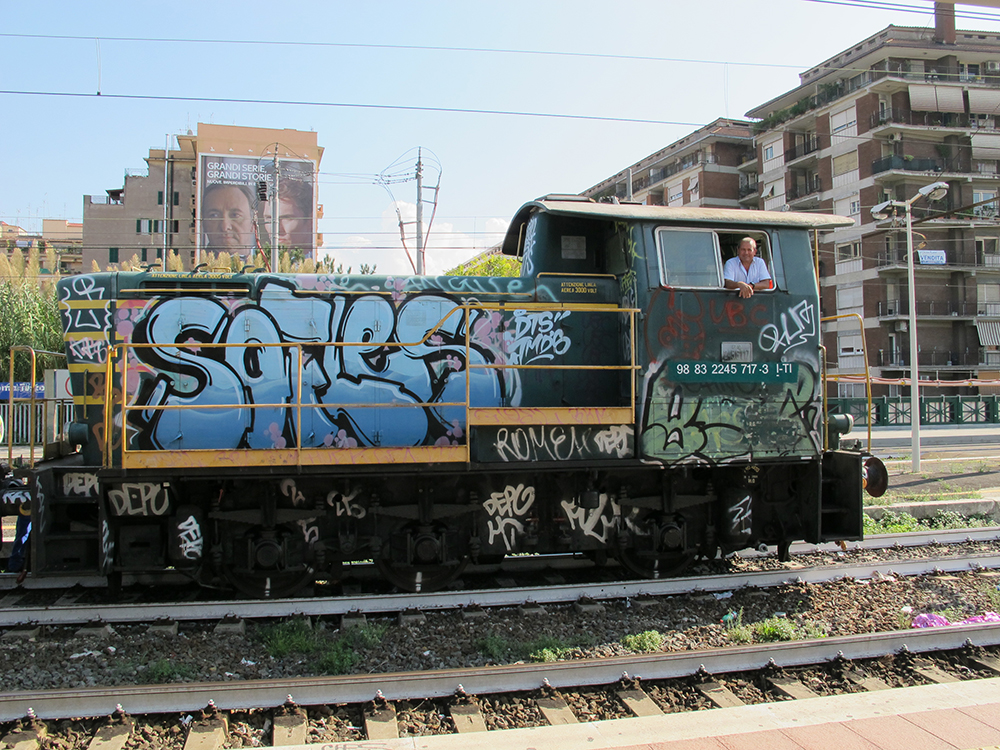 Everyone should go to Rome at least once in their lifetime. Since I have been there already a couple of times, this fall I decided to go there mostly for benching. For this occasion, I had a very short amount of time, so I skipped the Colosseum and all the main historic attraction to focus on trains and the subway. I run a lot and at the same time waited patiently. My patience was rewarded when after my lunch – that consisted in fresh seafood eaten by hand and chili chips – arrived this "pacman." Not only did I start to snap pictures frantically, but I also yelled politely to the conductor to smile. So he listened, charmingly smiled and waved at me. Those Romans!
SUBWAYGRAFFITI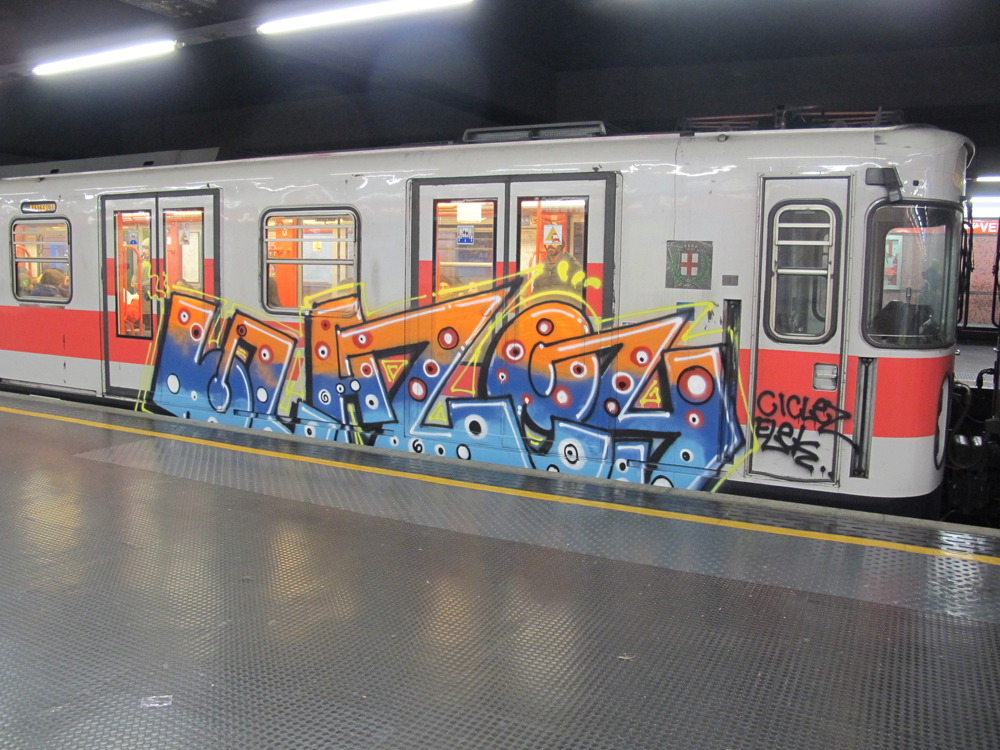 This year I admit that I focused more on the trains, neglecting the subways a bit. The subway scene is somehow a little different from the train scene. It also changes the approach of benching them. You really have to sit on the bench and wait for the panels to arrive. The running is very limited and you can almost always retake the picture just by waiting for it to come by again. The most annoying thing is the frozen cold benches and the people that always stand in the middle. I get mean and tell them to move or hurry up, but the older they are, the harder is for them to understand why someone is yelling at them.
However, it's still rolling steel with graffiti on: Pure fascination.