i really hate Apple Music exclusive videos. SMH.

— Joshton Peas (@joshtonpeas) February 5, 2017
I'm a product of the Napster generation. You could even call me a Limewire baby. In my younger days, when I was first discovering music on my own, there was no guilt, remorse, or hesitation to illegally download the new hot album weeks before its release date. Not until I got older and started working in the business did I value the lesson that music is to be sold, not to be stole. To make this transition easier along came the streaming model, a form of methadone to a generation hooked on the heroin of illegal music. But with the rise of platform exclusives in the form of not only music, but videos and short films, these music addicts might be heading back to their old ways.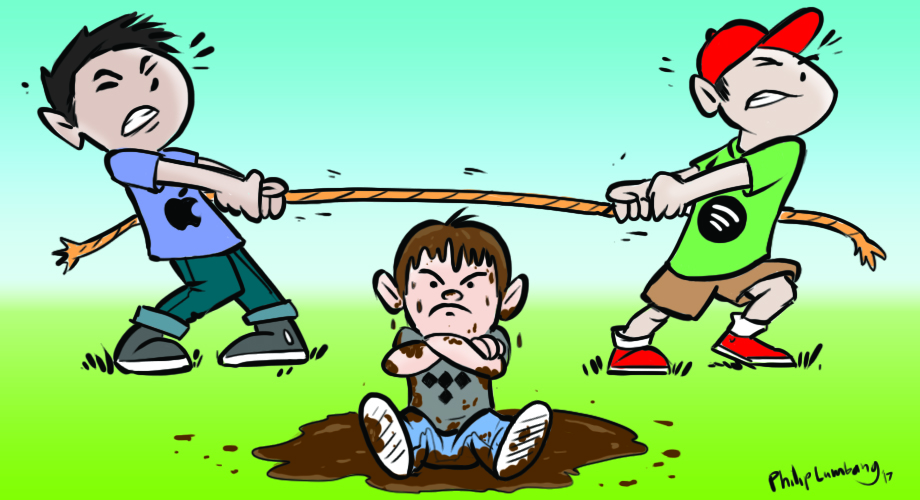 Canadian R&B duo DVSN was one of my favorite new acts of 2016. Underrated in my eyes, DVSN kept the flame of traditional R&B alive pairing soulful music with sensual videos. For some reason, their critically acclaimed debut album came and went, peaking at 133 on the Billboard 200 charts. I can't help but think the lack of sales and eyes on DVSN is in correlation to releasing their content exclusively on Apple Music. The album dropped a week earlier on Apple Music with exclusive videos for the singles. As a fan who doesn't have an Apple Music account, the day it dropped I found myself scouring the internet for an illegal download link. Forgive me Daniel and Nineteen85—but it sucks when you are restricted from enjoying music on the release date because of industry politics. I understand the gripes with the business side of music and how unfair it is to artists but we have to remember that the fans come first and we must make it as easy as possible for them to consume.
The one thing that Kanye West said last year that I agreed with was that Tidal and Apple Music need to play nice for the advancement of the culture. Their "bullshit beef" as he calls it, has stopped fans from enjoying an official release of "Pop Style" featuring The Throne as well as indefinitely delaying the oft-rumored Watch The Throne 2. But above a Kanye stan's thirst for subpar music, the streaming wars have divided the fans. Lines have been drawn, nowadays you're either a Spotify guy or an Apple Music guy with a smattering of Tidal people who got their subscriptions for free. The casual fan is on the outside looking in, searching for their favorite new album. Who's to judge if they find it in an illegal torrent? The streaming model was originally implemented to discourage piracy but as competition between Tidal, Apple Music and Spotify grows it's reverting some consumers back to their bad habits.
Apple, the most visible and richest of the bunch, is worth an estimated $624 billion with about $246 billion in cash to spend. With that type of money instead of being selective of who they align with, Apple could very well buy the entire music industry and its competitor streaming platforms. On the other hand, you have Tidal—which is artist-owned and backed—and Spotify, the Swedish giant with the most subscribers. Spotify does not play the exclusive game, but Tidal does—garnering huge press around the releases of Kanye West's The Life of Pablo and Beyonce's Lemonade.
The puzzling thing about Apple Music and Tidal is that they spend so much to support great artists like Drake, Kanye West, and Frank Ocean but then limit their art to only be heard and seen by their respective subscribers. The outcome is alienating part of an artist's fan base which helped propel them to superstar levels while opting to service only those who bought into their glossy subscription marketing plan. A much more practical plan would be to support these great bodies of work and let them live wherever they might, letting the world know that Apple or Tidal believed in the vision and helped fund and bring it to life. The way I see it, fans would have no choice but to appreciate and respect that gesture.
This streaming platform arms race isn't about respect, though. It's about subscribers. And with the recent sale of Tidal to Sprint, harboring exclusives and fudging the numbers seems to pay dividends. I don't see it slowing down anytime soon. The only thing I hope is that all fans will be treated equal. Adele didn't become the biggest selling artist in the last 10 years by being exclusive and I really just want to watch the new DVSN video for "Hallucinations" without having to sign up for another subscription service.
***
Illustration by Philip Lumbang.