Emerging Dubai-based brand, amongst few, is paving the way for a streetwear movement in the Middle East. Founded in 2013, the brand has shown that streetwear can be accessible all over the world, fusing their local culture with Western sensibilities. The result is premium quality clothing that pairs classic styles with authentic, local design, upholding "the traditional emirati philosophy of simplicity and function." Meet the guys behind amongst few, Flo and Mike, and discover where their brand—and the growing streetwear industry of the Middle East—is headed below.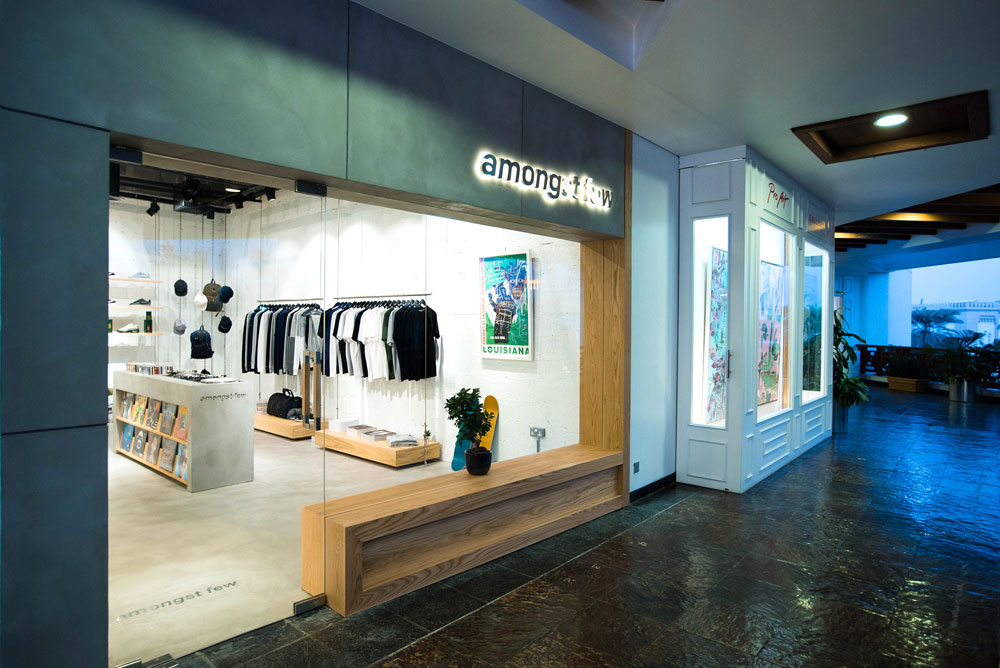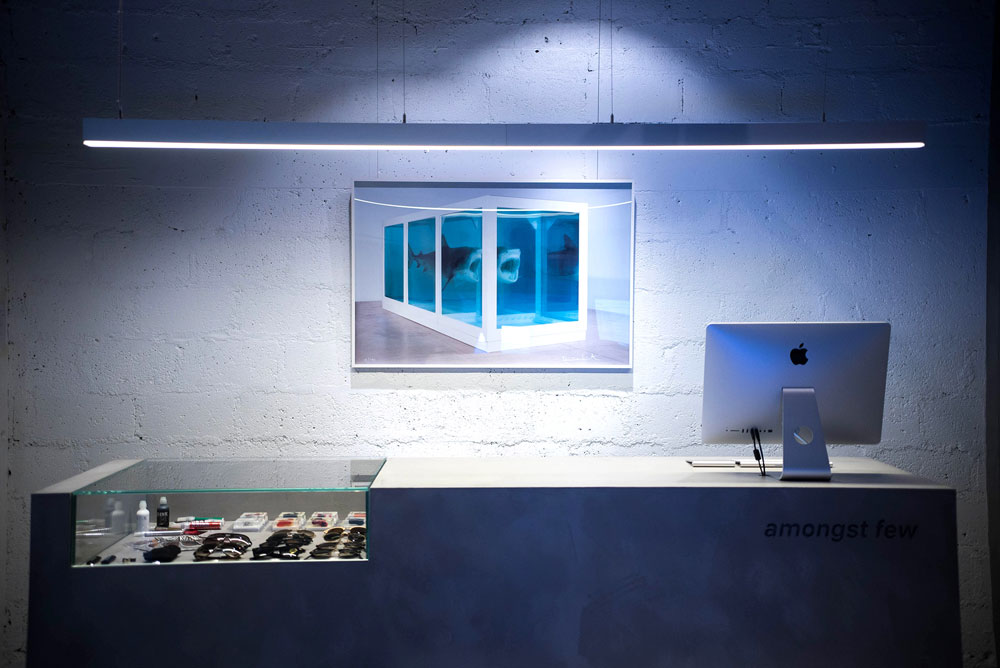 Why did you guys start amongst few? What gaps did you see in the industry that you wanted to fill?
FLO: amongst few started from a few too many conversations on what we would do if we were to create a streetwear brand today in this region. Those conversations quickly led to concepts, moodboards, designs, and finally the launch of the brand in September 2014. One thing we were in complete agreement with from the start was that we always strive to execute quality, durable, and timeless products. At that time we personally felt a large portion of respected brands within the streetwear scene had started sacrificing quality in favour of cheaper manufacturing costs, which would lead them to benefit more on profit margins. Though business wise we understood this is an advantage, as consumers ourselves we felt it was disappointing, not to mention annoying. We all have been there before, sourcing a limited piece only to have it shrink, discolor, or more often than not lose its print in the first rounds of washing. This was something we didn't want our customers to feel and have spent countless time trying to avoid at all costs by testing our products [and] sourcing premium cottons to the point of creating our own custom yarn with our manufacturers at times.
Mike, you've mentioned in three other interviews that, "People's first thoughts of the city are related to luxury, vast wealth and extravagant living and unfortunately not its emerging street culture scene." How are you combatting that? Do you think that there is an association with wealth in the streetwear industry as well, where it is commonplace to flex what brands or sneakers you own? How do you disassociate the two—premium luxury vs. streetwear?
MIKE: We prevent ourselves from fitting into the stigma by constantly displaying the other sides of the UAE [United Arab Emirates], whether through lookbooks or lifestyle shots. We use locations that are often overlooked or known only by residents. We have and aim to feature actual creatives from the local scene which in turn we feel assists in building a solid and respectable culture here. We take pride in helping expose individuals that are helping shift the status quo of start up fashion and lifestyle brands here. Let's be frank though, the association of wealth will never die from the gulf; factually, there are actually a vast amount of wealthy people in the region, both expats and locals, but it's widely known here that the core individuals shaping the street culture scene are often outside of this category.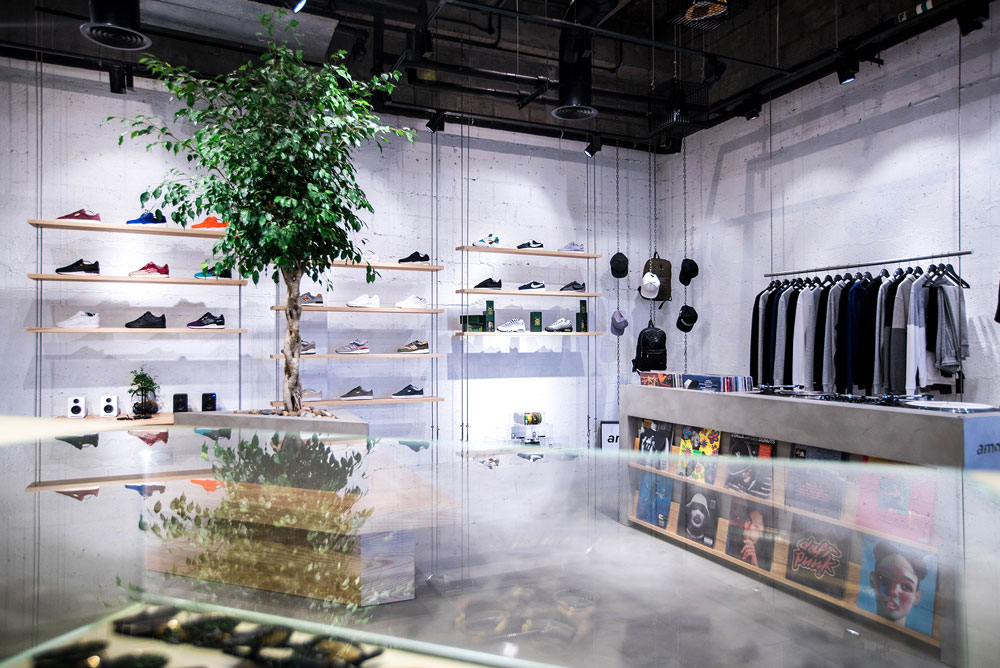 Sole DXB, the region's yearly premier footwear, fashion and lifestyle fair is fast becoming the yearly spot where both brands and attendees don their best attire, products and in the case of the bigger brands involved showcase spaces and limited products. At events such as this, you will see a larger demographic of people merging high end brands with street brands as well as traditional clothing. The region is now feeling more like the Far East and Western world when it comes to sneakers especially, its no longer a shock to find people rocking highly limited sneakers compared to four or five years ago.
Dubai is a beautiful melting pot of nationalities and dual ethnicities, creating an incredible collage of different fashion styles. Each year the UAE street culture scene evolves and organically the two mediums both flourish separately and in some occasions together. We dissociate the two worlds through creating affordable classic streetwear products and staying connected with our core. We do, however, provide our customers with premium materials that are arguably as good and in some cases better than some premium luxury brands.
You've also mentioned the idea of being "loyal to [your] cause." What cause is that?
MIKE: We set out to basically do us, create what we want to create no matter what the current trend, mood or colors are. We set out to create premium products and will remain to always do so. You will always find our philosophy on our hang tags: "exempt from obligation and devoted to cause; we elect to suspend ourselves from the predicaments of the masses. established and crafted in dubai, our brand inherits the traditional emirati philosophy of simplicity and function with a strong emphasis on quality." Remaining loyal to this cause is what makes us amongst few.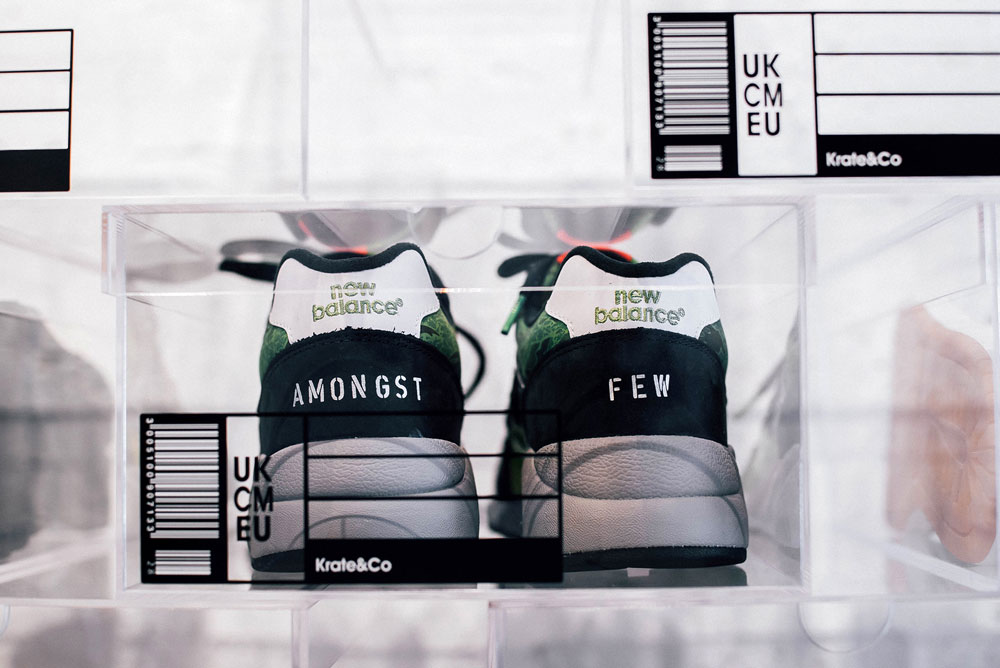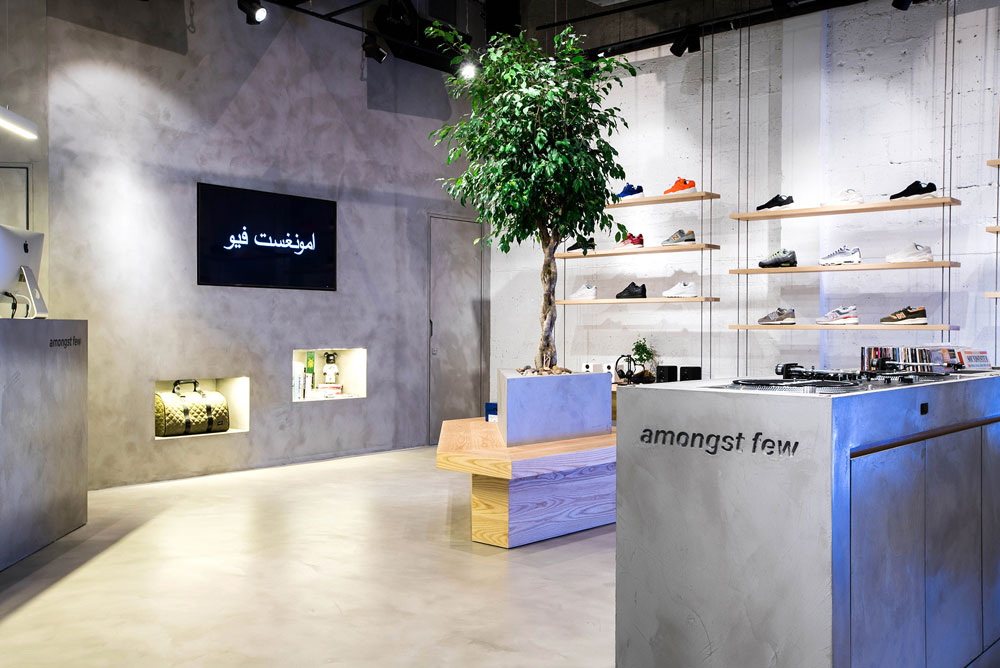 How do you fold in your heritage and culture into amongst few?
FLO: Myself, Mike, and Khalid all come from different regions of the world. I'm Austrian born but grew up mostly in Australia. Mike is half Jamaican and born in the U.K. while Khalid is local born Emirati. We infuse our heritage and cultures into every collection whether through details such as hidden stash pockets in sweaters—which is something pulled from the need to stash valuables when roaming the dark streets of the major cities—to the attention to detail found in the craftsmanship of Austrians and not forgetting simplicity taken from the traditional Emirati culture. These are just a few examples. Visiting our flagship store will provide more cues of our heritage being injected into our designs: the usage of real wood and the feature tree representing Australia's natural habitat, cement and steal from the urban architecture of Birmingham, England, to the clean raw finish of the wall that represents traditional Arab buildings.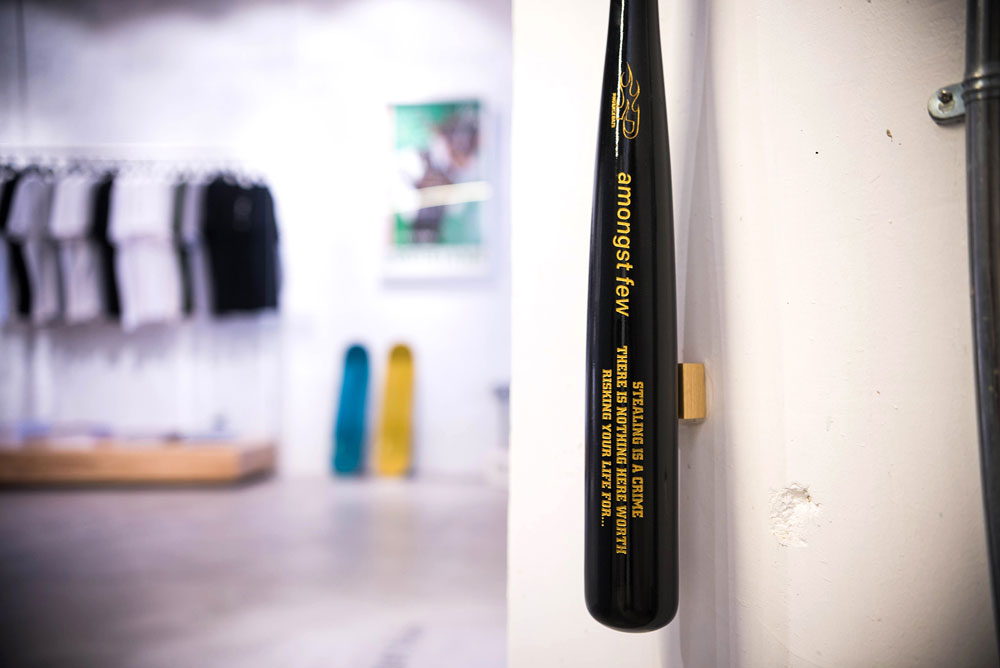 Since starting amongst few, have you noticed a change or growth in the streetwear scene in Dubai?
MIKE: Yes, since starting the brand in the last quarter of 2013 to launching a year later and then opening the store that following year, we have seen an overwhelming growth and change in the streetwear scene; from other streetwear brands following suit, to multi brand concept stores opening, to global stores like concepts entering the region. The streetwear scene is still fairly young, but each year it's becoming more and more dominant, with more street culture events being put on now than high fashion. It's a great time here for streetwear and street culture.
What are your plans for the future of amongst few? How are you trying to push the street culture of Dubai?
FLO: We are constantly trying to educate our audience with the inclusion of the Middle East and Western heritage… As Mike mentioned earlier on, we are also trying to expose other creatives here too. We are about building the community and we want the community to shine—it all adds to building a thriving culture.
MIKE: Our flagship store was also created not only to be an outlet where we could continue to tell our story, but also a hub for the community. In due time we will host events that will showcase local creatives [while] continuing to team up with brands such as Nike, All Gone, and Beats to educate, tell stories, or bring products otherwise unavailable in the region.
FLO: Our store has a unique function of reverting back to a complete blank space, meaning we can transform the store to anything from a gallery to a full on activation to a screening room within the given boundaries of the four walls. Future plans we are unsure of at this time, but one thing we are sure of is that we will continue to make quality products in both the apparel and lifestyle fields.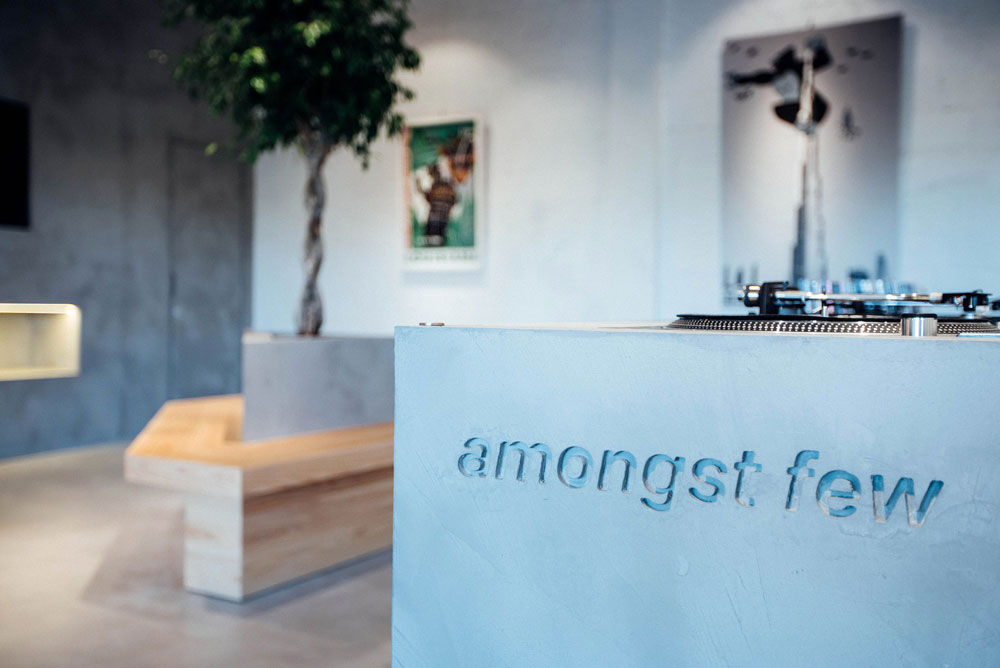 ***