Rapsody is a breath of fresh air in the rap game: a beast on the mic and a sweetheart in person. Though she receives a fraction of the press and accolades, the North Carolina-native can spit just as hard as the guys – if not better. Signed to Roc Nation, a mentee under the wings of famed producer 9th Wonder, and the success of her debut studio album Laila's Wisdom — which was nominated for two Grammys: Best Rap Album and Best Rap Song — the artist, born Marlanna Evans, is a lover, an aunt, a friend, a daughter, and one hell of an MC.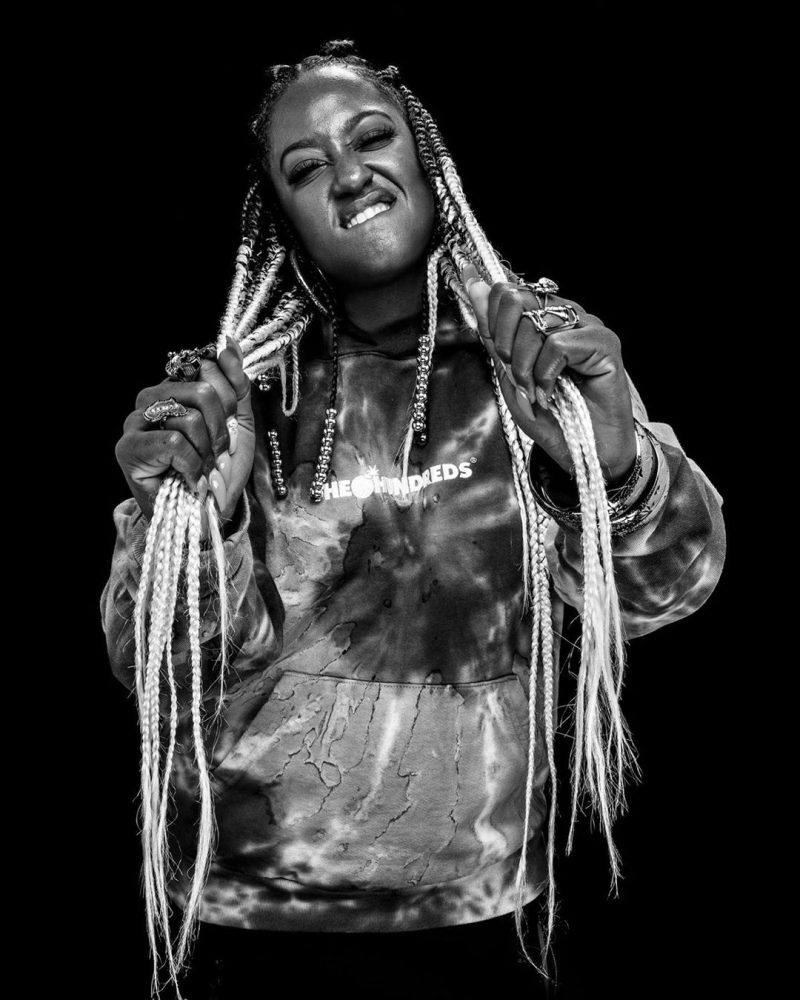 Her Grammy-nominated third studio album EVE is dedicated to the celebration and empowerment of women of color all across the world. The concept is derived from an epiphany one night, as real name Marlanna Evans realized that she was an extension of every black woman. The 16-track project pays respect to queens like Oprah, Aaliyah, Whoopi, Serena, Tyra, Hatshepsut, and more — both literally and metaphorically, narrating the reality of being a strong, black woman in today's society.
This was the second time I sat with Rapsody, the first being just as fulfilling as the last. This time she rocked a vibrant jumpsuit with black power written all over it, including the name MC Lyte. Immediately, you get a sense of longevity and legacy as she speaks. She's not just here for the short term, her words lend power and meaning no matter what the subject matter.
I chatted with the "Sojourner" artist shortly before she took the main stage at Adult Swim Festival to discuss her love for cartoons, her purpose, female lyricists, and her favorite memory on tour with Big K.R.I.T.
What are some of your favorite cartoons?
My love goes back back. [Laughs] My love for cartoons starts with Tom and Jerry, I gotta keep it real. I still watch Tom & Jerry, The Gummi Bears, Transformers. You move up to Recess and Hey Arnold. The Boondocks is back, is it going to be on Adult Swim? It's going to be on Netflix? Anyway, that's still the greatest of all time.
You got time to watch TV?
Who me? No I don't. On the real, I was just thinking, we've been on this whole tour and I've probably watched TV one or two times. Even when I'm home, I don't get to watch. If I do, it might be Law & Order or a movie on Netflix. I'm usually always creating or I'm out in the world talking to so many people. I come home and sit in silence a lot, but I love TV at the same time so I have to get my balance back.
Would you consider yourself an extrovert or an introvert?
I'm both, to be real. I love people. If you meet me, I'm not shy. I like people, I like to goof off. But when I've reached my limit, if I've had enough, I like to go chill and be by myself. I'm a little bit of both to be honest.
How have you evolved since Laila's Wisdom? At what point did you realize you wanted to stop fitting in?
Really coming more into myself. Being more confident and sure of who I am. I have a purpose and a lane, I don't have to change who I am. Really learning more about myself and owning who I am and accepting the space that I'm in, and being okay with me not being for everybody. Once you come to that understanding, you blossom up so much. You're able to radiate who you are through the music, through your artistry, through your growth. It's being open that allows you to grow even more.
At what point did you realize you wanted to start fitting in?
[shhh] Man, I think I got there right around Laila's Wisdom. It was the "Complexion" on To Pimp A Butterfly first, somewhere around there. At the end of the day, just do you. Kendrick calling me really meant a lot. He could've called anybody in the world, but he saw something special. He saw the path. Being nominated for my first Grammy for my work, Laila's Wisdom, that validated it to a whole other level. You don't have to chase anything, stop trying to fit in and create your own path. You might not have a million or 10 million people behind you, but you might have 500,000. That's when it really hit for me.
What's your friendship with Kendrick now?
Oh, it's the same as it's always been. When he's creating, I don't talk to him much. We text more than we talk. I haven't really hung out with him much. We went to the studio together two or three times, but we'll check back and forth. Whether it's advice, talking about things that's going on, or just joking about things that's happening in the culture... it's dope.
What advice has he given you?
Early on, it was about finding melody. We were talking about balance. Finding balance. As we grow in our craft, in our artistry, in our celebrity, how do you balance that? How does that work for you? Not to give too much of what he says away because a lot of it I want to keep to myself because it's personal, but that's the advice we talk about. He's been a lot of places that I'm just now reaching, so I always ask him like "yo how did you handle this? What do you think about that?"
Do you feel female lyricists are finally getting the recognition they deserve?
Yeah, definitely. It's growing more and more everyday. I want to continue to see it be more diverse at the mainstream level but I definitely think we're getting there. There's some really dope women out, they all have a lane. A lot of us are working together so it definitely has a strong start and a change that's going to be a crazy, crazy wave or time for the culture to look back on. This is how it started. It's healthy and it's dope, I'm excited about it.
What is your purpose?
My purpose is women, kids, especially my nieces and nephews. The next generation, that's my purpose. To make it easier for them. I'ma go as far as I can but I hope that I can widen the door and make it easier so they can go even farther than me. That's the purpose for me.
Do they understand the concept of Eve?
Kids? Definitely. Kids are intelligent. They know way more than we give them credit for. My niece just turned ten. Since she was seven, she was listening to Pimp A Butterfly. They understand what's happening in the world. Maybe not to the greatest of depths but they understand what it means. To see her involved and listen to the music... my sister sent me a text saying my niece asked about the song on my album called "Myrlie" and who she was. When my sister told her who she was, they had got out at Target. She looked down at her and she had tears in her eyes. She's like "why you crying?" She said "that makes me sad to know that happened." So they definitely understand.
At what point did you come up with the concept to dedicate each record to a queen?
Last summer in 2018, I did an interview with a guy from Oxford and we're talking about the lineage in North Carolina musicians. He was connecting me with Roberta Flack, Nina Simone, etc. It just inspired me to think deeper and further, which I've always done in music but to make a whole album about it, I'm an extension of so many dope women. I look at my family tree, who inspires me and all the different sides of me. It's a whole lot of women that influenced me. I wanted to showcase it because I knew I wasn't the only one who felt like that. It allowed me to tell the story of who I was and who we were as a tribe.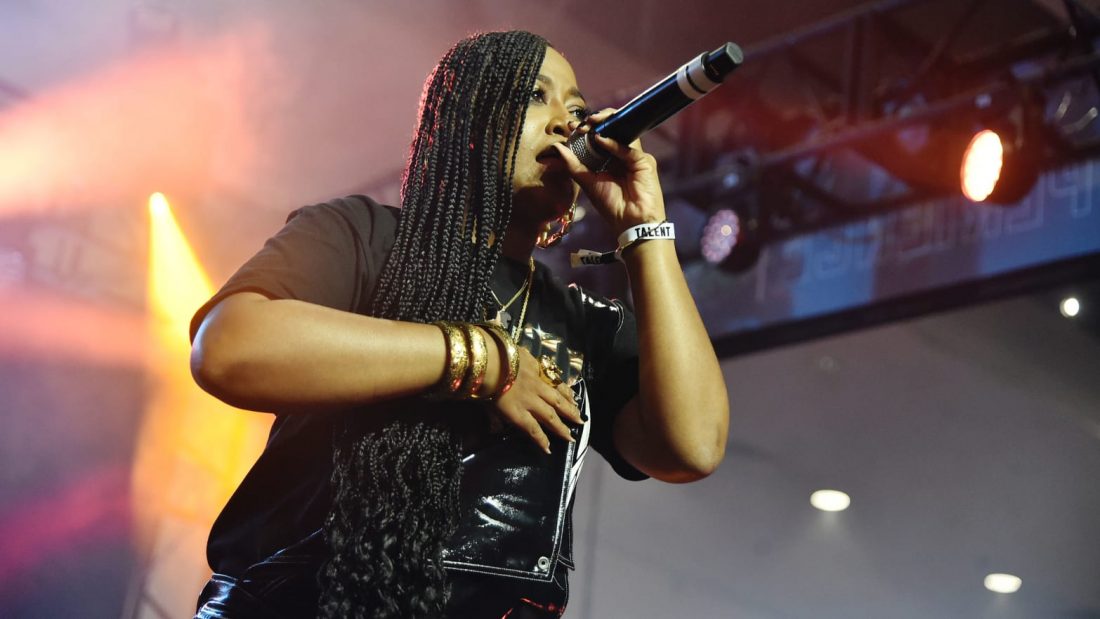 What are some of the barriers you face in the music industry today?
It's really just taking it a day at a time. Understand it's a marathon, one battle at a time. Not allowing yourself to be boxed in. I allow myself to feel. If I'm upset about something, I give myself 24 hours to feel how I feel. But you can't sit in it, you still have to keep fighting and being the change that you want to see in the world. That's the best thing you can do. Do as much as you can and whatever you get from it, build on that. Go to the next phase. Surround yourself with positive people and a strong team that understands your vision and are always going to have your back.
What keeps you back home in North Carolina?
Family for one. My family's there, my niece and nephew. I thought about moving but their ages are so impressionable so I wanted to stick around a little bit longer. I'm the cool aunt. It helps to stay where you are so you walk out, people can see you. You hear stories of Kendrick growing up in Compton and getting to see Pac, Dre, Cube, etc. Joey Badass might've grown up and he might've saw Mos Def or Jay or whoever walking around, just here going to a concert. I didn't have those experiences so for me to stay home, go to my hometown, be in Raleigh, be out for people to see like "yo you're real, you stayed." It just exposes them to more possibilities of what they can do.
What did it mean to get J. Cole on "Sojourner"?
It was dope. Overdue. That's something that a lot of people had been looking forward to. To have two North Carolina rappers, both signed to Roc Nation, just make dope music. It was a moment for North Carolina. It meant a lot. He's one of the greatest to ever do it so any chance to work with somebody as legendary as he is, it's always dope.
And to have Queen Latifah on the project?
A complete full circle moment. That's probably the best feature I've ever had because it's attached to a whole experience. A lot of people, you mail things back and forth. This was something that happened over two, three weeks. We became good friends. She still hits me up. We talked the week before we got together, we listened to the music. The next day, I go to her house, we work on the song. After that, she still calls me. That whole dope experience, I finally got to have a big sister in hip-hop. I have big sisters, but none I can call and ask advice or who call and check on me. She's so dope and humble. A queen, like her name is. She's the ultimate queen.
How does she influence your art?
To always be myself, to know I demand to be respected, to know I have a place and my voice matters, and the power of our voice. Queen was one of the first ones. The power of "U-N-I-T-Y," how she spoke, how she loved herself, and how she showcased it. She used to wear the African pendants and hats, here I go with the Nefertiti rings and chains. Just to love ourselves and to see the value in it. To never feel like it's not dope. We're dope, the culture moves through us.
Did you have a mentor coming up?
9th Wonder was my mentor. If you're talking about females, Rah Digga. Rah Digga was my first mentor. Monie Love, she used to always be supportive. Those were probably the first two. Oh, Lady of Rage, super super supportive. Jean Grae, too.
Are you looking to bring up your own artists?
Completely. Anytime I can talk to somebody and give them advice, I do. Men or women. I'm working with Niko Brim now, Misa Hylton's son. We have labelmates who are younger: Reuben Vincent one of my labelmates on Jamla Records is 19. I've been working with him with 9th since he was 13, just giving him game. Anybody that comes asking for advice whether it be on Twitter or in person, I'm always going to give it. We shouldn't keep that to ourselves, that's what keeps the culture healthy. Each one, teach one.
What are those conversations with Hov like?
We don't have long conversations. The last conversation we had we were talking about sports. We joke about sports. Whatever I'm dropping, he's always like "yo that's dope. I love what you're doing, I'm so proud of you." A lot of times, he emails me. We have email conversations. Whether it's I'm thanking him for bringing me on or asking for advice or him just hitting me being like "I'm just so proud of what you, Jamla, and 9th have done." Those are the conversations we have. Either that or we're joking about sports. He air dunked on me the last time I saw him.
What was your reaction when Cardi B shouted you out in the IG video?
Love. It was the second time actually she'd shouted me out but it's just dope. It made me proud of her because what she's doing is so dope. To be where she is and the celebrity that she is to take time to do that for myself, Tierra Whack, Chika, it showed she's a leader, too. That made me proud of her. I'm happy to watch her continue to grow. It's just love, that's what we need.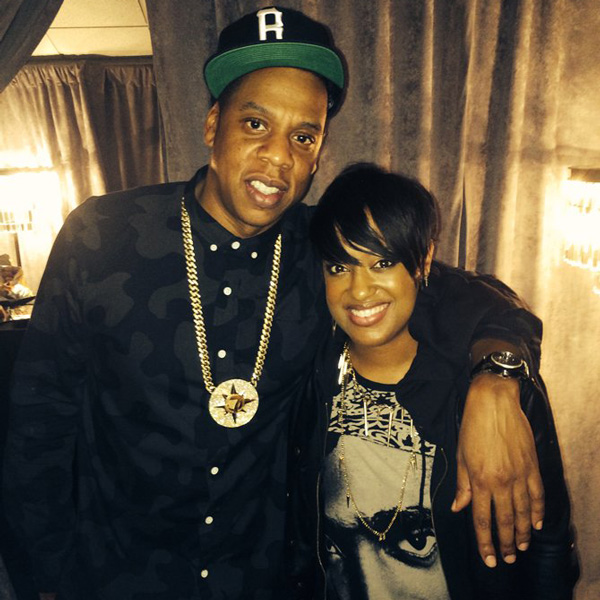 What was the best memory from touring with Big K.R.I.T.?
When he was in Mississippi, to watch him at home and see the love that he got. All across the tour but when you go home, you get the love that you have. He brought his family out. I've been knowing him since 2009 so to see that moment and how much it meant to him. You could see in his eyes, it was a marathon for him and he's still running the race. He's at the top of the top, one of the best doing it without a doubt. He'll go down as one of the greatest to do it. He'll be in that elite class. He's already elite. Just to see that full circle moment for him, you could tell it was places he used to run. It was dope.
What can we expect in 2020?
Music. More tours. Maybe getting into some other things on the acting side. I want to take acting classes for sure.