In an awkward instance of life's tomfoolery, I fell into a body-mod K-hole at a really young age. This is extra weird since nobody in my bloodline has tattoos, I grew up in a privileged community of non-modded people, and the general perspective on tattoos in my family is negative. Despite this, though I don't care to get into the details of how or why, I am somehow deeply ingrained in an industry that I really can't relate to (I don't have any tattoos), yet maintain a sturdy affinity for.
Like many tattoo artists or collectors today, and unlike many Calabasas kids (did you know that Jensen Karp was my camp counselor?), I grew up on BME, watching painful tongue-splitting videos, and dreaming about the day that I would have a really rad tattoo of my last name on my back (really glad I didn't do that, no dig at those that did). When push came to shove, however, I didn't pull the trigger. As a matter of fact, on my 18th birthday when I went to the tattoo shop, I bitched out on the stupid forearm piece that I was going to get, and watched my best friend get a tattoo of my face on his ass instead (sorry, man). Now, immortalized in a really bad black and grey portrait, I'm a mid-20s awkward white guy with no tattoos, no piercings, and no real trajectory to get modded. That being said, my interests in tattoos have yet to cease, and about three months ago, they introduced me to someone I've been following for quite some time – Monami Frost.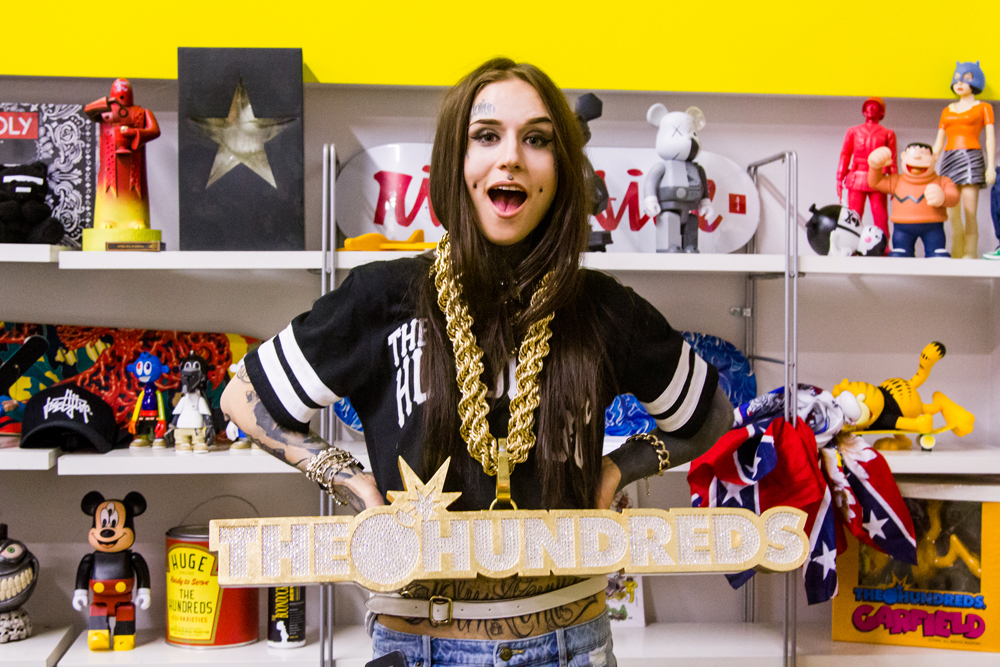 It felt like forever that I had been watching Monami Frost explode on social media, but as it turns out – and as is frequent in Internet time and space – "quite some time" was only really one year. One year of insane growth. At the age of 20, Monami already is one of the largest voices of any inked model on the Interwebs, with a polarized following (look at the comments on Bobby's Instagram) that she uses frequently and efficiently to brand herself as a mysterious, fully inked girl not next door. I recently had the opportunity to invite Monami and her husband – incredible tattoo artist Anrijs Straume – out to California to shoot with our beloved Bobby Hundreds. In the meantime, last Saturday I decided to educate them a little bit on Los Angeles, and learn more about what's behind those tattoos. Catch our journey from Fairfax, to Downtown, to Homebase, their first Dodger game, and everything in between below.
::
What would a tour of LA from the eyes of The Hundreds be without a trip down to Fairfax? Monami and Anrijs grew up in Latvia, and have since relocated to Liverpool – both areas where the sun is sort of an asshole, and never displays itself. The California desert was a culture shock for the fair raw vegan voyager warriors. Fairfax was like a reflecting pool of hypebeast sweat on this Saturday afternoon.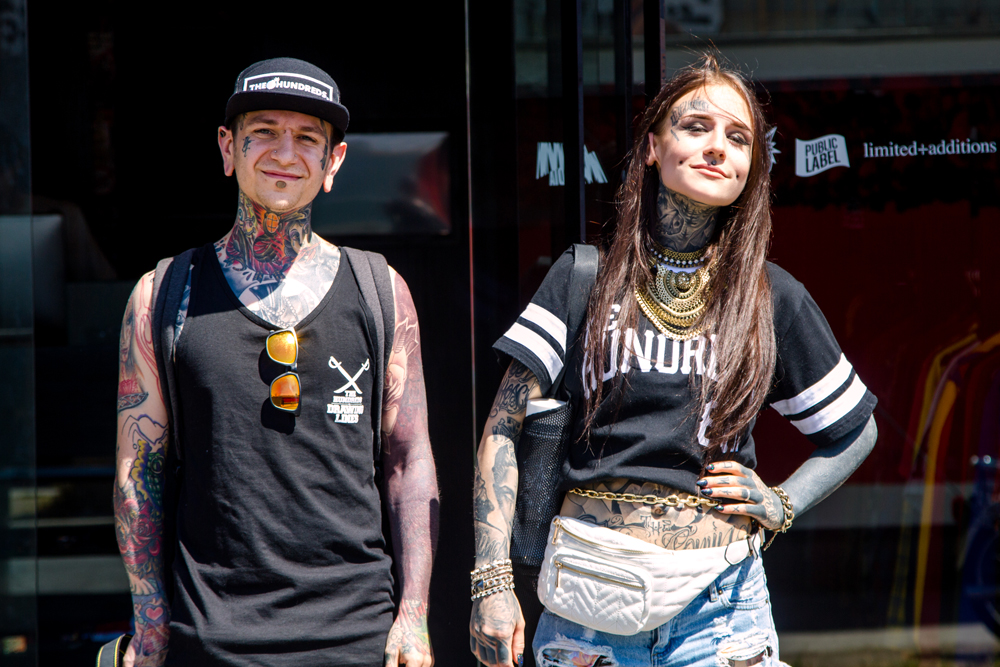 Which is why it was only a brief 3-block sauna-walk before we headed off to The Grove to explore the true past-time of Angelenos – eating and shopping. I took a bunch of awkward photos of her with no intention of them turning into anything other than a recap of our day, but you can grab a photo of Monami on your Nokia piece, and that shit will still turn out.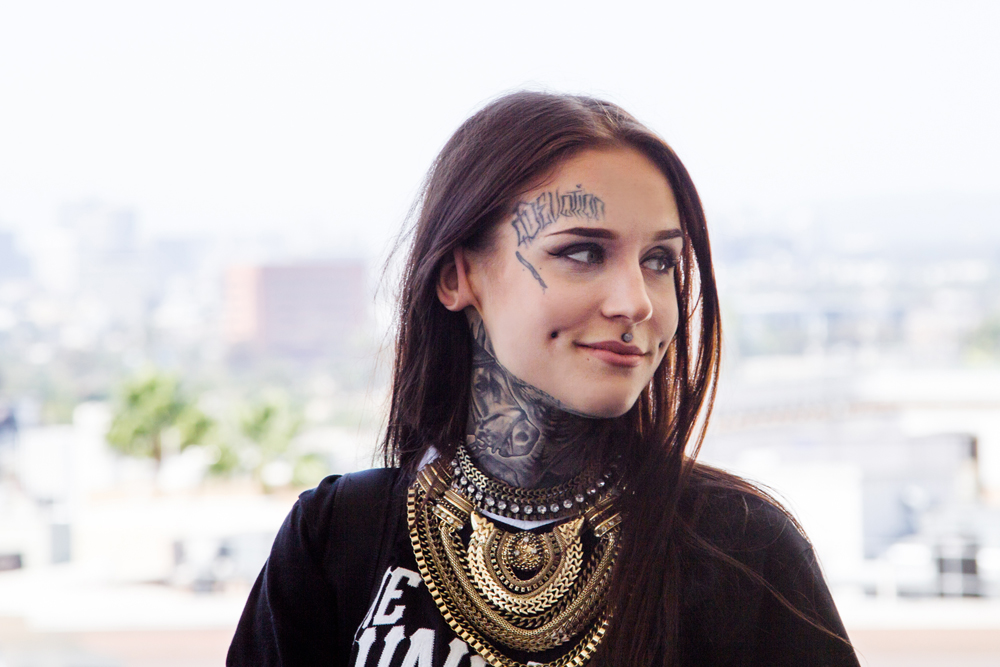 Hey, it's Anrijs! He's probably the nicest guy you'll never meet. He's guest-spotting at The Dolorosa today through Friday. Isn't it a small world?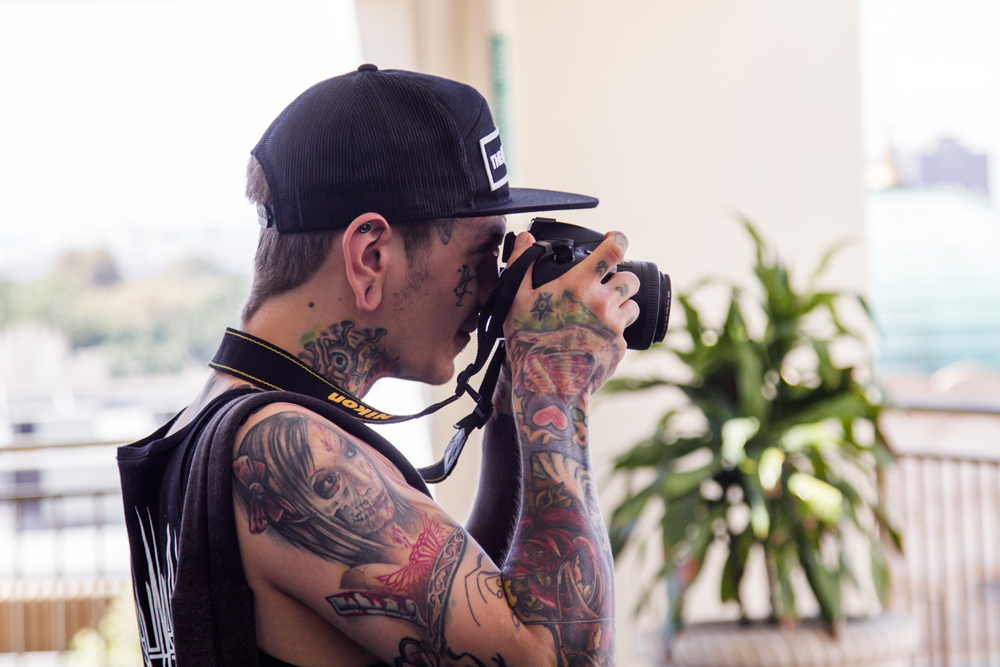 He's also the graceful hand that inked much of Monami's body of work, including the increasingly ubiquitous "Devotion" lettering on her forehead that many have come to imitate. Just prowl through the hashtag.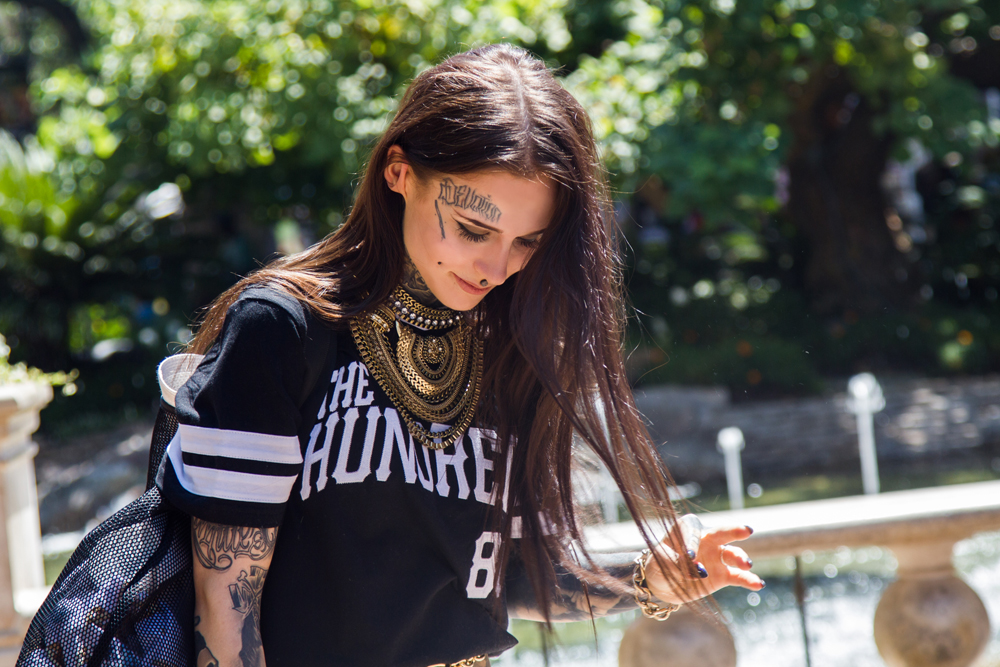 You take a lot for granted when you grow up in such a diverse place. Anrijs and Monami were sponges for Los Angeles culture, plotting their move a few hours after they hopped off the plane. I helped facilitate the conversation with comments like, "It's summer all-year-round," and, "There's raw vegan restaurants on every corner!" They really didn't need my input.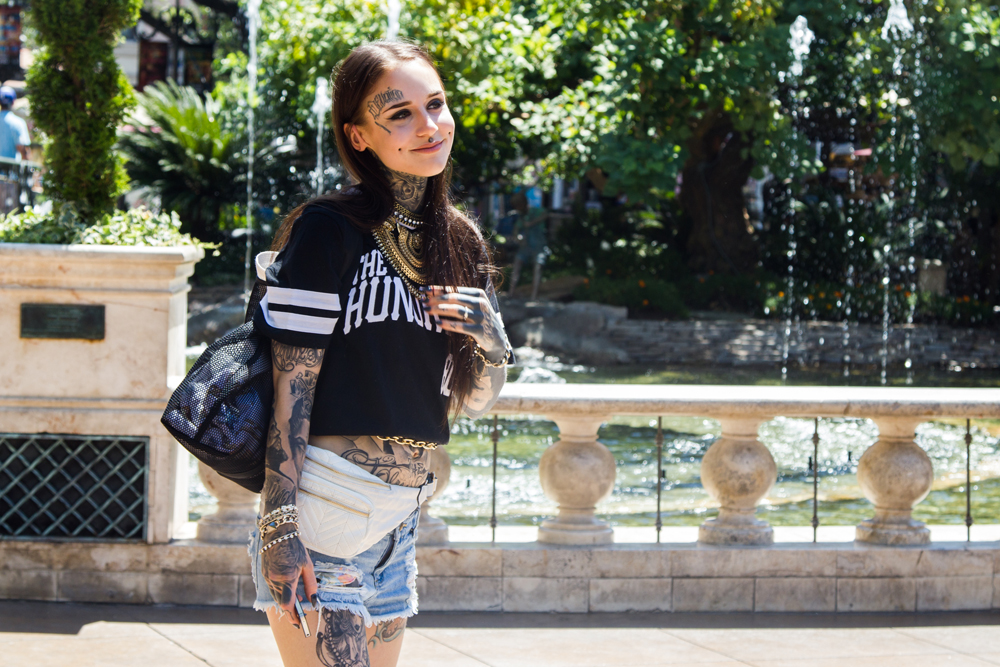 It turns out the Frost family is obsessed with watermelon – she just came off of a "watermelon island," much like the "burger and french fries island" that I just came off of. She looks a lot better than me, so I tried to eat raw vegan for the day. She showed me some of her black and grey work, mostly by Anrijs, whose style is to take photorealistic portraits and turn them into the creepiest things you've ever seen. This one is a Silence of the Lambs rendition of Mary Kate Olsen, with "MUTE" above it – a commentary on youth gone astray.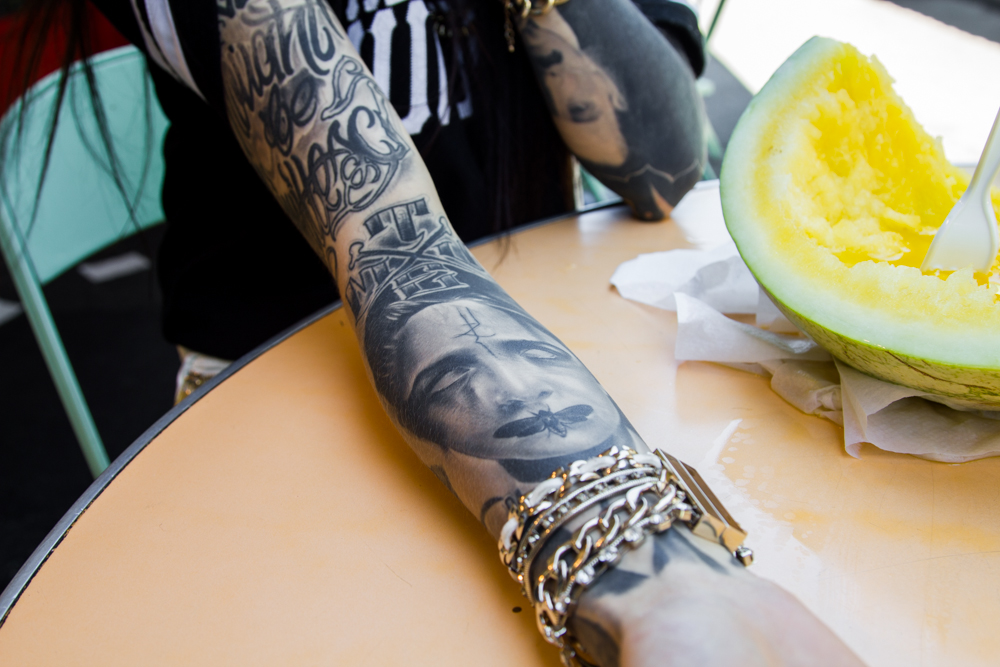 The other side had another portrait with "BLIND" beneath it, and she's waiting on a third installment of a "DEAF" Macauley Culkin. Catch the Benjamin tattoo on her right hand. It was hilarious listening to them debate over what bill he was on – how funny (or sad) would it have been if she had Andrew Jackson tattooed on her hand? This was the first (of many) raw vegan intermissions that we took throughout the day, extending to SunCafe and (their third stop at) Cafe Gratitude, who now probably knows them by name.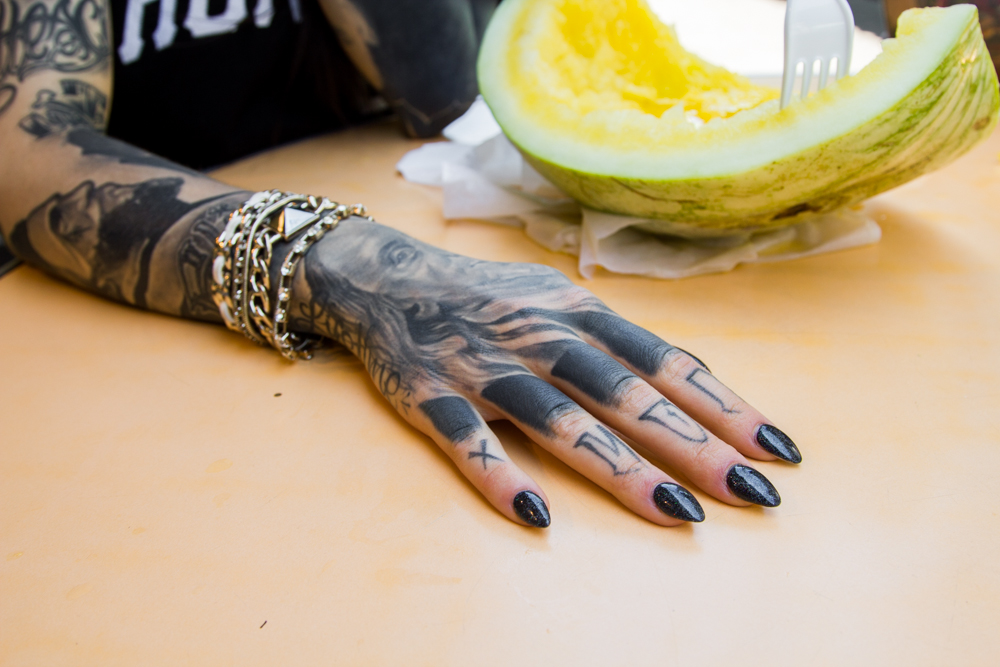 We took a pit-stop at The Hundreds Homebase. It was a slow Saturday, which means that only the design and printing teams were plugging away (seriously, those dudes are zombies), so we got an opportunity to turn up at the office. Here she is rocking Bobby's "ignorant" chain in front of the Aaron Kai joint. Protip: We kept the pencil sketches on the mural because it shows the fluidity of Aaron's work – the dude didn't plan or pre-assemble – just went ham with no reservations.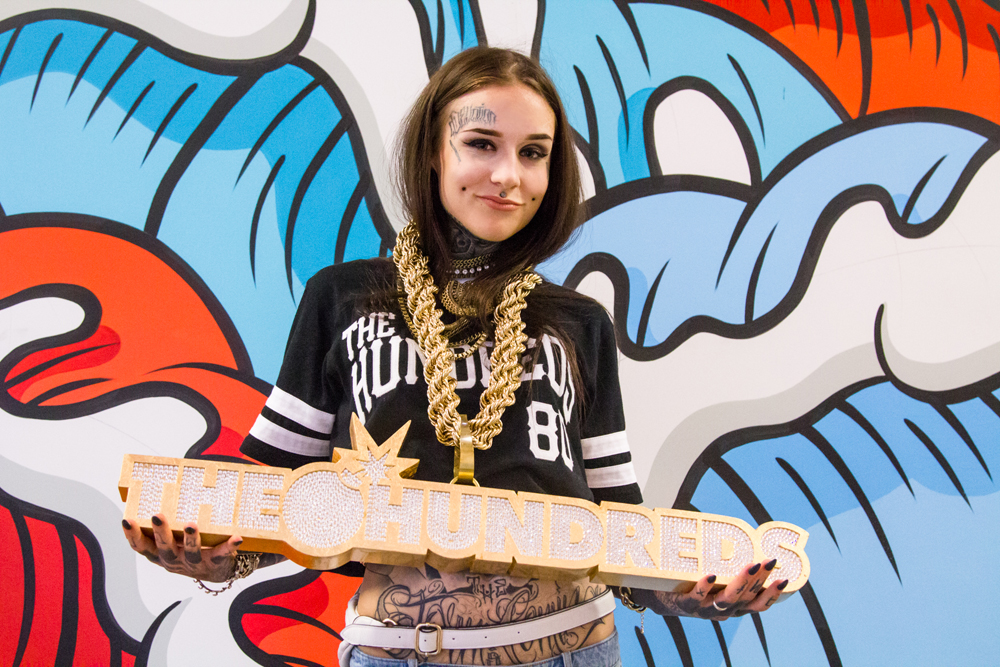 We took another break in the Media Room, my office, where the magic happens. Hey, if you made it this far, here's an Easter egg: our Fall/Winter magazine releases on September 11th. Prepare yourselves. Monami dons the Adam Bomb mask made famous by Danielle and Van. Her Benassi game was really strong. I have to ask her why she has a mutated Abraham Lincoln on her leg.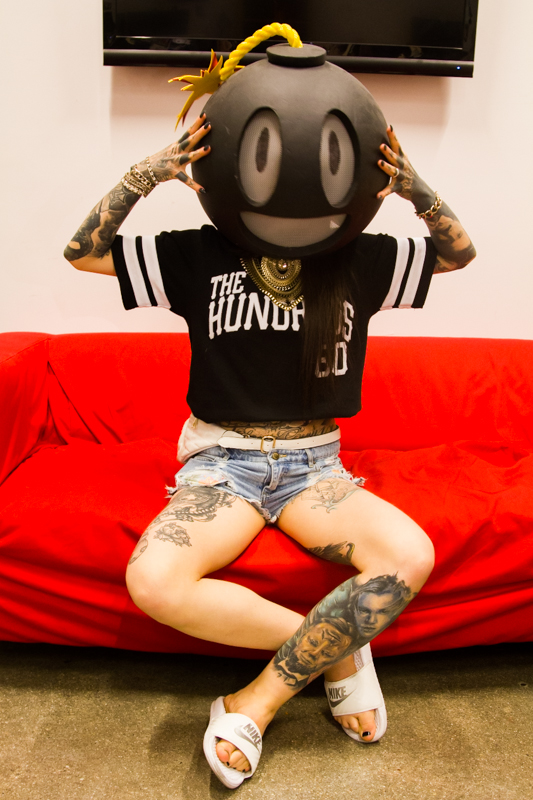 It isn't a trip to The Hundreds Homebase without a quick excursion through the warehouse on the The Hundreds X The Shadow Conspiracy BMX Bike. I don't own one, but I semi-frequently make excuses to ride over to Dyer's office for an opportunity to get a little silly (and by that, I mean ride straight without accidentally disemboweling myself). She was graceful.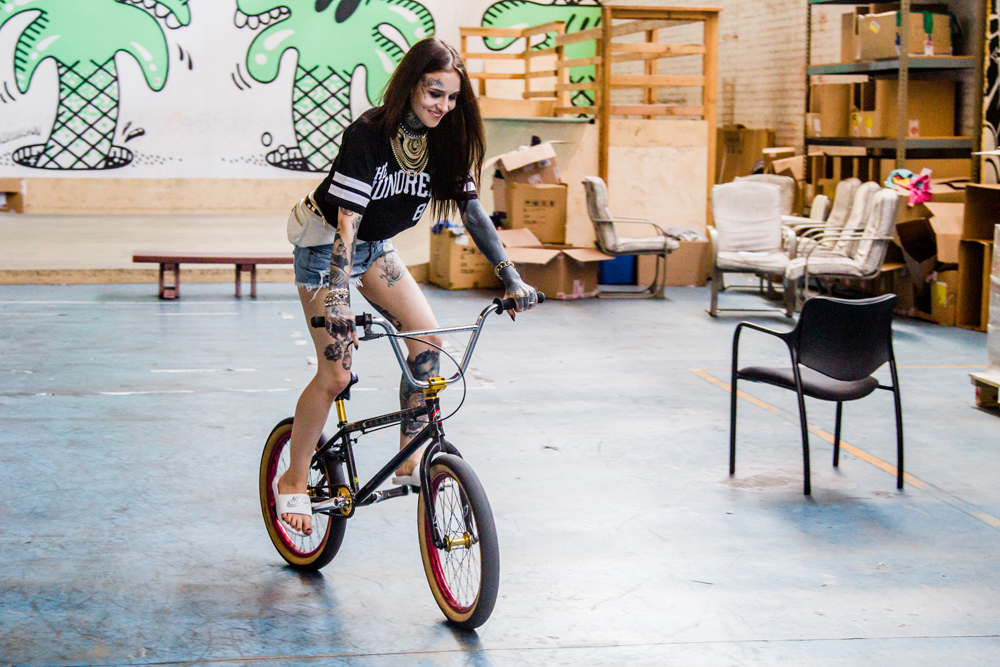 We rode back over to Mixed Media to check out Jon's production. If you're wondering why her left arm is black, it was a choice, not a cover up. And, no, she hasn't looked back since she got it.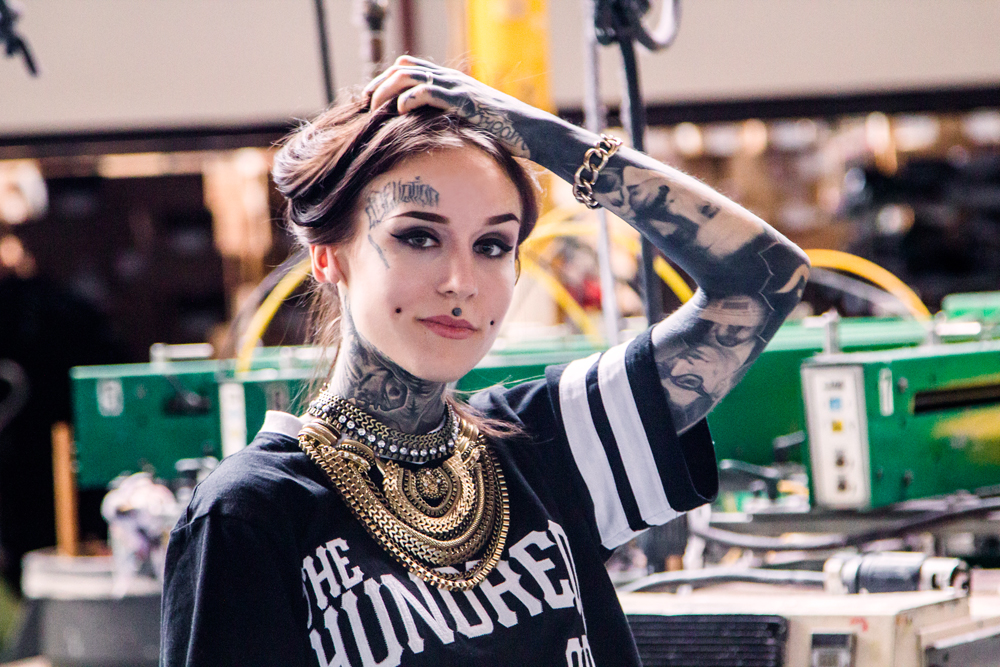 Anrijs rocks the red-out on his left arm. Here's a few flicks from The Hundreds' break room where you can regularly find Ben offering his latest culinary achievement, or drink some piping hot ass-dust with disease pudding.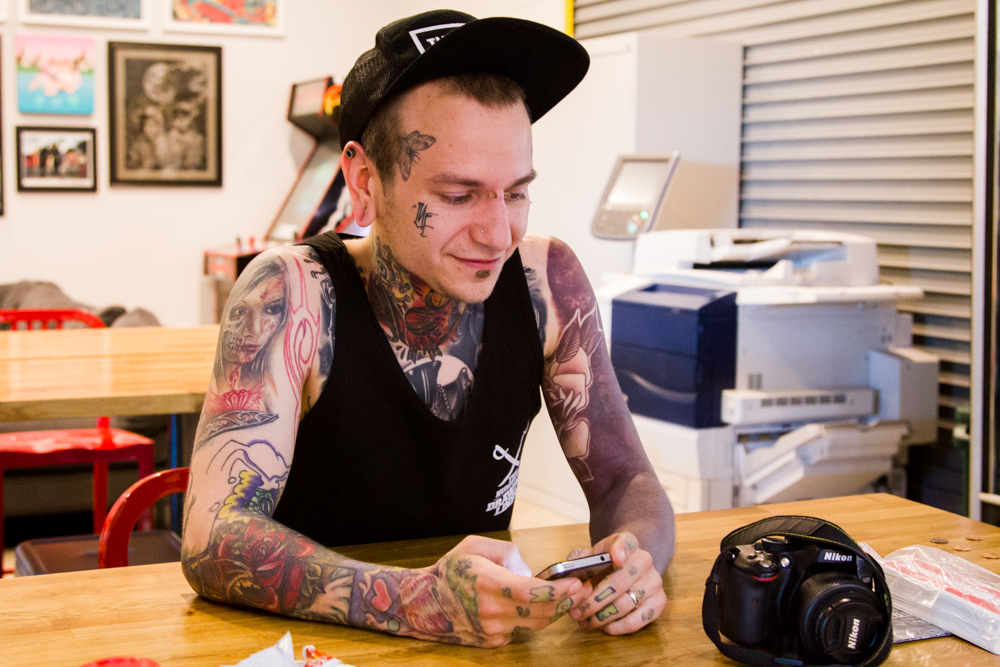 I'm one of those idiots who always thought this was photoshopped. Monami let me peep it out – all white ink, tattooed meticulously by Anrijs (pronounced "An-ree" by the way). They are really casual about tattoo fuck-ups though. I was tripping when I heard them say, "Yeah, it will probably turn yellow," and, "this one below my eye is a little bit messed up."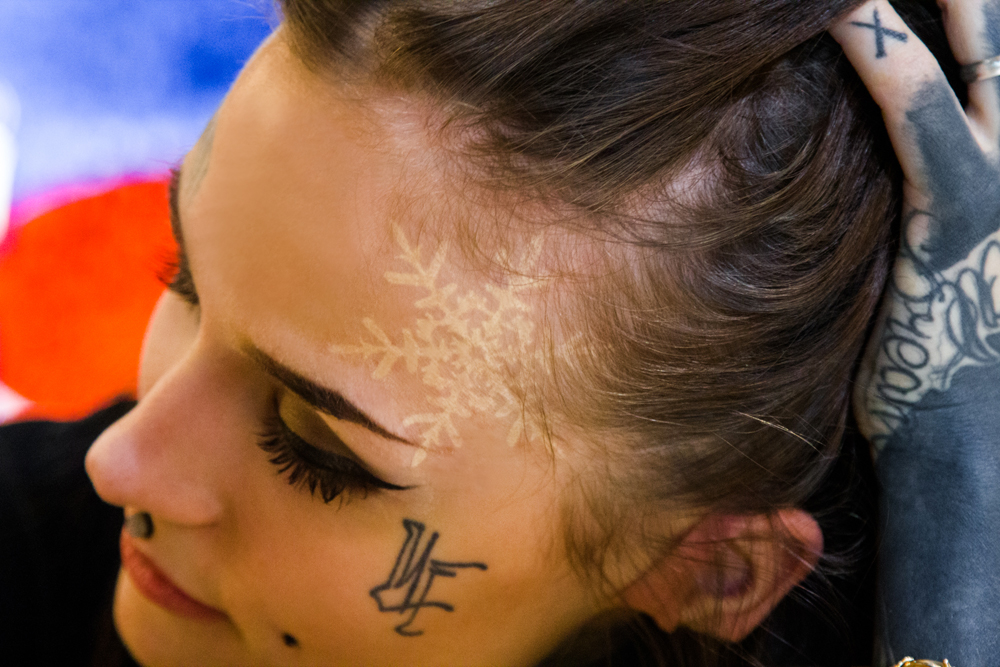 I caught this snap on our trip to Downtown to find a place for them to consume more sustenance before our trek over to the Chavez Ravine Stadium.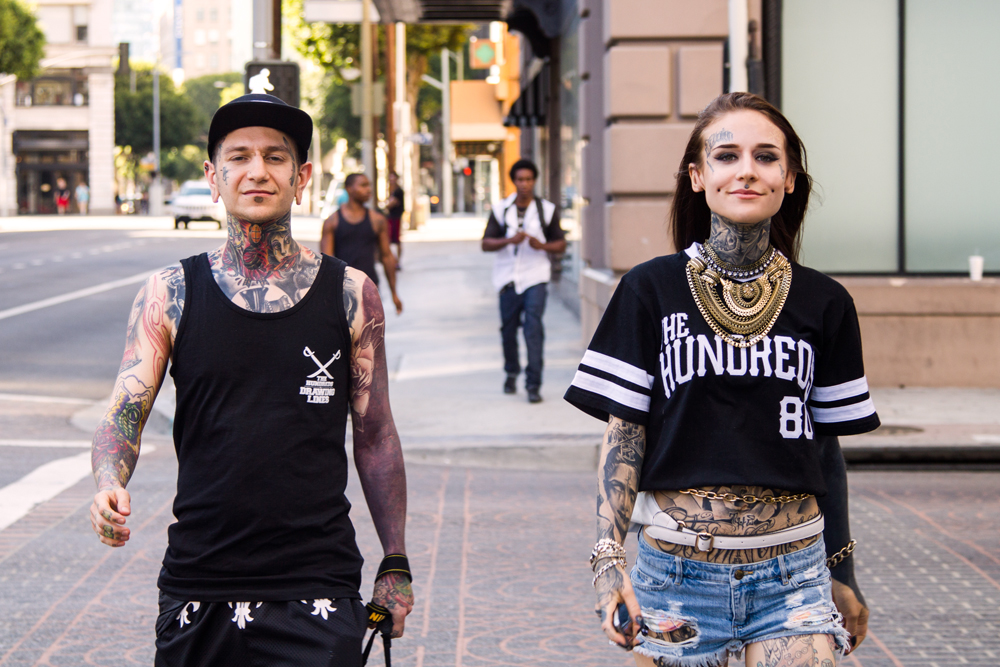 Our final stop on the #mudbutts – I mean raw vegan – tour through town was Pressed Juicery. We were the last patrons at the shop, and I felt particularly spritely after consuming something that looked (and sorta tasted) like lawn-mover bag shavings.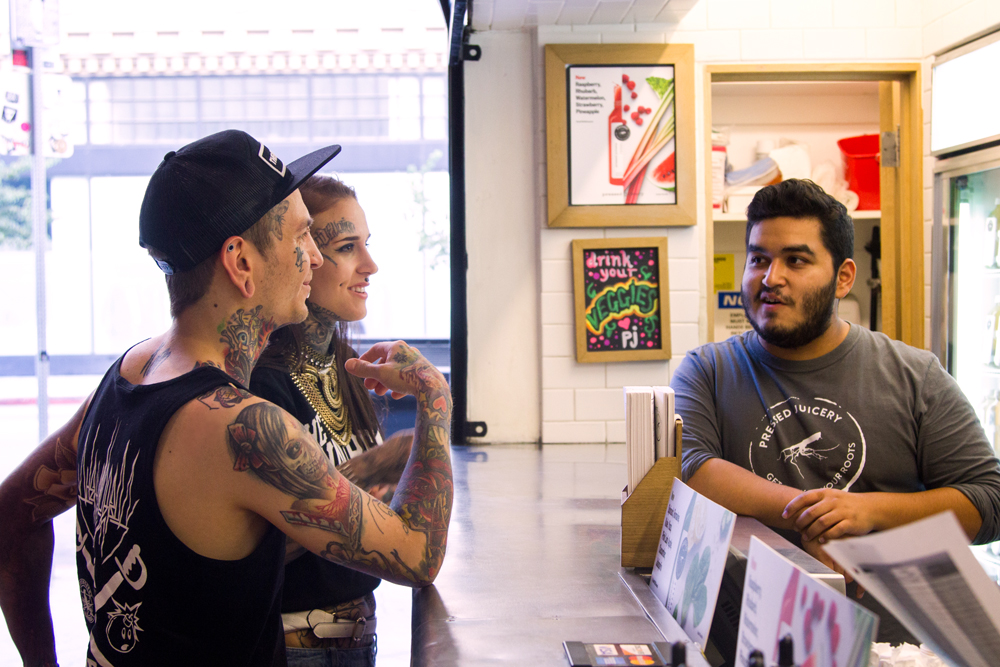 I think that green-juice explains their elf-like urgency to enjoy and consume the world rapidly. I was fading by the time we hit the Dodger game. They were just getting started. Monami and Anrijs were both about as stoked as can be in anticipation of entering a real baseball stadium, something they've been watching on TV for their whole life, but knew nothing about. I found it really difficult to explain the basic tenets of baseball for some reason.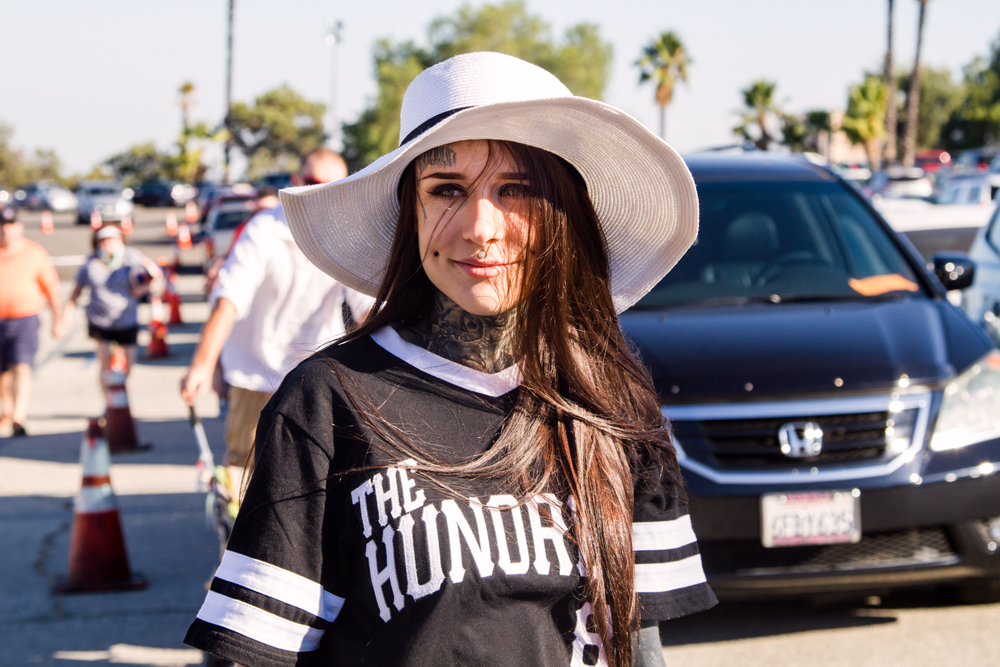 When we got in to Dodger Stadium, Monami and Anrijs' eyes were huge. I shrugged off the 50,000 people in attendance, but there was clear electricity on their psychic palette. The ultimate climax to a day of new exploration, I reminded Monami and Anrijs that this insane congregations of lives in one stadium only makes up 5% of their fanbase. My brain hurts.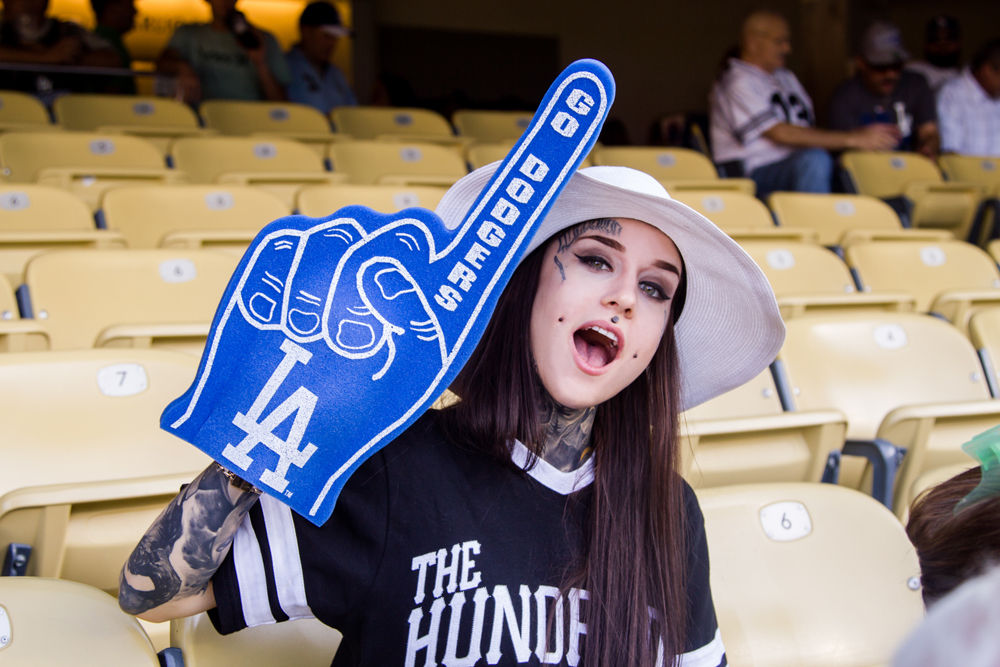 ::
To see more from Monami's journey through Southern California, follow her @monamifrost, and Anrijs at @anrijsstraume.
Bobby recently shot Monami in LA, which will be live on TheHundreds.com soon.