There is no right or wrong answer when it comes to your perspective on this schedule one drug, but it goes without saying that regardless of its medicinal properties, it has become a subculture that has been championed by skate and beloved by streetwear. Beyond the obvious adulation from brands like HUF, there are also a host of brands that have celebrated marijuana in their own way. The list of brands flocking to these mystical flowers continue to grow, but here's a list of some favorites.
Supreme Skate Key
Smoking and skating go hand-in-hand. The "I don't give a fuck" attitude is best understood by stoners who literally could not remember small details to actually "give a fuck." So its to no surprise that Supreme played with the idea of weed with a seemingly innocuous skate tool. To the untrained eye the tool was merely an apparatus to tune your skateboard, but move some parts around and a creative skater could easily smoke a bowl or two.
Source: Supreme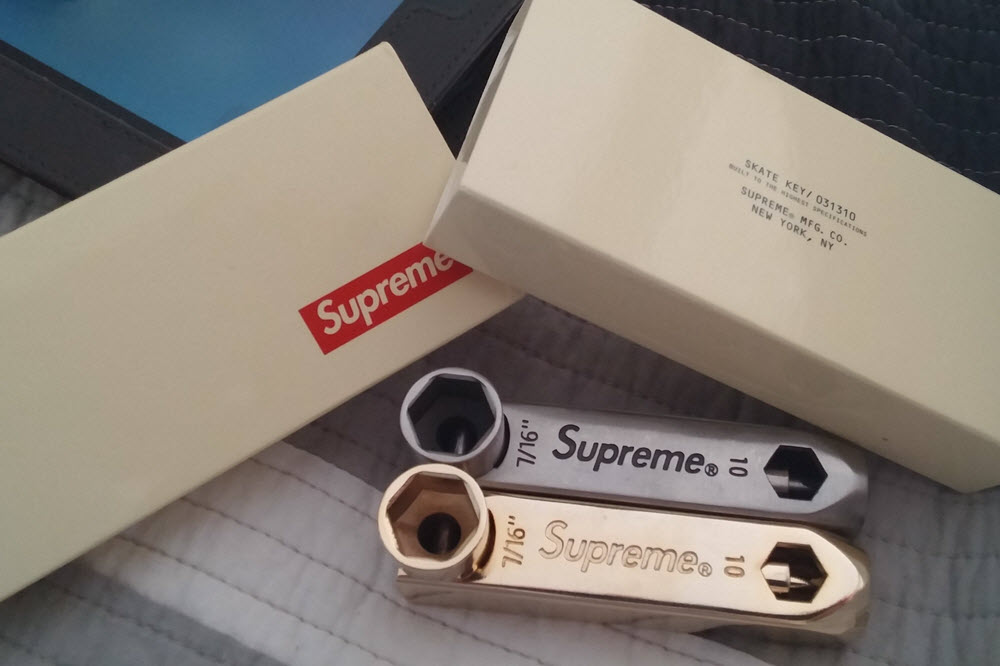 TRUE "420" Pack
San Francisco has been a bedrock of hip-hop culture and holding it down for the Bay has been TRUE. When you consider that the Bay area was also one of the of the first to embrace Proposition 215, then a "420" project by TRUE would be done right. The liberal attitude of Haight melded perfectly with the street and hip-hop culture TRUE brought to the table in 2010 when they unveiled a collection that included graphic T-shirts along with a grinder and blunt splitter. The tees were so brazen that one offered step-by-step directions on how to roll a blunt. TRUE was one of the first to keep it trill.
Source: TRUE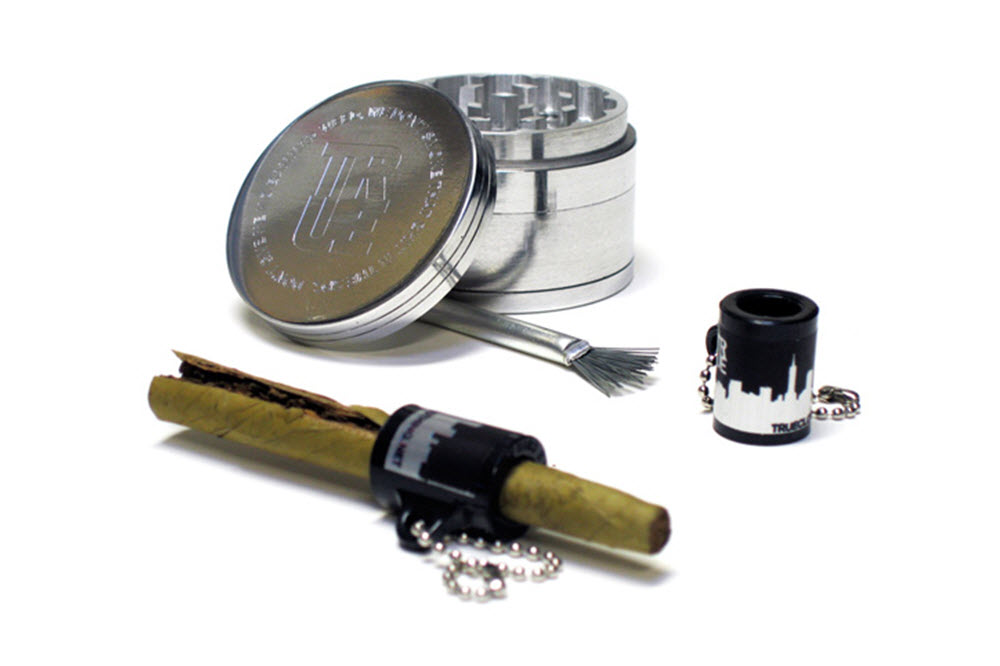 HUF x Snoop Dog
The Doggfather has been ones of the biggest proponents of weed, and sits on the throne of smoking culture. With HUF's Plantlife-theme continuing to sell out in stores the marriage between Snoop and HUF in 2013 was perfect. The San Francisco-based brand rolled out the "green" carpet for Snoop and even brought out Doggystyle album cover artist, Joe Cool, to design a couple of custom graphics. The result was well-thought out and also included headwear and Plantlife socks with special Snoop logo embroidery.
Source: HUF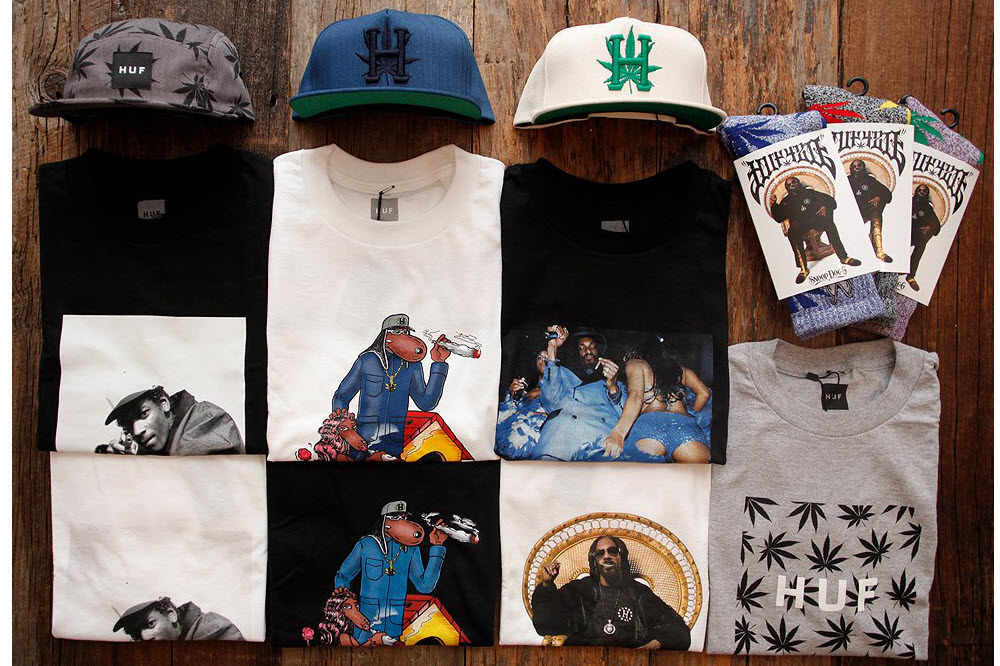 The Hundreds Crazin'
Maybe it's because I spend my entire life in California, but I just happened to love this project. It might seem strange to those of us now, but it was pretty normal to be wearing graphic T-shirts with giant singing raisins in the late '80s—and for the dorks, the early '90s. Grapes were once California's largest cash crop and The California Raisins were a source of marketing pride for the farming belt of California. However, since the passing of Proposition 215 in 1995, the most profitable cash crop are those little nuggets of marijuana. The Hundreds parodies the famous raisins by replacing the dried grapes with THC-laced green nugs; with each one representing a core member of The Hundreds team. The Crazin' graphic isn't for everyone, but if you happen to grow up in California and enjoy clever flips, then it kicks ass.
P.S. If you want to read one of the most poignant responses to legalizing marijuana then click here. Can you believe that was six years ago! Written by Bobby Hundreds of course.
Source: The Hundreds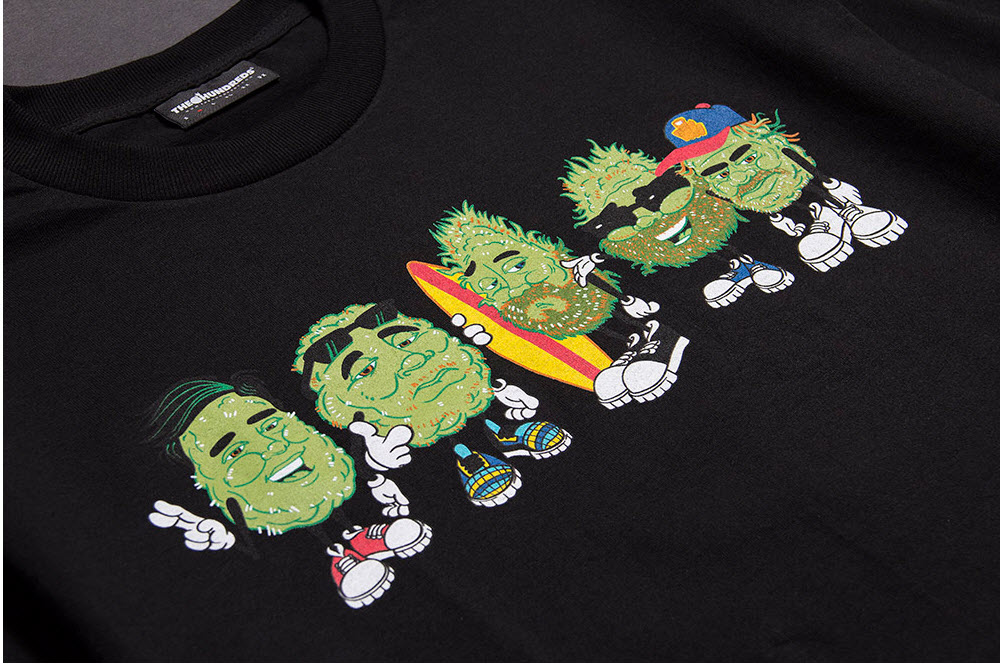 LRG x Up in Smoke
The Godfathers of smoke culture is none other than Cheech and Chong. These two stoners really brought marijuana to the forefront because of their access to the silver screen. What can promote the chill vibes of smoking out then to display it across thousands of theaters across the US. LRG honors Cheech and Chong long before HUF did a project with the duo in 2014. The collection came with a very free '70s vibe and included a co-branded graphic T-shirt, beanie, and snapback.
Source: LRG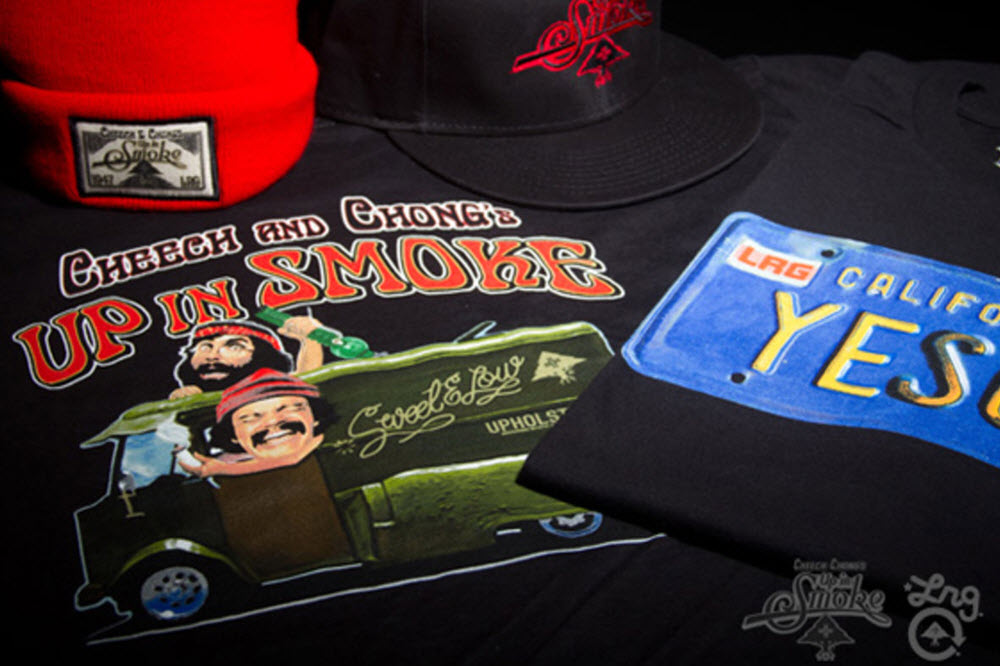 Nike SB
The most relevant appreciation of marijuana from my foggy memory of streetwear came from an unlikely place. Nike is an American success story that cannot be muddled by toying with drugs, but that didn't mean their burgeoning skate division could not. Nike SB was currently on the come up and with a few successful seasons under their belt, they added more cache to their underground charm by creating three pair of Nike Dunk Low SBs with uppers comprising of hemp. There were a total of three colorways with the Mahogany and Baby Blue making up the bulk of this first hemp collection. The crowing jewel of this foray into hemp was a green Swoosh. Produced in very small numbers, these limited Dunks sold out quick, and while Nike has tried again several times to re-capture the magic, but nothing ever came close to the original.
Source: NikeSB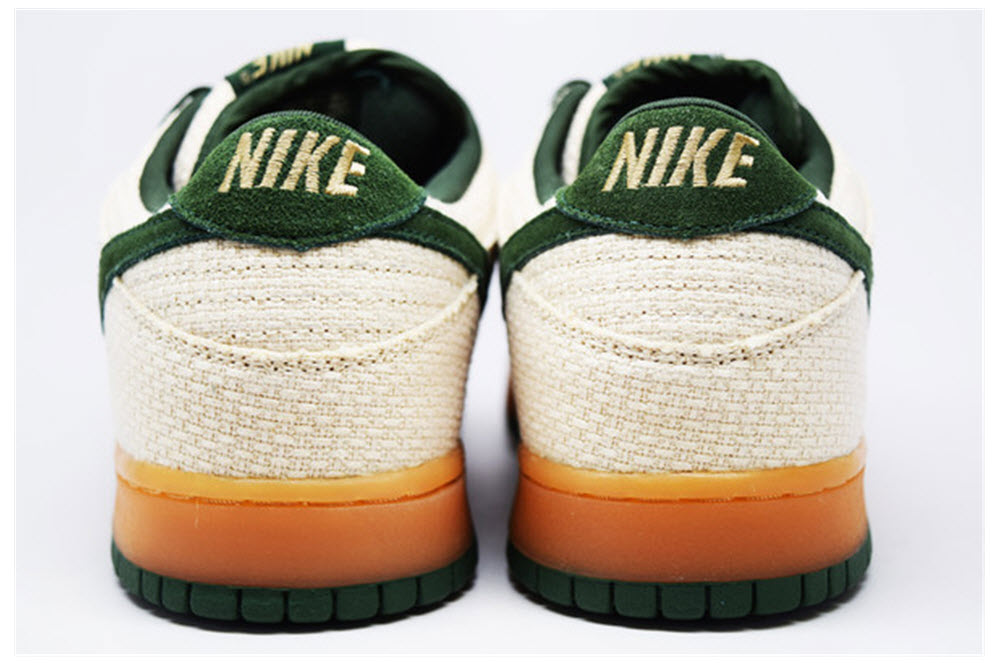 ***