Last night was the opening reception for Shepard Fairey's "50 Shades of Black" at Subliminal Projects in Echo Park. The line was around the block for an opportunity to rub elbows with the coolest of story bros, and to get a look at Shep's third installment of album cover artwork.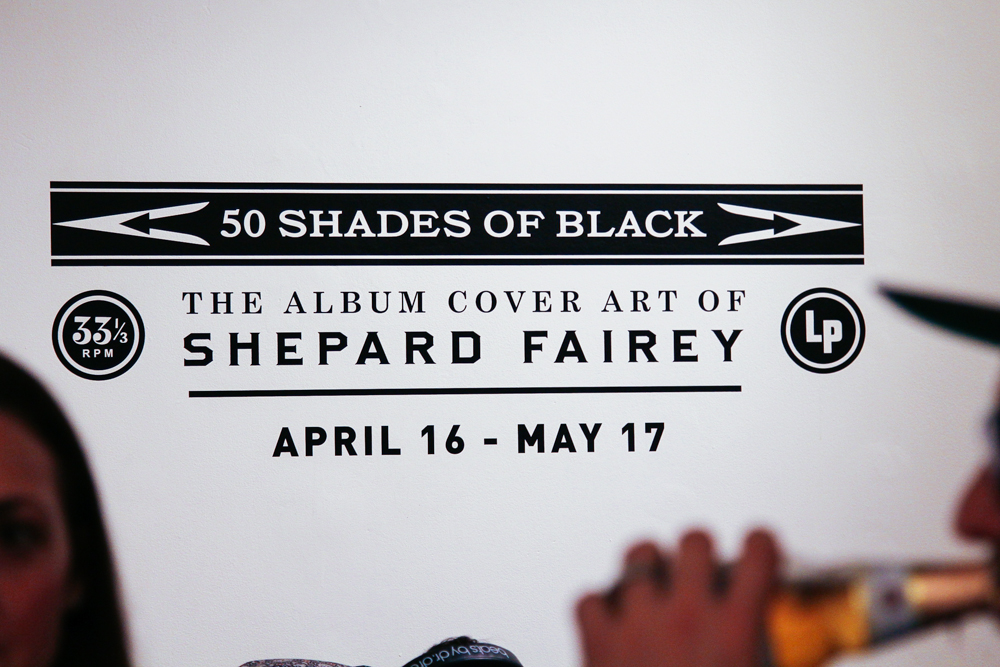 His words on music as an inspiration for this exhibition:
Music has taught me a great deal about connecting with a broad audience. Music is universal. I've had some very moving encounters with art in my life, especially in the street, but almost nothing can compare to the first time I heard the boots marching and first chord of the Sex Pistols' "Holidays in the Sun", or the air raid sirens leading into "too black, too strong" on the intro to Public Enemy's It Takes A Nation of Millions to Hold Us Back, or the opening guitar scream of Black Flag's "Rise Above." Music is visceral, but also has the additional powerful layers of the lyrics, with their content and politics, and then there's also the style and personalities of the musicians themselves. Compelling album covers have always been a great complement to great music. There's something subversive about bundling seductive visuals with provocative ideas, or provocative visuals with seductive ideas. An audience that's looking for escape doesn't expect a confrontation and a call to action, but I believe the best music, and the best art, can deliver both. Call the approach hi-brow/lo-fi or lo-brow/hi-fi, but I try to use it in my artwork to capture the same energy and spirit that makes music so powerful.
As always, Shepard manages to bring out the pack. Whether it's his social and political commentary, or the fact that everyone and their mother owns something from OBEY, his voice is omnipresent. This is what makes the OBEY brand and Shepard's aesthetic cool to me in the first place. It pursues the medium of dissemination that is most highly travelled: consumerism. If you think about it, his ability to capitalize on something so anti-everything is impressive, and his success is palpable when measured by the electricity in the air at one of his art shows.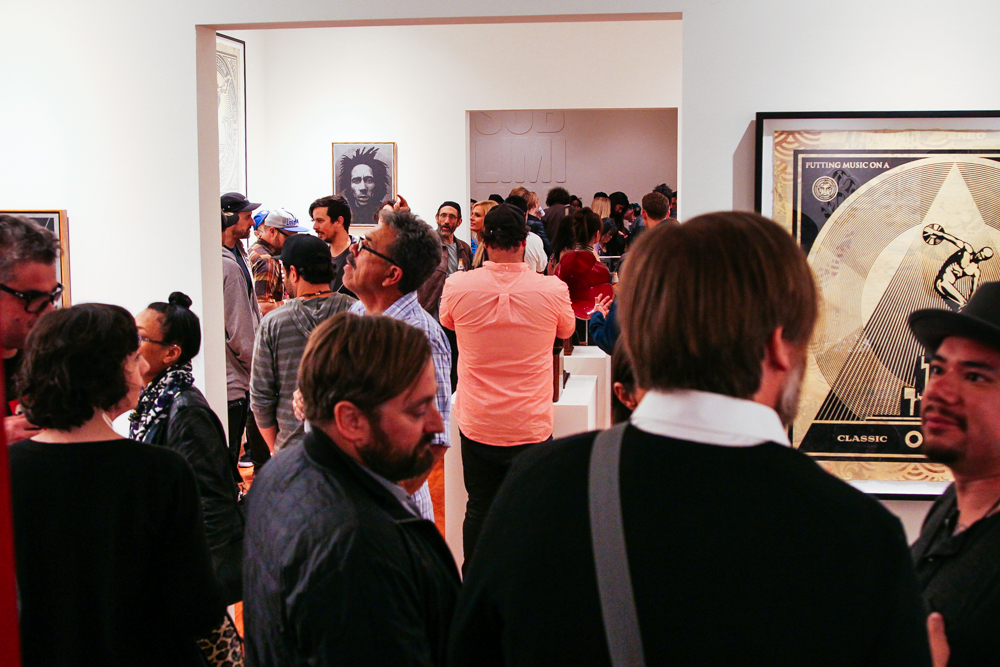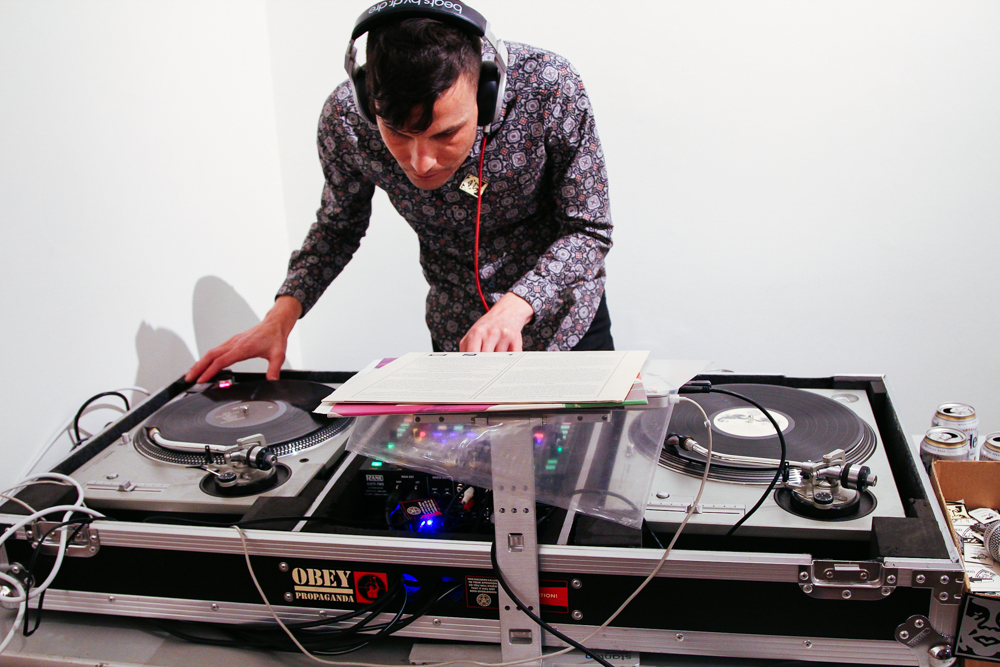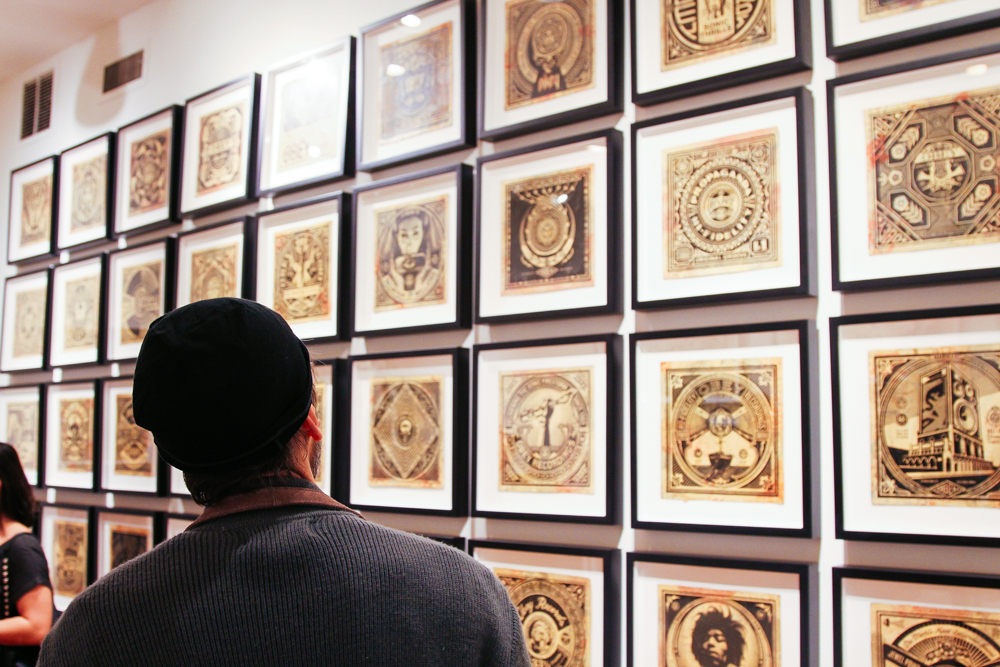 If you were present last night with $1,100 burning a whole in your jogger pants, you probably walked away with a box set of 50 album cover prints.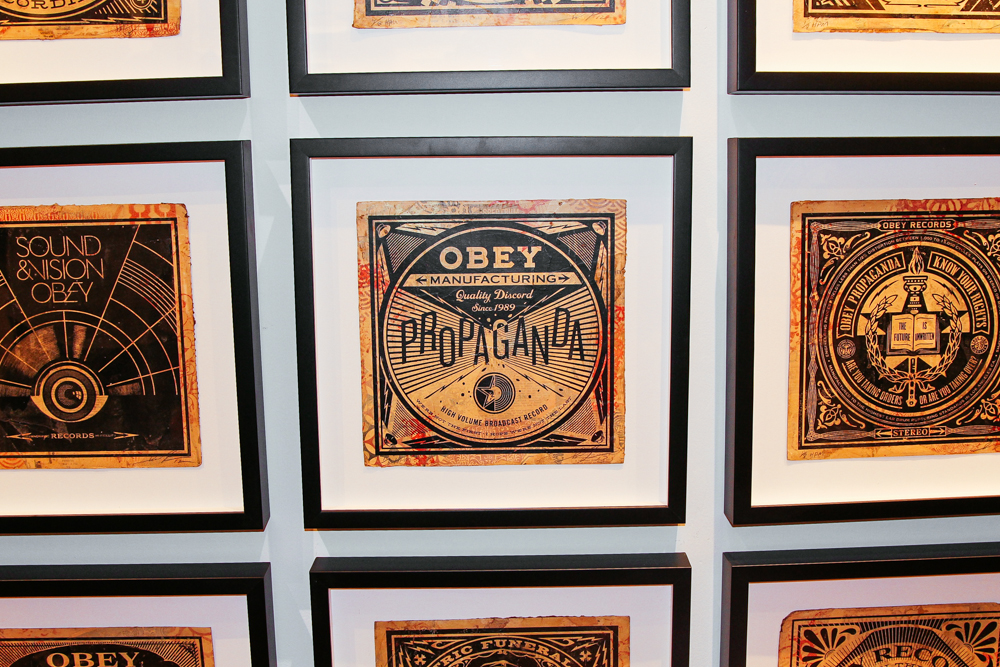 Or, you were really ballin', and walked away with an original or two. Part of me wanted to empty my bank account and go full James Franco, but I resisted.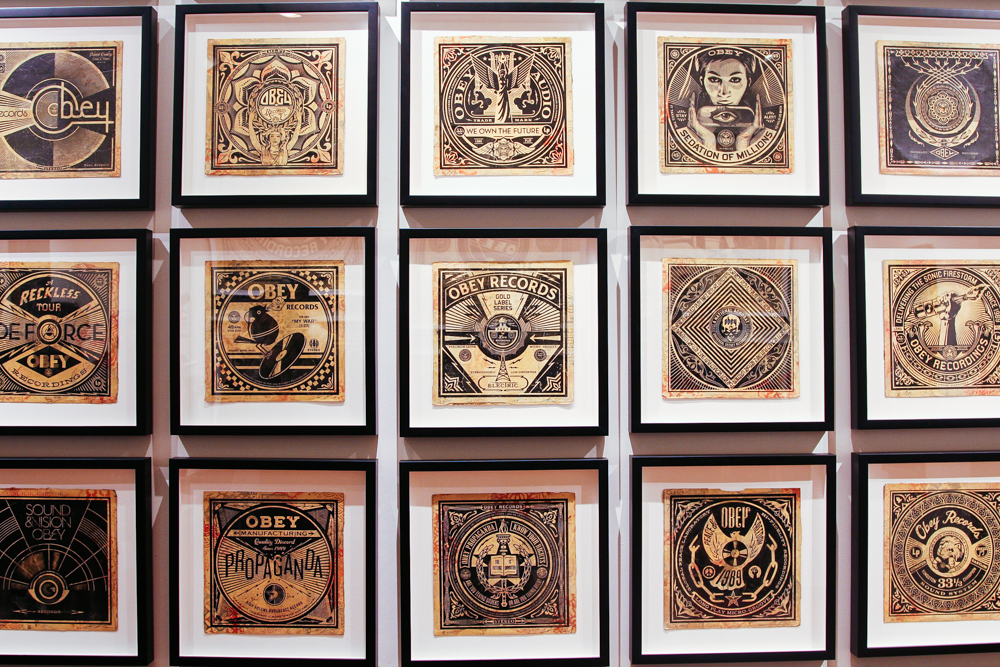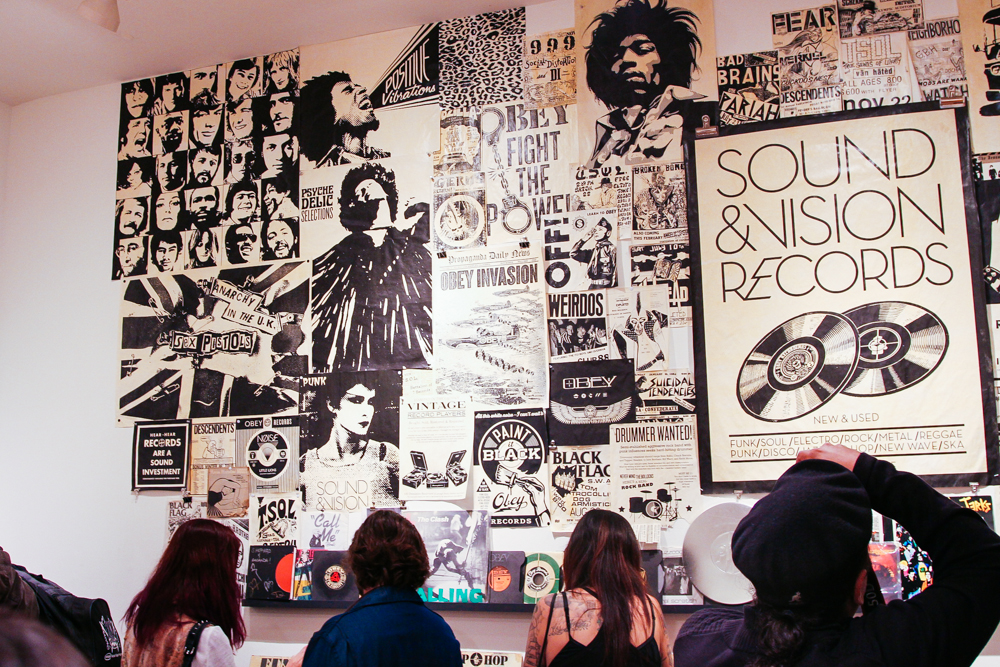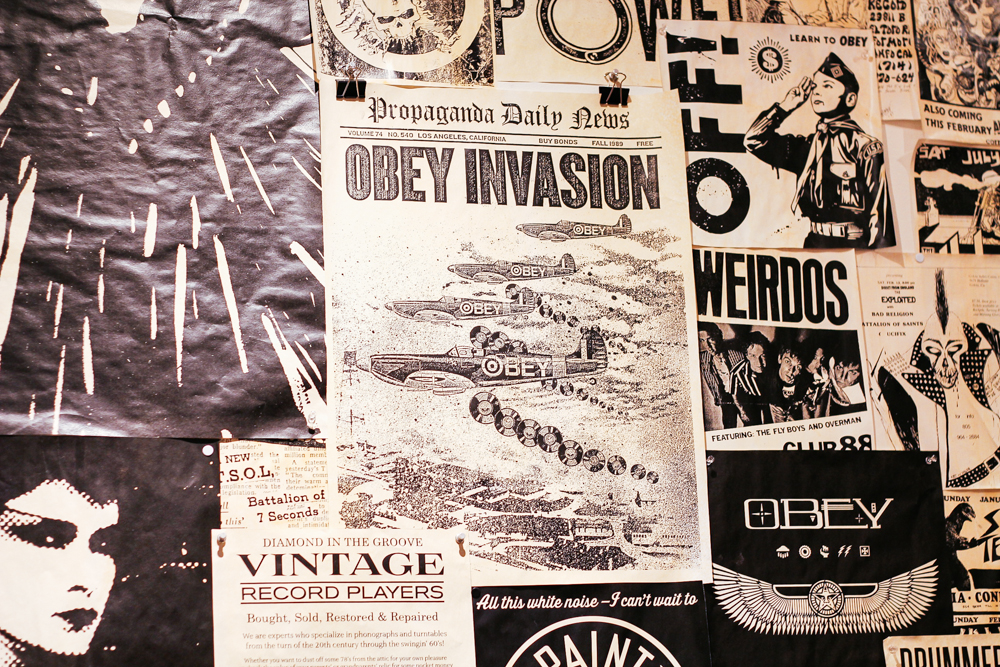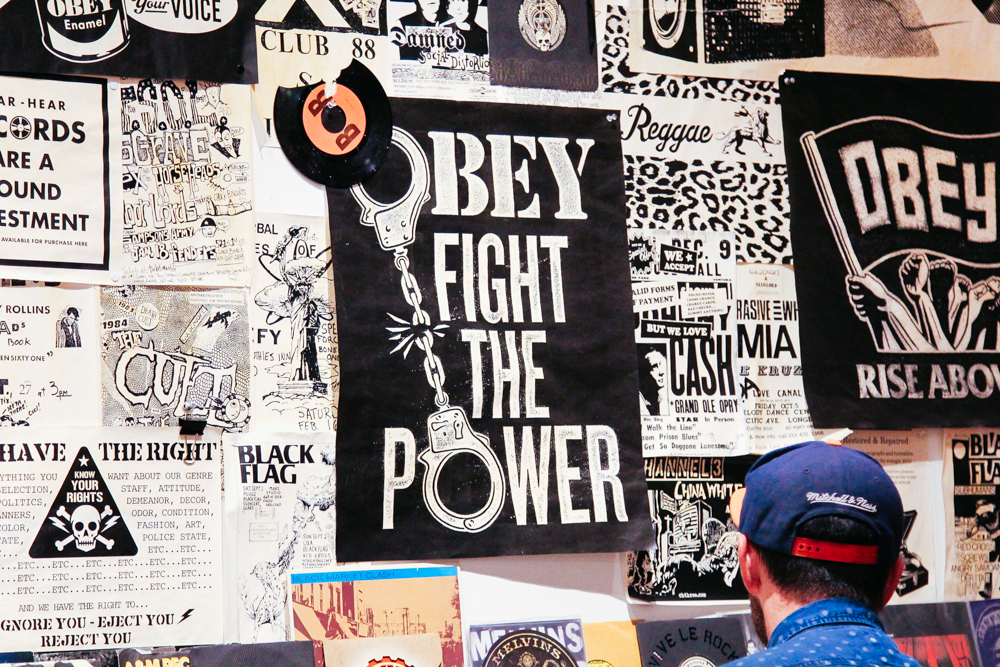 A portion of Shepard's record collection was on display alongside some righteous collage of punk-rock nostalgia. This one is a goodie if you're looking for some road rage vibes.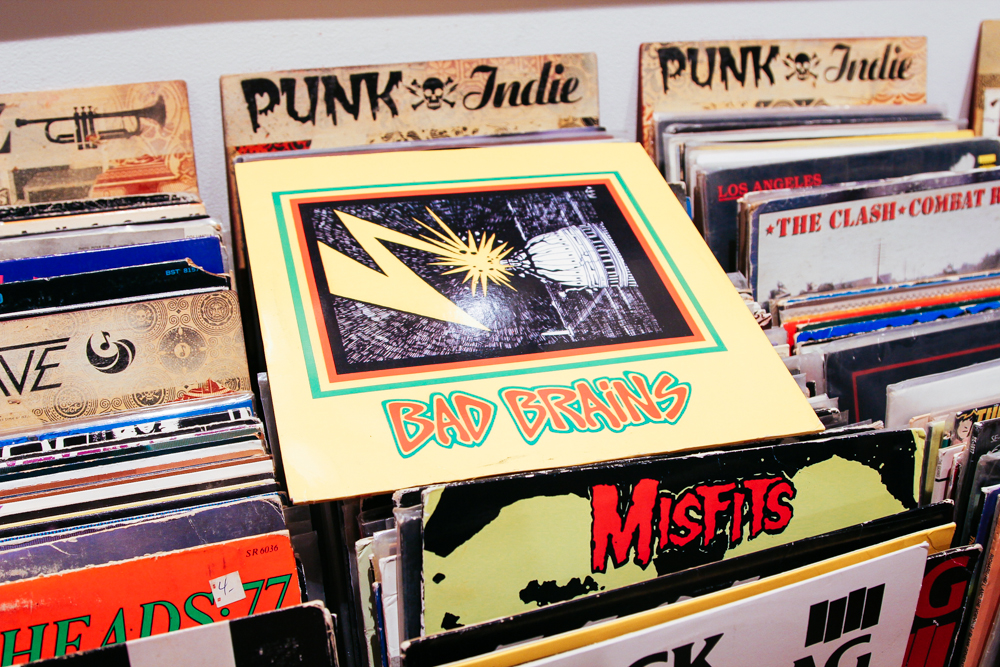 The viewers were encouraged to use any number of the available record players to spark up a selection from the collection.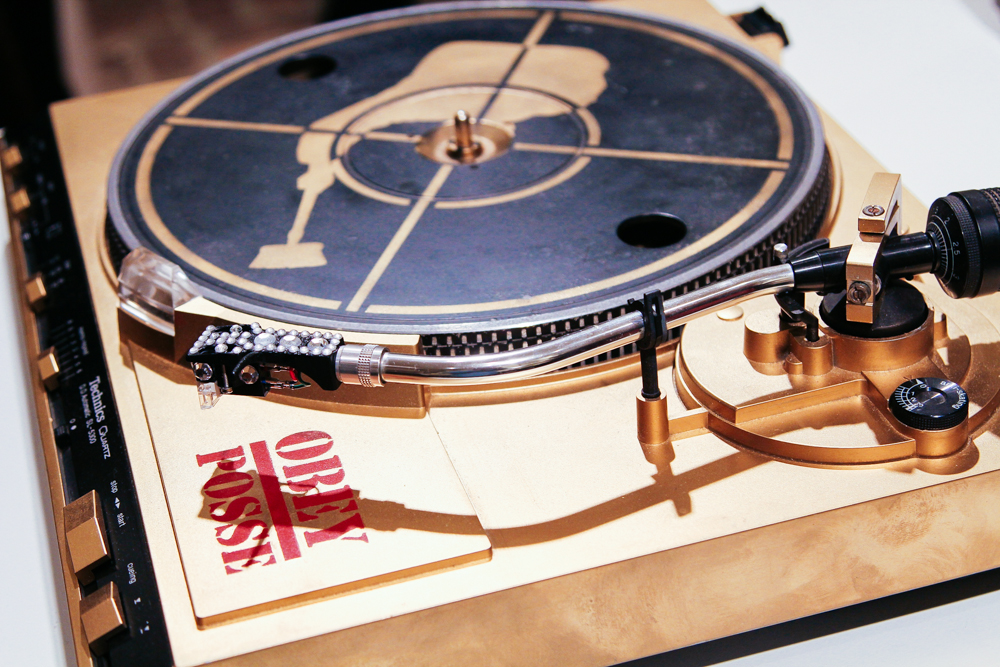 These fellas were the only ones I witnessed partaking, but it looked they were having a helluva time!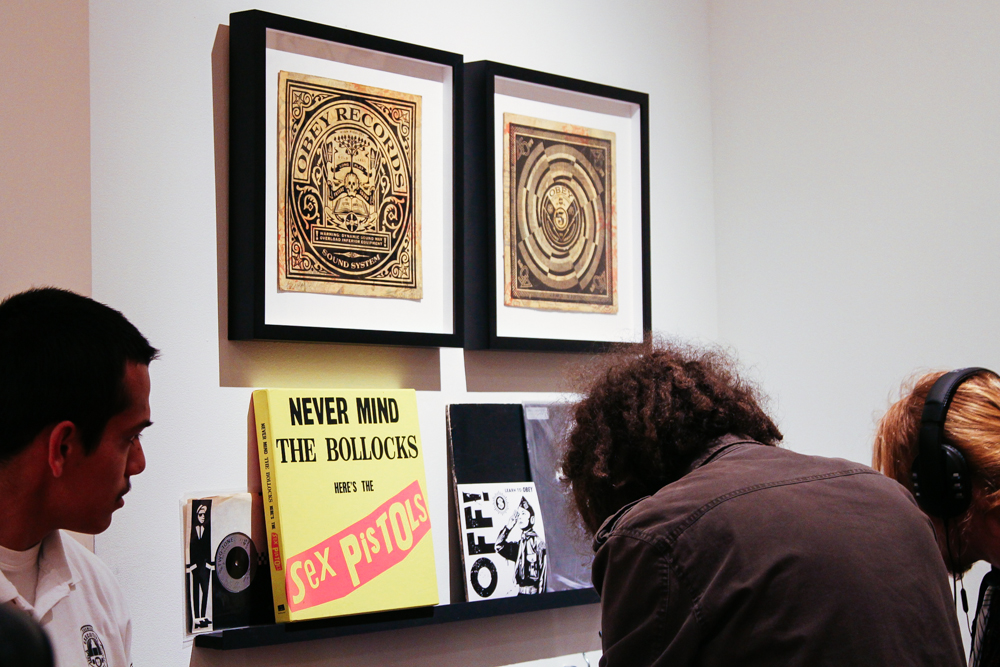 These gems were scattered throughout the gallery.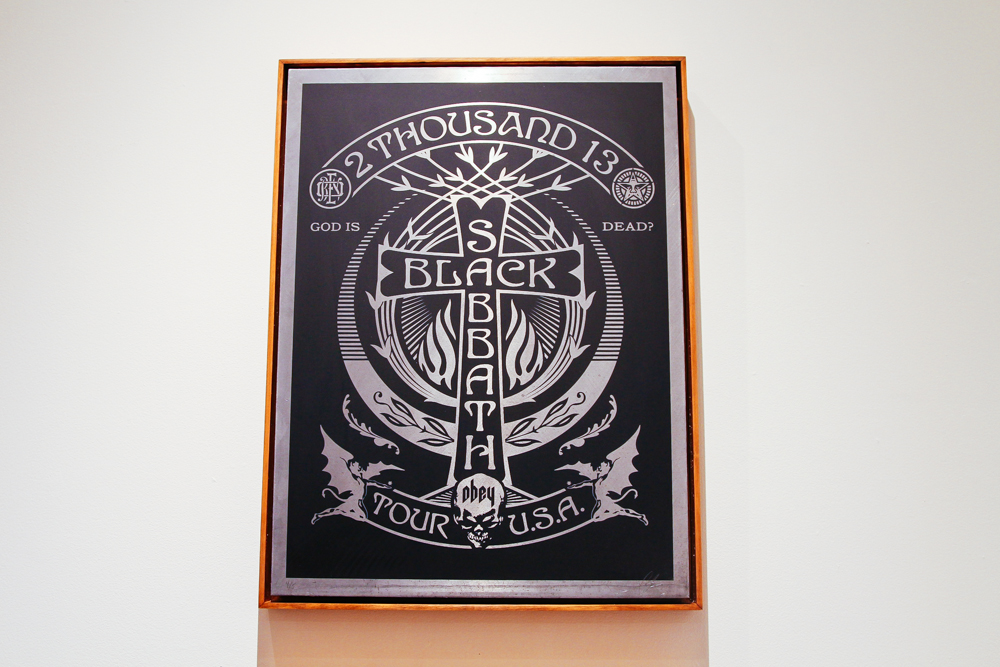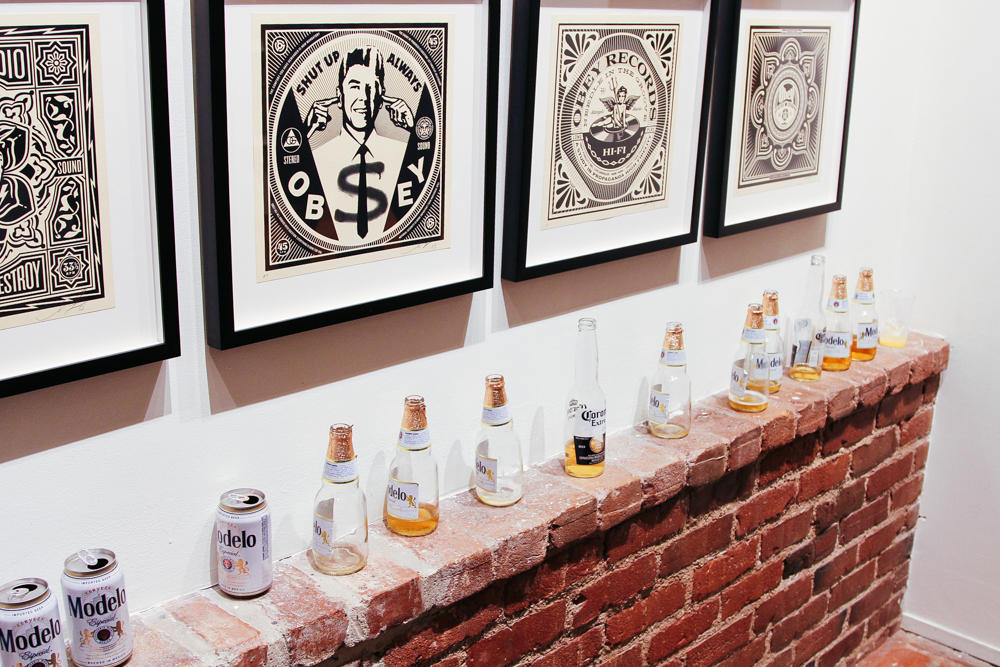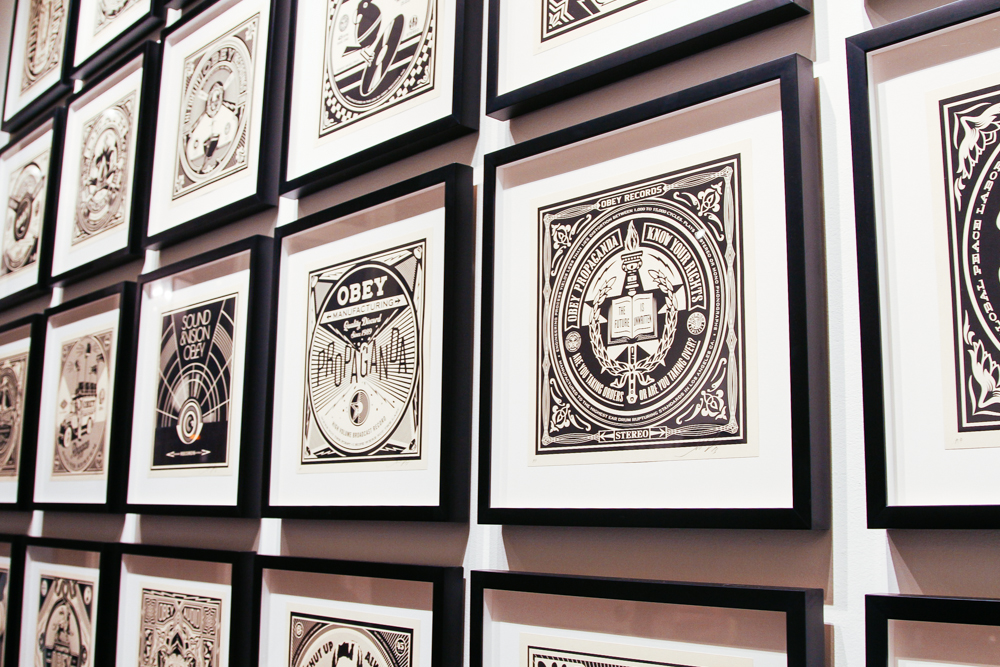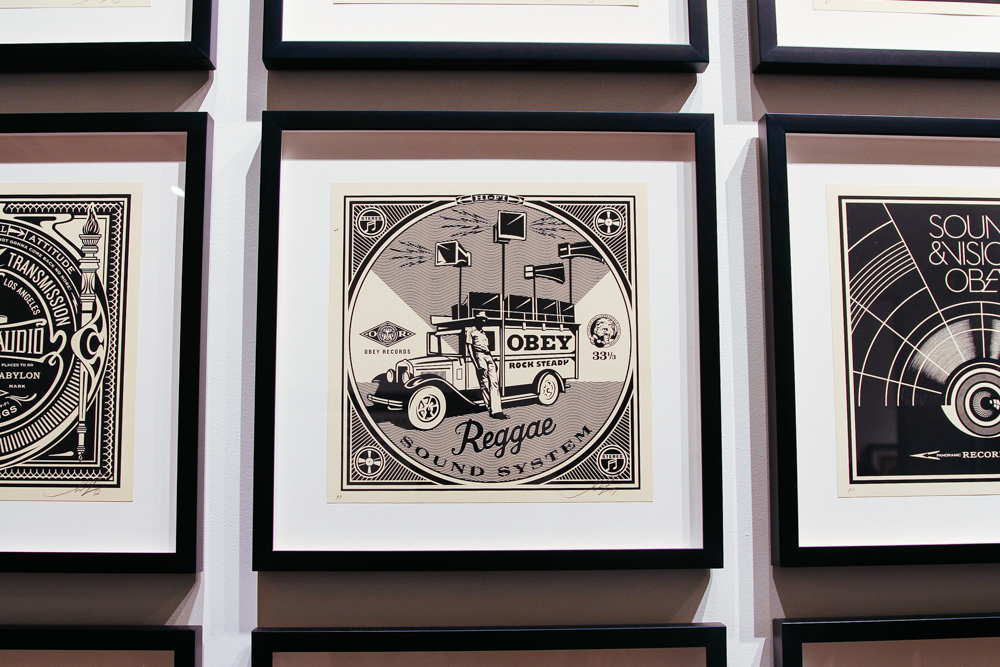 Giant Glenn Danzig has a possé.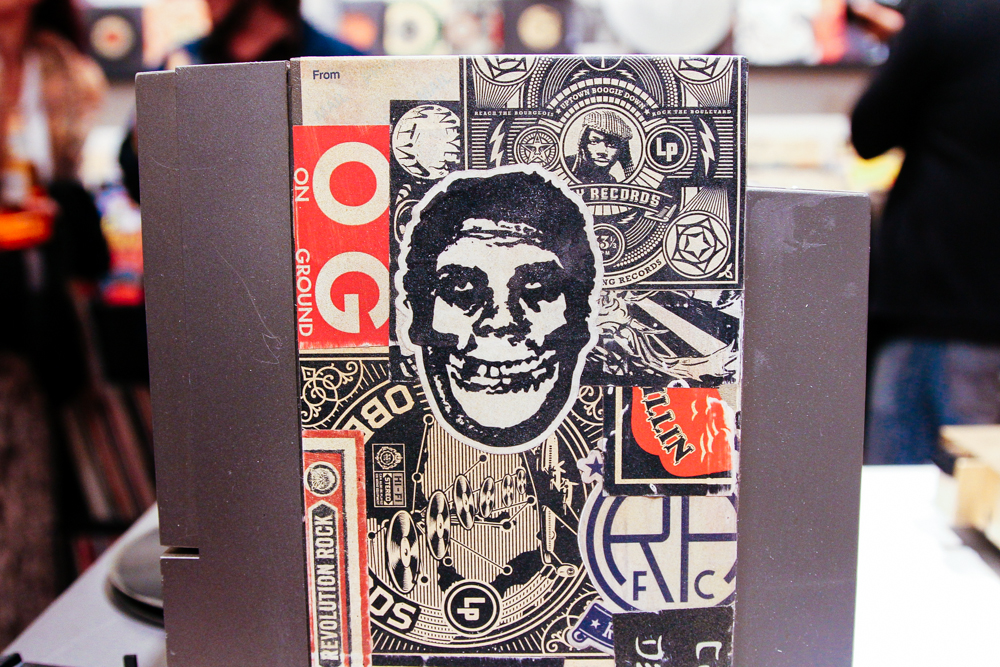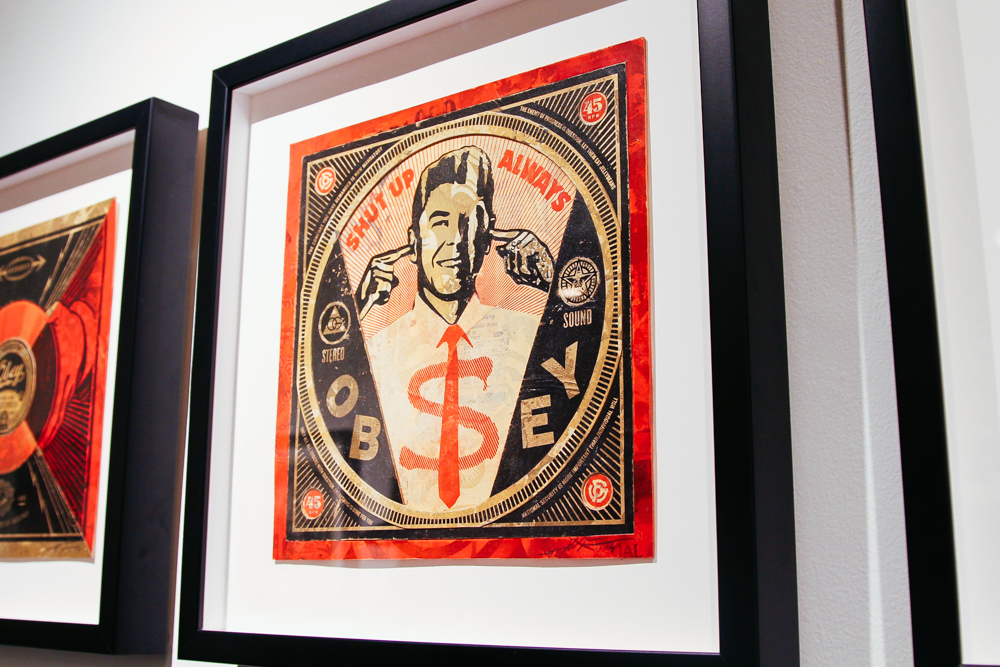 They could have marketed this event entirely on the performances in the back. I was stupid and missed the Z-Trip set (which in turn means that I also missed the surprise LL Cool J performance), but The Shrine was rad. Shepard was bubbly, sippin' that happy serum.