It's the 10 track commandments, whet?
I like to dig through SoundCloud. So here, I present the results of my excavations (in alphabetic order): Nine tracks released in the past month that you shouldn't miss, plus a tenth track that's kinda old but still knocks. Hopefully this'll help get you through the rest of your week, to the blessed lituation that we often call the weekend. #TYBG.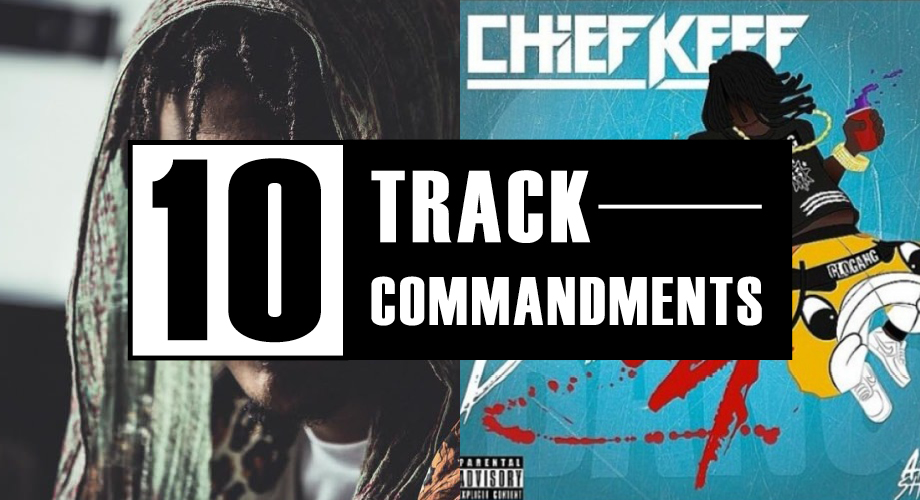 1. Appleby feat. Anthony White – "Glossy Ride"
Appleby does it again, this time pulling a Beyoncé on us and surprising us with "Glossy Ride." Per typical Appleby, he serenades us with his luscious, silky voice, but this time around, we see a different side of the Chicago-based singer: Something a bit more upbeat and funkier. We're used to more mellow tunes from him, but the bass on R E T R O 1's beat goes hard. Hopefully all these loosies and features mean Appleby is preparing us for something big.
2. DP – "Wait"
Some time ago, DP announced his debut Designer Casket, but sadly, it never dropped. However, he recently gave us good news, declaring that the project is slated for a November 11 release. To gear us up for it, he's dropped off "Wait." Though short, with the loosie, DP delivers to us his trademark dark, aggressive lyrics, the song acting as a great teaser for what's to come from the Virginia Beach rapper.
3. Jay Prince feat. SiR and Joyce Wrice – "AfroPhunk"
With "AfroPhunk," British musician Jay Prince proves he can do more than just rap, but that he can sing, produce, and—bonus—flow fiercely close to Kendrick Lamar. Prince also employed the talents of #10TrackCommandment alum Brasstracks on production, which helps to add another percussive, brassy layer to the track. If this is the new direction Prince is heading in, then it's something we can all get behind.
4. Marz Léon – "Soree"
Marz Léon wears many hats, including art director, stylist, and model; but some of her strongest skills are showcased through her vocal and songwriting abilities. Even though her voice is soft and graceful on "Soree," she's still commanding as she speaks honestly about a relationship gone awry. The emotion in her words and feeling behind her voice are definitely things we've all felt at one time or another.
5. Michael Christmas feat. Polyester the Saint – "Are You Around"
"Are You Around" was the first single Michael Christmas released from his latest project What A Weird Day. Employing the charms of Los Angeles vocalist and producer Polyester the Saint, the track transports us to a synthy, funky, '80s party — kinda sorta the setting of the song's video — where Christmas spits on how much his life has changed since he dropped his debut project Is This Art? last year. The new 18-track project is huge for the Boston rapper, and we're all very proud of him!
6. Q the Sun feat. Milo – "On the Way to Something Else"
For his latest offering, Milwaukee producer Q the Sun employs fellow Milwaukee rapper Milo on "On the Way to Something Else." Word is Milo wrote his verses in 30 minutes and recorded the entire thing in one take. The rawness of that can certainly be felt throughout the track, where the vocalist wears his cadence like a poet, over Q's beat that feels almost tribal and spiritual.
7. Hurt Everybody – "Eat"
I have to admit that I wasn't a huge fan of "Eat" when I first heard it, but it's steadily grown on me. Ain't much to the song except that Supa Bwe and Carl are willing to teach you how to eat, walk, and speak. That's pretty nice of them, guys. And Mulatto's on production, flexing his minimalistic style (even though there's still a lot going on). If you can catch a Hurt Everybody show then you definitely should—this song is insane live.
8. Trapo feat. Max Wonders – "Faster"
When I found out Trapo and Max Wonders had hopped on a beat together, I knew it was going to be like when the Planeteers activate their powers to summon Captain Planet: All these elements collide—earth, fire, wind, water, and heart—to create a beautifully melodious, yet gritty song: Trapo with his warbling cadence and Wonders with his punchy raps. The Midwest is currently engulfed in the most fire flames right now; and everyone who never wanted to be from the "flyover country" can continue to weep.
9. Wave Chapelle – "Lately"
Milwaukee's rap scene is on the rise, and a lot of that can be owed to Wave Chapelle. The 21-year-old rapper signed to Yo Gotti's label, Collective Music Group, in 2014, and since then has created a solid musical foundation for himself and his hometown. Over the last few months, he's left us with a few loosies here and there. This time around, we've been given "Lately," where Chapelle lets us know that even though his circumstances have changed for the better, they haven't really changed him.
10. Chief Keef – Faneto
Even though "Faneto" is sitting on over 22 million Soundcloud listens, I'm just taking this moment to say #neverforget. 'Cuz damn, every aspect of this song goes heard, from Keef talking about blowing New Jersey up (sorry guys) to his pockets being lined with Velveeta (that's just clever as hell). If your function's turning out to be boring as hell, then this song will always, without a doubt, get it crackin'.