It's the 10 track commandments, whet?
I like to dig through SoundCloud. So here, I present the results of my excavations (in alphabetic order): Nine tracks released in the past month that you shouldn't miss, plus a tenth track that's kinda old but still knocks. Hopefully this'll help get you through the rest of your week, to the blessed lituation that we often call the weekend. #TYBG.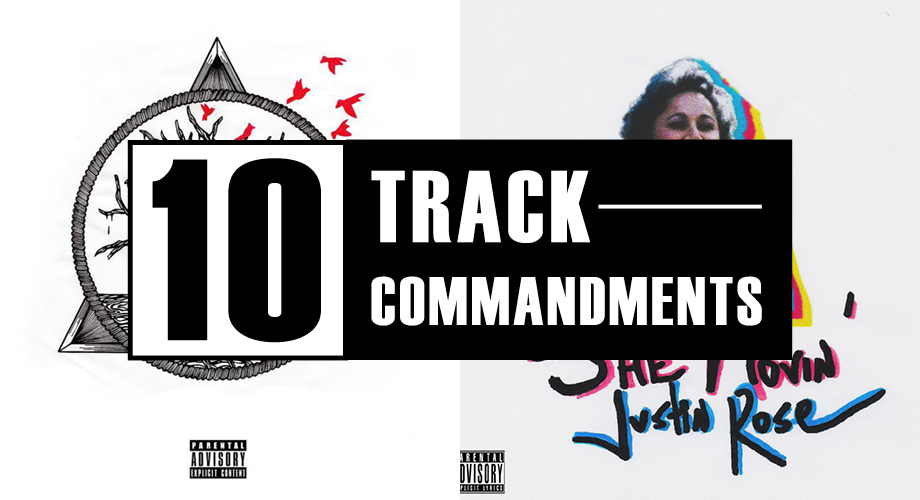 1. Broderick Batts – "Waveÿ"
If the initial beat of Broderick Batts' track "Waveÿ" doesn't draw you in, then his supple voice will certainly do the trick. The song is one of a few loosies that have followed his five-month-old debut project 2001 Odyssey, a bouncy, spirited track that's definitely helped refine his own musical odyssey. "Waveÿ" acts as an extension and refinement of the aesthetic he introduced with his EP, and has only helped further cement his sound.
2. Bryant Stewart – "IT'S OK"
Over the past year, St. Louis, Missouri vocalist Bryant Stewart has been searching for his lane—sometimes even sticking his hand in the Soulection cookie jar—and with the release of his latest project eightshadesofgrAy, he's found what he's been looking for. Though he wavers between a buttery singing voice and punchy raps, verging on both R&B and hip-hop, he still manages to keep the two separate, not necessarily giving in to the melodic raps that many musicians have been gearing towards.

3. Jon Waltz – "Anna"
After dropping his debut Alyss in October 2014, Memphis' Jon Waltz disappeared for a bit to rework his sound. He's now reemerged with a new aesthetic in tow, something that's more wholly melodic than anything from his first project. With "Anna," Waltz fully immerses himself in a singing voice that he only tinkered with before, his distressed lyrics skillfully weaving between buoyant production.
4. Justin Rose – "She Movin'"
"She Movin'" is our sneak peak into Justin Rose's upcoming project Water White. The Queens rapper and producer melds together grittier 808s with a slapping bass, but is somehow still bouncy enough to make us want to dance. Rose basically perfectly fits into rap's current landscape, which, more or less, has become an amalgamation of so many sounds that it's often difficult to pick a part. Watch out for Water White, which is slated for a fall release.
5. Kweku Collins – "Corner Store"
Kweku Collins has always been kind of an odd one, and with "Corner Store," we don't see anything different. Pairing his often dissonant, monotone cadence with an almost '80s synthy beat, the Evanston, Illinois waxes poetic on the idea of the corner store. Though it's a pretty basic phenomenon, he complicates the significance of the corner store by rooting it in our daily lives. Indeed, there's something about the simplicity of the song—its minimal beat and vocals that are almost stripped bare—that still fully captivates us.
6. Noah Sims feat. MC Tree – "She Gets the Best of Us"
If you haven't heard the name Noah Sims, then you should start paying attention. Though only 19, the Chicago native already has some outstanding loosies under his belt, including "She Gets the Best of Us," featuring fellow Chicago legend MC Tree. Though he hasn't released much music, Sims' has already shown the effortlessness  of his production style, with a sonic depth that you might not think someone his age would possess. And that's one of the best parts of the song: Sims pairs his youth and greenness with Tree's experience, helping the emcee hit refresh on his sound.
7. Smino – "RAW"
I try not to put the same artists on my playlists but I had to make an exception for "RAW." It's the third cut from Smino's latest EP S!CK S!CK S!CK, which is pretty stellar overall, and features sole production by our favored producer Monte Booker. And like Smino's proved over and over again, he's got a knack for harmonies, hooks, and clever wordplay, helping to further blend and bend hip-hop's framework.
8. S'natra feat. Synead – "Feelin' Good"
Brasstracks' trumpet player Ivan Jackson has been doing some cool things lately, and producing S'natra's song "Feelin' Good" is just one of them. Like the title implies, this song is about all the things that make us feel good—even if they're bad for us—and the track's playful, energetic tempo certainly aids this. Anchored by Jackson's trumpet, Synead comes in to break up S'natra's raps, the two ultimately coming together to end the song. Clearly, they make each other feel good, too.
9. Tobi Lou – "Pretty Please"
Yep, Tobi Lou's debut single "Pretty Please" is about butts. With lines like, "Shake that ass for me baby / I know that sound kind of shallow," you can't really ignore it. The song can surely come off as shallow, but Lou maneuvers around one-dimensionality by placing his own narrative into the mix, interweaving a few lyrics on race and culture that seemingly don't have much to do with the song, but perhaps, in the larger scheme of things, do.
10. .Peter $un – ".CASIMIRO"
.Peter $un's ".CASIMORO" is another track on this list propelled by a trumpet melody and lush beat. Fluctuating between harmonious raps and light, melodic singing, $un describes the importance of memories, however fleeting they are. About halfway through, he gives way to a female singer, whose vocals are reminiscent of a sultry female jazz singer performing in a speakeasy.