It's the 10 track commandments, whet?
I like to dig through SoundCloud. So here, I present the results of my excavations (in alphabetic order): Nine tracks released in the past month that you shouldn't miss, plus a tenth track that's kinda old but still knocks. Hopefully this'll help get you through the rest of your week, to the blessed lituation that we often call the weekend. #TYBG.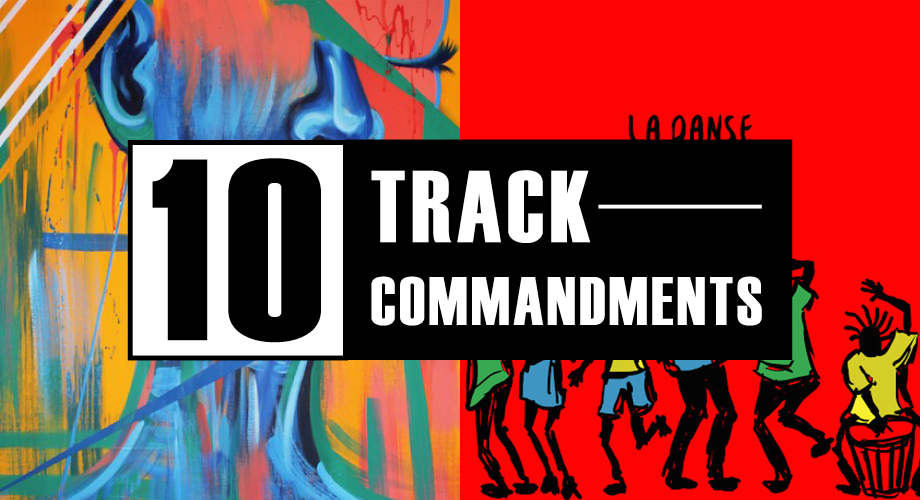 1. Aminé – "La Danse"
More and more, emcees are forgoing R&B and singer features, instead opting to both sing and rap themselves. Cue Portland, Oregon-based musician Aminé—pronounced uh-mean-aye—who dropped his latest project, Calling Brio, just a couple weeks ago. "La Danse" is the first cut off Calling Brio, its beat akin to the future bounce sound that GoldLink has trademarked so well. If you've never heard Aminé before, then this track is a good starting point, as it is an exceptional example of his vocal skill set. And if this beat by our decidedly all-time favorite Haitian-Canadian producer Kaytranada doesn't make you wanna get up and dance, then we don't know what will.

2. Don Von ft. DP – "For A While"
Virginia Beach rapper Don Von only has a few tracks to his name, but his latest "For A While" might very well seal him as another Virginia up-and-comer. Don Von enlisted the help of fellow rising Virginia Beach spitter DP, and together, both submerge themselves in a murky, menacing track focusing on their OG status aka they been doing that shit for a while. Both rappers' gritty, dark cadences align perfectly on this cut, the second official single from Don Von's upcoming project Don't Forget the Don.
3. Fuego – "Cuando Suena El Bling" (Hotline Bling Remix)
We literally cannot get enough of Drake's "Hotline Bling," which is why so many people have been remixing and remaking it. One of our favorites is by Dominican-American singer Fuego, which is entirely in Spanish. His version gives the original even more oomph, if that's possible. We're not 100 percent sure Fuego's lyrics translate to the same as Drake's, but if I don't have to listen to Drake whine about another girl, then my day is made.
4. Leikeli47 – "My Ex Is a Ho"
Leikeli47 is probably one of the illest new female emcees in the game. The Brooklyn native popped up out of nowhere with the 2014 summer anthem "F*ck the Summer Up," and more recently, signed to RCA. Since that first hit, we've come to know that she's always in a ski mask, even when she performs, even when she goes to the airport (apparently where TSA gives her a hard time). She's also prone to dressing in baggy clothes, using both that and the ski mask as a testament to female empowerment, and as a detraction from her sexuality. Her latest "My Ex Is a Ho" calls out her cheating, lying ex, an anthem and sentiment a lot of us can likely get behind.
5. Michael Christmas – "Who?"
Michael Christmas is definitely one of our favorite Boston rappers, and his next project, What a Weird Day, is finally, finally slated for a fall release. His latest single "Who?" features him spitting over a menacing beat by Boston producer Qreamybeats, a kind of meta, self-referential track, much like the concept behind his first project "Is This Art?" Christmas also declares that he's Mike Jones, citing the Houston rapper who titled his debut album Who Is Mike Jones?, and who is prone to prefacing his verses with a "Who?" Catch Christmas—and not Jones—on tour with Mac Miller in November.
6. Mick Jenkins – "Your Love"
After Mick Jenkins' sophomore tape, The Water[s], last year—a project steeped in honesty and truthfulness and generally spoke to racial issues in America—a song like the Kaytranada-assisted "Your Love" is unexpected. But for Jenkins, that's the whole point: With "Your Love," the Chicago rapper presents a different side of himself to his listeners, and proves that you can't just dismiss him as a conscious rapper. This is one of the overarching themes from his latest project, Wave[s], which, while showcasing songs like "Your Love," also exhibits the rapper in the same 'conscious' light that we know him for.
7. Penthouse Penthouse ft. Bobby Saint – "69′ Camaro"
Interestingly, the instrumentals for "69′ Camaro" are based off the song "Dandy In Love" from the anime series Space Dandy. If you're not a huge fan of anime, then no biggie: Preston Walker and Mike Parvisi of Penthouse Penthouse, and Bobby Saint 's vocals essentially transform the song (the original features no vocals). Penthouse Penthouse's version is snappier than the original, with a heavier, thicker bass—not to mention chimes—propelling the track.
8. Ravyn Lenae ft. Appleby – "Free Room"
Y'all, Ravyn Lenae is only 16-years-old. It's kind of crazy that a voice like that comes out of someone so young. "Free Room" is a cut from her latest EP Moon Shoes, a majority of which was produced by this playlist's beloved beat maker Monte Booker. Lenae calls upon the faceless R&B sensation Appleby to assist as well, which is probably one of the more uptempo songs we've seen Appleby on. Overall, "Free Room" and Moon Shoes are very promising starts for Lenae.
9. Wil$on – "Chill"
Something about the opening riff on "Chill" reminds me of Frank Ocean's "Super Rich Kids," which is what initially attracted me to the song. After a closer listen, it has been determined that Wil$on has a solid, steady flow that works especially well with this song's production. Songwriting-wise, he isn't there yet, but there's something hopeful about "Chill," especially with that crooning interlude.
10. Barney Artist – "Space"
London rapper Barney Artist's cadence could most certainly be described as silky. On his 2014 track "Space," that descriptor really shines: Barney sounds like he's floating, which is fairly suitable, given the song title. While the content is pretty simple, the layered vocals give the song more complexity and extra vigor; and while the song is pretty laid back, we can still hear the emotion in his voice, as he talks to this girl who admittedly makes him timid. Also, he makes a reference to quidditch, so yeah. He wins.