It's the 10 track commandments, whet?
I like to dig through Soundcloud. So here, I present the results of my excavations (in alphabetic order): Nine tracks released in the past month that you shouldn't miss, plus a tenth track that's kinda old but still knocks. Hopefully this'll help get you through the rest of your week, to the blessed lituation that we often call the weekend. #TYBG.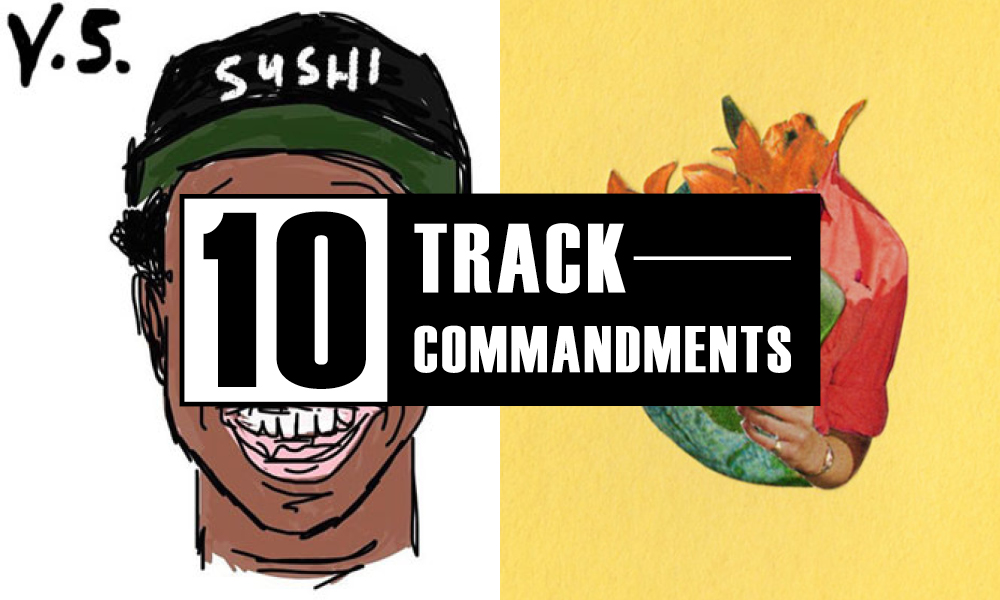 1. Homeboy Sandman – "Arrows"
It's been a minute since Homeboy Sandman dropped new music, which is odd for the Queens rapper since usually, to his fans' delight, he's prone to releasing music often. Produced by Mondee, "Arrows" opens with a nod to Boy Sand's favorite emcees—Black Thought, MF DOOM, Eminem, Jay Z, Ghostface Killah—and also provides a stage for Sandman to get a little meta on us and discuss the art of rap. With this track, he spits what everyone's thinking but is too afraid to say, "You either whack or you the best, kid, there's no in between."
2. Max Wonders – "Freestyle"
Though he's young and new to the game, Chicago's Max Wonders already has a handful of loosies and two EP's under his belt. In his off-time between recording for his upcoming EP You Will Never Find, Wonders has dropped off a couple freestyles. The first, aptly titled "Freestyle," organically exhibits Wonders' vocals, which are laid over a minimalist beat. The beat becomes secondary to his words, which are both raw and candid.
3. OG Swaggerdick – "Foxes (Can't Blame Her)"
OG Swaggerdick is one of a few rising rap acts to come from Boston. His eccentric nature is put on blast with his latest project W.A.L.L.I. (We All Look Like Idiots), which, according to him, is his attempt to be vulnerable for everyone, since vulnerability scares most people. "Foxes (Can't Blame Her)" feeds into that notion, examining the wanton desires of single ladies who don't want to get wifed, who perhaps avoid relationships to avoid vulnerability. "This fo all my independent trickin hoes/women/ladies bout they $$$ trynna get fucked & drunk you feel me?"
4. The O'My's ft. Donnie Trumpet, Saba, Zach Wicks, IceFace, and Satellite View – "Piano Wu"
This playlist wouldn't be complete without a collaborative song from some Chicago artists. The true stars, this time, are the O'My's: a seven-piece band that embody contemporary Chicago soul. Underneath guests' Saba, Zach Wicks, IceFace, and Satellite View's vocals, and with the help of Donnie Trumpet, the O'My's horn section—sax, trumpet, trombone—shines, laying some beautiful brassy melodies. Every now and then, we also get a peek into O'My's' vocals, including lead singer Maceo Haymes distinctive cadence.
5. Pell – "Vanilla Sky"
After releasing his full-length debut "Floating While Dreaming," New Orleans' Pell has consistently been delivering a handful of loosies to his listeners. "Vanilla Sky" is an expressive track where Pell captures the push and pull of fame. Through the beginning, he takes a moment to serenade us, expressing a desire to hear a sugar-coated truth. But as producer Like Minds drops the beat, Pell picks it up too, as he wavers between wanting to remain humble and wanting to give in to his celebrity.
6. People&Places ft. Czech Royalty – "Spiteful"
Collectives are becoming the go-to for young kids these days. Cue People&Places, a creative collective out of Toronto, boasting at least six members. According to member Brick Grillins, the collective was started on a "whim;" already, People&Places has released their first tape, the Grey Area EP. Off the EP is "Spiteful," where the rappers employ the typical equation—girls, braggadocio, and drug use—as the basis for the song. But with its catchy production, it's a very promising start from the new collective.
7. Reece – "Don't Go"
Hailing from the DMV area, Reece, unlike many of his contemporaries, forgoes rapping for some very gripping, soulful melodies. "If I lose you, I lose me too," he croons on "Don't Go." The song stirs up some very familiar feelings for all of us, taking us to a time when we told a certain someone to stay (or maybe that's never happened to you, smh). Sometimes it's really hard to let go of love and to be alone, and Reece expresses this sentiment well.
8. Sales – "Big Sis"
Sales is that kind of hipster indie rock band that you wished had been around when you were first exploring what it means to be a hipster (and when you probably had really terrible taste in music). Comprised of Lauren Morgan and Jordan Shih, the Orlando-based duo is slightly evocative of the Strokes, especially "Big Sis," where—even though the lyrics are muffled to the point of inaudibility—is still a sublime song, perfect for that first fall day where the summer heat subsides, and we get a perfect 70 degrees.
9. TUT – "Outside"
"Outside" opens with a smooth beat, not something you'd expect from a southern artist. But Chattanooga rapper TUT isn't like most: He slides in with his drawl over smacking hi-hats and melodic riffs that allows for an overall bouncy, laid back feel. "They think they ballin / They broke from splurgin." With "Outside," TUT throws some advice to the kids who are trapping, who get the bands and then turn around and spend it all. "Turned all your profits to ashes / Feeling like Cassius Clay." Touché, TUT.
10. Young Moe – "Nothin Comes Easy"
Though Young Moe hasn't been in the public's eye for a bit, his older tracks still hit hard. Like most of the songs from his 2013 offering Humble Hustle 2, "Nothin Comes Easy" is imbued with a sort of downplayed honesty. "I been grindin, tryna make it out of public housing," he flows in a raspy voice. Everything about Moe is understated; he is nothing but truthful about his situation. His weariness at 19—the age when he made the tape—is palpable, arousing compassion within us.