It's the 10 track commandments, whet?
I like to dig through Soundcloud. So here, I present the results of my excavations (in no particular order): Nine tracks released in the past month that you shouldn't miss, plus a tenth track that's kinda old but still knocks. Hopefully this'll help get you through the rest of your week, to the blessed lituation that we often call the weekend. #TYBG.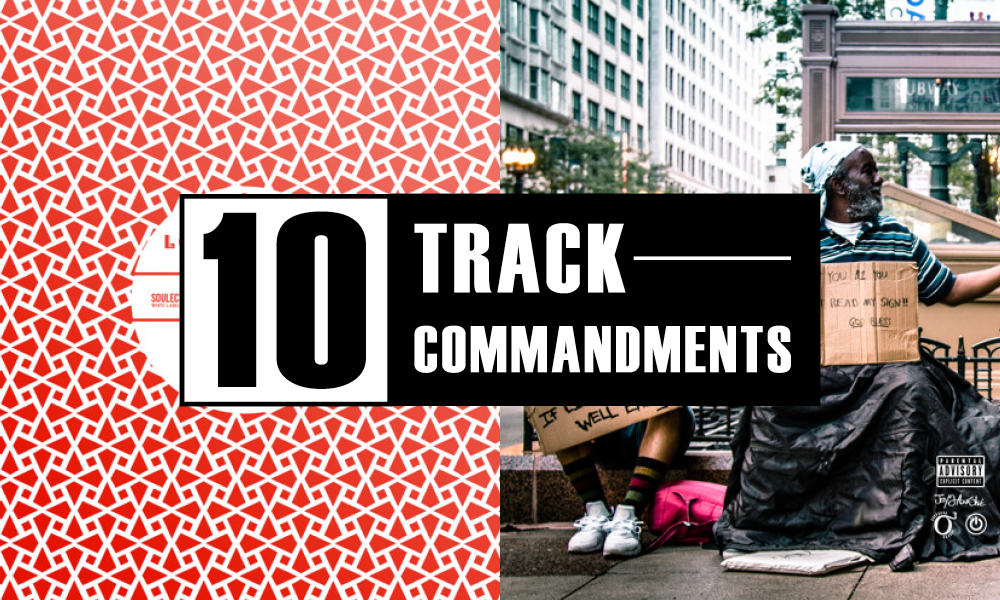 1. Green Street ft. Quelle Chris – "Stay Woke"
Green Street—emcees A-live and Soupa and producer Renaissance—have had a tough road. In 2012, two of the three members were diagnosed with deadly illnesses. But that was just a blip on the radar for the trio. In 2014, they came back with a force through the project The Will to Win. Now, after a few loosies in 2015, they've released their latest with Quelle Chris, a bouncy track led by energetic horns and snares. The song touches on everything from police brutality to technology and trash day jobs, reminding you to remain aware of your surroundings amid the shitstorm that is life.
2. Jay2AintShit – "PayPerView"
Part love song and part down-on-my-luck song, "PayPerView" is sonically different than what we've previously seen from Chicago's Jay2AintShit. While his production has always been slightly experimental in nature, "PayPerView" goes all out: Jay2 really tries his hand at singing, his warbling auto-tune ebbing and flowing over a beat deeply embedded in synths, keys, and drum rolls. Indeed, "PPV" is also produced by Monte Booker—who produced the song "3M," which appeared in Vol. 2—an effort that can be equally attributed to both musicians, as Booker's slightly offbeat drums still perfectly fit with Jay2's cadence.
3. Ikon x Pivot – "High Noon"
"High Noon" was also created by a full Chicago cast, with production handled by Ikon and Pivot Gang on the bars. Pivot boasts around seven members, if not more, but "High Noon" features only a few of them: Saba, MFn Melo, and John Walt. Though the emcees kill it, what's notable about the song isn't the lyrical content, but the solid introduction to Ikon, whose style is evidently progressing as he releases more music.
4. Frett – "Drop of Starch"
"Drop of Starch" is the latest from UK-based electronic duo Frett, comprised of Simon Lucas-Hughes and Elliott Buckle. By layering their falsetto vocals over guitar riffs, bass, and their trademark synth drop, we clearly see that texture is paramount to Frett's sound. And the two achieve texture with a sense of minimalism, as every production element of "Drop of Starch" becomes elemental and necessary.
5. Louie Lastic – "Reactions"
You might have first heard of Louie Lastic as a producer on GoldLink's debut project, God Complex, but DMV's Lastic has now caught some of his own shine. After a few tours and building a solid relationship with Soulection, Lastic has released three songs as part of Soulection's 15th White Label series. "Reactions" is one of the three—with the track, he continues to prove that his sound is entirely versatile, injected with heavy doses of house, soul, and trap.
6. abhi//dijon – "Wait"
Singer-production duo abhi//dijon also hail from the DMV area, bringing with them a brand of R&B rooted in house rhythms. Dijon Duenas' voice is impassioned from the beginning, "You heard that I was wanting ya / You heard that I was thinking 'bout ya," he sings, his voice soft and sure, yet also vulnerable. Co-producer Abhi Raju works on the beat, digging a space for Dijon as he lets a synthy clap slowly build. But when the beat drops, Dijon's vulnerability begins to slip away, confidence building. "I can't wait any longer / No, I can't wait."
7. XVRHLDY x Trapo – "Monday"
Chicago's XVRHLDY (Xavier Holliday) teams up with Wisconsin vocalist Trapo on "Monday," a track where the vocals shine through the production and lyrical content. "Monday" acts as an excellent example of the intermingling of singing and rapping: XVR's scratchy cadence moves along at a slower pace, as Trapo's vocals move between harmonic inflections and a fast flow. The duo have a collaborative projects in the works—this track is only a taste of what's to come.
8. DP x D.R.A.M. – "50/50"
After DP and D.R.A.M. dropped "SuperLit" a few months back, I was worried that the two Virginians wouldn't collaborate again. But I was dead wrong, and glad to be. Produced by D.R.A.M., "50/50" is a substantial follow-up, swimming in the murky, deep intricacies of DP's sound, rather than D.R.A.M.'s typical drunkish croon. And that's what makes the song, and their collab, work: The glaring disparities in their styles.
9. Hurt Everybody x Mick Jenkins – "Social Network (GANG)"
Yes, this is the fourth song from Chicago appearing on this list, so just trust that the selection is solid. Hurt Everybody got a little help from their friend Mick Jenkins on "Social Network (GANG)," a.k.a. the banger of the century, the squad turn up song, the anthem. Hurt in-house producer Mulatto Beats creates a drop that falls exactly in line with Hurt vocalists Carl and Supa, as they repeatedly yell "Gang!" The beauty of Hurt Everybody is that they manage to cover many vocal and aesthetic bases, from trap to house to melodic hooks and even-keeled cadences.
10. Cousin Stizz – "Shoutout"
Though a year old, "Shoutout" isn't a song to be forgotten, one of 13 tracks from Boston rapper Coustin Stizz's summer debut Suffolk County. Simple both sonically and lyrically, "Shoutout" is a song for the crew to get loose to, to roll up while riding around in the summer sun, the wind whipping through your hair—the exact scene Stizz sets in the track's video, i.e. the perfect midday jawn.