I was down behind the Orange Curtain today, so I decided to stop by and visit some friends in the neighborhood. Because of its sterile landscape, shopping malls, and chain restaurants (and the fact that they ship their homeless people out), the city of Irvine is known for being — pretty much — the "perfect" city. Hey, I guess that depends on your perspective..
But Irvine is also coined as the Velcro Valley because it holds almost every major action sports company's corporate headquarters within a few-mile radius (for example, Sole Tech, Lost, LRG, Stussy,.. it's like ASR but way way bigger booths). And considering many of these skate, snow, and surf mega-brands got their start off tear-away boardshorts, I guess the name is rather appropriate.
My first stop was at The Program, which holds a roof over Four Square Outerwear, Forum Snowboards, and Special Blend.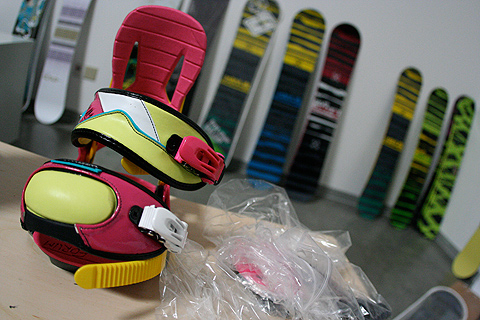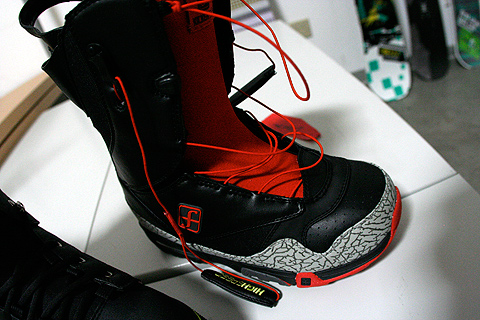 I remember back when Forum got their jumpstart when I was a kid, the "f"-logo plastered on the bottom of new-kid-at-the-time Peter Line's rodeo flips. They were the board company to floss back then, and they're one of the few who've managed to stay relevant in the industry now. Rob, Brendan, and Dan are a big reason why the Program has remained so successful.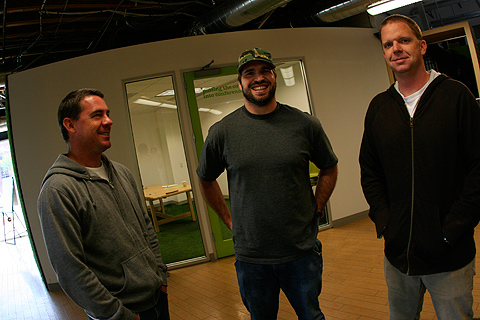 …Or maybe it's just their dope office building. All the doors are marked with cheeky inside jokes.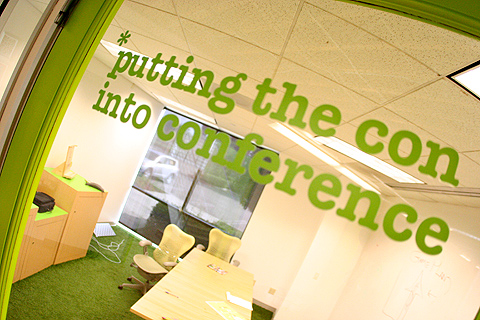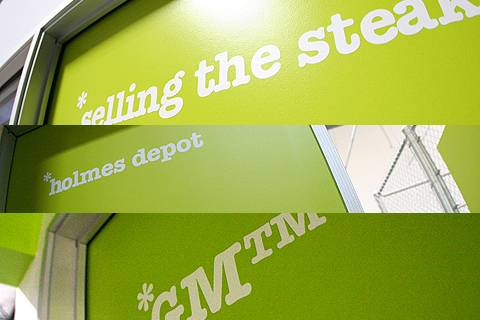 Lunchtime, so I drove a mile down the road to have some of the best shrimp tacos in the history of life with Justin at New Era. I told him he looked like a creepy weirdo old man here: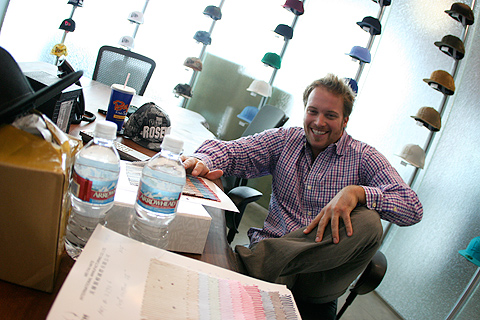 One of the first things you notice when you walk in is the blown-up print of Danny Way before he launched over the Great Wall of China. I thought it was pretty interesting that New Era was choosing to be represented by a skateboarder, as opposed to a conventional sports athlete. Kinda like the new Nike ad on the Hotel Figueroa in downtown LA, which shows Kobe Bryant and Venus Williams next to P.Rod. Definite sign of the times.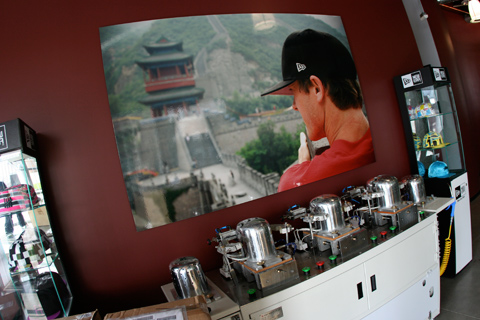 That contraption under the photo actually steams the New Era hats to keep them crisp and clean. How many of us need one of those in our closet? While we're on the subject, I'll take one of these tables for my dining room: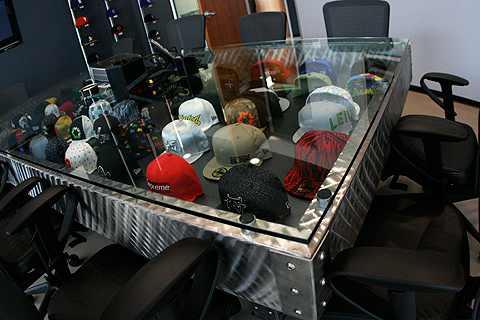 He looks familiar..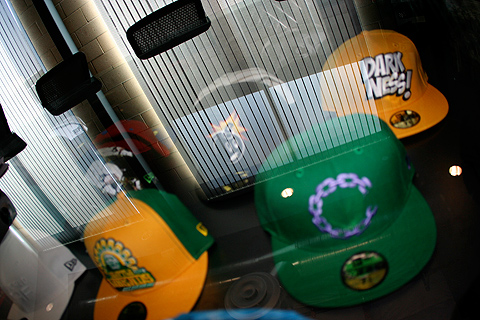 Heritage.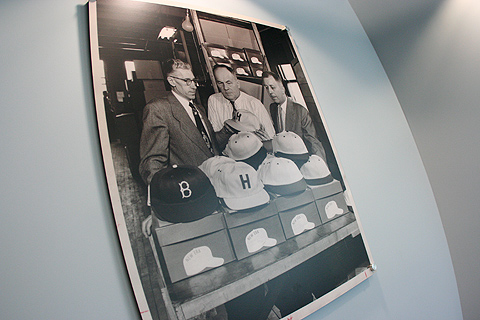 Afterwards, I drove back up the road to stop by the Burton headquarters and say what's up to Joe at Gravis.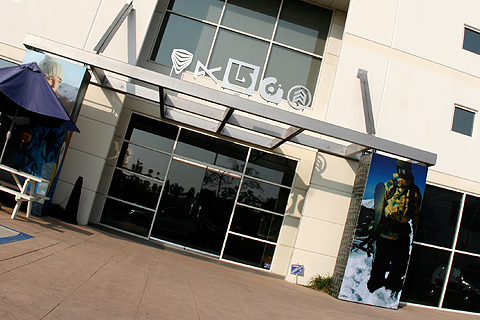 This street is such a trip, what with all these corporate office buildings and parking lots. It's like their own version of Fairfax here, except these companies have receptionists, conference rooms, and Aeron chairs..and lots of employees and experience,.. and lots and lots and lots (and lots) of money.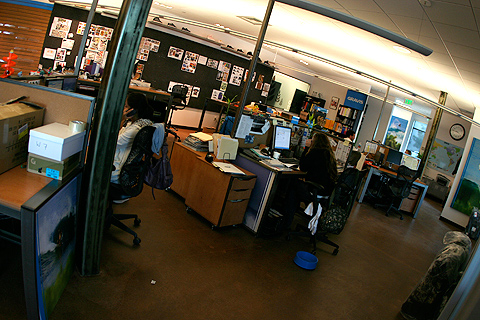 Joe whipped out some fresh pairs of Gravis for you to admire.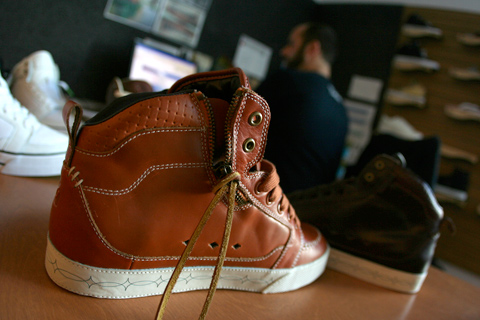 Jim Phillips worked the art on these.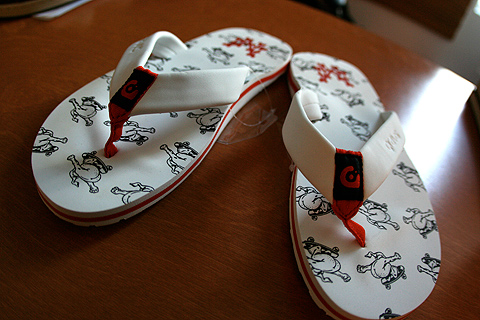 Back on the 405.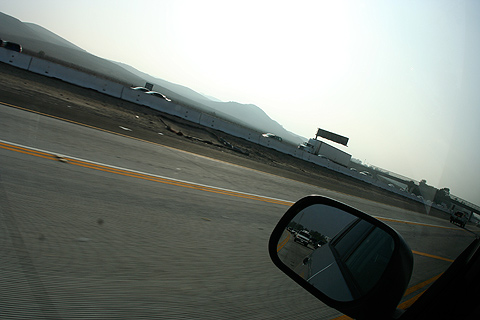 by bobbyhundreds