This weekend, Giant Robot is hosting its 50th issue release with a massive art exhibition at the Japanese American National Museum in Little Tokyo, Los Angeles. Some of the contributing artists include Gary Baseman, Souther and Saelee, Adrian Tomine, and a huge onsite mural by David Choe.
Like I mentioned earlier in the week with my Murakami article, Eric Nakamura is not only the founder of Giant Robot, but also a pivotal figure in exposing the untapped talent within the illustrated art world. I caught up with Eric for lunch a couple days ago, and had a chat with him about the event, and Giant Robot's role in the dynamic art world.
Me: So when you're scouring the globe for talent, what are you considering when you look for an artist to work with?
Eric: First, the work has to excite me. My tastes have changed from the beginning, but I can usually feel something when I see works that I like, and think that I'll like for a long period of time. It's about the body of work, that tells me about the artist. How much depth does he/she have? I've been pretty good at picking art, and it's great that a lot of those artists have achieved commercial success as well. I saw art by this dude named Jack Long at a restaurant in Providence, Rhode Island. I booked him in a show, then another and another, and he's doing pretty well now. Far from the restaurant that I first saw his work in. Most of the time, I work with the most humble artists. The kid who hid behind his sketchbook. That's who I like.
Would you say there's a particular Giant Robot "look" when it comes to the type of art you stand behind with the gallery shows and magazines?
Yes, it's illustrative art. It's a style that I've been into since day one. Imagine, just five years ago, illustrators were illustrators, comics artists were comics artists, not artists. Now illustrators and comics artists are getting art shows regularly and are being recognized as artists. I'd like to think I had a hand in that. Of course, there's a lot of different styles in that as well, but overall, I still think it's a growing genre and I know the larger galleries are starting to bank on it. Took them a while to jump on it, but they are.
For the most part, you've introduced some of the biggest names in the current art world to the masses. Ugly Dolls, Kozyndan, Souther and Saelee, Murakami, Nara,.. and my favorite, David Choe. Who has been your favorite artist to work with, and why?
Your list is too varied to pick. Each is so different and a lot of the folks you list are personal friends. Barry McGee is in there too (although I didn't intro him) it's fun to work with him, and see where his art has gone since I first met him 10 years ago, and it's great that he'll do surprise exhibitions in our space. Those are great experiences. The idea isn't to have a favorite, although I'd say working on a project with Takashi Murakami is always interesting, but the key is to keep learning through all of them for a long period of time. There's nothing worse than doing one project with an artist, and then they disappear. I like the artists who enjoy Giant Robot magazine. That usually helps. Susie Ghahremani is a good example of that, and is a very "GR artist". She's sort of a artist who does crafts and makes products, and is a good person.
Is there anyone that you're watching now that you think is "next"?
Come see the show at JANM (Japanese American National Museum), there's some in there. There's some in Japan too. I'll be working with them soon. Truthfully, the "next" is tough, since there're too many these days. I still think David Choe is a good bet, even though some say he's already huge. Keep an eye on the kids who hide behind their sketchbooks. When the cloud of gimmicks go away, good pen control will still be there.
At the end of the day, what would you like yourself and Giant Robot to be known and appreciated for, in regards to art in the new millenium? Where does GR stand amidst it all?
I'd like Giant Robot to be appreciated for it's work ethic and commitment to artists. On a commercial level, you have to think that the new millenium has seen a rise of young artists who can now make a living doing art and commercial work of some sort and that's brought on a new economy including more "artist X brand" scenarios. I'd like to think we had a strong hand via our magazine and our art spaces in shaping how people view art, buy art, how's it used by brands in marketing, and by media. It's infiltrated everyone's lives without most knowing it.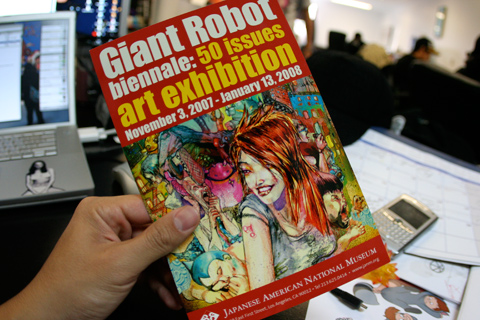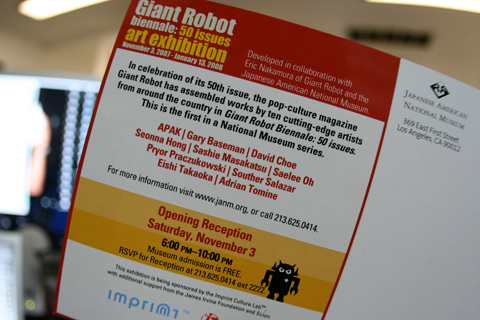 by bobbyhundreds