Just down the street from our headquarters is USC, and sometimes they have some interesting speakers stop by. Like tonight, Ben and I went to see Bob McKnight share his story. Bob is Founder and CEO of Quiksilver. I don't really need to tell you about Quik, do I? But maybe you'd be interested to know that Quik houses Roxy, DC Shoe Co, Lib Tech, and Gnu. This is how big of a deal this guy is. Quiksilver is the #1 surf company in the world. Roxy happens to be #3. They made BILLIONS of dollars last year. All from selling homemade boardshorts out the back of a VW bus.
Bob reiterated a few points. One, be wary of business partners. Two, don't forget your core customer. Quik has been dedicated to core surf since its inception decades ago. I think it's commendable that they've stuck with that consumer, amongst climate shifts, trend dips in action sports, and other obstacles that may have deterred the brand from its initial mission statement.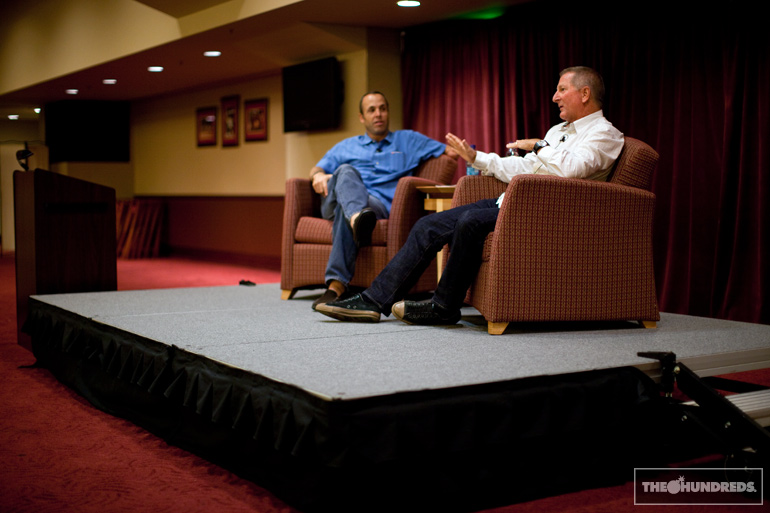 After the lecture, Ben and I introduced ourselves to Mr. Mcknight. He was none too familiar with what we did or what The Hundreds was. All good. As far as he seemed concerned, we were a garage t-shirt brand operated by a couple college boys. I asked him how important Quik's penetration into the Chinese market was to overall brand growth and longevity. He paused, then told us that, "Oh, you don't need to worry about that kind of thing at your level…."
"Just keep doing what you're doing and worry about that stuff later." Haha. Awesome.
Then while he was half-listening to my next question, he saw a friend and split. No worries, Bob. We'll be seeing you soon.
by bobbyhundreds