Ashley came at us last week, frothing at the mouth about a new burrito restaurant opening up by USC. It's called FREEBIRDS and it's actually nothing new at all. It's been huge in Texas for decades, but actually originated up in Santa Barbara in 1987. So this is their California homecoming of sorts, and only the third location outside of Texas. To be honest, I hadn't heard about it 'til Ashley brought it up, but judging by the hours-long line that serpentined around the block today on opening day, the helicopter overhead, and the honking traffic and radio stations promo'ing out front, apparently I was the last one to know about FREEBIRDS.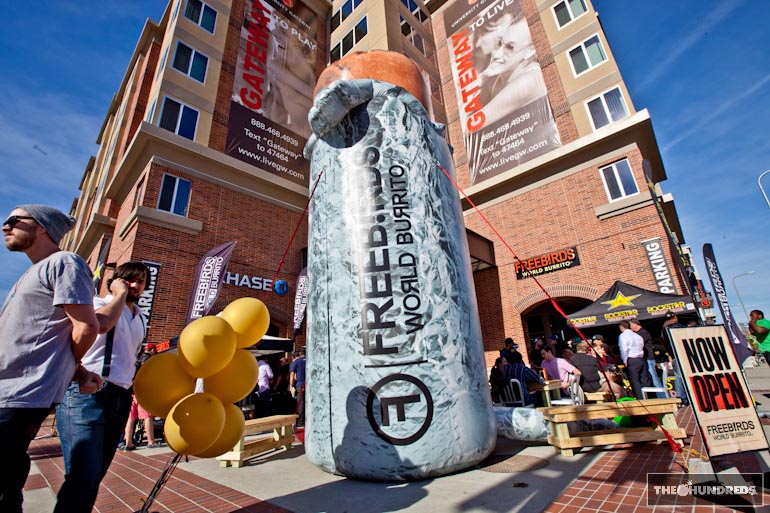 This is Libby, the FREEBIRDS mascot. As the marketing director told us, her skirt's hiked up, just like how they've always liked it.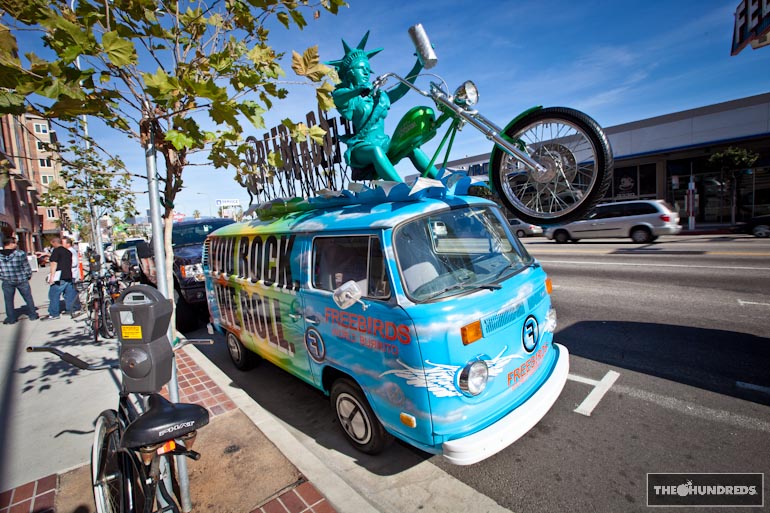 Libby makes an appearance at every Freebirds location, and here in LA, she greets you at the entrance.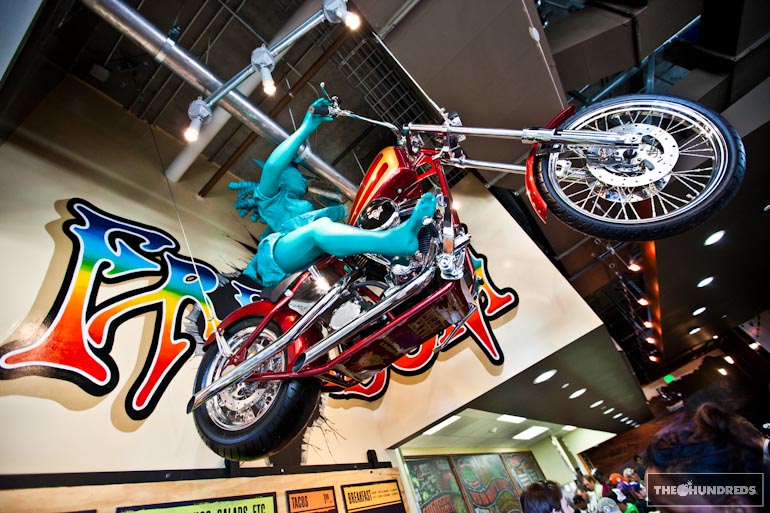 FREEBIRDS has a very hippy-oriented, communal vibe. It has that Texan charm with an SF twist. The music's just loud enough to make you yell a little bit, the energy is positive through and through. By the time you leave this place, you're a little winded.. it's a mild college party up in da club.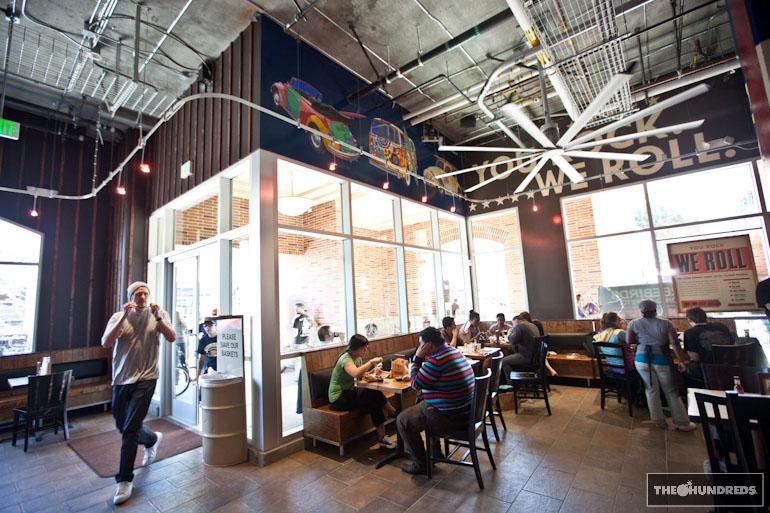 And that's partially maintained by the staff alone. There's always a smile there to greet you, get you a drink while you wait in line, and educate you on the FREEBIRDS story.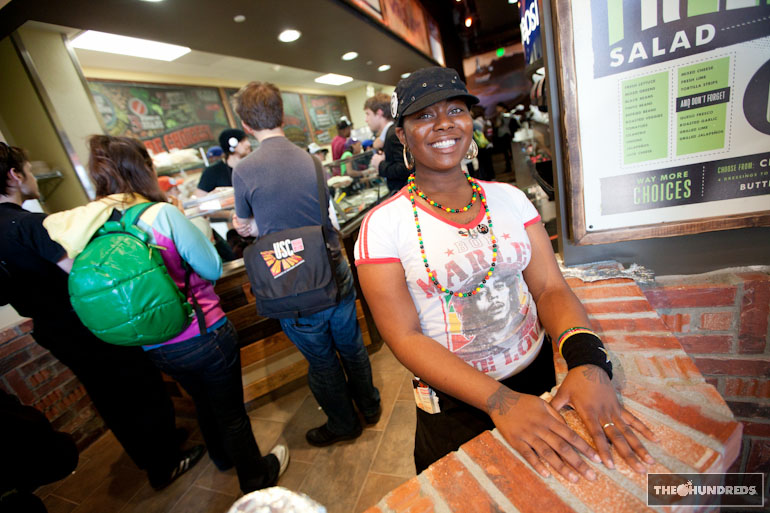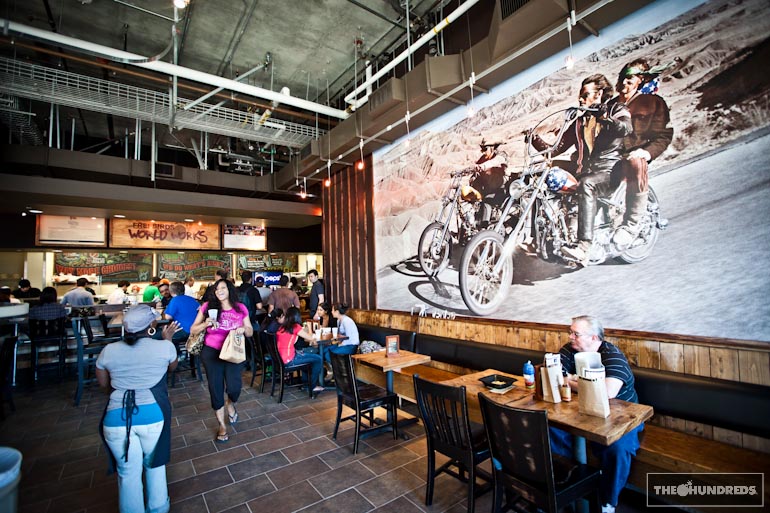 One of my favorite parts about FREEBIRDS is that there are no uniforms. You're allowed to wear whatever you want.. and look at how much fun these kids are having making burritos. Like Lucy in the chocolate assembly line…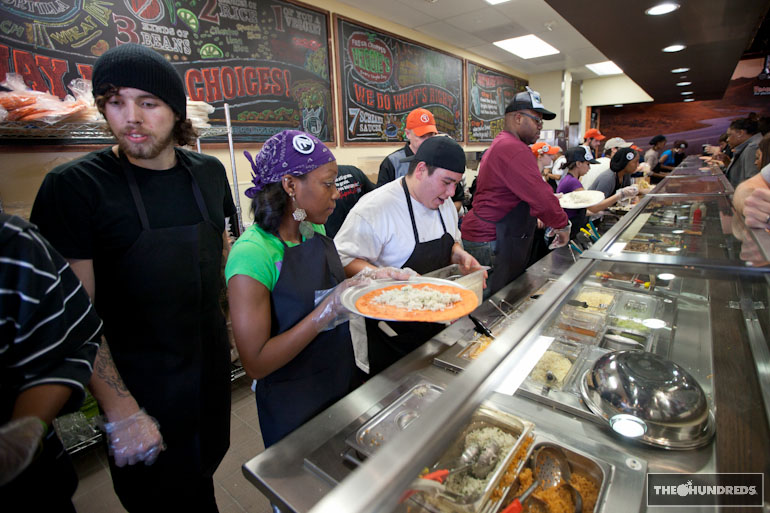 They have these little foil creatures creeping all over the place. That one, I have NO idea about.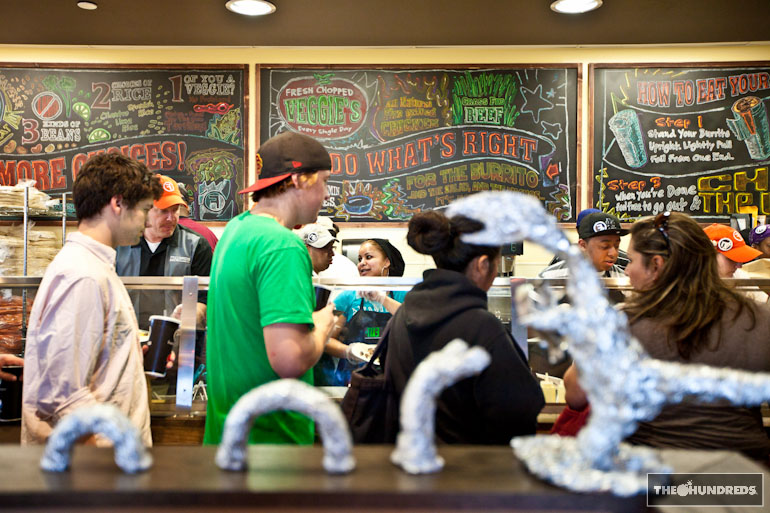 "Oh! You're from The Hundreds?! Take my picture!"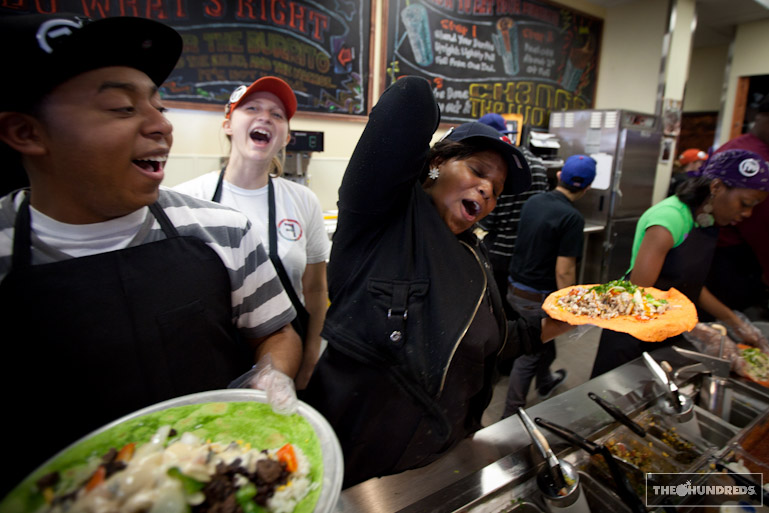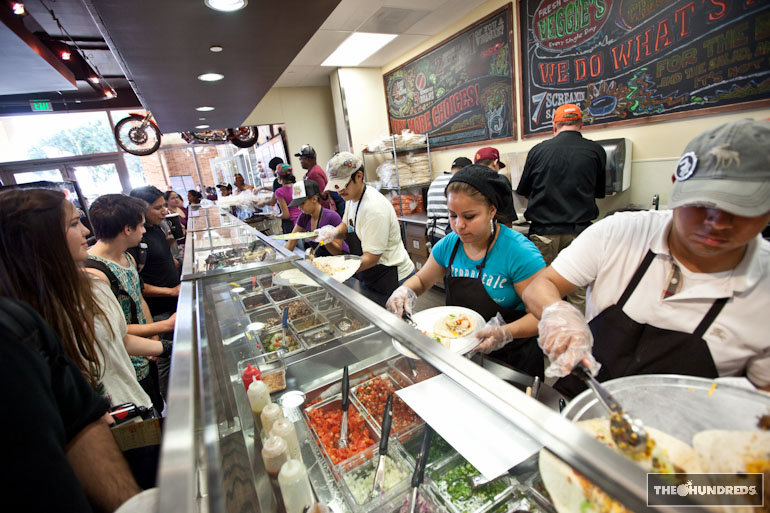 There are great salads and quesadillas here, all kinds of tasty eats.. but yes, it's really about the burrito. Ben egged me on to get a Super Monster, but I want to stay alive. So I went with the original, the Freebird.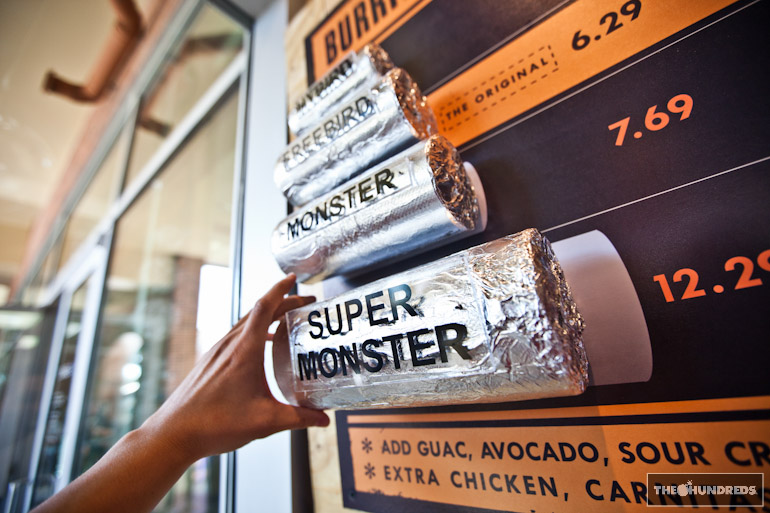 I can already hear the Chipotle comparisons, but keep those to yourself. Sorry, but FREEBIRDS trumps Chipotle with the material selection alone. EVERYTHING is made onsite, from scratch. Nothing's shipped in or pre-packaged. All fresh ingredients, made right here.
And what about all the different options? There are 2.2 trillion different burrito combinations you can try.. I'm gonna start with just one.
A spinach tortilla. A little cilantro-lime rice with monterey jack cheese.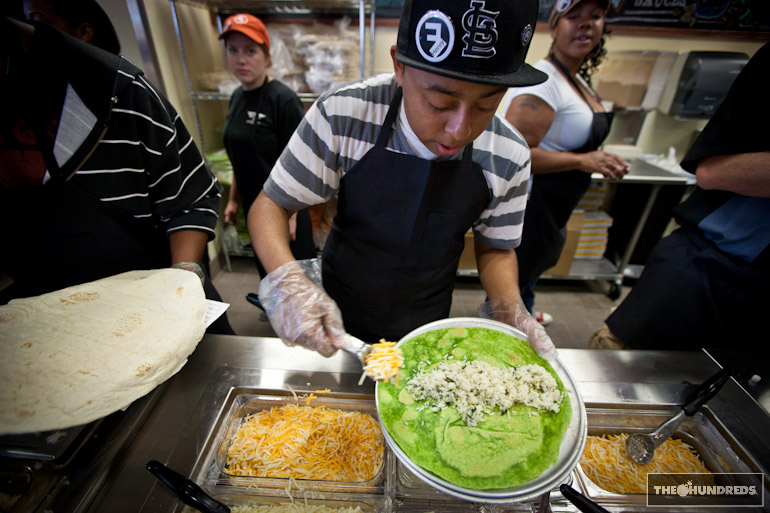 Fresh grass-fed steak.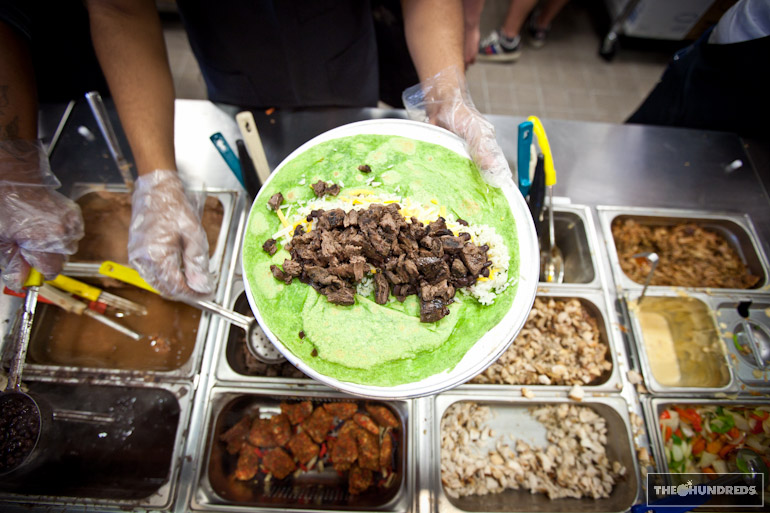 Mixed vegetables and a helping of queso sauce on top can't hurt.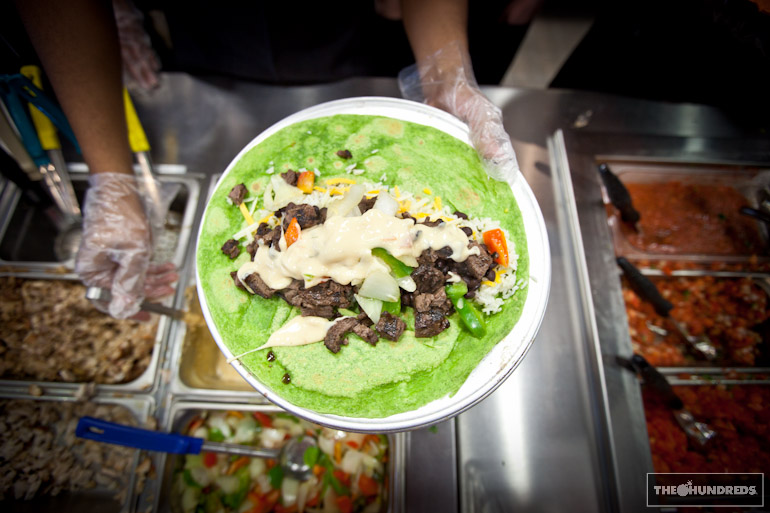 Sour cream (I passed on the guacamole). There are a bazillion other condiments to drench your piece with. Don't remember what I went with here.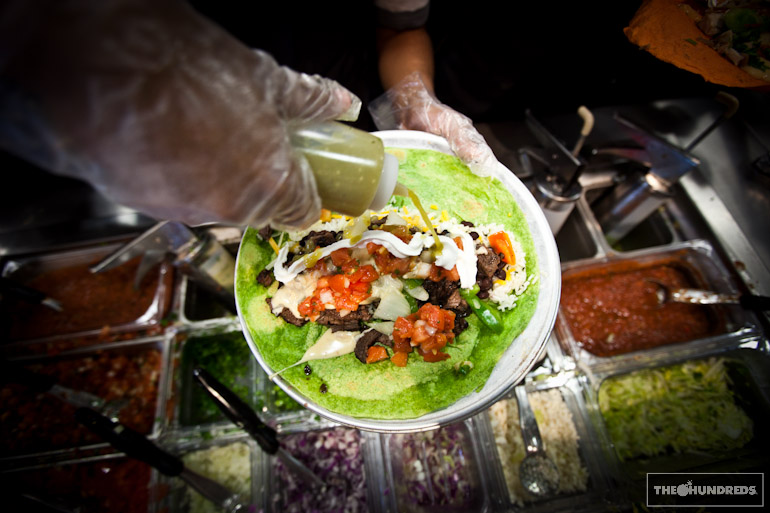 How'd I do?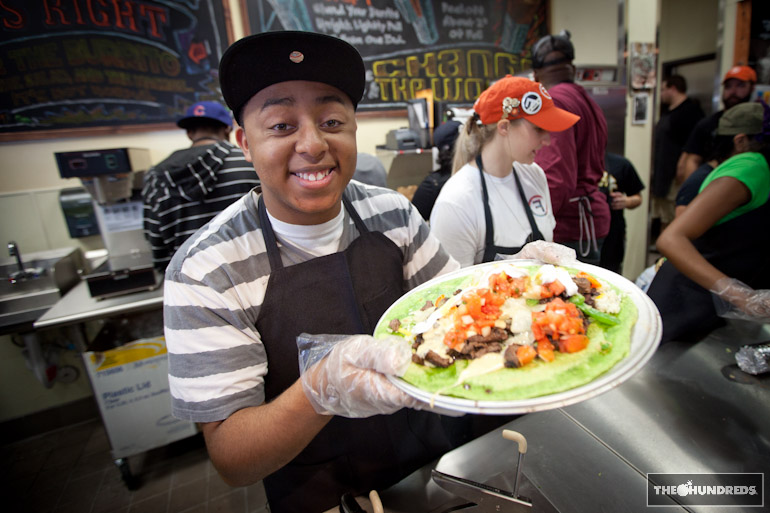 I almost forgot the best part. FREEBIRDS' signature POT BROWNIES. So good they should be illegal.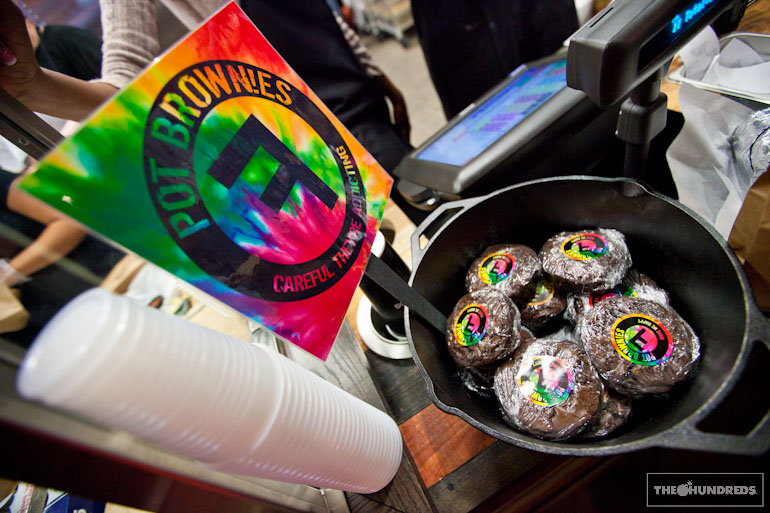 Even more stuff I don't know what to do with.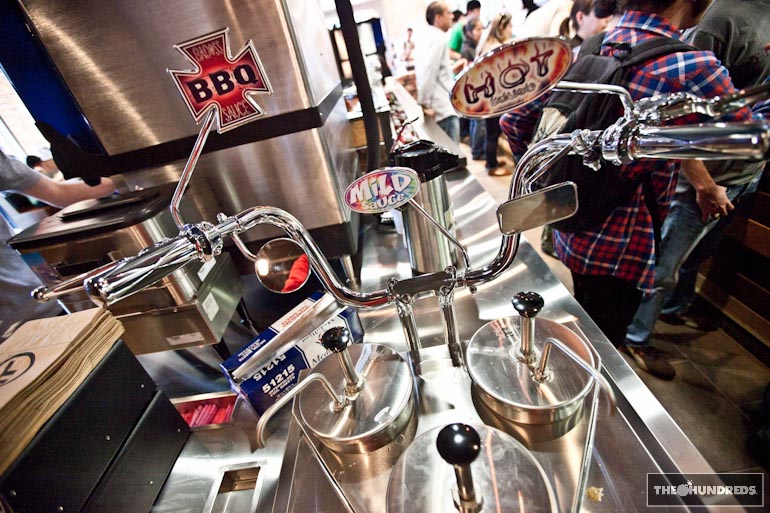 There's a proper way to do this.. unwrapping your FREEBIRDS burrito. Pop the cork on top and unravel the foil from there. One last thing, FREEBIRDS are known for staying open late.. like the ones in Texas stay open til 3am, the one in Santa Barbara is 24 hours.. This one at USC is open 'til like 1 or 1:30 in the morning. But I think tonight they're open 'til 3 also. Whatever, I may go back for dinner.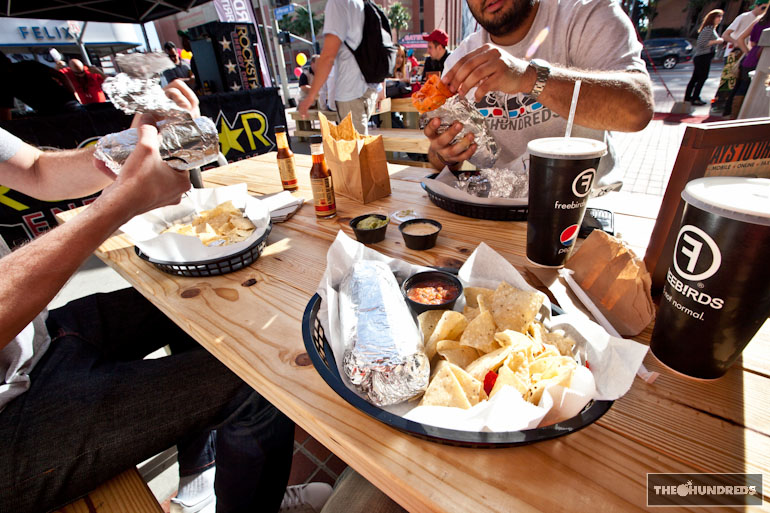 by bobbyhundreds