I get sent so much stuff, and it's really nice. But to be honest, I don't necessarily vibe with all of it.  And I know why people are sending it to me – they want me to hashtag it and activate it across social networks and basically do some free advertising for them.  Which I would LOVE to do, if I really dig what they're doing and it aligns with my tastes and interests.
Every morning, if I'm in town, I get to my desk and there's another castle of brown boxes.  I edit through them all and post/promote what's really me.  I apologize to everyone else who sends me stuff without a shout-out. If that means I get taken off your Coolguy list, then no worries.  Just know that if I upload something, I really mean it.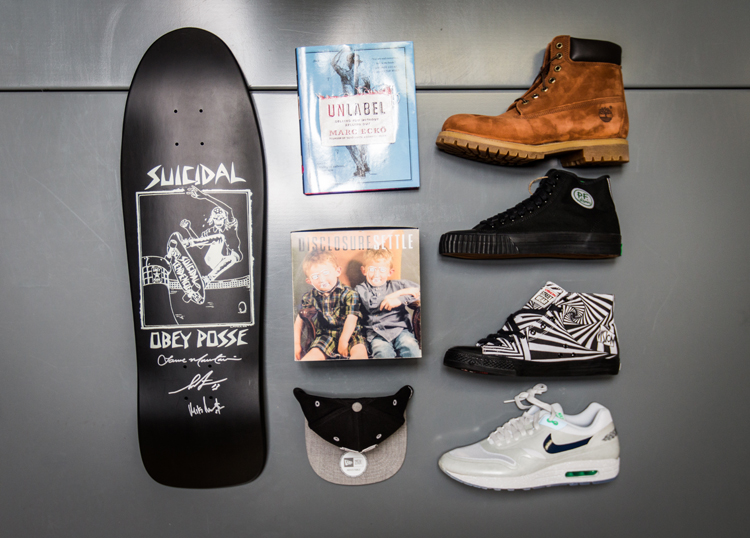 This round of shwag… The Suicidal Tendencies X OBEY collaboration skateboard deck, personally signed by Lance Mountain, Mike Muir, and Shepard Fairey.  1 of 20.  Steve really took care of me and sent me much of the co-branded collection.  I haven't worn OBEY in years, although I've always been a fan of what they do. It's nice to have it on my back again and with good reason : SUICIDAL.
Next up – the UNLABEL book by Marc Ecko.  Buy this book! So much wisdom to be shared… there's a reason why this man is who he is, became what he became, and did what he did.
Ran into my good friend Carl Ryan at the Fonda the other night for HAIM.  He ran out to the car and laced me with this collaborative DISCLOSURE X New Era snap-back.  I don't really wear hats anymore, but this one I can do.  Plus, Disclosure  are some of my favorite music artists today.
Finally, so many kicks constantly being thrown this direction.  These are the ones I can vouch for.  Timberland celebrates 40 years and gifted us with some classics.  I've always wanted Tims but hardly a need for them in So.Cal.  It's only when I catch myself on the East Coast or on the mountain in the snow that I kick myself with my soggy vulcanized sneaker… Now I got it under control.
The PF Flyers' X Sandlot collaboration.  The Secret Weapon is back in commemoration of the film's 20th anniversary. Can't believe it's been TWENTY YEARS.
I guess Vision Streetwear is back. Again!
And thanks to KP and EDC of CLOT for their latest collaboration with Nike.