This past weekend, we opened our latest venture in The Hundreds Retail: the Brooklyn Projects West pop-up shop inside The Hundreds Santa Monica.
You've probably noticed by now that THSM is our testing grounds, our experimental playground.  A year ago, it was the first of our shops to start racking up fellow brands that we were inspired by, believed in, or were like-minded enough to fit within our overall educational approach to Streetwear (as preached through our content).  This season, we decided to try something unprecedented, and intersect the Street world of The Hundreds and the Skate realm of Brooklyn Projects.
Brooklyn Projects is not just historically the coolest core skate shop in L.A., but also our earliest partners in retail.  BP's owners Dom and Merf had our back when we were just a t-shirt brand.  Projects even ended up becoming our first true flagship account, showcasing the entire collection.  So already, the relationship between The Hundreds and Brooklyn Projects grew organically – to this point of unveiling this shop-in-shop.
Brooklyn Projects West is a re-imagining of Skate and Streetwear retail, which are but two sides of the same coin.  In a Nike Skateboarding world, in a Zumiez Skateboarding world, how can independent core retailers sustain – and more importantly – thrive and win?  And how can Streetwear succeed by ignoring the anchor of Skate?
Partnerships.  To be truly disruptive today, you've gotta be bigger than yourself. And that comes by way of cooperating and building with community and like-minds.
We think that Brooklyn Projects West offers a different perspective on partnerships, cross-platform synergies, and how friends from across markets can create something new, inventive, and revolutionary, as long as the youth are positioned as the priority.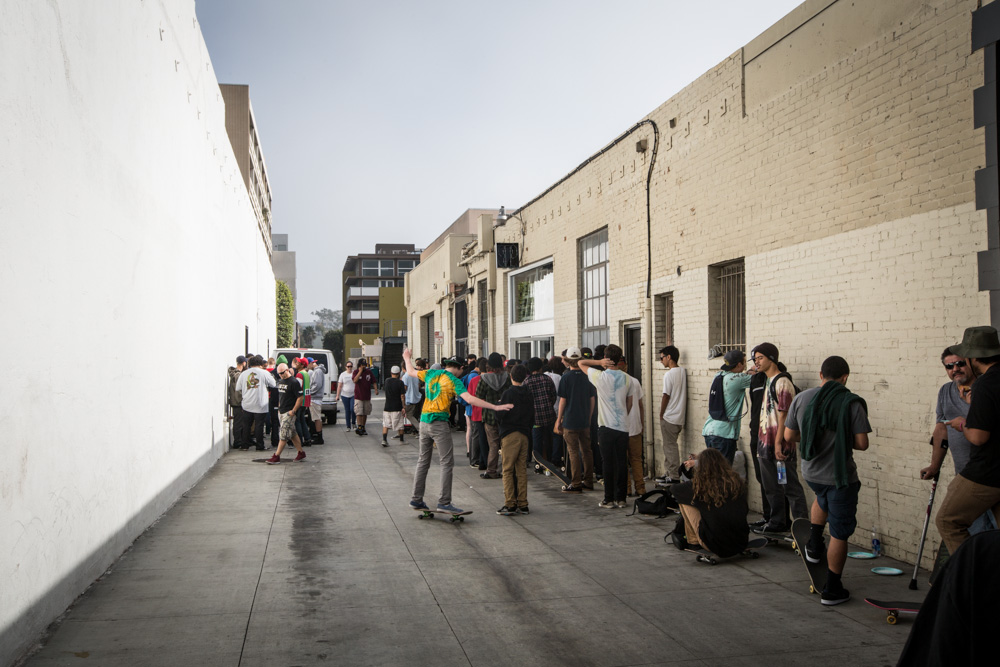 So to kick off Brooklyn Projects West, we released our limited collaboration t-shirts with the skate shop and also held an in-store signing with the Baker, Deathwish, and Shake Junt skate teams.  Thanks to all who came out… there's much more to come from The Hundreds Santa Monica X Brooklyn Projects!