Of course, in retrospect, it all comes together. But at the time, we didn't know how we were gonna pull this off.
A couple years back (actually, maybe longer).. we began talks with Marvel on working collaboratively with The Hundreds. As you can imagine, Marvel is not a small company (especially after Disney acquired them in 2009), and so what started as a murmur over email brewed to a conference call, and from that discussion came serious sit-downs in their New York offices with the licensing and co-branding department. The prospect of working with Marvel on a joint project was enticing, super exciting… as most guys (and girls) can relate (especially the ones who like to draw), I collected and read comic books as a youth. Hiding under the sheets with a flashlight, pouring over the violent imagery and dark, sordid stories, the hypersexualized babes. We also grew up in a time where Marvel imbued the popular entertainment market – there were the X-Men Saturday morning cartoons, the Spiderman movies, the multiple Hulk attempts… So, this was big. We were onboard. Let's take this all the way and make Marvel as intertwined in The Hundreds' culture as it was when Ecko laid into the comic book characters. The first stab was a potential The Hundreds' interpretation of the Marvel all-stars. Vanguard characters interacting with our universe, dressed in monochromatic black costumes, battles over Rosewood Ave.; or how about our roster of artist partners offering their own renditions of Wolverine, Captain America, Doctor Doom?
But what Marvel failed to divulge, a point they apparently thought was beyond concern, was that they were concurrently working on the same exact idea with a competitor of ours. Of course, they didn't tell either party this until we were both locked into our respective projects.
Major bummer. Party foul. Buzzkill.
At that point, we were over it. Until we came to our senses and realized, "Who cares?" It happens all the time in our market. It's like when two volcano movies open in the same summer or 5 different white girl rappers pop up on Youtube. Timing is everything and more often than not, great minds are all watching the same clock (either that, or licensing companies attack all of the popular Streetwear brands at once. Hmm..) If The Hundreds was ever concerned about not stepping on toes, about who did what first, or where our place in line was, I don't think we'd be where we are today. Our only competitor is ourself, we couldn't really care less what anyone else is doing. So we went for it.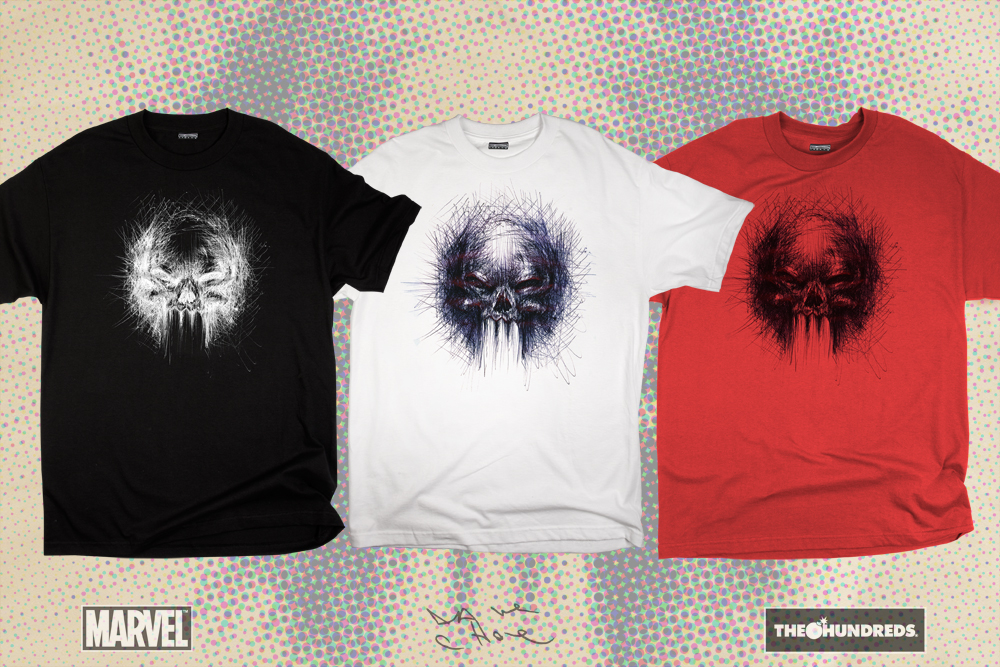 The first thing we did was go back to the drawing board and reimagine the project. We subtracted the Marvel pantheon from the proposal and honed in on one character: The Punisher. The most badass of badasses. Like, the worstass. I mean, you were either a comic book geek or you were a Punisher kid. Because everyone knew that the Punisher was in a class of his own. He wasn't a caped superhero, he had no special powers, he had no place in your Saturday morning – he wasn't out to be a do-gooder and fight all the no-do-gooders. He was really angry, he wanted to kill or seriously maim large quantities of people with a ludicrous arsenal of really big guns, he wore all black everything, and his logo was a skull. Dude. Right up The Hundreds' alley.
Secondly, we asked artist David Choe to get involved with the collaboration. Not that we couldn't handle this on our own, but because there's not a more obsessive Punisher fanatic that we know of. Years ago, Dave's brother conceptualized the first t-shirt below, and called it "The Punishirt." He printed them himself and sold 'em out of his backpack at Comic Con. You know the classic Punisher t-shirt, right? With the white skull on a black tee? Every comic book shop, mall-based novelty store, and swap meet vendor peddles a bootleg. And with every copy, that skull has gotten larger. This is where the Punishirt bashes heads in. Can any of those versions compete when the skull overcomes the entire tee?
No-brainer. This was the first t-shirt in the collaboration: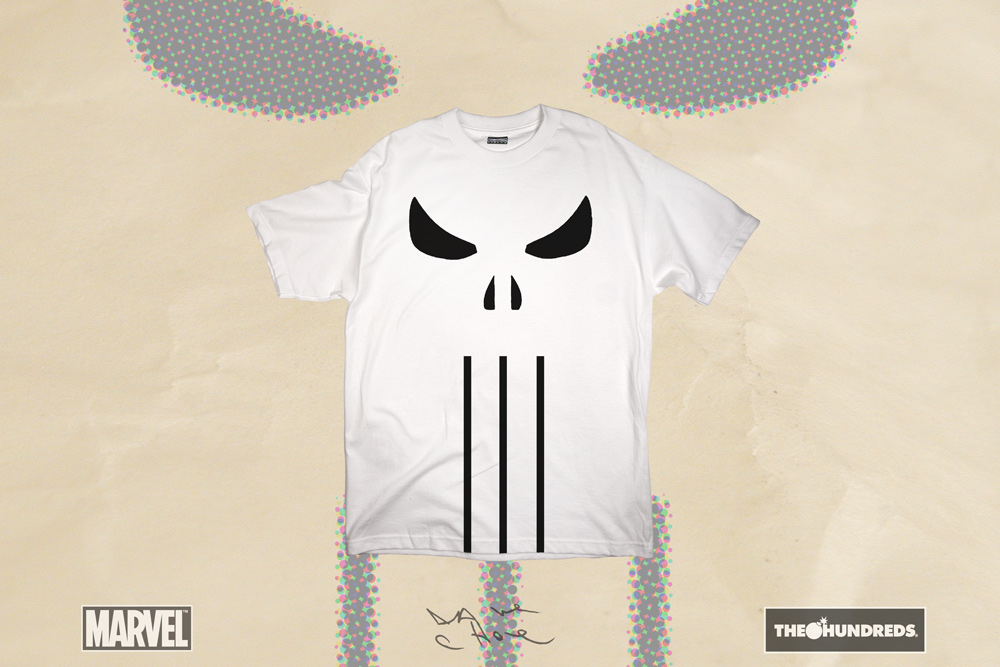 Around this time, Dave became a very busy man. Partly because Facebook was about to sell, partly because the New York Times put him on blast, but mainly because Dave is just a really popular guy. And so he was here, there, and nowhere, and submitted these Punisher drawings from far-off worlds. Every now and then, another one would pop up in my inbox, and then a flood of virtual napkin sketches, and then silence. Followed by another e-dump of ballpoint scribbled madness. Then, silence.
The end result is a rapid-fire assault of original illustrations and watercolorings depicting The Punisher in David Choe's mind.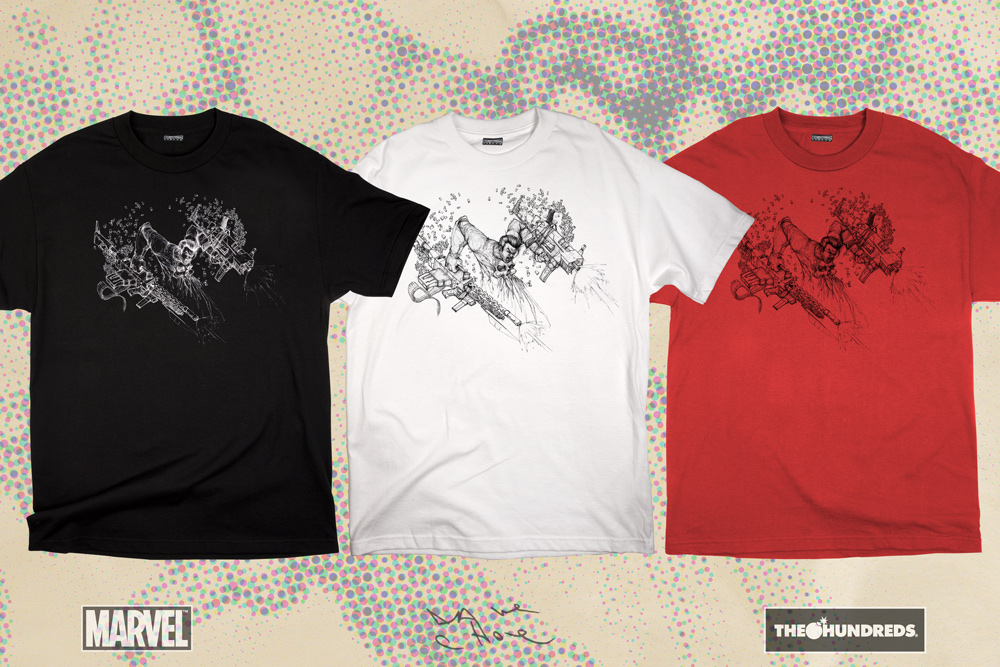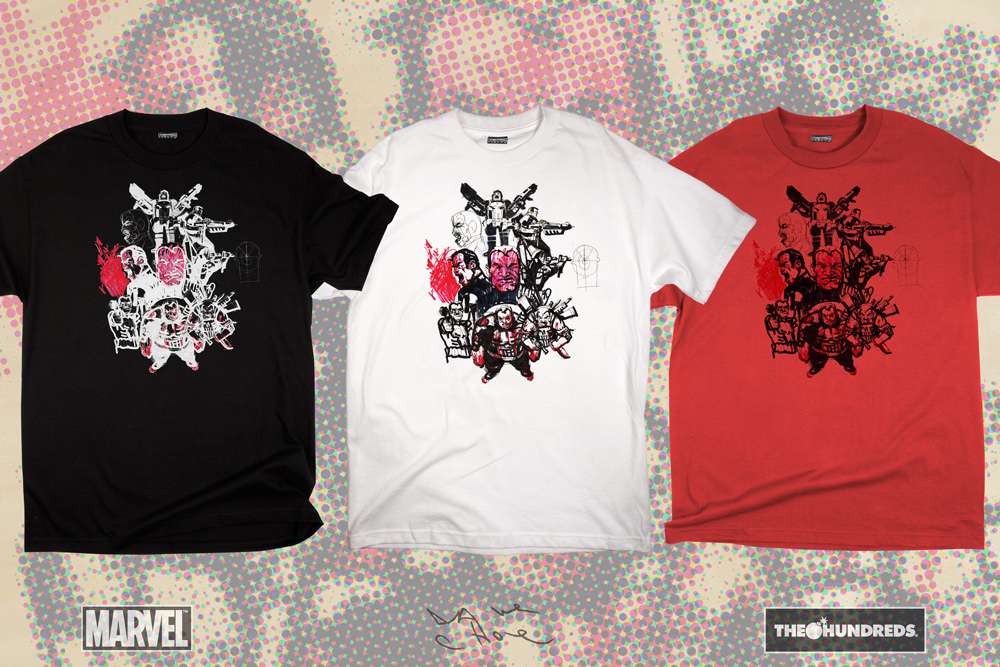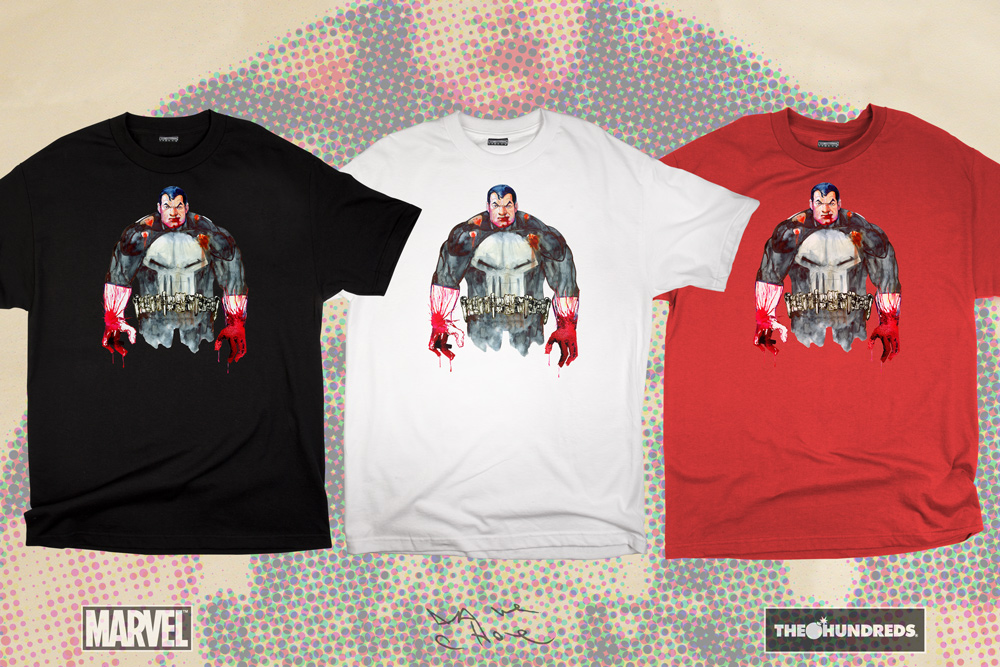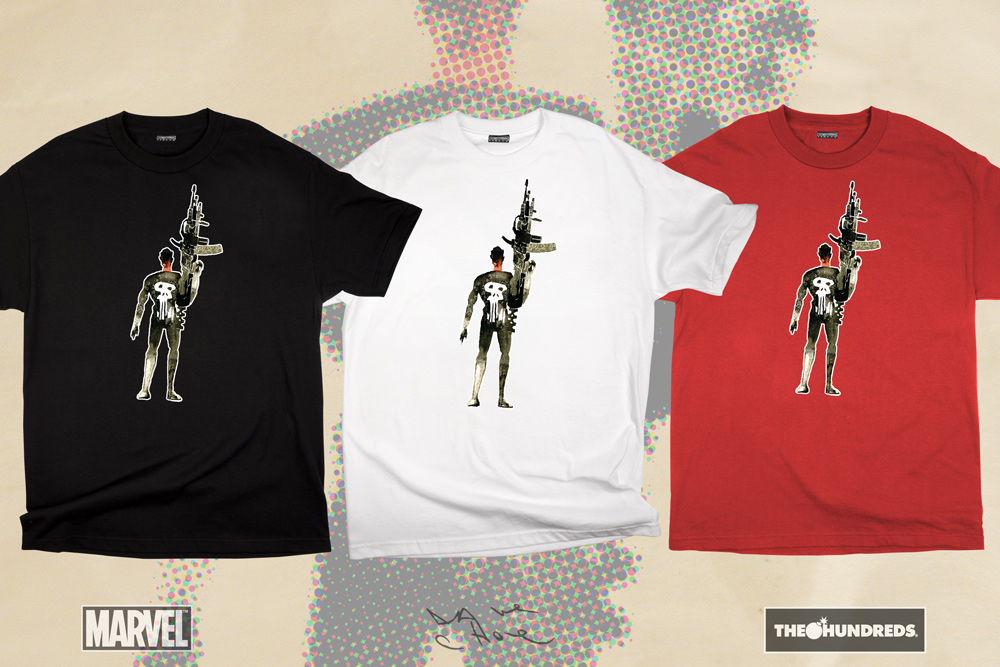 The final component of the The Hundreds X The Punisher by Dave Choe collaboration were the Mike Zeck cover series, available EXCLUSIVELY at The Hundreds' flagship stores (THLA, THSM, THNY, and THSF). According to Dave, these aren't just any 5 Punisher covers, but the best Punisher covers of all time: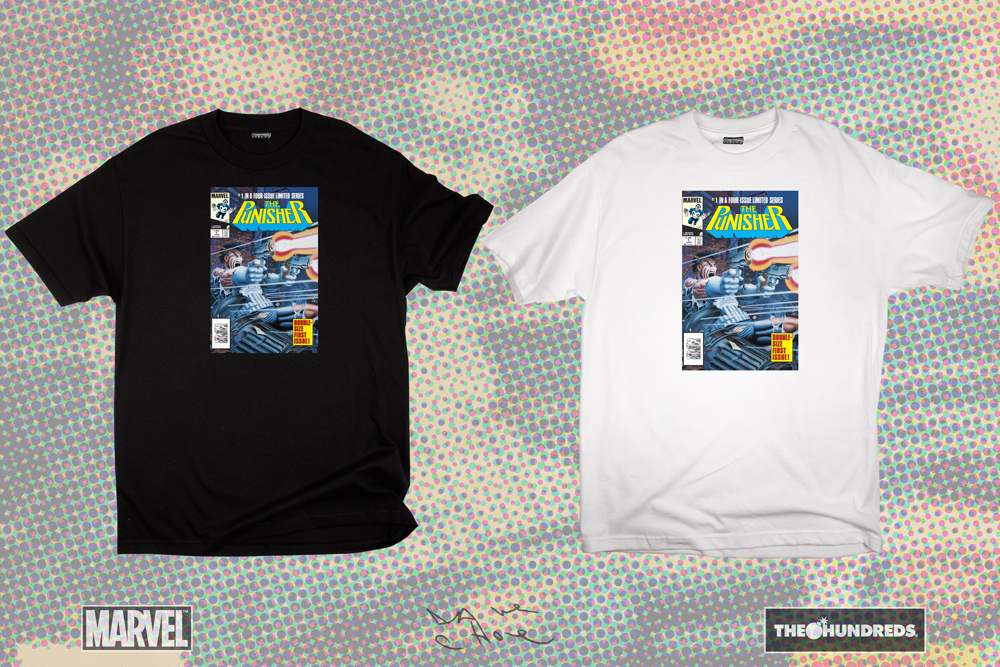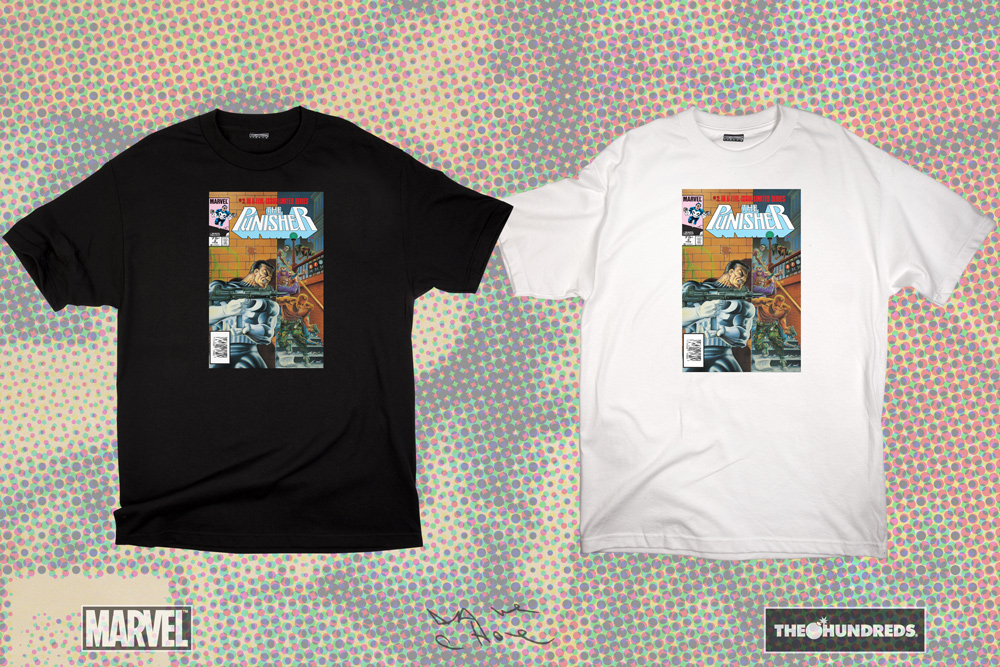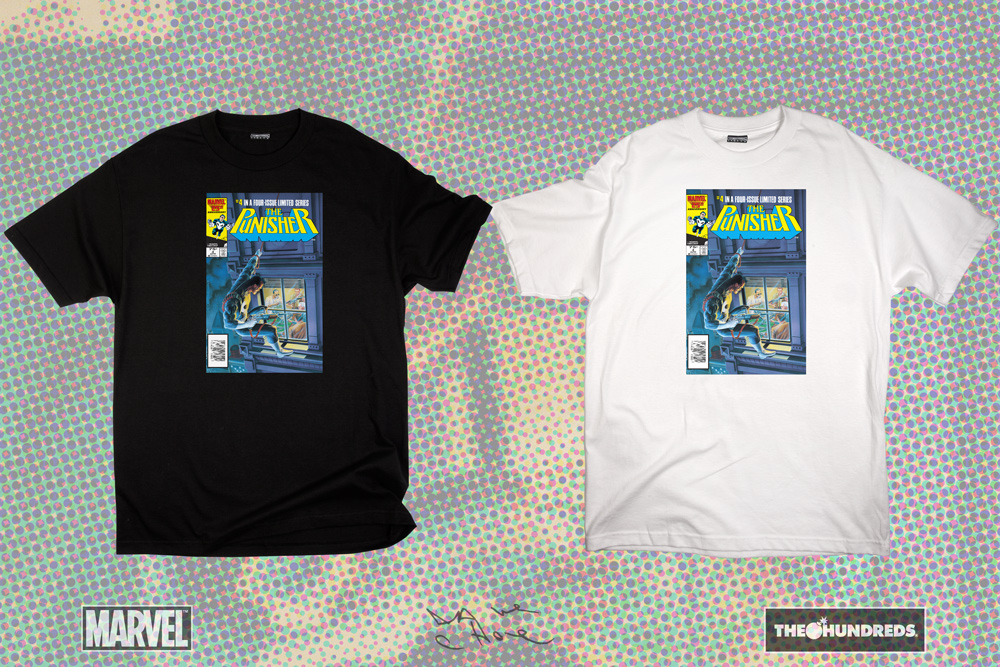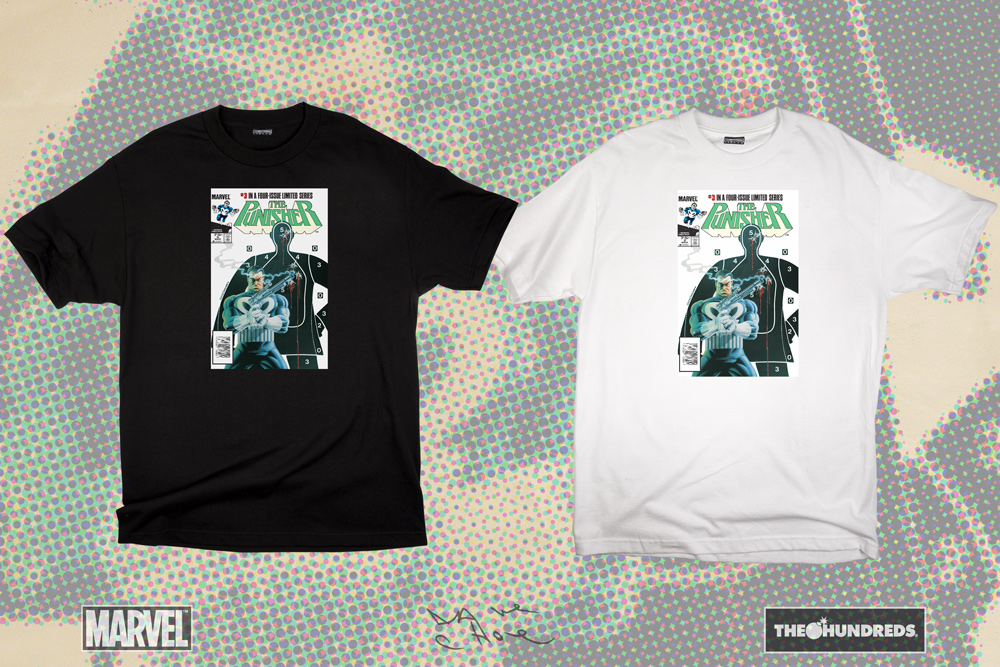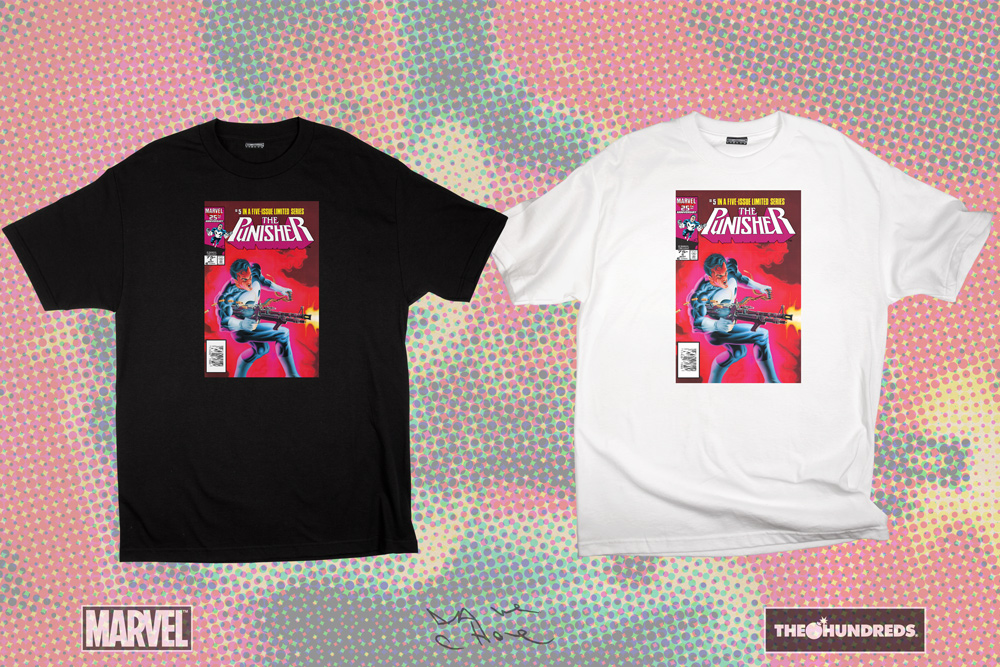 So there you have it. That's how The Hundreds X The Punisher by Dave Choe came about. Cool story, right bro? The limited collection hits The Hundreds' flagship locations and authorized stockists this Thursday morning. And if you're in the Los Angeles area, Dave has (for some reason)(oh God, do they know what they're getting into?) been asked to speak at UCLA this Wednesday, October 10th. Kill 'em all.