I told you I'd be back with some more Olivia.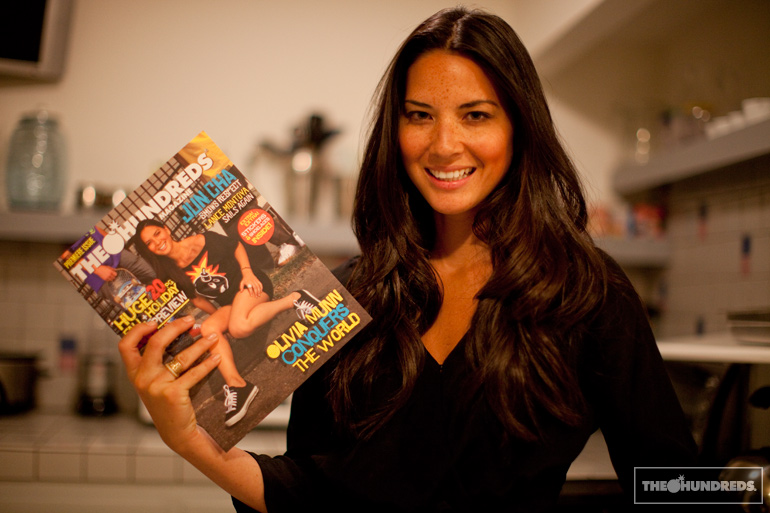 The premiere issue of The Hundreds Magazine is currently out at The Hundreds Los Angeles and The Hundreds San Francisco. It hits our online shop on Tuesday and participating The Hundreds retailers worldwide throughout the rest of the week. Check the STOCKISTS page to find a The Hundreds retailer in your area.
The Hundreds Magazine is really a pet project of ours. Ben and I personally pored over this entire issue ourselves from cover to cover. If you didn't already know, print magazines were what I did before we started The Hundreds, as a writer, designer, music reviewer, photographer, and editor. So we had always intended to bring it back to that once we had the resources.
Inside you'll find the regular columns, new Ask Yasi (with DJ AM (RIP), Dom Kennedy, and Dave Choe), A Day in the Life of… ynoT?, Umi Says, Ben's food reviews, and my (somewhat questionable) music reviews. There's a comic strip, fashion editorial, previews of our Holiday 2009 range, etc…. The editorial consists of interviews with artists Lance Montoya and Jun Cha, actor Bryan Greenberg, and of course, our cover story with the lovely Olivia Munn. Plus, you get some free The Hundreds shoelaces out of the whole deal.
Who says print is dead?
"Don't hate the media. Become the media." — Jello Biafra
by bobbyhundreds