You know, I love throwing parties but I can never fully enjoy them. I'm playing host, making sure everyone else is having a good time, nobody's pissing in my sink, and gotta clean up all the bile at the end of the night.
That's why these past couple of days have been such a blast. Nike did this whole MAG sneaker release with the Parkinson's charity tie-in, celebrity endorsements, and viral campaigns, but it all really felt like a party for ME. That's right. THIS guy. With none of the hassle or bodily fluids. I relished every moment of it.
Yesterday I was with Bob Gale, the producer and co-creator of the Back to the Future trilogy, and explained to him that no one appreciates the gravity of this project more than Bobby Hundreds. And then he was like, "Who's Bobby Hundreds?" And I said, "Me." He said "Why are you referring to yourself in the third person?" And I replied, "I'm just re-telling our conversation like this to make the story sound cooler."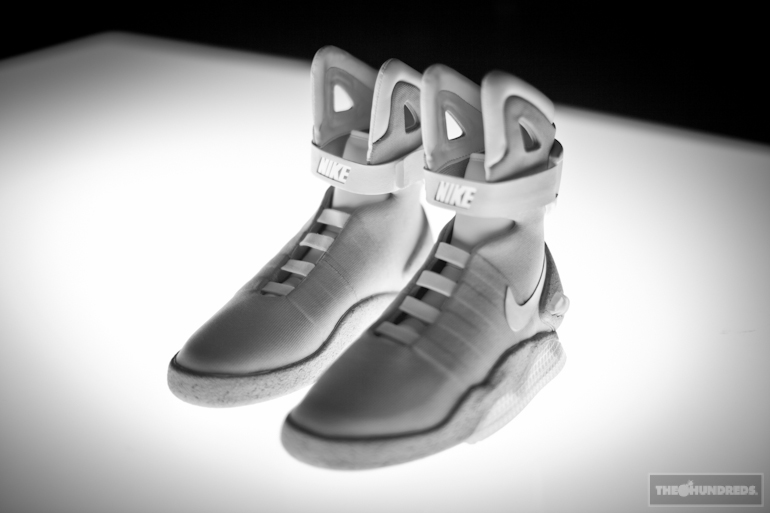 No, but really. Considering I have made it very publicly and embarrassingly known that Back to the Future II is my favorite movie of all time, considering I've seen the film upwards of at least 200 times (the last time being 2 weeks ago), considering I bought my house partly because it looks like the McFlys' and that I own a DeLorean and a hoverboard, considering all of the stuff we've made incorporating Back to the Future II references, and considering how pathetic this all now glaringly seems…
You get it.
So to see this project come together and to be asked to participate in it's unveiling, I was very honored. The entire experience was an emotional one – a journey through nostalgia. Remember my last post on Nike and how they can potentially consume us, they own us? Well, this week they owned me.
Here, a copy of the internal memo between Nike CEO Mark Parker, Tinker Hatfield, Pam McConell, and Amblin to set up the meeting for the Nike MAG to be designed for Back to the Future II, way back in 1987.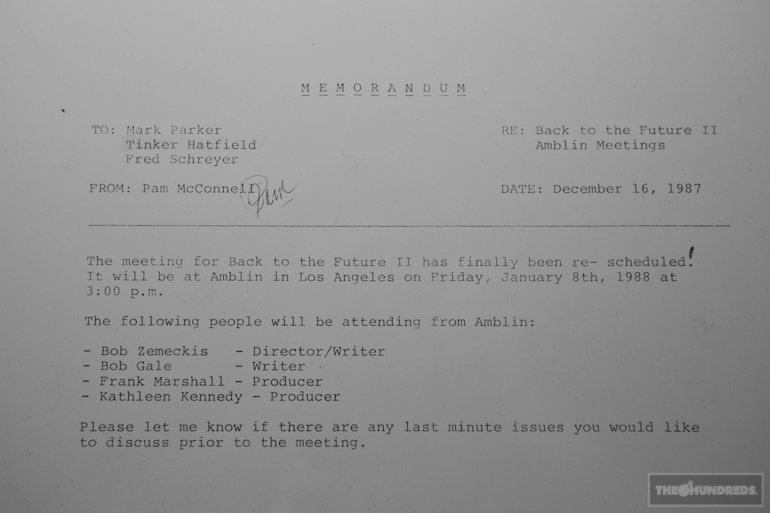 Yesterday, after the unveiling of the MAG, we were ushered into a soundstage on the Universal Studios backlot, surrounded by green screen and RED cameras that were virtually live-embedding us into scenes from Back to the Future.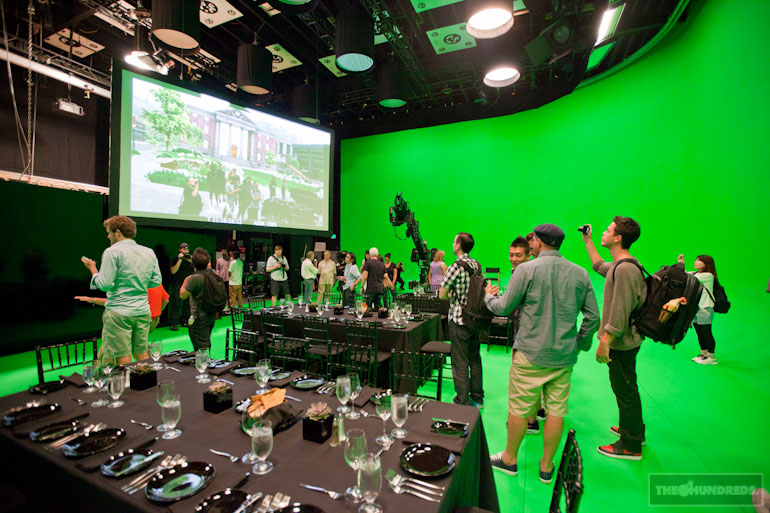 Bob Gale looks on and is updated on the technology.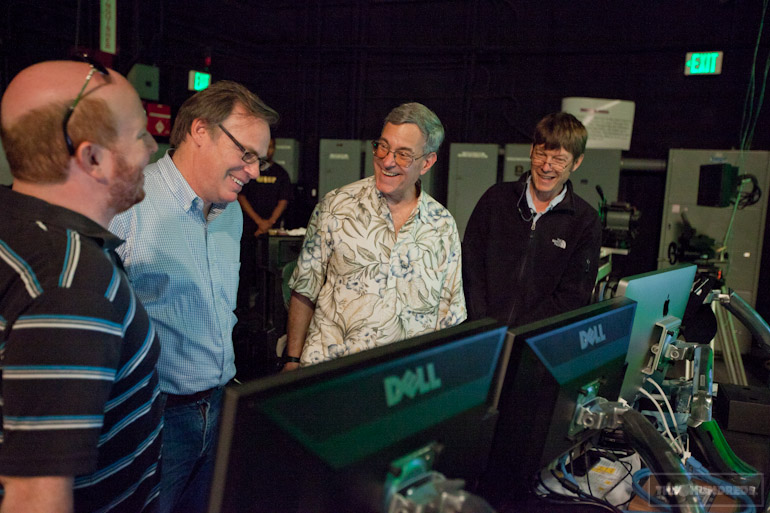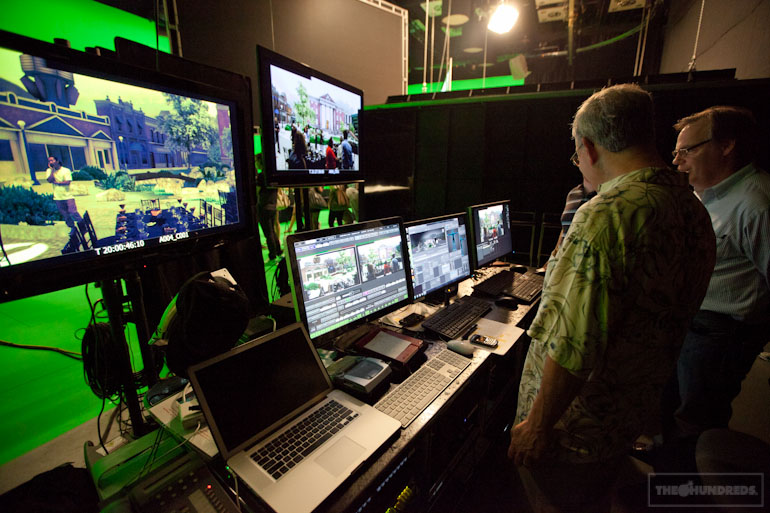 Me shooting me shooting Levi Maestro.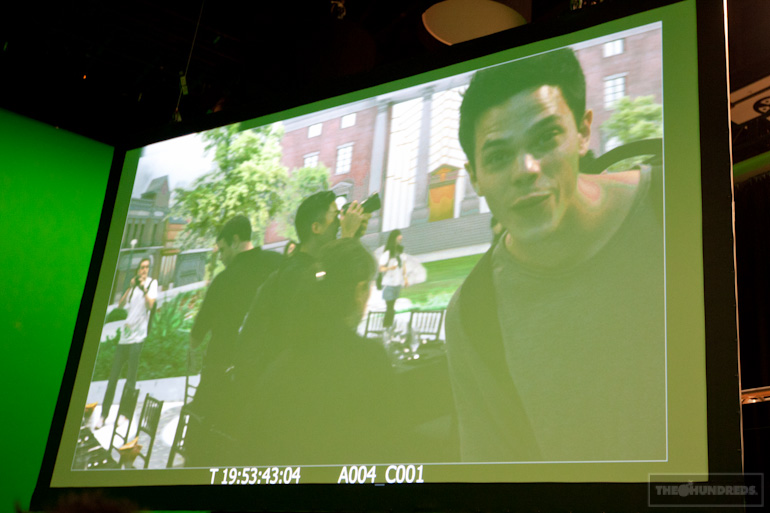 As if the experience couldn't get any better, I had the pleasure of partaking in a 1-on-1 lunch conversation with Mark Parker himself. We were joined by Terry Jones, editor-in-chief, founder, and creative director of I.D. magazine. Needless to say, I felt a little outmatched. What an honor.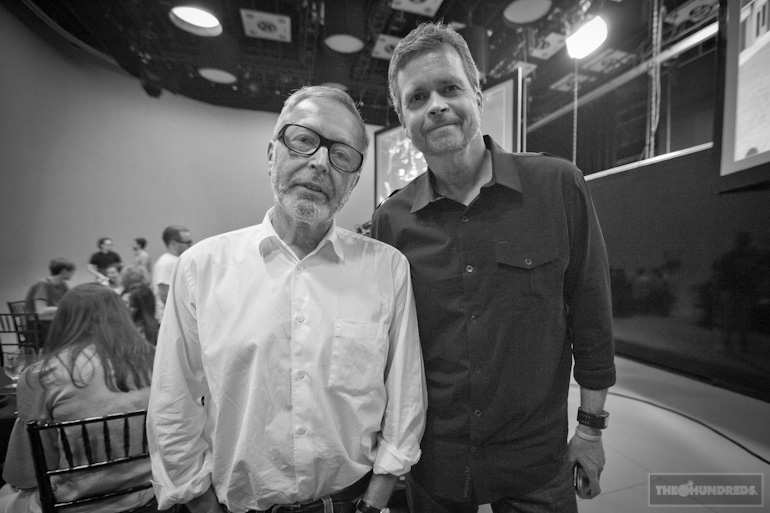 We talked about the project, but we really honed in on the story underlying the campaign. Again, it's an emotional endeavor on Nike's end, the movie studios, the charity, players involved, and the fans. This is what you call a pure passion project, one that is even made more glorious for it's altruistic repercussions. It's a project that touches so many different people's lives in so many different ways, leaving all with positive vibes.
Mark takes me through some of his personal favorite moments from the process on his iPhone. (I expected him to have an iPhone 9 by now, but nope, 4 just like mine.)
Mark and Tinker in the super-secure MAG vault up in Portland on the Nike campus. This is the room where the teaser video was shot and no one was allowed inside.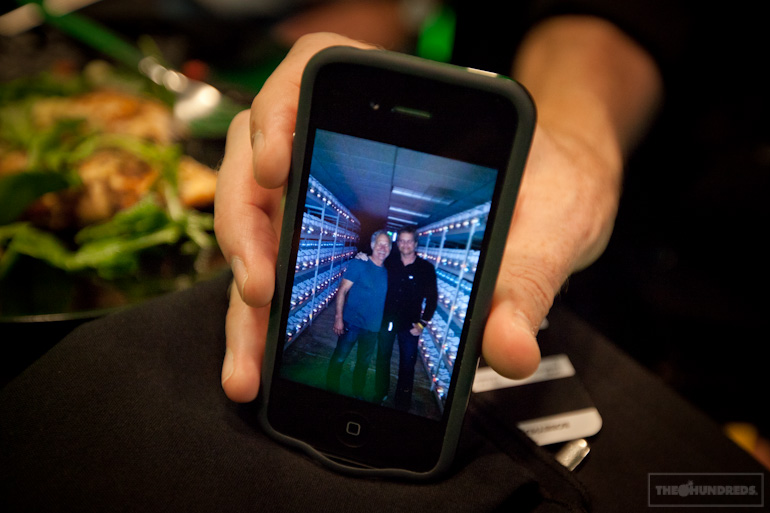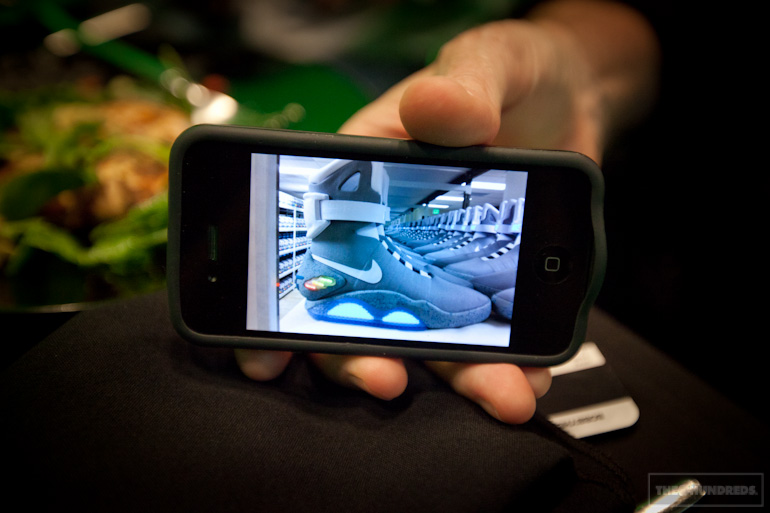 And this is the moment. This is the nucleus.
Mark Parker, Kathleen Kennedy, Michael J. Fox, Tinker Hatfield, and Frank Marshall. Kathleen and Frank executive produced the movie. And Michael J. Fox? Well, he's not just a legend – he's a mythical god at this point, is he not? There's Jordan, there's Jackson, but to me there's only one Michael.
This was the luncheon where the Nike guys introduced the concept for the MAG to Michael. As Mark recalls it, the veteran actor and Parkinson's research advocate shed tears. The Back to the Future trilogy was such a fundamental chapter in Michael's life and career; he remembers those years so fondly, and to have it circle back around and touch on people's lives through positive means – well, this is what dreams are made of.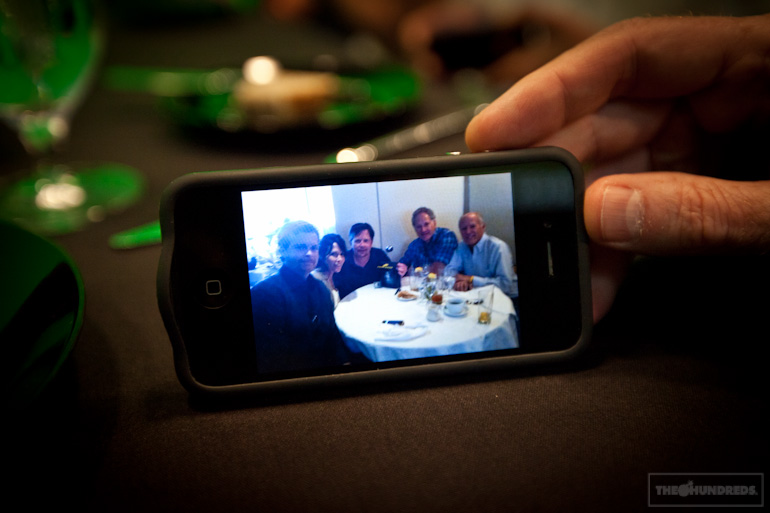 Sometimes it's nice to lean into an emotionally-charged creative endeavor like this. It can be liberating to jettison critique and snobbish apprehension and to let yourself really enjoy something built on fun, pure, and enriching intentions. There has been so much talk around the shoes and the BACK FOR THE FUTURE campaign over the past 48 hours, but I believe Nike's heads and heart were in the right place with this one. They did this for the fans, the sneakerheads, the Back to the Future fanatics, they did it for Michael J. Fox and everyone else dealing with such a complicated disease, and of course they did it for themselves. But that's what we expect of them – we allow them the liberty to come in and completely overwhelm us with over-the-top, mindblowing creative ventures like this. They have the money and the notoriety and the access. They have the connections, the experience, and the resources. Who else but Nike could pull this off correctly? Who else would take the effort to do so?
Nike also granted me the opportunity to engage and communicate with some old friends and new alike over the past couple days. Such as Carri Munden (Cassette Playa), Michael Dupouy (LAMJC), Gee (Patta), Edison Chen (CLOT), Fraser Cooke (Nike), Eddie Cruz (UNDFTD), and Vashtie (Violette). I guess you can say this is a rather powerful worldwide collective of individuals when it comes to shaping trends and churning the Cool mill. Right here, you have London, Paris, Amsterdam, Hong Kong, Tokyo, Los Angeles, and New York's vanguard. They are all vastly intelligent and influential people, and it was a real pleasure to be in their company and synergize.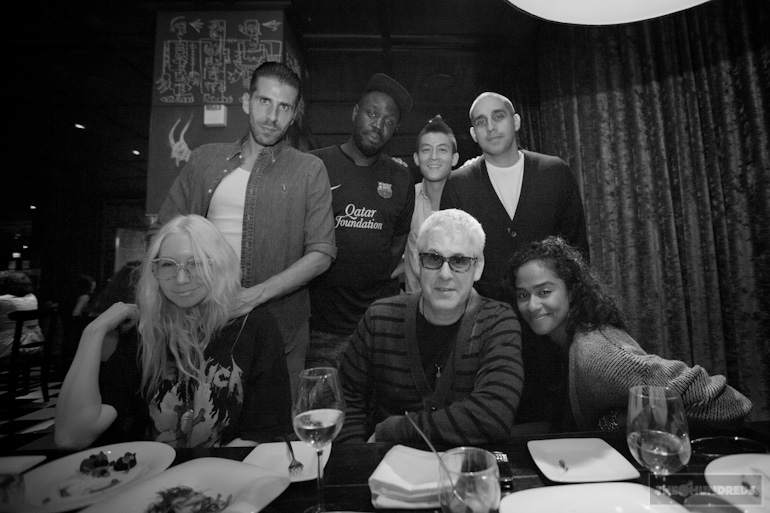 I forcedVashtieto be my friend against her will. You can say it's a love-hate relationship. I love Vashtie, she hates me.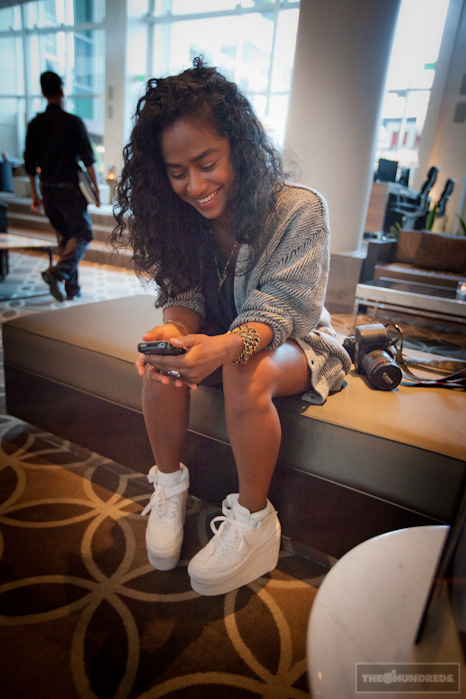 And all this over a pair of shoes.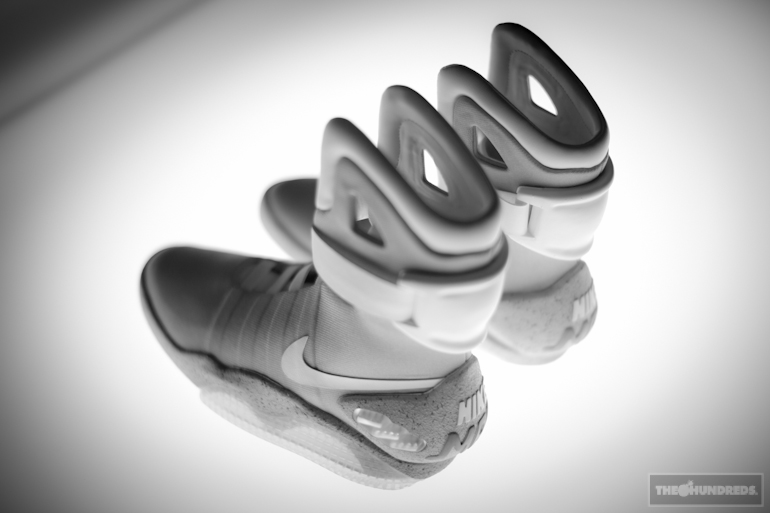 P.S. I had to partition the blogs in such a way that this was the fourth chapter, in hopes that Back to the Future IV comes to fruition one day. I asked Bob Gale about a possible sequel or prequel to the Back to the Future trilogy on the steps at the courthouse and he emphatically gave a resounding NO! NEVER! Why mess with something perfect, when we should let it just be?
To play Devil's advocate Bob, see how much splendor was cracked open by Nike's decision to go back to the future?
by bobbyhundreds