I know it's the middle of the week, but I wanna go to Disneyland. So,..ok.. I'm gonna go to Disneyland.
It looks like Tal's eating a giant York peppermint patty, but he's actually on the phone, making power moves at Drai's. We're headed south on the 5 and for now, the back of this car is our makeshift office. We're both trying to handle any last-minute work before we get lost in the Happiest Place on Earth.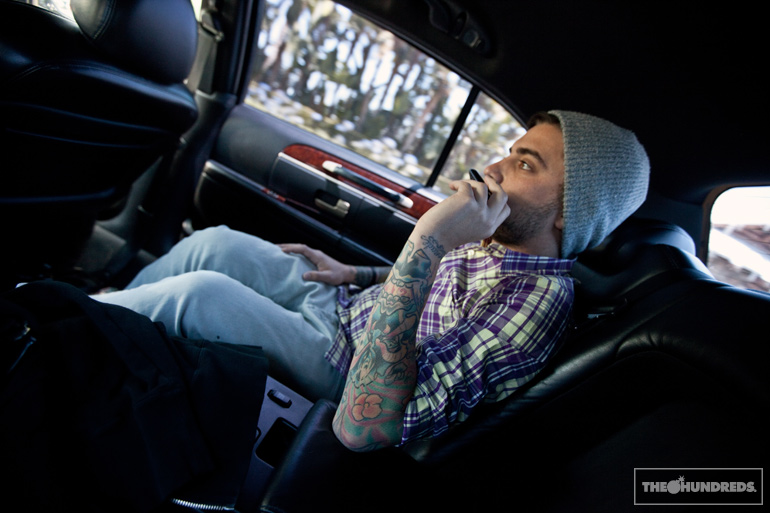 Before we step foot in the park, we have to pick up some friends at Disneyland's epic Grand Californian hotel: Holly Madison and Angel Porrino are in town from Vegas, you know, the girls from Holly's World.
Holly's the Disneyland Champion of the Universe, might I add. Just wanted to throw that out there.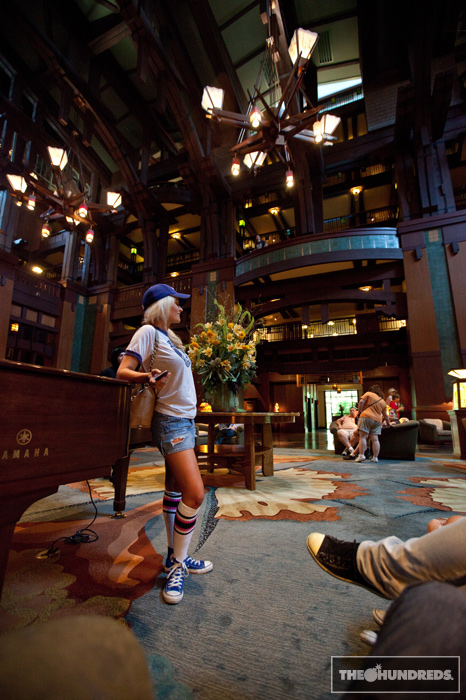 We're also waiting patiently for Josh, he's on his way. In the meantime, Holly obliges Midwestern tourists with family photographs, while Angel breaks into character. Cowabunga.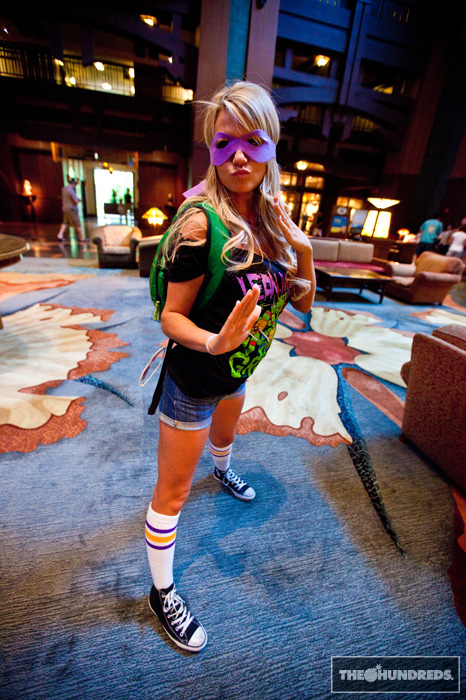 The best part about Angel's Donatello costume is that the Ninja Turtles have absolutely zero to do with Disney. But you know what, I don't think anyone's really complaining.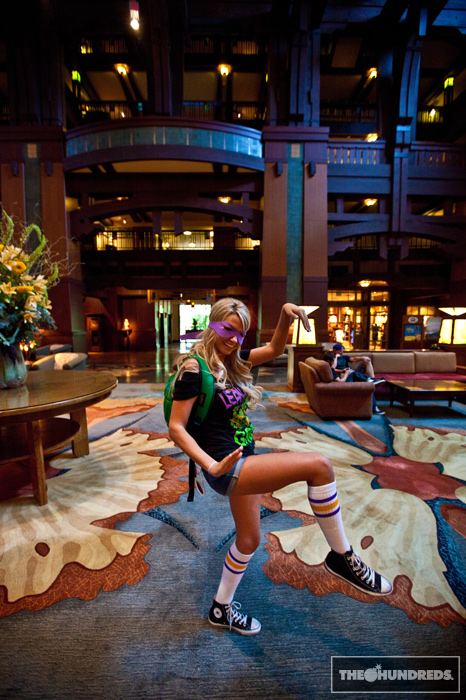 Okay, on our way. I'm looking through my pix and discovering about half of my photos from today are sabotaged by Angel's crazy faces. Mad ninja steez.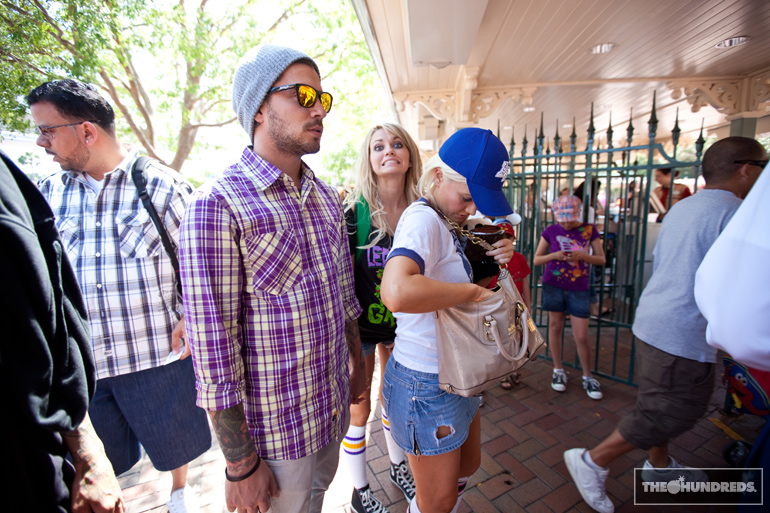 We're about to board our first rollercoaster…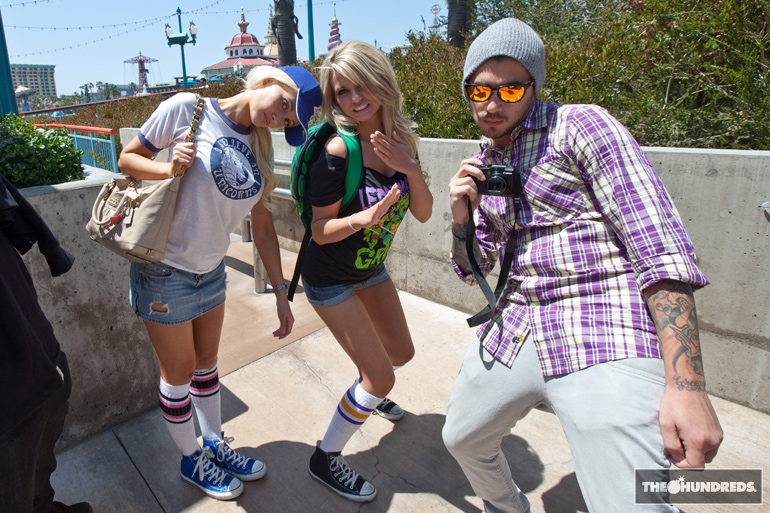 So Angel's gotta prepare.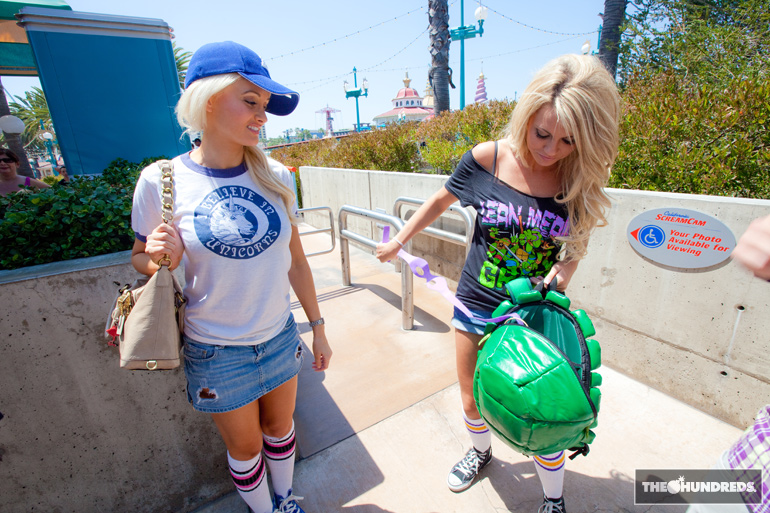 Ok. Set. Good to go.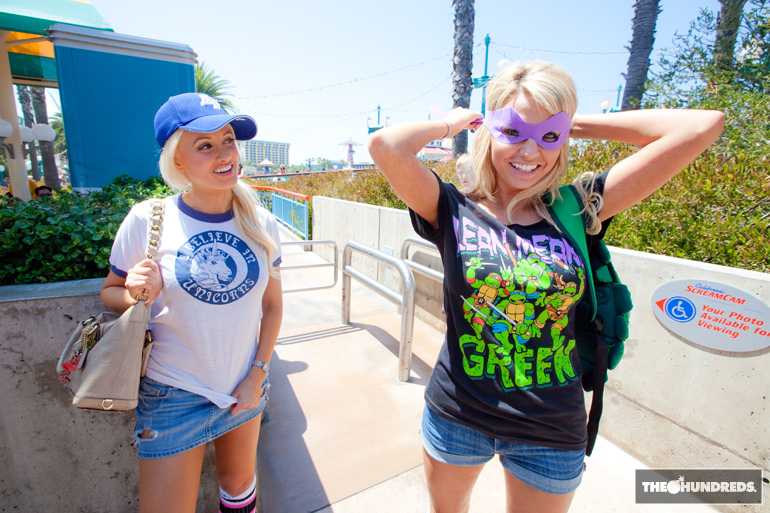 Lunch with Snow White and her bad girls club of spoiled princesses; a spacey Cinderella and midriff-baring Jasmine also flanked us. These wackjobs wouldn't break character, inquiring as to which "kingdom" we hail from and "what's a TV?" When Whitey Snow asked who was the bravest of us all, Holly pointed at Josh and muttered, "This guy. He's on The Hills." Game over.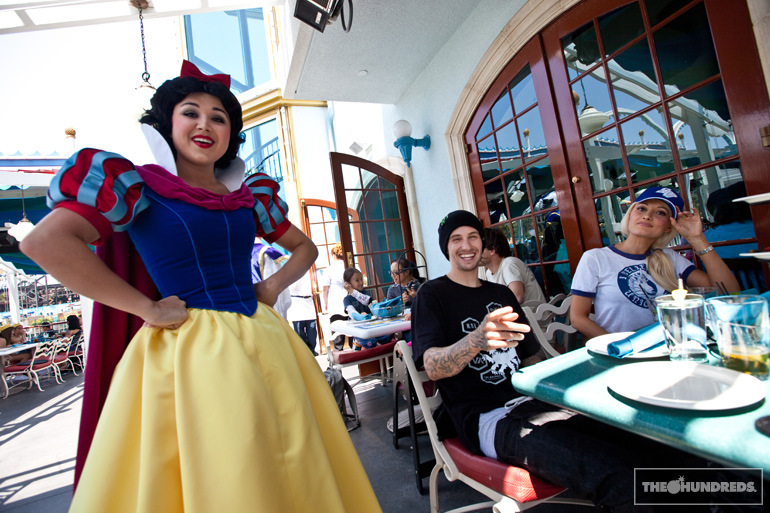 The irony is that Josh Hansen really is the bravest. Besides being heart throbby on MTV reality shows,and catching some shuteye mid-flick (Sorry Josh), Josh is more importantly an X-Games Gold medalist motocross racer. He'll likely return to the throne at the upcoming X-Games this summer.
This photograph is 7 kinds of awesome.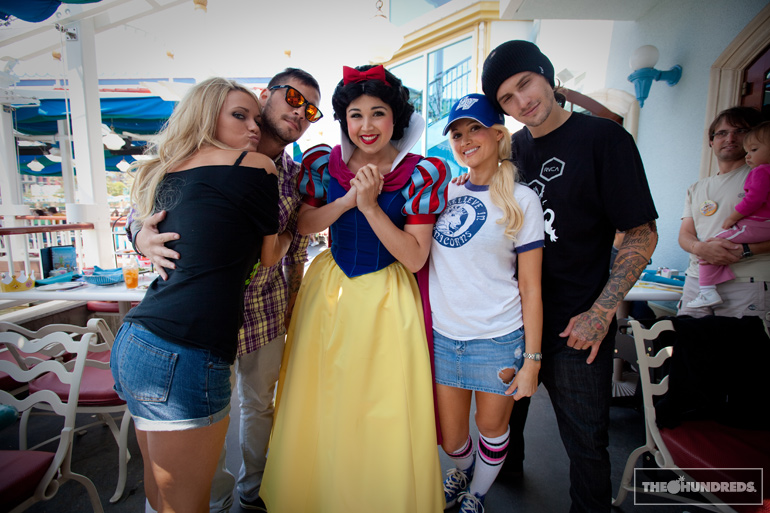 Dude. People love Holly. I admit I never really knew it was like this, but we couldn't walk 10 feet without curious onlookers and gasping fans begging for photos and autographs. And all you had to do was turn around to see a swarm of rubberneckers gawking.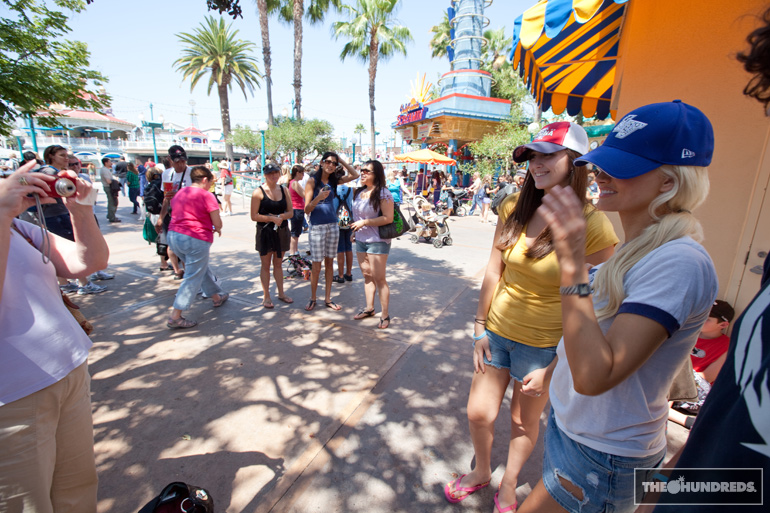 So while Holly continues making her fans' days/lives, Angel wants me to note her turtle-shell backpack. Shell shocked.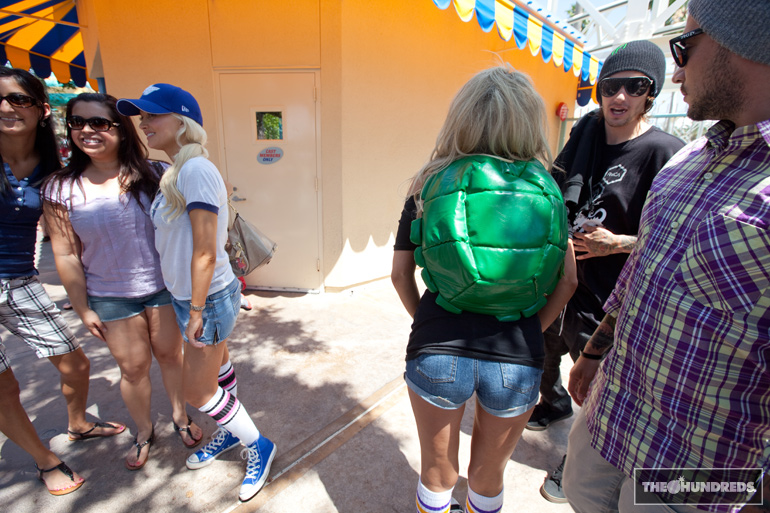 Just for your personal edification, Holly's 3 guy turn-offs: Dudes who 1) hate rollercoasters 2) are chronically late and 3) walk slow. KEEP UP.
You know what, Disneyland ain't so bad when you have a personal park escort to cut the lines at every ride and eatery.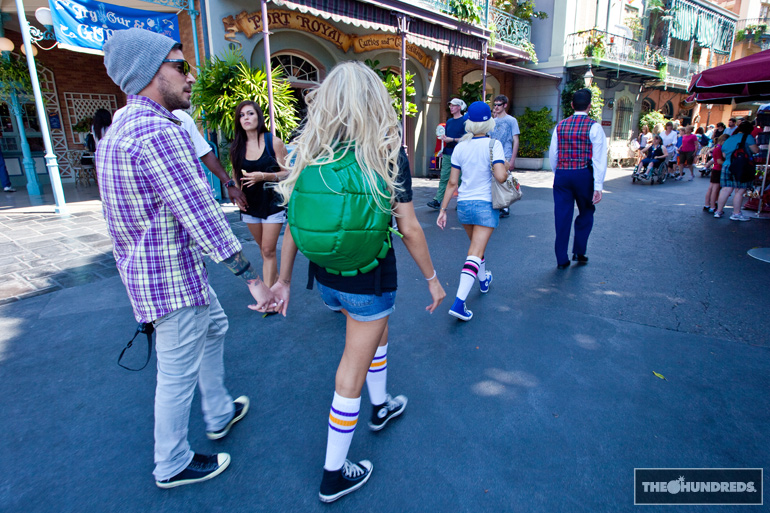 Plus, we got to take as many turns on the rides as we liked. Man, this is nice. When I grow up, I wanna be a hot platinum blonde.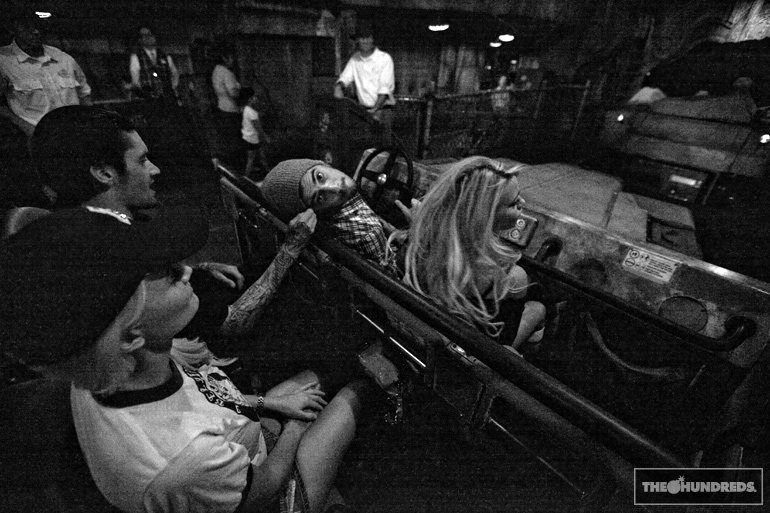 And it finally happened. I dropped my camera. Straight onto the pavement. Not even the ninja turtle could stop it.
I think my lens filter took the brunt, shattered into a million pieces, but hey, at least it makes for a cool refractive effect. So that's it. End of the roll.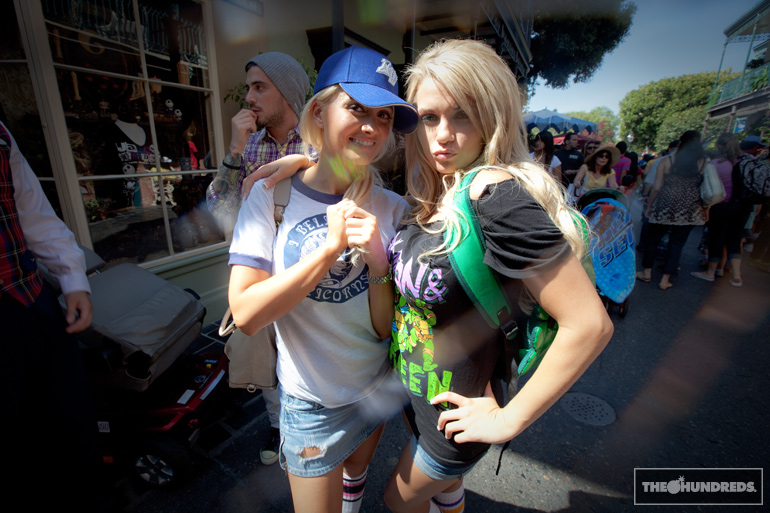 by bobbyhundreds