Santa Fe's nickname is "The City Different" and our Design team fast learned why.  As Highway 40 crossed from Arizona into the flat horizon of New Mexico, we were greeted by a tie-dyed sunset that would revisit us throughout the week.  Aside from the view, at first we kept wondering where everyone was and why anyone would move to this state (and why New Mexico looked a lot like the old Mexico – no white people! hooray!). But as we got to know the locals and sink back into some of their neighborhood haunts, we figured it out.  That's exactly why people live here – to get away from the big city, with all the noise and commotion and people mindlessly scrambling around.
Exactly what makes this city …different.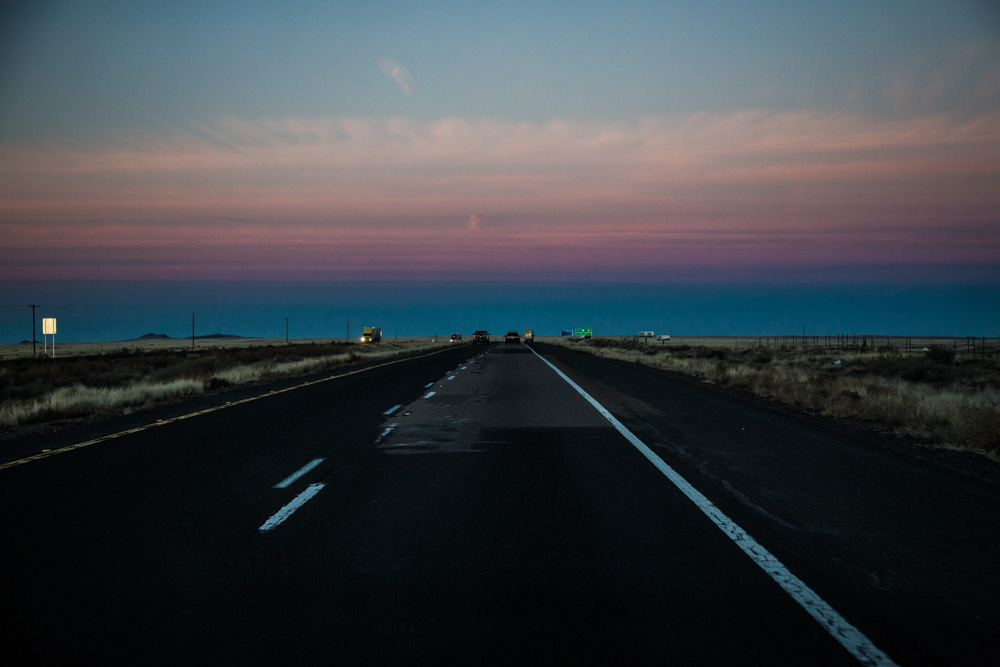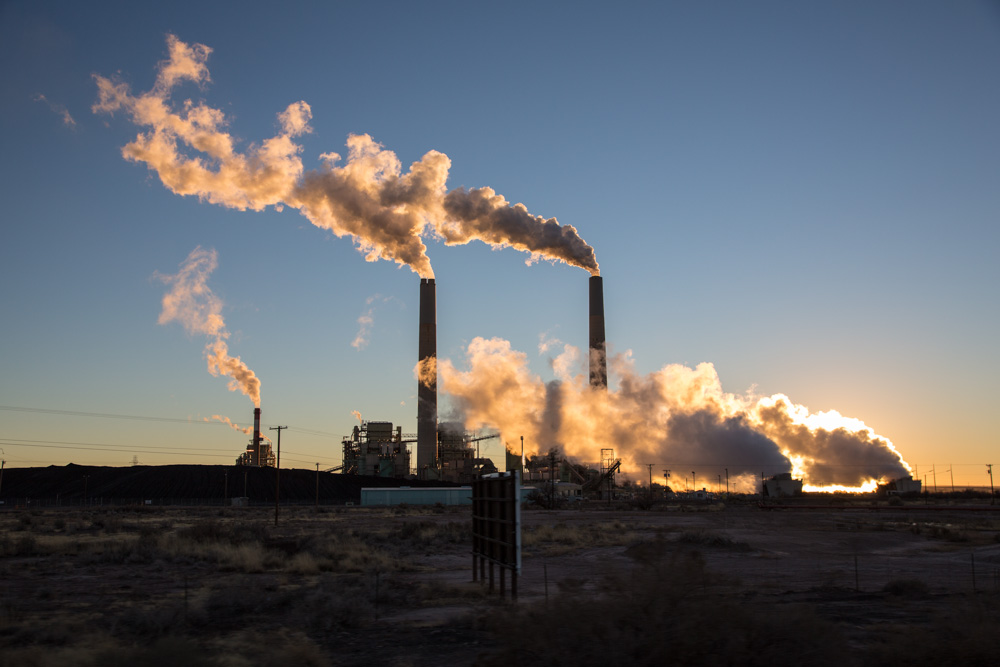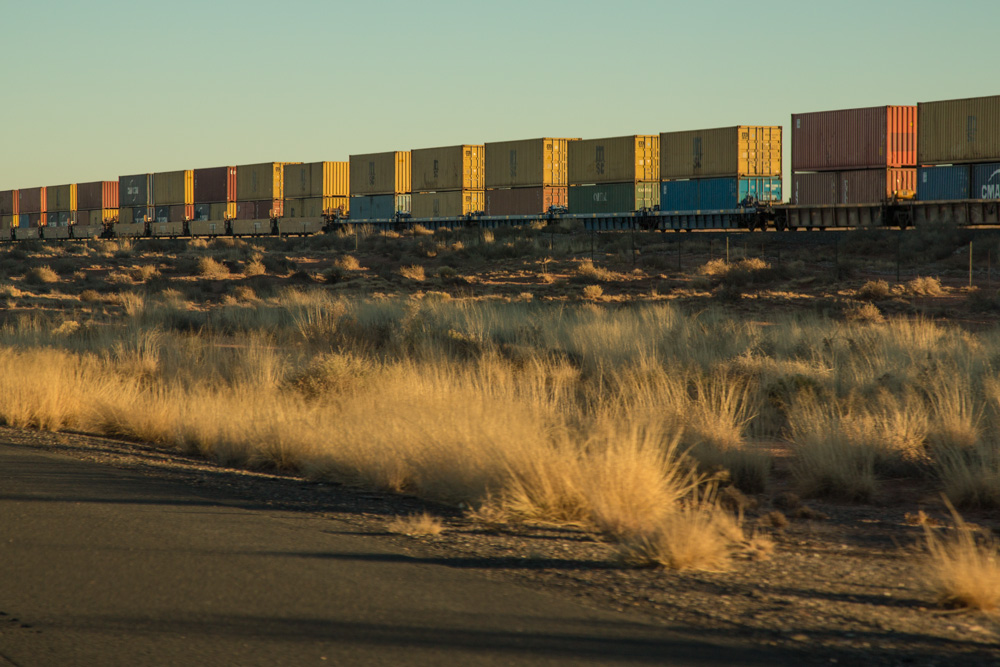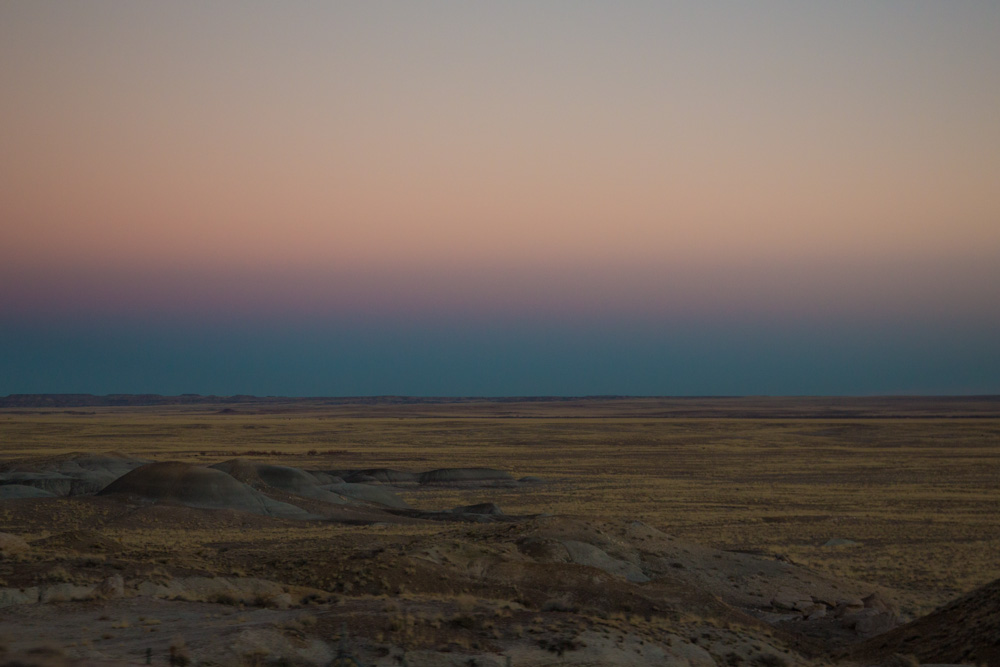 And this was our home away from home for the week.  A little bit Tattooine, the architecture on this house is basically like what all my 3rd grade drawings of radical homes looked like.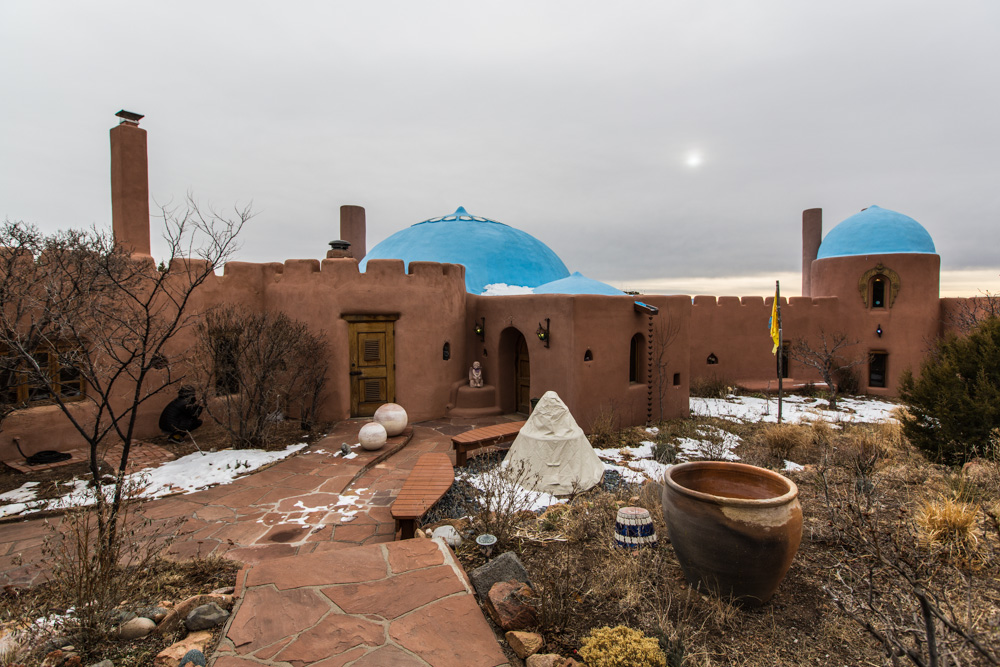 The Hundreds' Design House was built by an Indian princess (less Pocahontas, more Jasmine)(something about her grandfather built the Taj Mahal?) and now acts as a spiritual retreat, perched high on the mountaintop that overlooks Santa Fe.  For a straight week, our Design team commandeered the haven to finalize our Spring 2015 collection.  The crew has been hard at work on next year's Spring offerings for months now, but this was the time for all members to come together, gel the concepts, put the finishing touches on trims and branding, touch each other inappropriately, and collectively make a cohesive story that encapsulates cut-and-sew to graphics to headwear and accessories.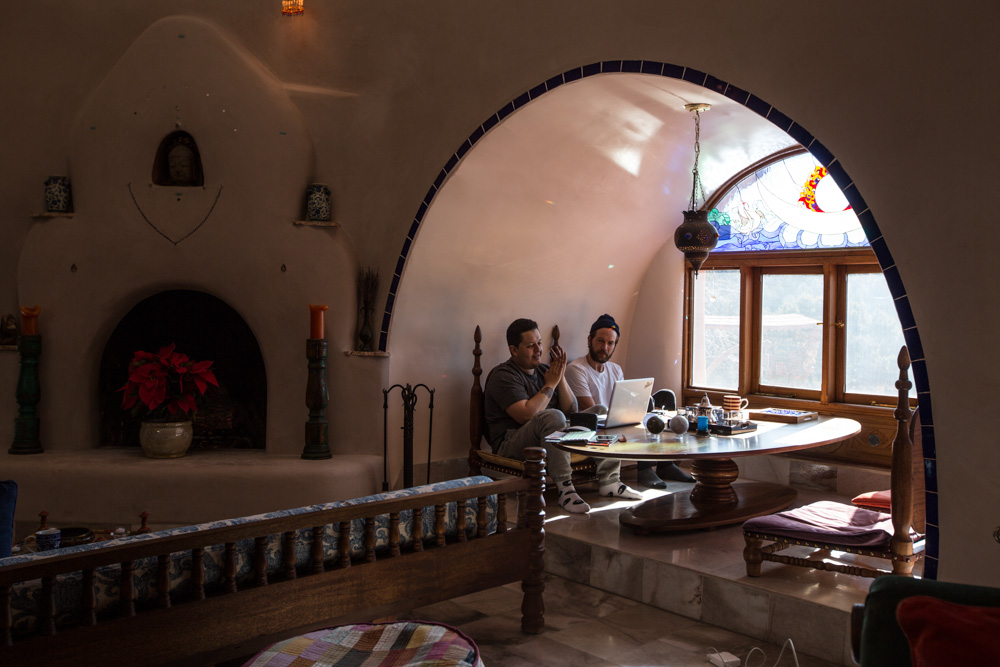 The house was such a trip.  Heated floors countered the below-freezing temperatures outside.  The toilets were dark navy so you couldn't see the skid marks.  The structure is made of pure adobe and mahogany wood: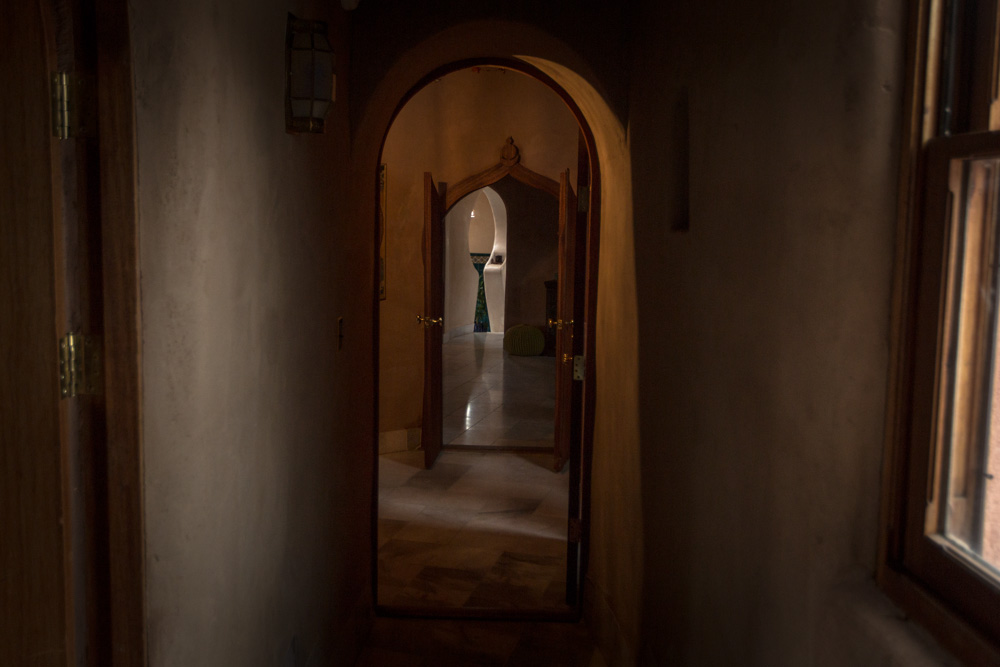 This meditation nook was at the food of my bedroom.  My little hobbit hole.  I set it up as my personal art and design workspace to start off my mornings. I ate an entire carton of orange Tic-Tacs in here at 8am on Wednesday, but that's a story for a different day.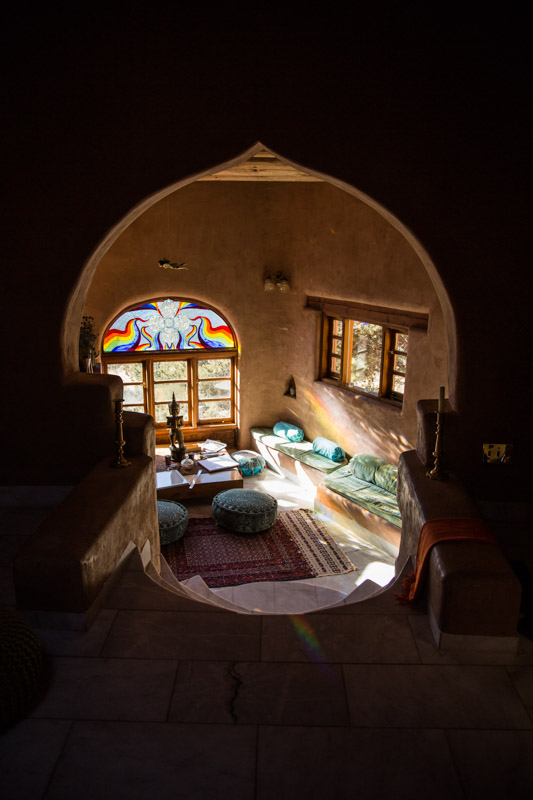 Heaven is a place on earth. Pat's bedroom: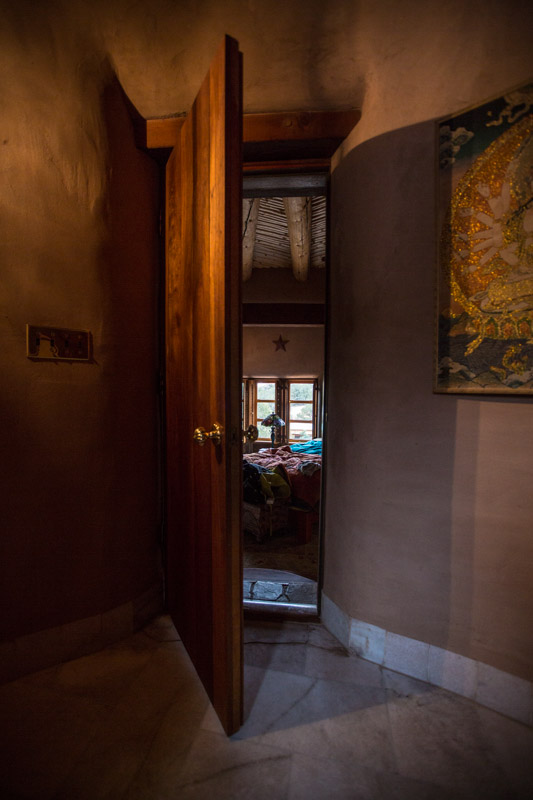 We ran 16-hour workdays, 9am to 1am, taking breaks occasionally to enter town and do some sightseeing or grocery shopping.  The nights also faded to black, if you know what I mean (we drank too much soda and fell asleep in human centipedes but with our pajamas on. Good night!)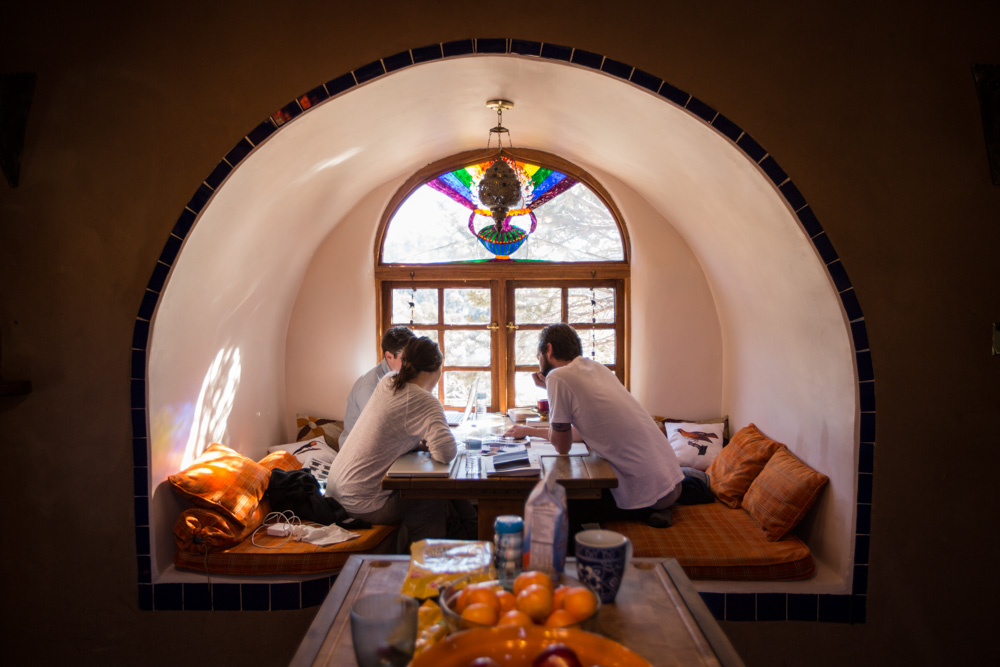 We brought skateboards and everything, but they barely got a ride. Even with the cool little skatepark downtown, our deadlines acted as skatestoppers.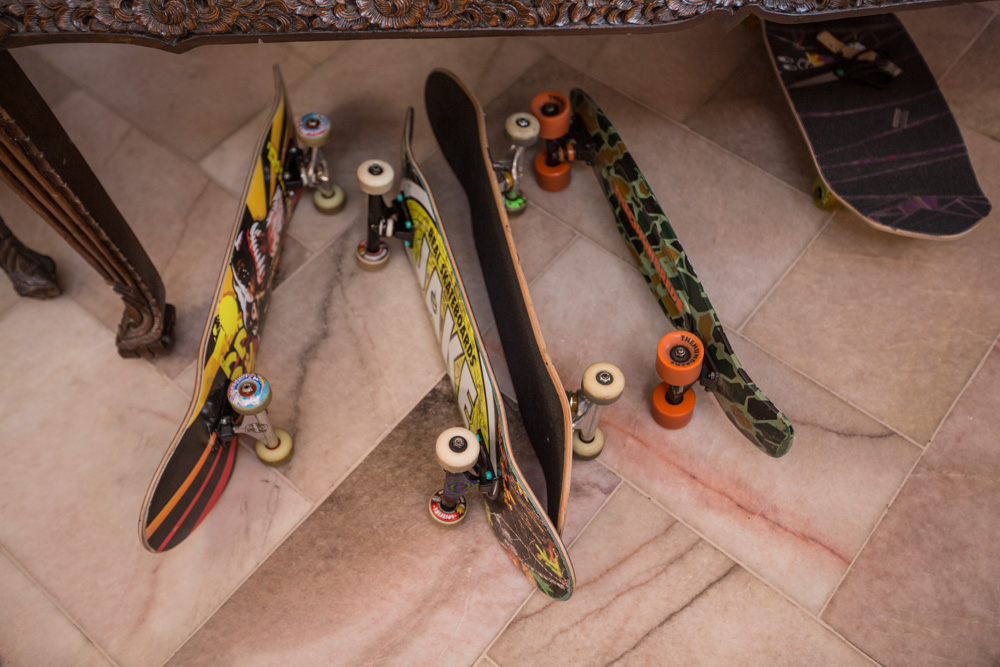 The Horndawg cuts video content from the trip as Marco Hollywood and Alfred design apparel and graphics, respectively (but not respectably).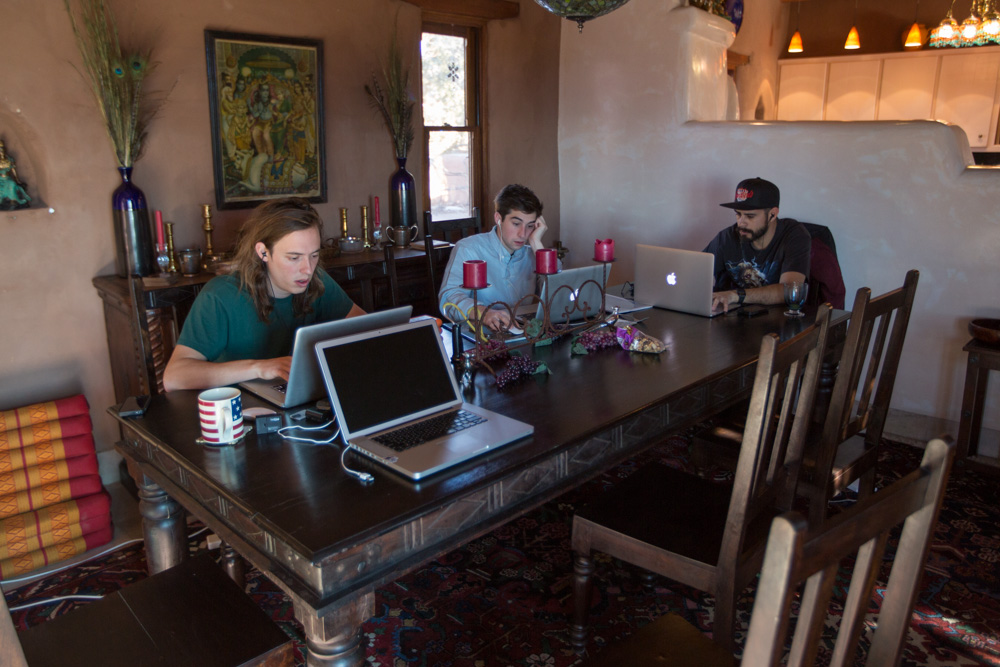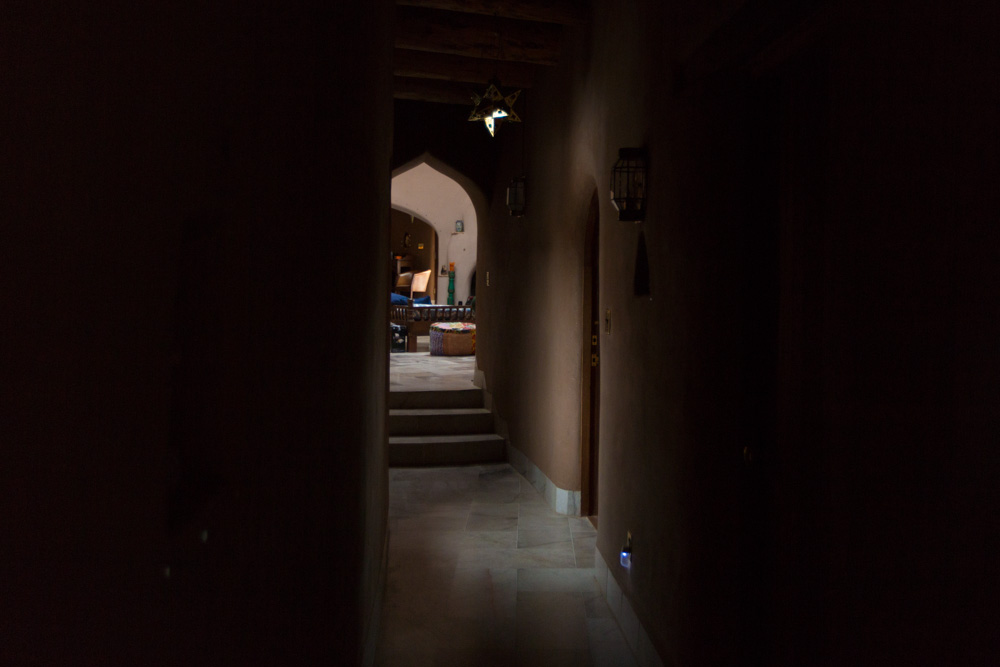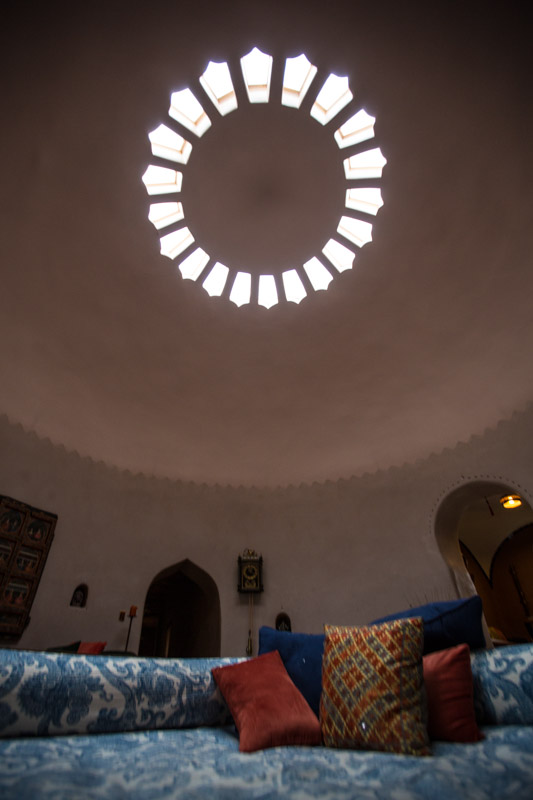 I don't even understand how something like this happens, like television or airplanes. Or child labor.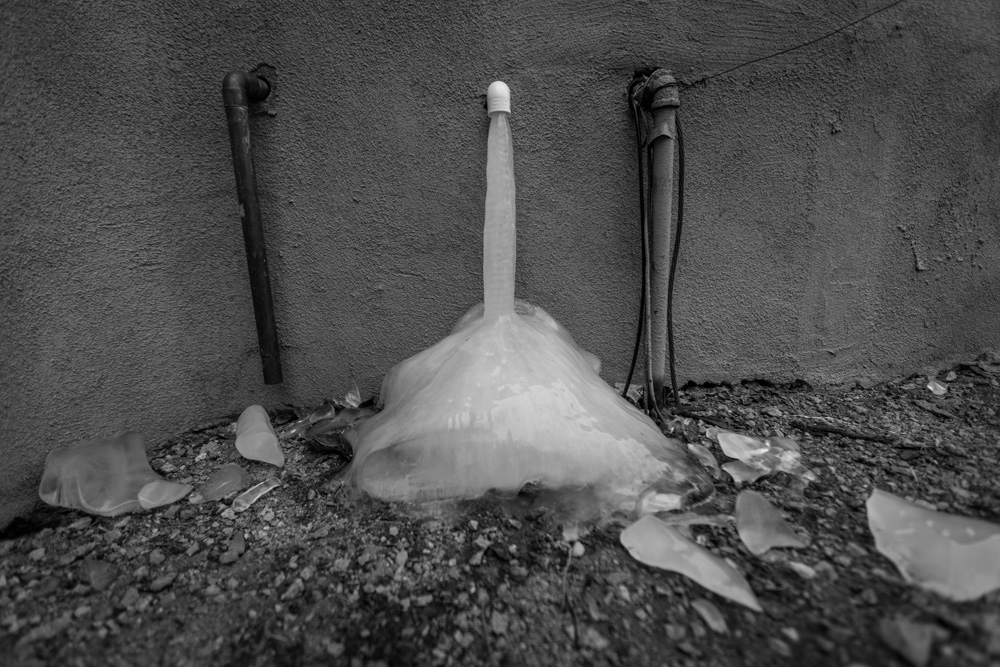 Bewbz.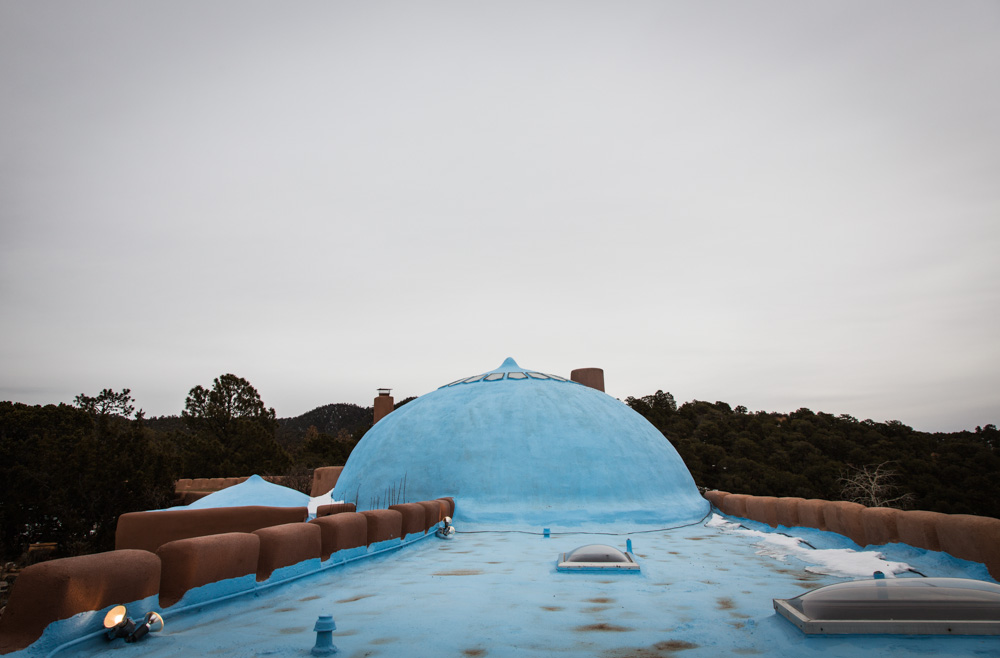 At dusk, we were usually drawn outside by that aforementioned sunset.  Most evenings, it took us further than our pool deck, into the forest trails beyond, immersed into the starry skies above.  We tried to point out constellations but we're from Los Angeles where stars haven't been invented yet, so we just said "Hey, that's Orion's belt! And some stuff" and curled up in the fetal position and cried to ourselves.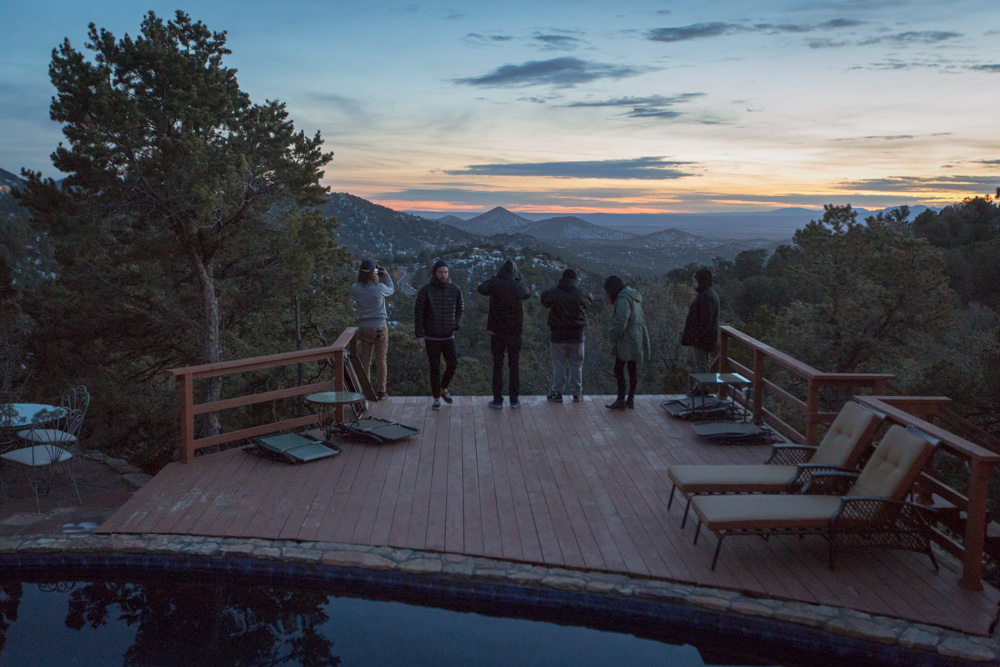 Food options were limited in Santa Fe.  For one, not a restaurant delivers.  There is one delivery service in town that will drive food to your home (I imagine it's this stoner college kid in a Geo Metro), except we were out of the service zone.  So occasionally, we'd get out of the kitchen and check out some of the local eats.  Cowgirl BBQ came highly recommended by this disappointing porn site called Yelp.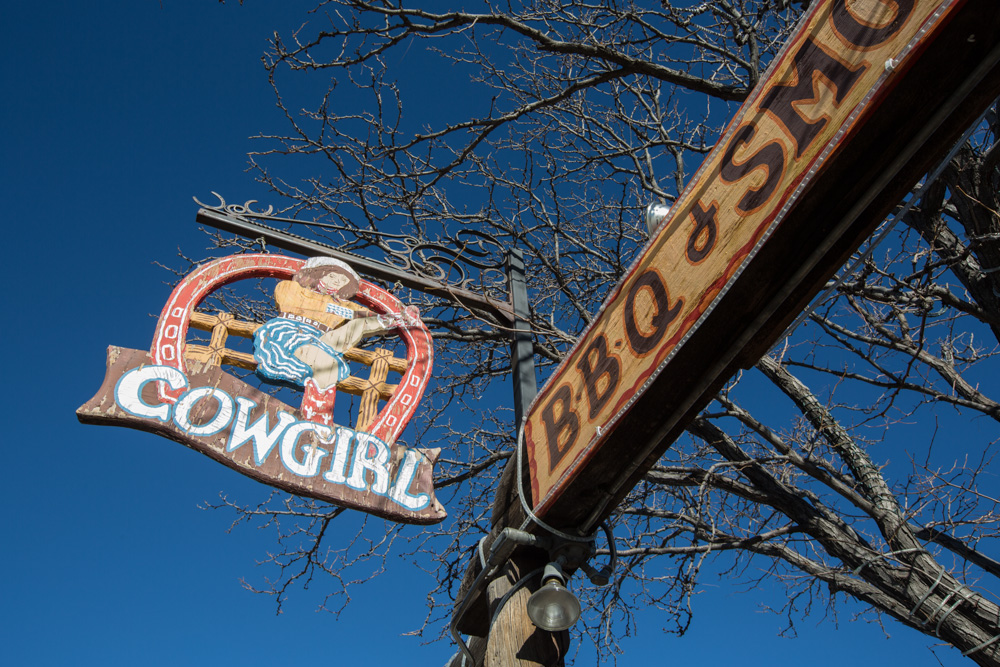 There are two things you're supposed to eat in Santa Fe: green chile is one of them.
This was Cowgirl BBQ's green chile burger.  There's like a slab of brie in there as well.  It was pretty awful, but the waitresses were cute, and the bar was the most congested place in the entire city.  At noon.  On a Monday.
Which brings me to another point of Santa Fe.  Apparently they have a tense relationship with alcohol as drunk driving is a primary concern amongst all establishments.  Every restaurant posts a giant cautionary tale against leaving the premises drunk, and we had trouble buying liquor from markets without every single person in the group getting carded (whether they were buying or not).  Whenever we'd ask a Santa Fe citizen what there was to do in town, it always came back to drinking.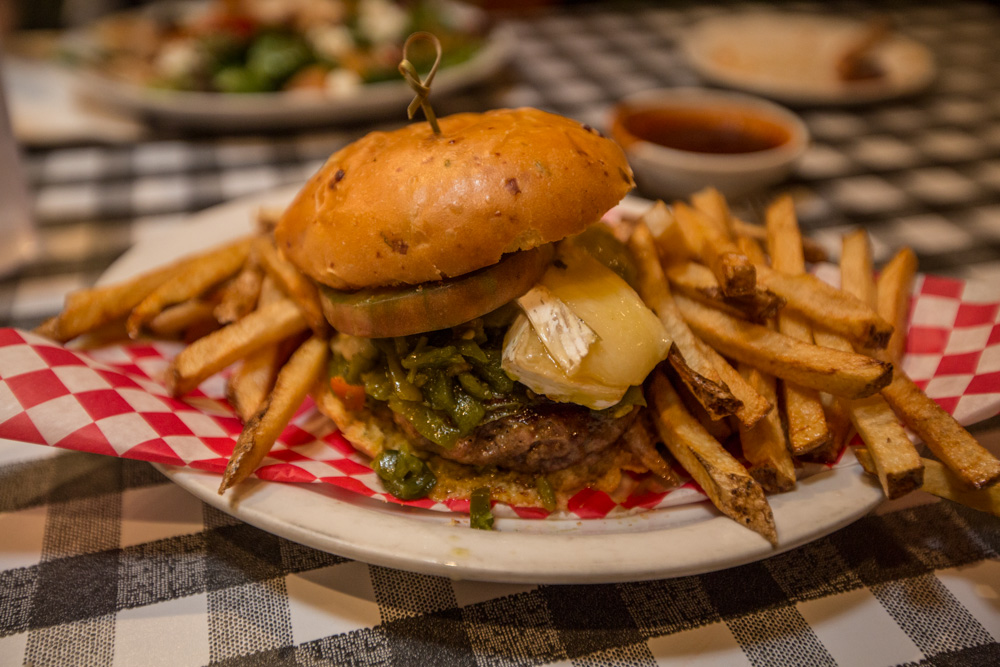 My favorite meal in Santa Fe was Tomasita's, which we were put onto by one of my Instagram commenters.  The second food item you're supposed to eat here are the sopaipillas, which is essentially a puffy, hollow fried pastry, but I call them "baby angel pillows."  They're right there in my photo on the left.  Every dish at Tomasita's came with a side of sopaipillas and honey butter.  I ate like 11 of them and felt no remorse, only more alive.
I got the chile relleno and taco combination.  Patrick and I both had to agree that the green chile relleno was the best we've ever had.  Note: that was the first time we agreed.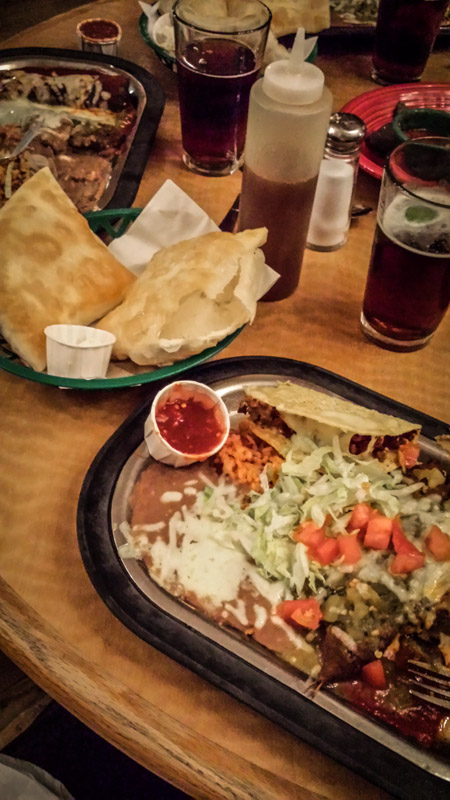 Okay, totally out of order. Back to the night hike, sunset thing. I may or may not be drinking beer(s) as I write this.  You'll neever kwneow. 3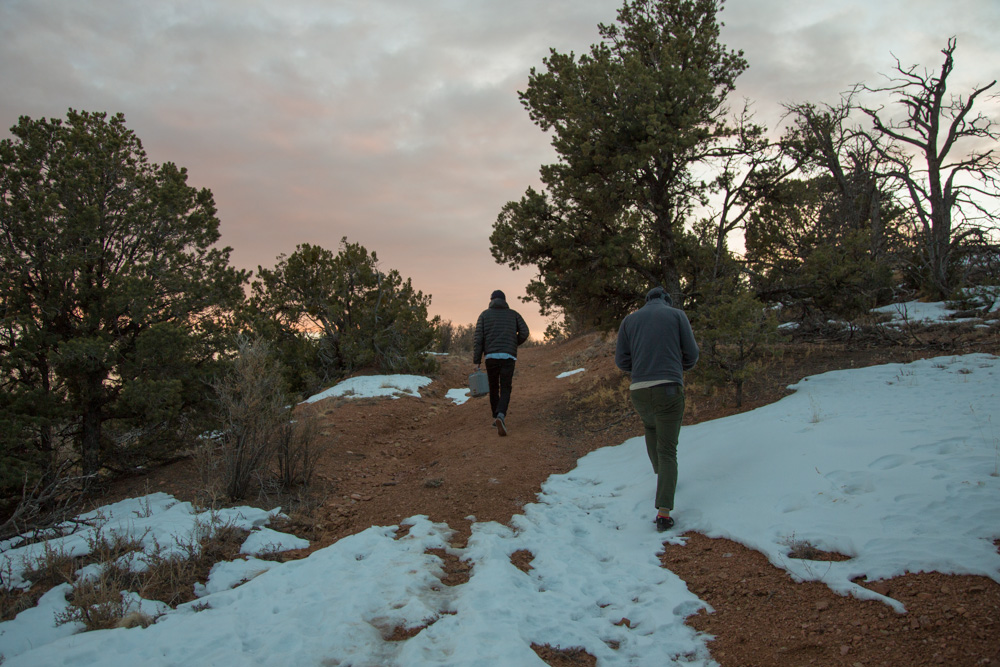 There was a lot of wildlife around the Design House, including bears and deer, so we had to lock our windows and doors shut at nights and hide our kids and hide yo wives.  On our last sundown hike, Patrick and I caught the rare Horndawg in its natural habitat.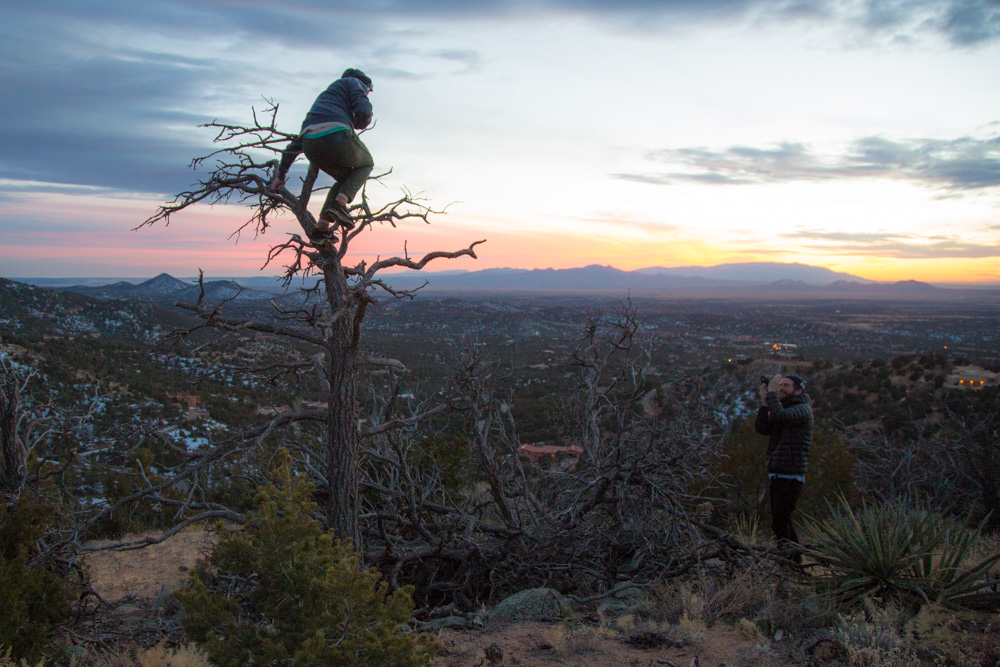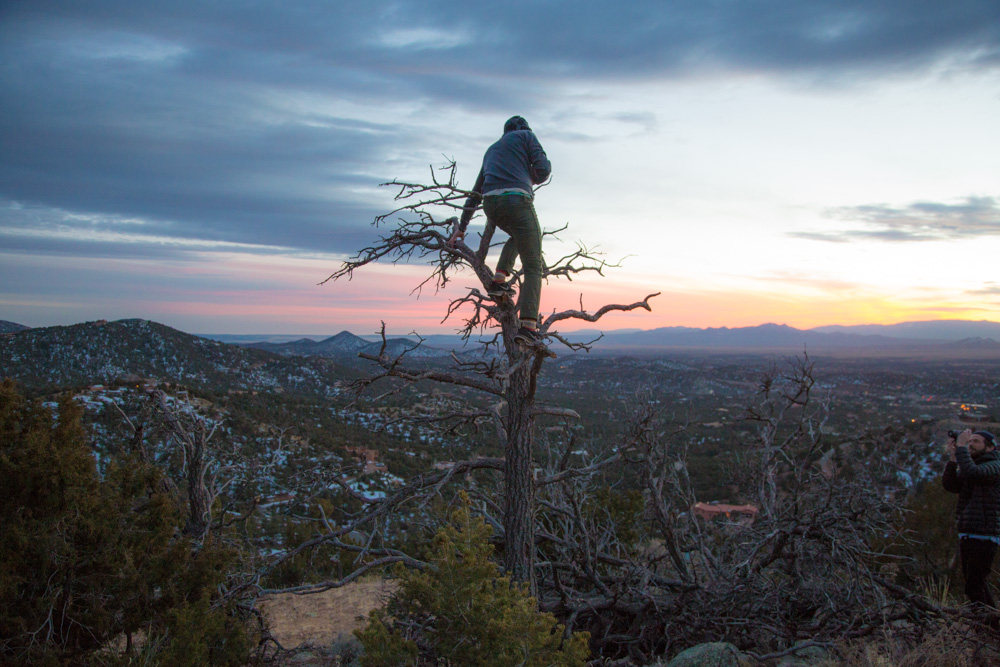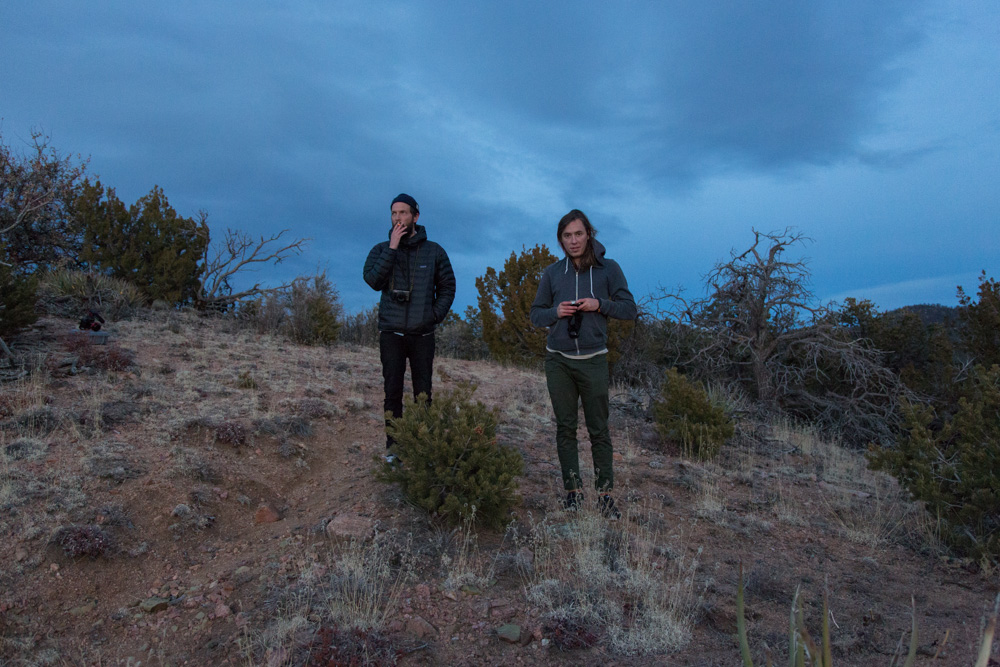 Our apparel designer Jayne Min catches the panorama on her Star Trek communicator: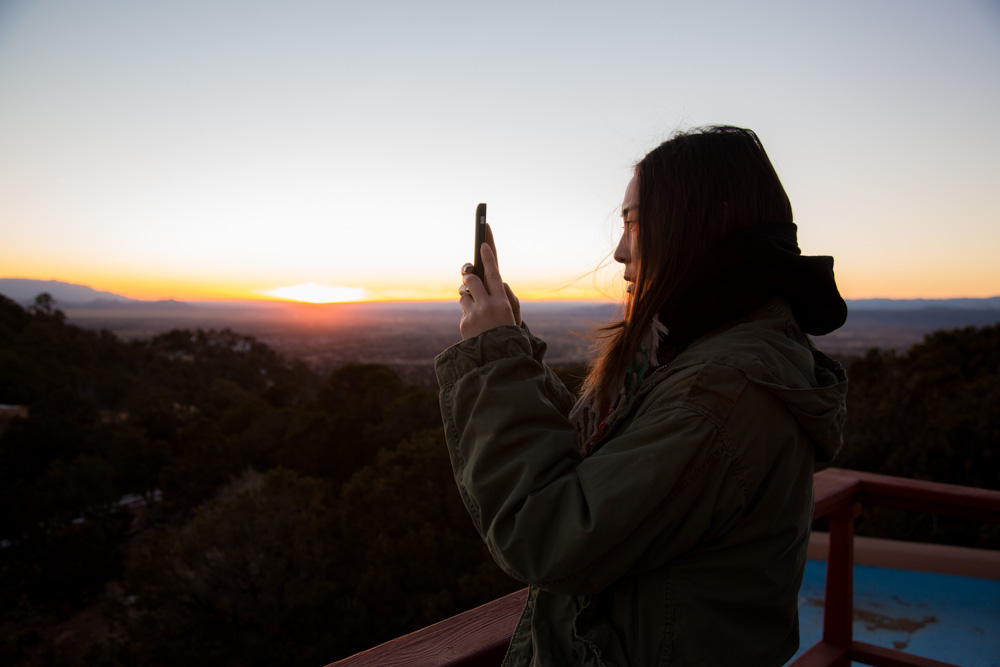 I'll leave you with a couple of our last Santa Fe nights.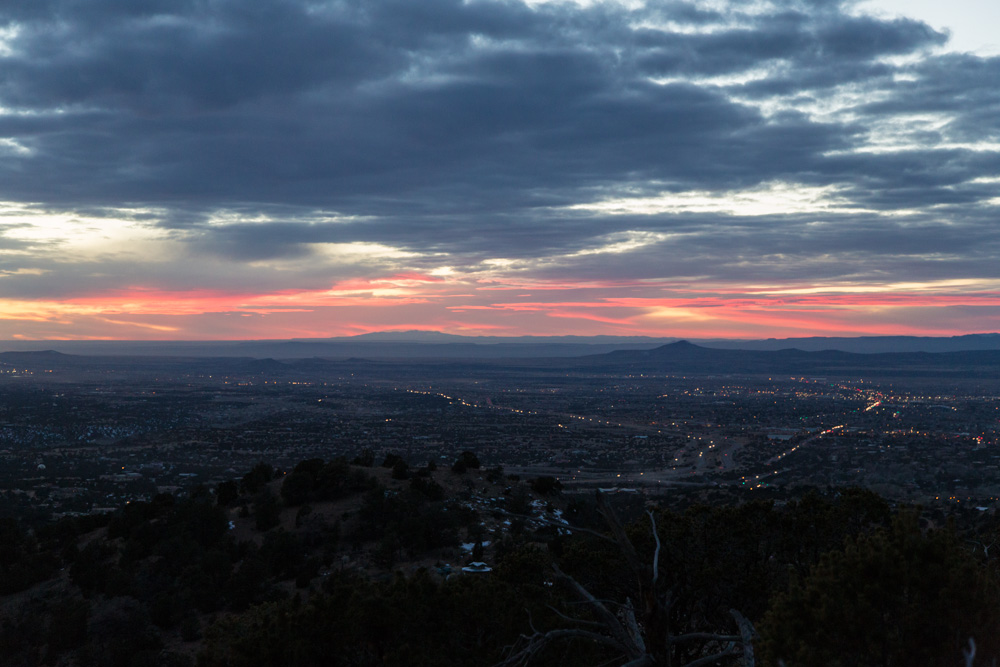 Thank you, New Mexico!  Who knew you were so awesome outside of Breaking Bad and the drinking thing.  You know who knew?? ALIENS.  Roswell, holler.