The box was just like any other box that gets dropped off on my desk. Sometimes I come back to my office and it looks like a bad game of Tetris in there, with all these odd-shaped cardboard parcels from friends and strangers stacked to the ceiling. Inside these mystery packages are international candies or t-shirt samples from upstart brands or comic books or rare sneakers from companies seeking marketing exposure. This box was particularly forgettable if not for the fact that it was a little too forgettable. Looking extra tired and recycled, the return address was barely legible as New York; otherwise the only visible markings were Sharpie'd cross-outs of past destinations. Basically, the kind of box you'd expected to conceal a mail bomb.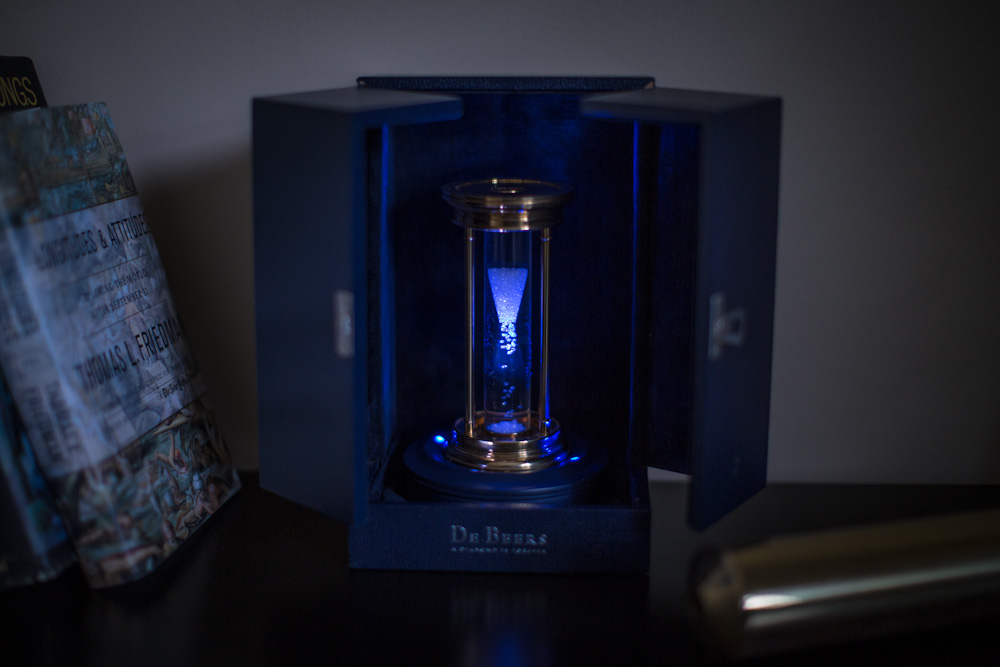 So I went into it with that, half-expecting/half-hoping to find a dead cat or Gwyneth Paltrow's decapitated head inside. But it was just another box wrapped hastily in brown paper. This box was blue and leathery and falling apart, and cradled the gift: an hourglass filled with hundreds of tiny little diamonds.
There was a letter in an unmarked envelope. The letterhead read "marc ecko enterprises," and was addressed to Ben and myself. I'm not going to read you the letter or transcribe the whole thing here because Ben thinks it's a little show-offy and obnoxious to share with the world (and yeah, I guess it is a little pretentious. I don't mean to brag, I just think it's a great story). So instead, I will tell you why the letter is important and what it means for all of us, including you.
Written by Seth Gerszberg, founder and CEO of Ecko, and co-signed by Marc himself, the letter was congratulatory to The Hundreds for our 9 years of accomplishments. Being that we have never met these people, they wanted to let us know how much we have inspired Ecko as they hit their 19th anniversary. To commemorate that gesture, enter the gift:
"Enclosed please find my favorite piece from my hourglass collection. About 10 years ago I started collecting hourglasses to remind me of how precious time is. The last 10 years has gone by quicker than I could have imagined. It's been an amazing ride… just went by real fast… You are now the owner of a limited edition De Beers diamond crystal hourglass. In 10 years from now, pick a brand that inspires you and send it to them."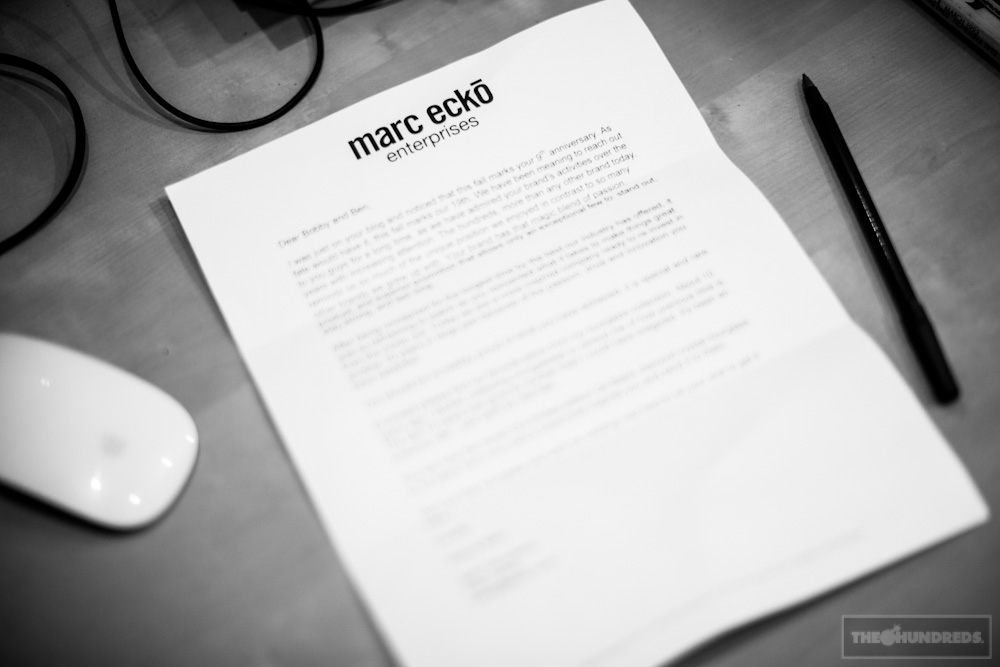 So now we turn to you. I know you're out there. Who's gonna be the brand that most inspires us over the next decade? We'd love to give this hourglass to you, but you know what? You're gonna have to come here and take it.
P.S. Don't count out Seth and Marc: "We love that hourglass and we'll be working real hard to be your pick to get it back."
Game on.
by bobbyhundreds