Haiti is the poorest country in the Americas.  Buckling under economic duress, lack of education and skilled labor, shallow industry, and deforestation, the country's injuries are only further insulted by merciless national disasters.  Four years ago, a 7.0-magnitude earthquake blitzed the region, sending the community in a tailspin and drawing relief efforts from around the world.  One of those individuals who responded was Andrew MacCalla with an international non profit, and it was during this service that he and his friend Brett Williams searched for greater solutions to Haiti's problems.
"This country needs jobs, not handouts," MacCalla says.  70% of Haitians are without work.  Without the formal training and resident industry to support viable careers, their biggest problem can be dependency on international economic assistance.  MacCalla and Williams looked around Haiti and noticed two things: poverty and plastic bottles.  The answer was right before their eyes.  After all, plastic bottles equate to money.
They partnered with longtime friend Mike Shinoda (Linkin Park) and Louis "Pino" Blanchard of Eau Nacionale Water (Haiti's premier drinking water provider), whose headquarters were located just a stone's throw from the aid organization.  Pino provided the guys with a flat parcel of land, they posted a wooden sign with a price sheet out front, and through word-of-mouth, news spread that a couple Americans were collecting used plastic bottles in exchange for currency.  SRS was born.
The first thing SRS did was buy as many giant white bags as possible for people to collect with.  A bag could take a day to fill and net the gatherer the equivalent of $10 USD, which was twice the minimum wage.  The next thing they did was hire and send out locals with pickup trucks around Haiti to accumulate the bags.  Drivers can tally up an average of $400 a day.  One regular was beside herself upon earning a couple hundred bucks in a few weeks' work, as she could now afford to put her 6 children in school for a year.  Within a month, the lot was rolling with mountains of bloated white bags and SRS didn't even have walls yet to protect their assets.  In the meantime, they hired night guards to stand watch.
Haiti produces 9 million pounds of plastic a month.  In their best month, SRS retrieved half a million pounds' worth in bottles.  To date, they've collected 113 Million bottles, which averages out to about 150,000 a day.
But once they have the bottles, the story doesn't end there.  The next step is sorting and processing the bottles so that they can then be recycled into new consumer products like lumber, furniture, toys, and this is where The Hundreds comes in: apparel.
I'm onsite here at SRS as we are working on collaborating with them on a T-shirt that is 50% cotton and 50% made of recycled bottles.  And I'm not just here to learn the process, but to meet SRS' founders and investors, whom include joint investors Todd Wagner and the Clinton Foundation, who have provided a $250,000 grant to the company.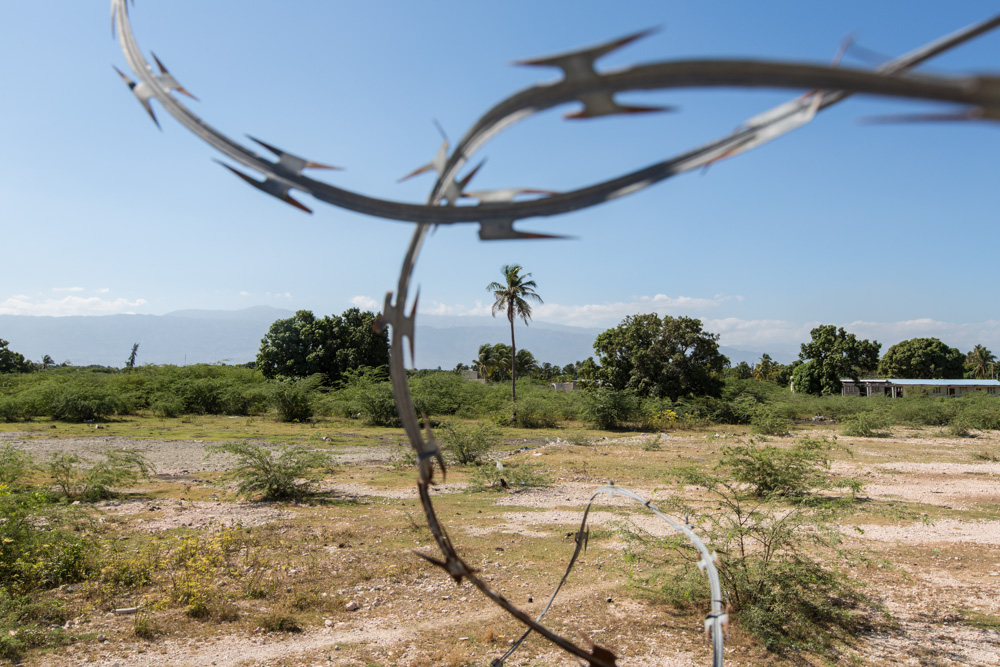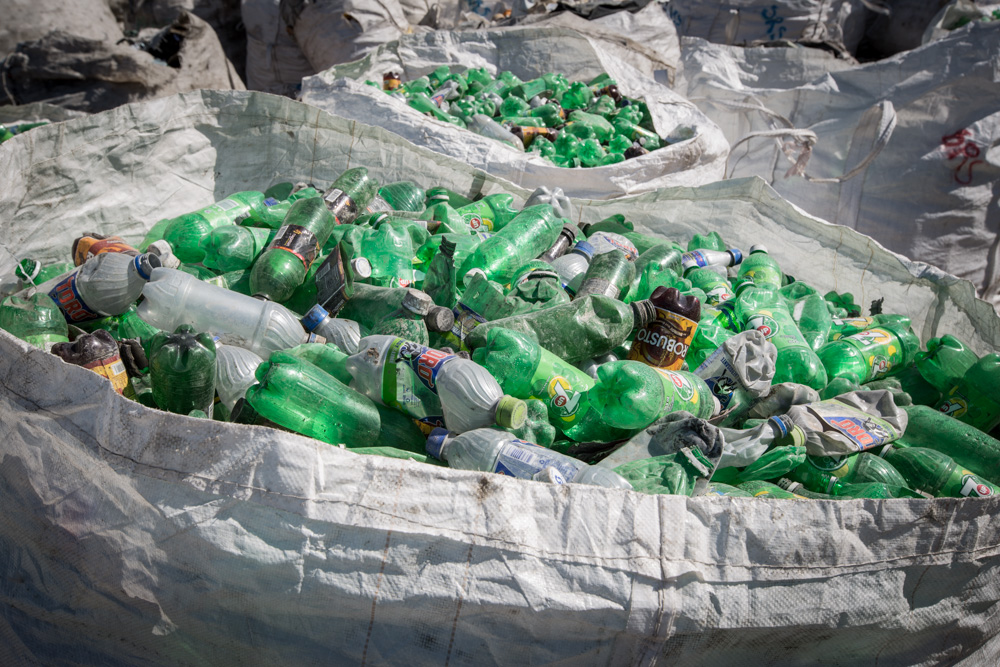 From left to right, Andrew MacCalla, Socrates Joachim, President Bill Clinton, Brett Williams, and Mike Shinoda: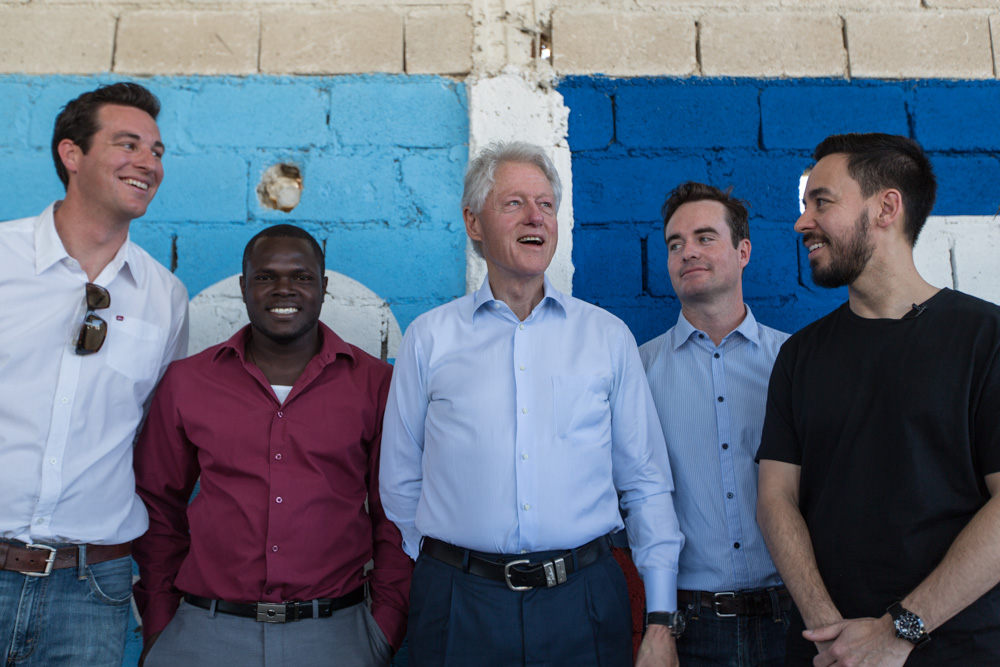 Workers drag in a white bag of found plastic bottles: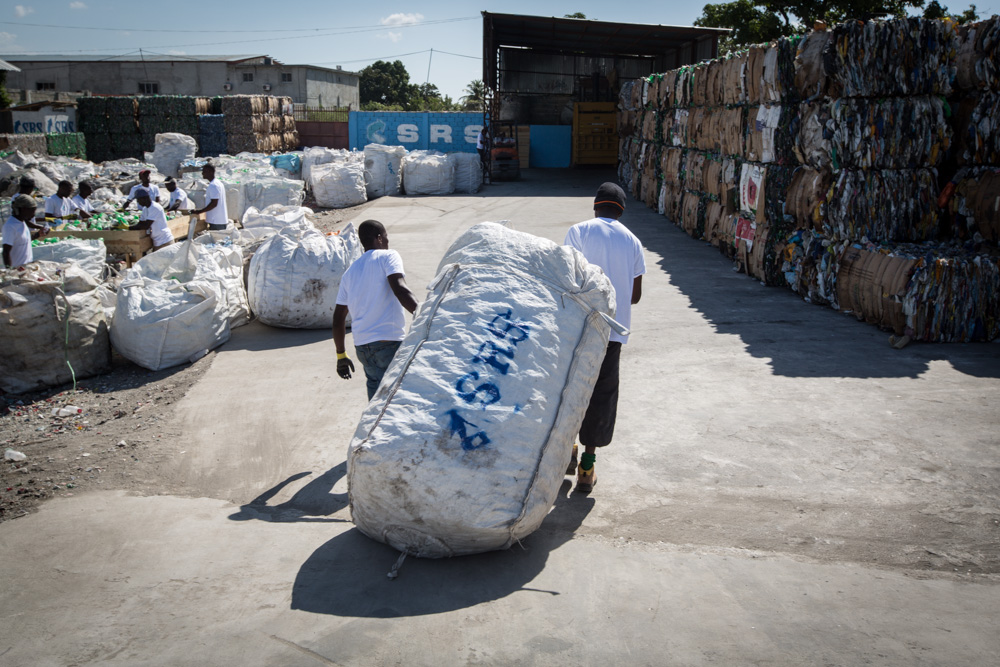 Clinton oversees the unloading of the trucks: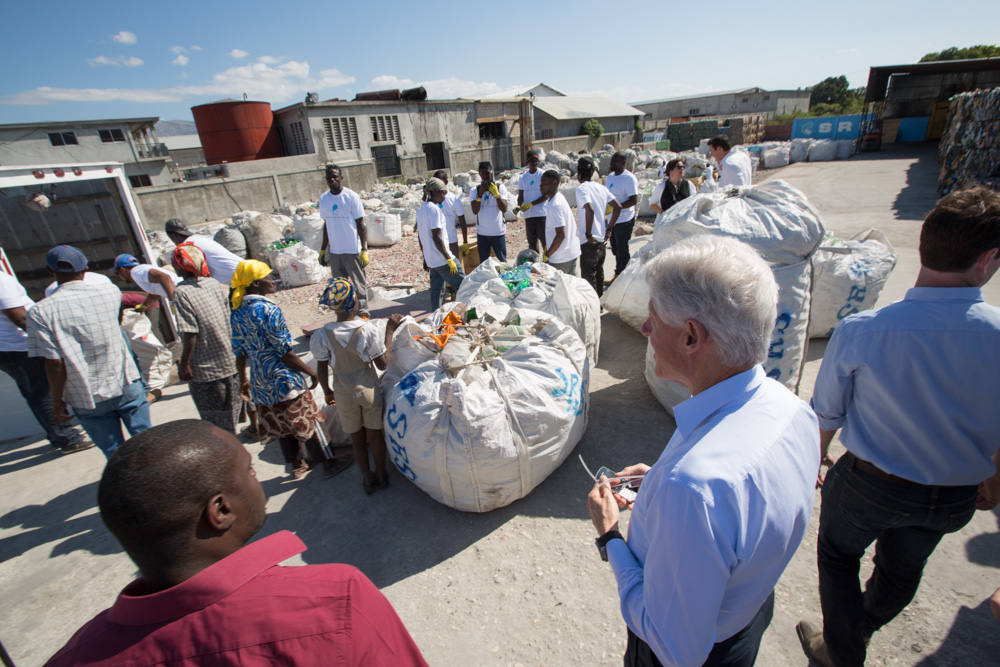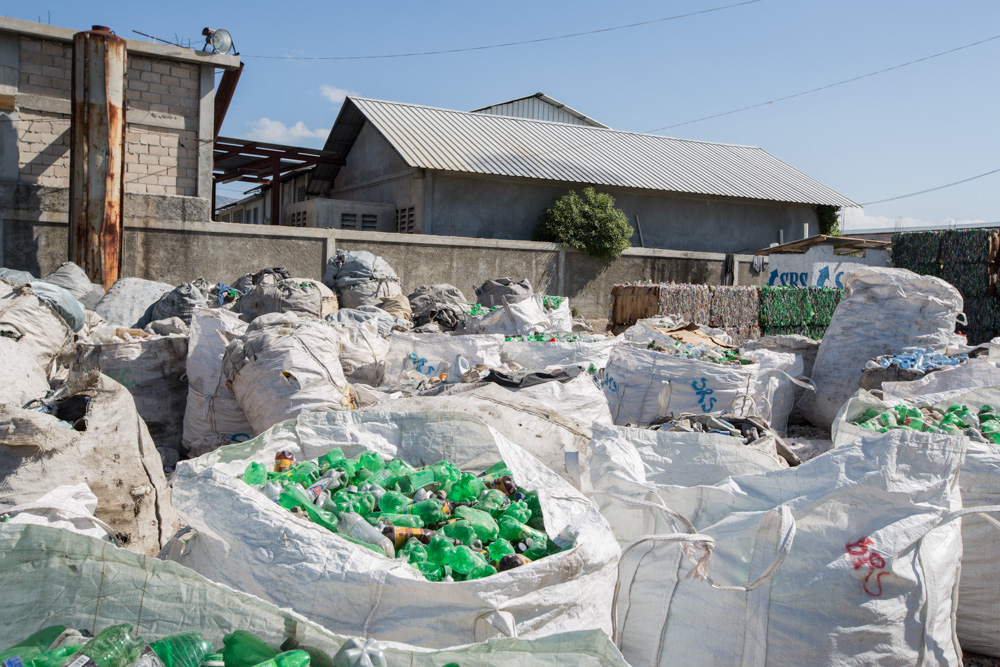 Bottles are sorted and processed: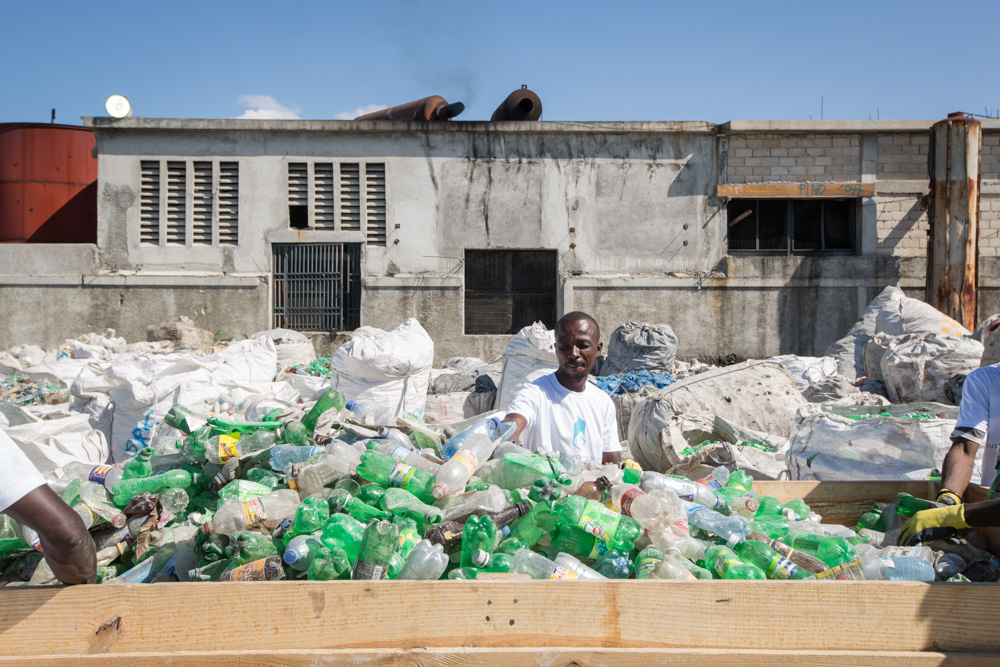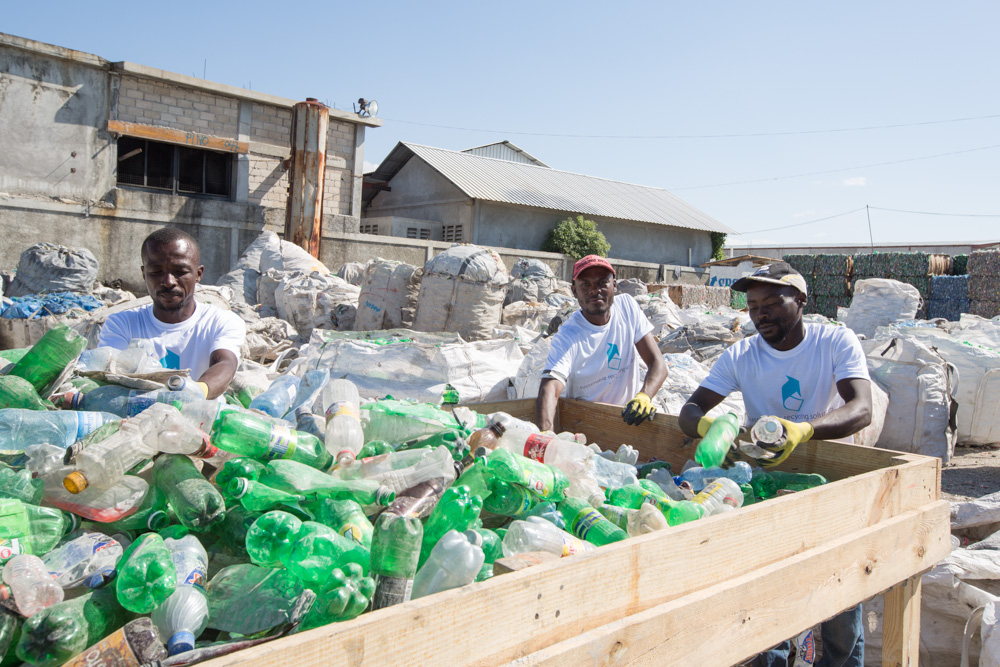 And then compacted.  This cube amounts to 30,000 bottles: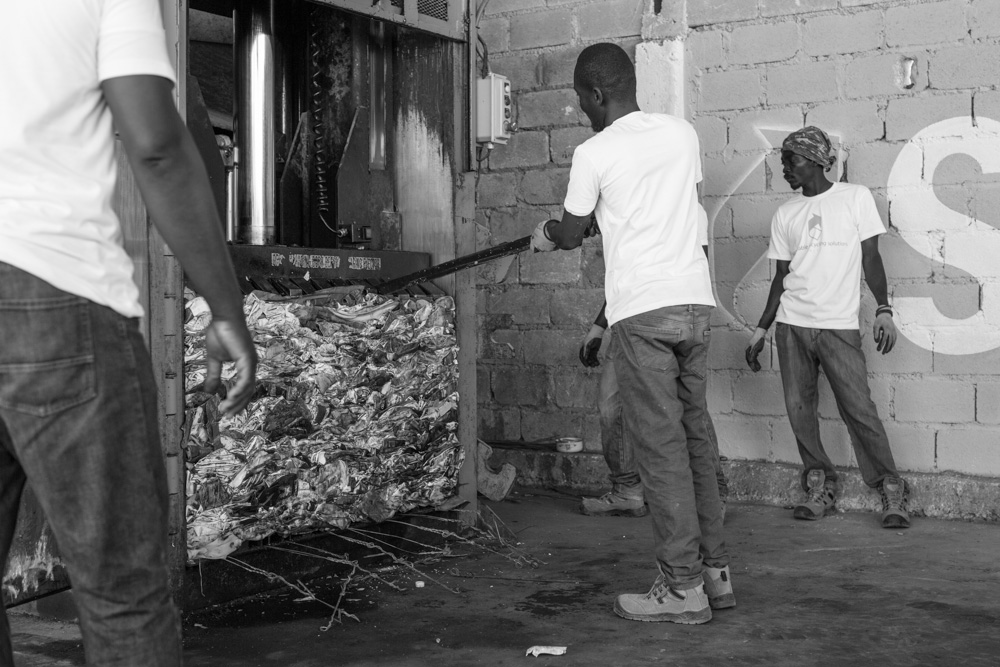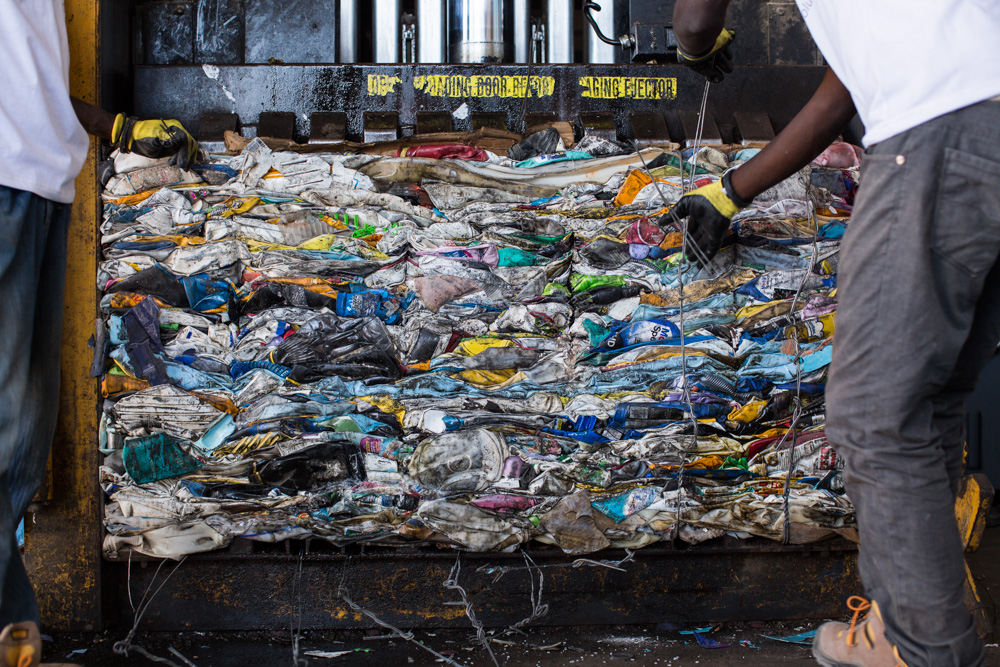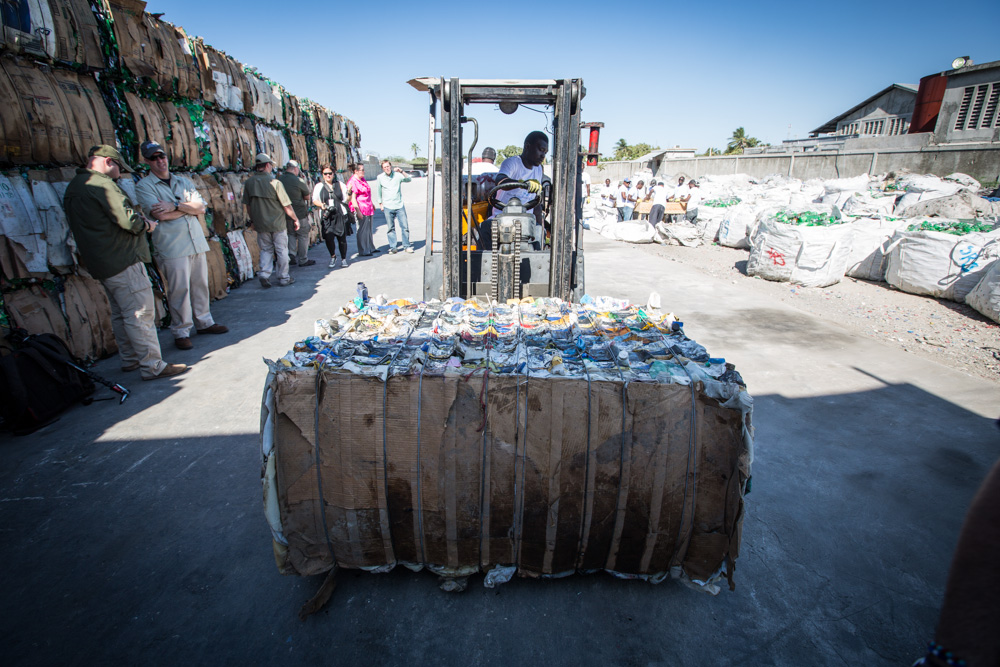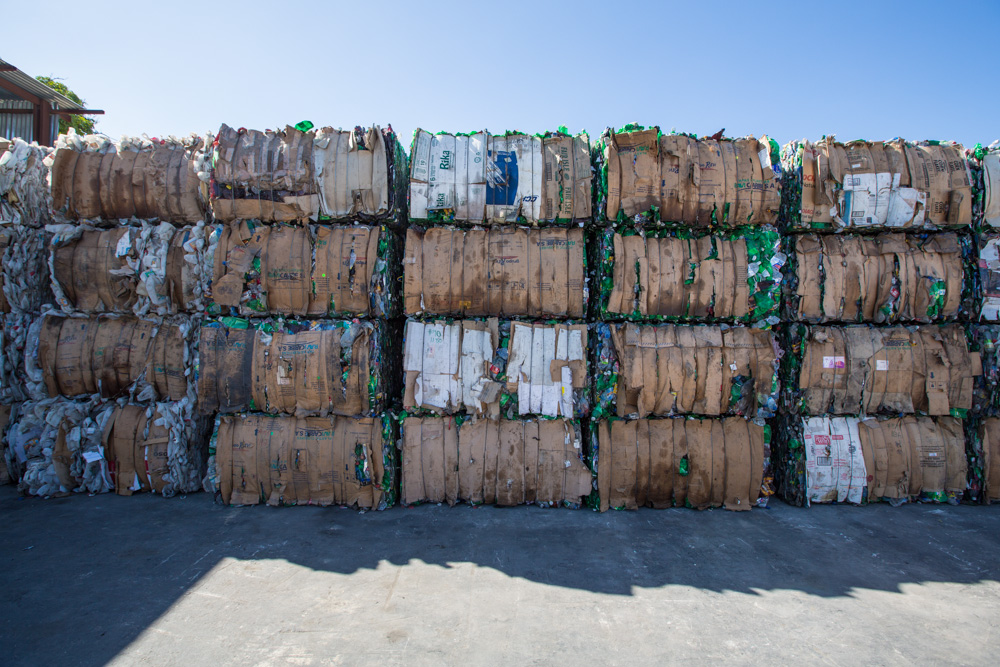 President Clinton, Robert of Impact Ecowear (the developer who converts the plastics into apparel), and Mike Shinoda examining the finished product: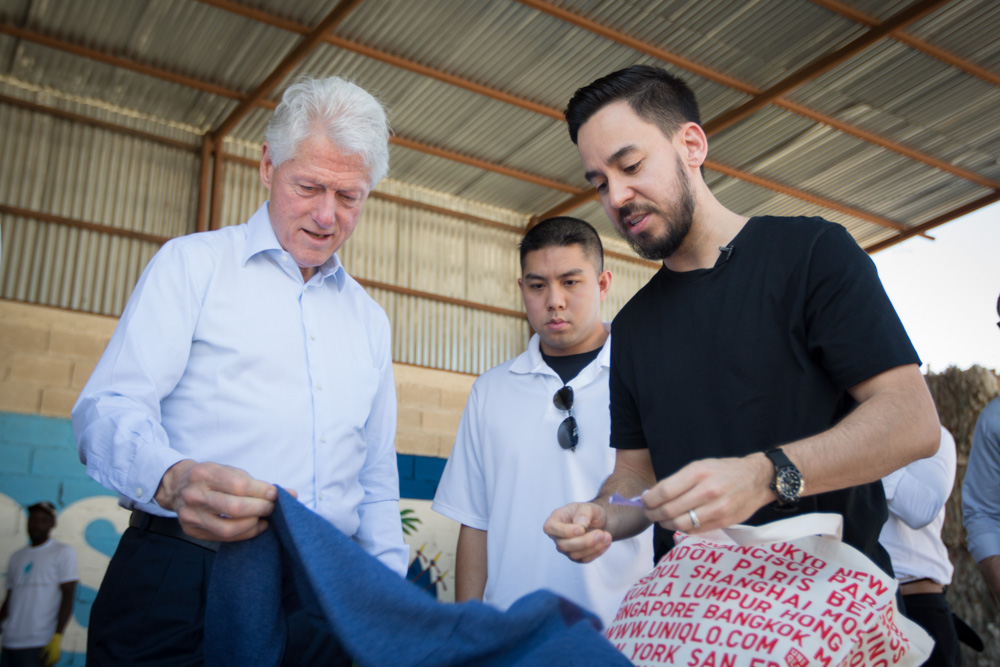 Todd Wagner and the President: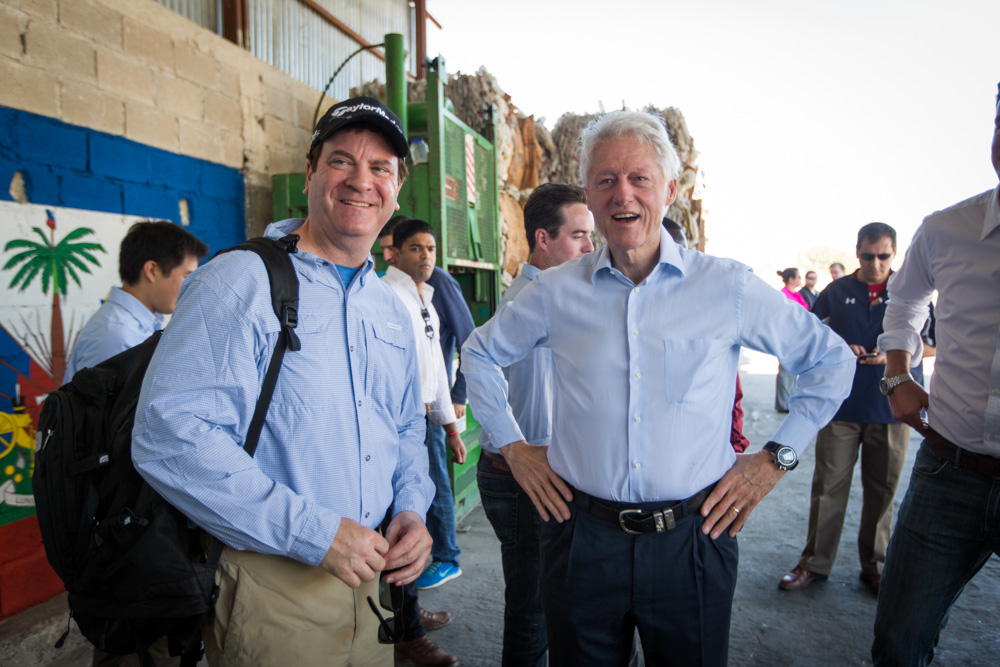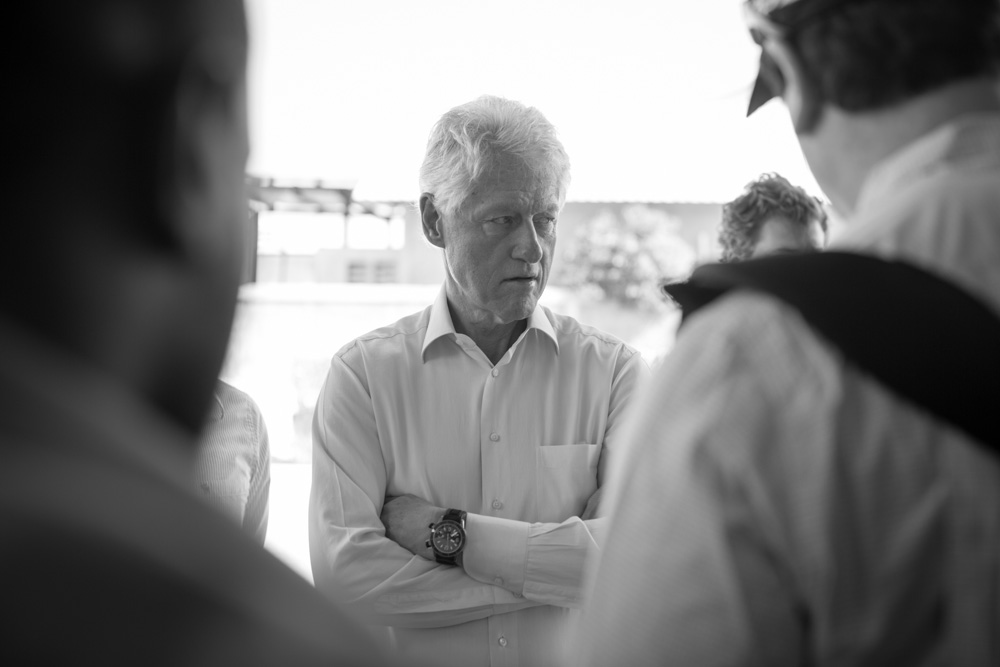 President Clinton listens as Robert explains the process by which the plastics are reappropriated into fabrics: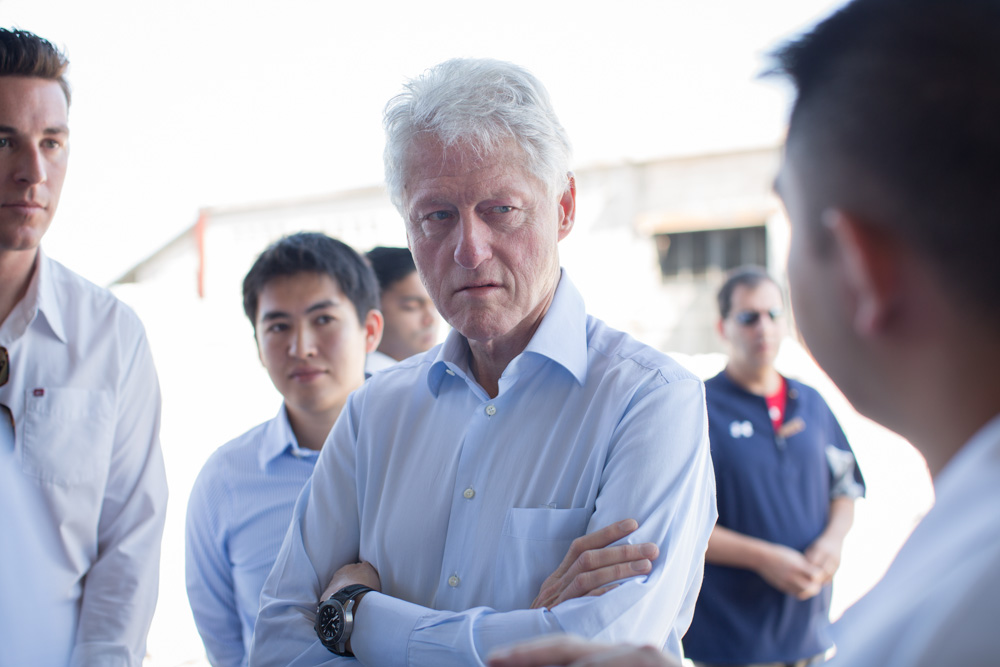 Teamwork makes the dream work.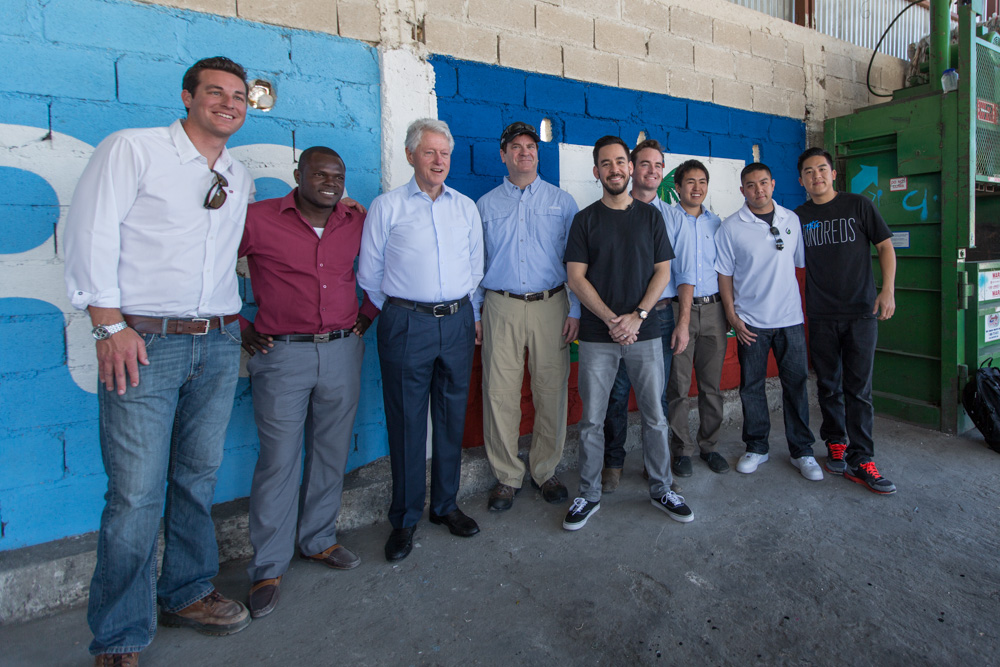 The faces of SRS: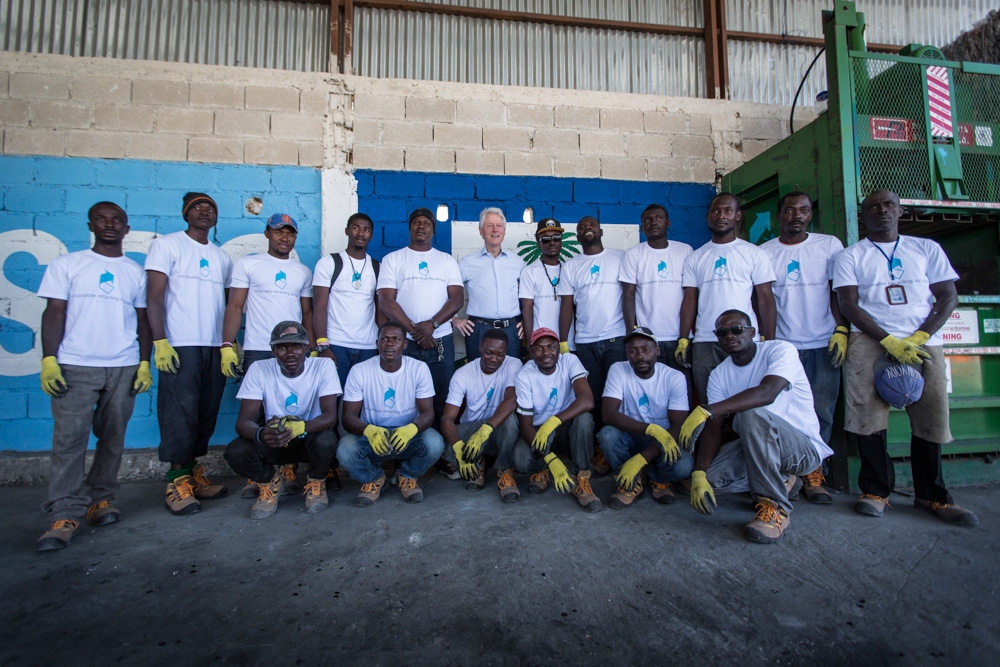 A big and generous Thank You to Mike for inviting me to participate in this project, bringing The Hundreds into the Haiti relief vernacular, and for all of his assistance in drawing attention to this beautiful land and people.  We would also like to thank Andrew and Brett of SRS, as well as Todd Wagner for all of his charity.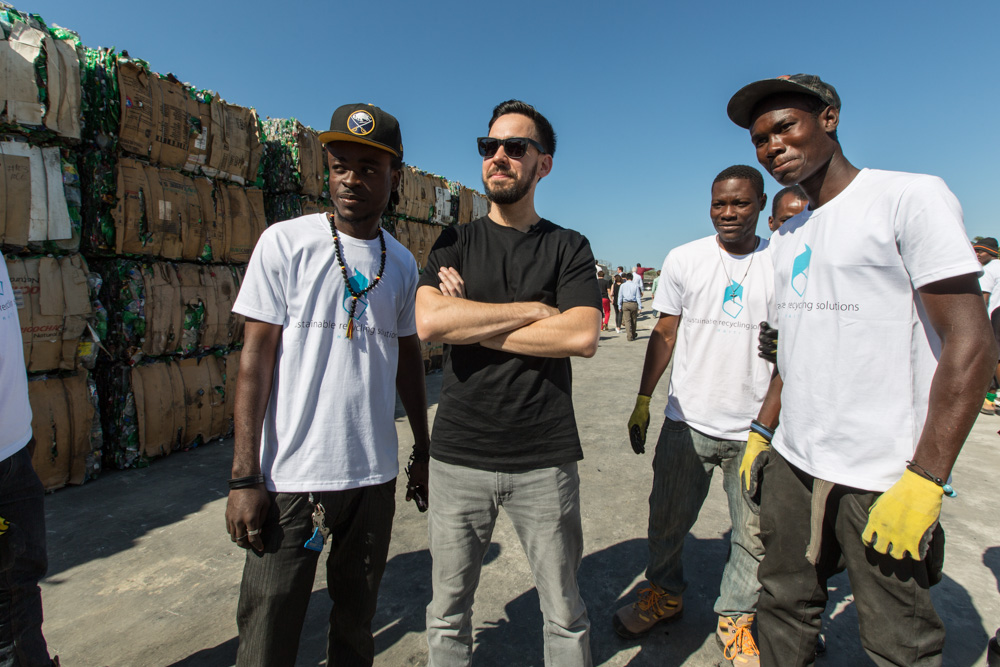 And a loud and vehement show of gratitude to the President for his presence, interest, and support!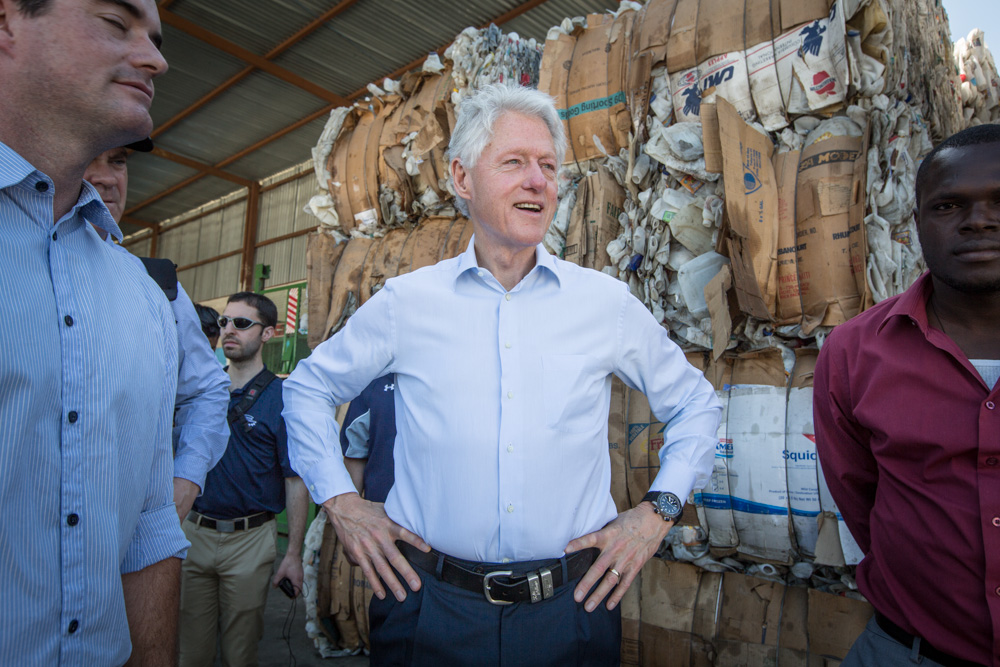 More news on The Hundreds' project with SRS to come… Until then, think of Haiti.