At the turn of the millenium I was still working for a now-defunct print magazine called Transworld STANCE, when my Editor-in-Chief Kevin Imamura told me he was leaving to help Nike start a skateboarding division. Up until that point, I had been interested in Jordans, but Kevin was the one who educated me on the Dunk (via Alphanumeric) and other retro Nikes. But the idea of Nike sticking their fingers in the sanctuary of core skateboarding bothered me, as it did most skaters of the time. When I was in high school, Nike had already ventured a foray into skate that crashed and burned to the applause of most of the skateboarding community. The message was clear and loud: Dear Nike, skateboarding is for the independents. Stick to selling out your mainstream jock sports and we'll be responsible for our rebel selves. Thank you.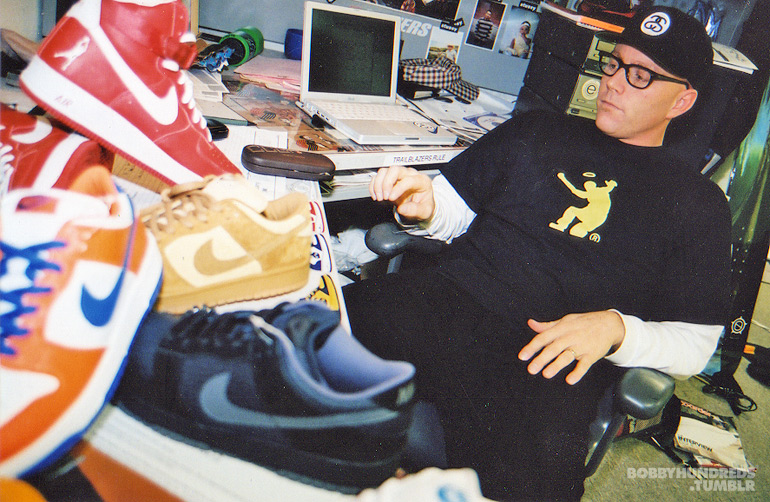 10 years wasn't long ago, but it was eons when considering the Internet generation gap. Skateboarding is now in a wholly different state and attitude – it's a systematically-scored global sport, socially accepted by parents and authorities alike. Skateboards used to be dangerous cultural weapons (and they still are, for many kids), but now they're a ladder for corporate America to access the underground.
I shot this photo either at the end of '01 or beginning of '02, I'm not really sure. I was visiting my friend Robbie Jeffers in his office at Stussy (who he was working for at the time). Like Kevin, he was also helping set up what would later become widely known and recognized as Nike SB. Those are the first four prototypes of the iconic SBs for skaters Danny Supa, Reese Forbes, Gino Ianucci, and Richard Mulder (which are just out of shot. The red AF1s are his personal pair of rare Rasheeds).
Of course it made total sense. At the time, I could see myself that many of the prominent skaters had a Nike fixation even though they were backed by skate-shoe companies, clearly a Japan-inspired trend that trickled down through street fashion. So by enlisting the help of cultural purveyors like Kevin and Robbie, this time around Nike was actually listening to what the streets had to say. I was sitting there holding these sneakers, thirsting for the mustard Reese Forbes Dunks and wondering why I wanted these so badly, then realizing they were bait for all the right riders to attach their names to Nike SB. Koston was already a big Nikehead, but SB knew better than to put him on right away, or the Tony Hawks and X-Games darlings. The 20 Billion-dollar corporation would get called out, assassinated by the same bloodthirsty mob that vowed to keep skateboarding legitimate and indie. So instead, Nike played it smart, seeking the aforementioned four skaters who were credible within the community, not marqueed by Mountain Dew.
At first the reception was hesitant, but after the sneakerheads devoured the product, the demand for Nike SB exploded amongst skateboarders. Nike did it all the right way, working with core retailers, injecting money into skateboarding's soft spots, reinforcing the skeleton for an industry that lacked infrastructure. Suddenly regular smalltown skate shops had attracted a new customer (an entire line down the block of them, in fact)and were paying the bills off low-top basketball shoes. Suddenly Nike's bazillion-dollar technical R&D was designing the most efficient athletic shoe to skate in. Suddenly Nike went from having the relatively unknowns to stealing the superstars of skateboarding. They even got Koston.
And suddenly, Nike and skateboarding were synonymous. Interchangeable. Two words that no one ever imagined could stand so close together are now emblazoned across the feet and window-fronts of action sports: Nike Skateboarding.
But all great stories don't have the happiest of endings. There are countless voices in the skate industry who bemoan ever getting into bed with the Swoosh. Consolidated used to be the only flag-bearer for the anti-Nike battalion, but in the past year, I've heard story after story from retailers who've been sunk by Nike's financial demands. Business 101: When the majority of your revenue is turned by a single brand, you're gonna play puppet to their whimsy. At this point, Nike just doesn't own skateboarding. Nike owns you.
This isn't a critique, it's not even so much a commentary. It's a timeline of events, and a breakdown of branding and business. In 10 years, a corporation did a 180, making friends out of enemies and loyalists out of detractors (Apple, anyone?). They gave to the poor, who then became rich, and then stole from the rich. Something like that.
I never got those honey-mustard kicks, but I did contribute my share to Nike's Dunk revival in the 2000s, collecting skate-sneakers like they were baseball cards. Ironically enough, I skated less and less during those years. Shouldn't it have been the other way around?
by bobbyhundreds