I've always wanted our magazine to feel like a traditional men's book – classically, in the vein of a vintage Esquire or Playboy. That's why we have historically featured beautiful females front and center. The Hundreds Magazine should have it all: cool clothes, interviews with interesting people, and a muse to fawn over. But selecting the next woman to grace The Hundreds Magazine's cover is always a painstaking task.  It often drives us to break deadlines, holds the publication from completion, and gives us plenty to stress about.
Because it's not enough that the subject is pin-up material. We're also honing in on a figure who is impacting culture, of The Hundreds' world, and relevant to our readership. And of course, we want to be early with who we introduce next. The magazine has built this reputation over the years of being the first to debut the starlet to the universe. I know we've had some misses here and there, but more often than not, I think we've done a decent job of early-adopting. We were Rita Ora's first magazine cover, same with Azealia Banks. We caught Olivia Munn during her G4 days. Even Charlotte McKinney – you know what happened next.
So when it came time to electing our Fall/Winter 2015 cover girl, we turned inwards and nominated one of our own. That's right, the inimitable Ruby Rose.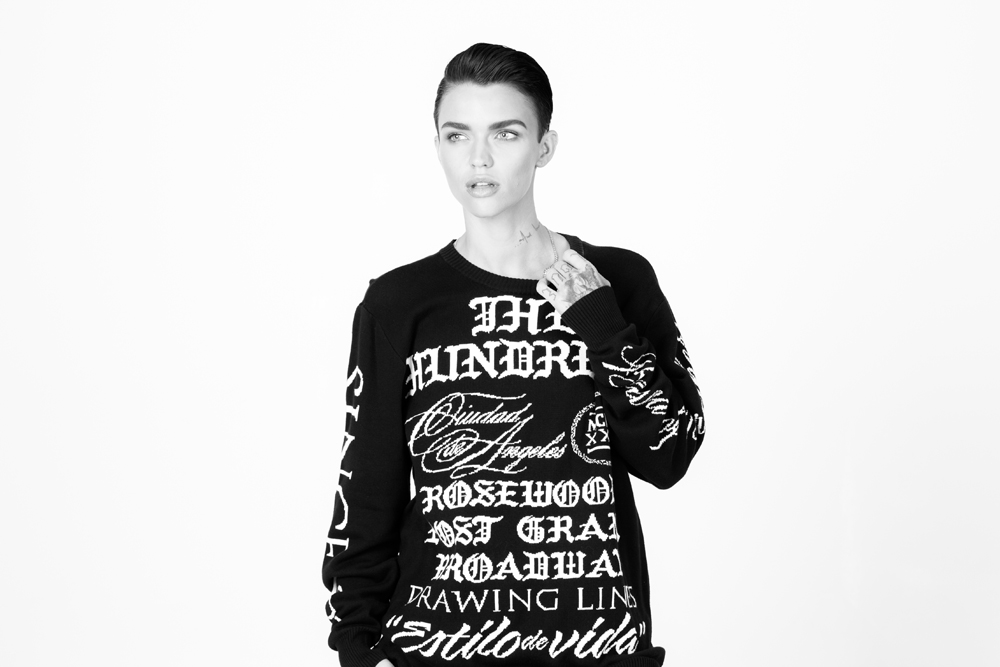 The crazy part is that Ruby's been around The Hundreds for over 5 years now. The first time she stopped by our offices was back in 2010, when she was a bubbling Australian MTV VJ in our Phoenix shades. We kept in touch and supported each other over the last half-decade, even though Stateside, she was still under the radar. When she visited The Hundreds Homebase a couple years ago or when she partied with us for the Tapatio collaboration last year, nobody seemed to notice. It was just – you know – Ruby.
But then she got cast in Orange is the New Black, and then the new season premiered on Netflix, and literally overnight, she jumped from 100k followers to 1 million to now, 5. There she was on the front page of TMZ, there she was onstage with Justin Bieber. It was a firestorm.
The day of the photo shoot, she turned up a little bit late, apologizing profusely. She'd just come out of a couple movie auditions (for some heavy blockbuster franchises you love) and was trying to stay afloat with all the attention. The girl running the photo studio stammered, "Is that Ruby Rose?" I confirmed. She blushed, "I love her!"
We talked a little bit about the hype during the shoot. The sharp rise in fame. I knew Ruby was accustomed to this, having lived through it on a smaller scale after scoring the VJ gig back home in Oz. So, she said it wasn't that big of a deal. She'd just miss the anonymity she used to have here in the U.S.
I told her that it'd be the last time we'd probably see each other for a while and she cried, "No way dude. You've always had my back!" But it wasn't about that. I've seen this happen before (maybe not on this magnitude), and I knew that everything had changed. She belonged to the world now.
I'm proud to introduce my good friend Ruby Rose as our next cover of The Hundreds Magazine. These are some of my favorite photographs from our time together. You can see the issue in its entirety by picking up a copy today.