As 2010 draws its last breath, it's my turn to take you through some of my favorite photographs from the last year. The first installment is dedicated to the beautiful women I shot in the past 12 months. Shooting girls can be a challenge.. for one, they're never gonna be happy with the results. But it's all about keeping them comfortable in front of the camera, and evoking that natural beauty. I'm a firm believer that all women can look amazing photographed, especially if they have huge boobs. Juuuust kidding.
This flapper added to the ambience of Banksy's film premiere in Los Angeles. The setting was the vaudevillian Los Angeles Theatre, and I was on hand early to document the night's setup. I ducked into the tremendous powder room where she was the last girl to get dressed. Totally at ease being photographed in her skivvies, she remarked, "Just don't shoot up my skirt." Fine.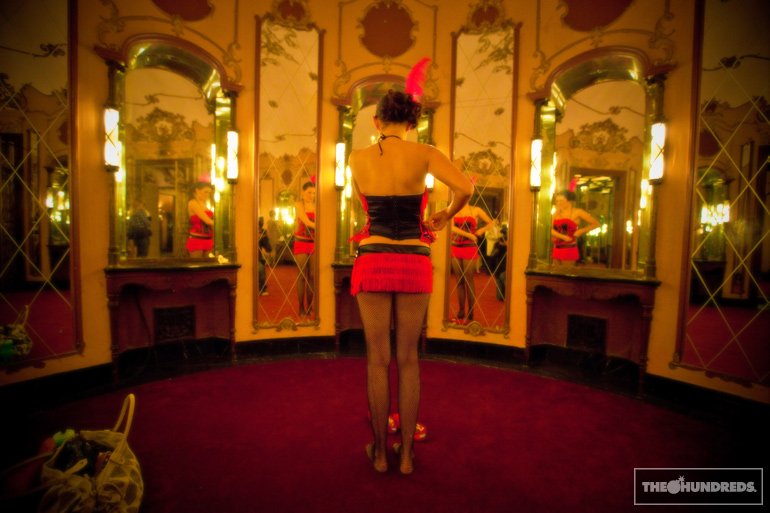 Later in the night, I caught her in an adjacent room and struck up an impromptu photo shoot. I was using just a single fixed flash, but the lighting, enmeshed with the wallpaper and her overall look, amounted to more of a pin-up painting than a photograph.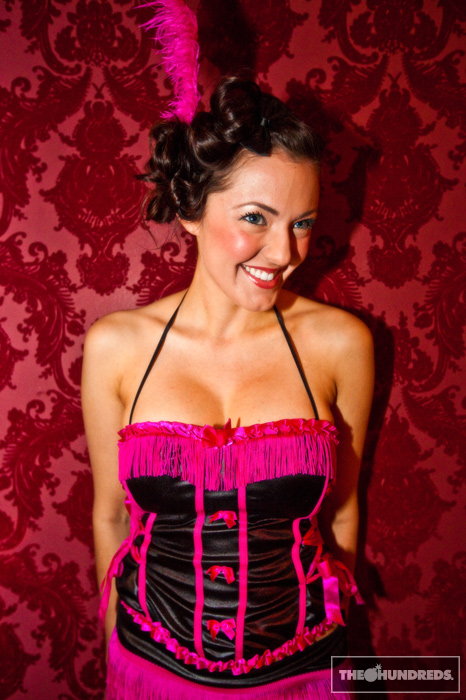 This mother and daughter team was bunkered down in the back of the San Francisco airport food court, killing time before a flight to Las Vegas. I can only imagine how the weekend transpired.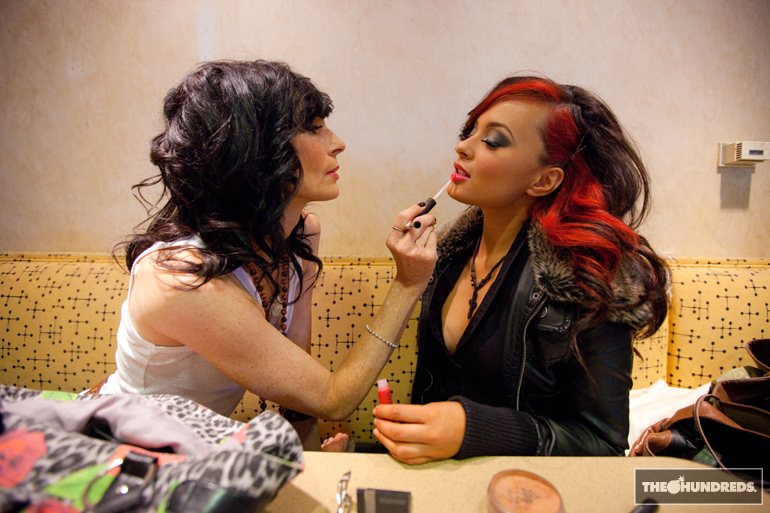 This blog entry got me a lot of strange looks at the time (and even more inquisitive texts). It was the night I spent with Michelle Bombshell, the notorious stripper who broke up Sandra Bullock's marriage. Entirely planned from start to finish to drum up media attention, she started off with drinks at the W, then a stroll over to Katsu-Ya in Hollywood to meet Dave Navarro. And then a very unsurprising TMZ attack on the way to Drai's nightclub.
A lot of readers were confused as to how these events found a home on The Hundreds' blog, but you have to remember that this page is dedicated to discussing The Hundreds, streetwear, street culture, and LA life. And nothing is more LA than Hollywood and the pursuit of celebrity.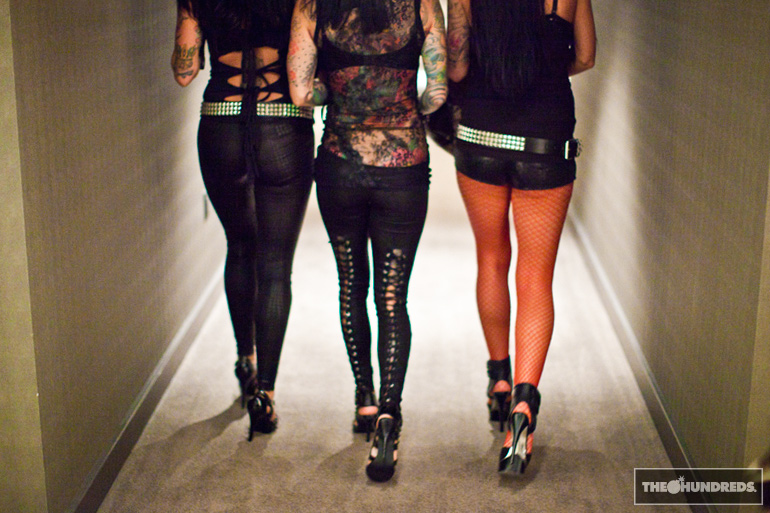 Shay Maria has been simmering in the amateur model scene for years, but at some point in the latter end of 2010, she exploded on the internet. Blame it on Tumblr, Playboy's Twitter, and the pack of men's blogs that wax poetic about her fixating curves. Shay also happens to be a good friend of The Hundreds and I photographed her back in April for a couple graphic tees we'll be offering in 2011. She's also a proud cannabis proponent and helped me get the point across for my 4/20 diatribe.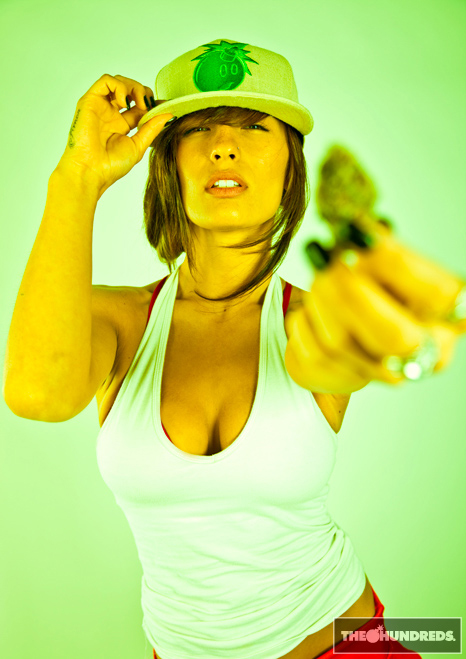 Speaking of models, Sarah McSweeney is as legitimate as they come. An internationally recognized face, gracing the pages of fashion magazines, Sarah's more readily recognized in our little world for being the little sis of Leah from Married to the Mob. On this day in New York, she languidly sprawled on the stairs of our studio apartment and I caught her without her knowing. My favorite part is how the photograph's tones have a very vintage, worn-in feel. Sarah's such a natural, she doesn't even need to try to model, but it still flows.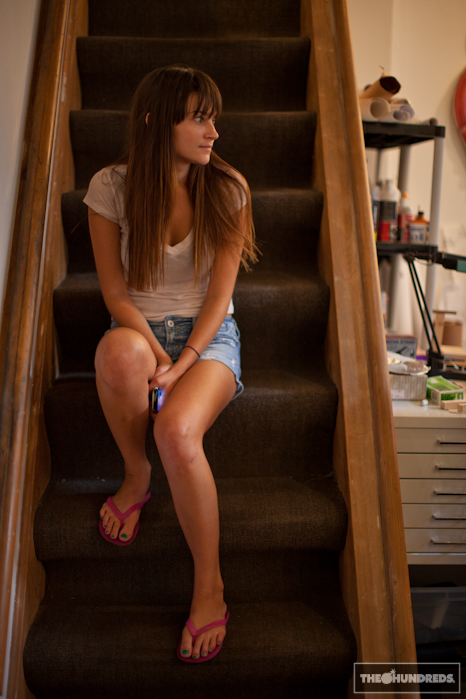 I had to shoot our new The Hundreds Eyeware sunglasses for a print ad, but wanted to showcase them on a female model. Since we're a mens brand, Eyeware is our only asset that can swing unisex. I didn't want the typical boring model, I was looking for a pretty face with a substantive story. And so I thought of Kellen. Local Angelenos may recognize her as the Johnny Cupcakes LA store manager or as a dodgeball champ. But to me, she's just always sugar and spice and everything nice. I even hit up Johnny to make sure he was cool with me using one of his faces for a The Hundreds ad campaign, and he laughed about how he felt like I was asking his daughter to prom. Anyways, Kellen nailed it and gave us exactly what we were looking for.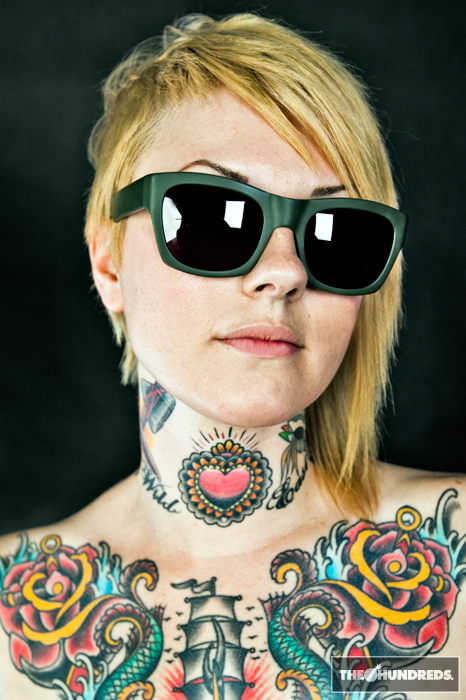 This is my friend Sarah, we've been friends since high school.We were out deep in the desert to shoot The Hundreds Fall 2010 campaign. As dusk set in and we wrapped up the shoot, I couldn't help but notice the brilliant light that was playing across the sky. Sarah also capitalized on the moment, grabbing her point-and-shoot, and in a brief moment in time, this resulted. (By the way, this is her shot of me)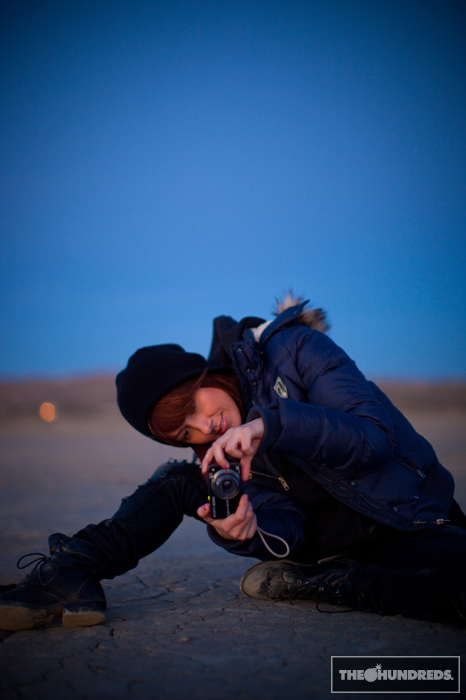 by bobbyhundreds