Watch PART 1
HERE
.
I mean... this is home.
We grew up here and you did too.
Look, I don't know how much Fairfax had to do with where streetwear is at today, but this neighborhood brought us together. Fairfax gave our clothing a community.
Before the streetwear thing, Fairfax was LA's Jewish district. Then, there was Naama's shop, Reserve, and then Supreme opened its first LA store. It was 2006, we were three years into The Hundreds and hunting for our first real office. Ben liked this brand new building that crossed Fairfax on Rosewood. It was rebuilt after burning down a couple years before, so we were the first ones in the building. In the middle space off the beaten path.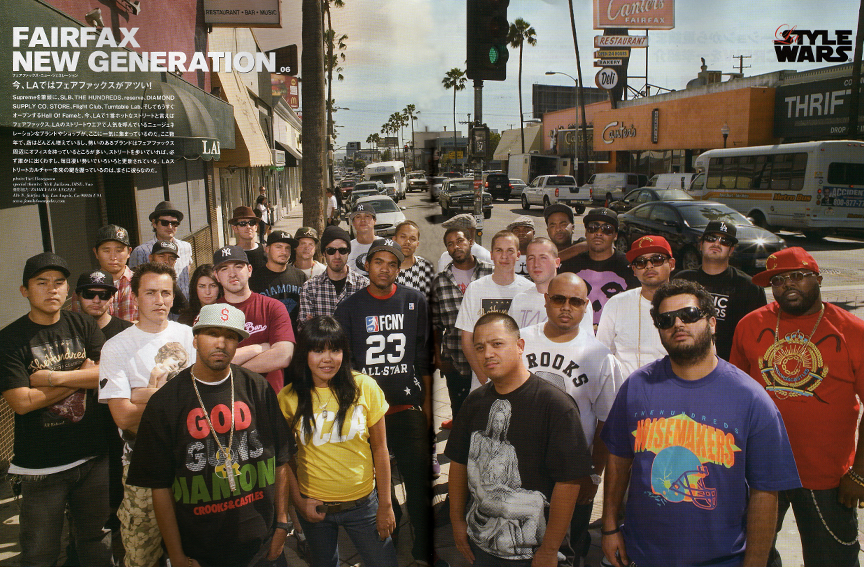 I guess it was meant to be our office or studio, but it was more like a clubhouse. We worked day and night out of that room, but it was impossible to get anything done, really. In the early afternoons, the homies would pull up. There were beers and blunts and bullshit. Scotty and Sal skating, riding BMXes in the street. That's how slow Fairfax was back then. We'd literally kick it in the middle of the road. We had our office and Rosewood Avenue was the foyer. That was our entire world.
At the time, there was so much cultural emphasis on New York and Tokyo and LA was known more for Paris Hilton and reality shows. We had all these amazing friends stopping by—a new generation of artists, musicians, skaters, and T-shirt designers—we knew that LA had more to offer than rhinestone trucker caps.
So, I started documenting. I turned in my film camera and bought a cheap digital SLR so that I could update my blog as quickly as possible. This was years before social media. Websites were updated once or twice a week, but I'd photograph people, write something about them, and publish stories on thehundreds.com 2 or 3 times a day. Our website was broadcasting live from LA and anyone from around the world who was interested in street culture tuned in.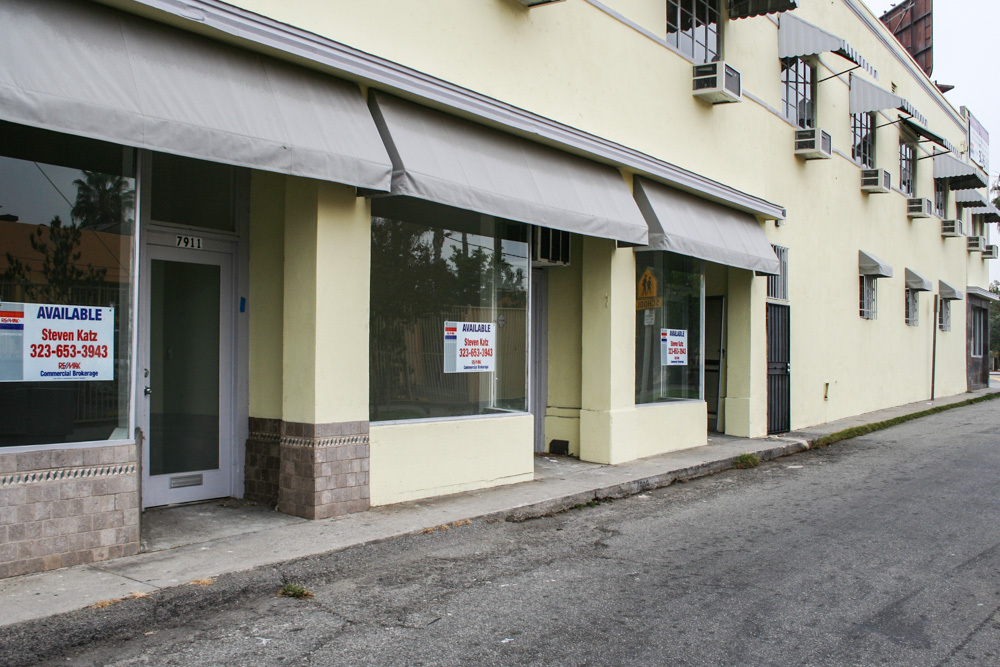 The Hundreds started getting pretty popular and we had a couple hits, but then we made this all-over-print hoodie. The Paisley hoodie. It exploded overnight, sold out in hours, and the next morning, Ben and I agreed to take all that cash that broke our website and invest it back into our first store.
7909 Rosewood Ave. We had never planned for anything beyond an office out of this place. It was a closet—only 400 square feet—on a weird street that doesn't even have a sidewalk. But everyone knew we were there—our friends, our audience. We were already getting visitors from around the world who wanted to live out their favorite blog in real life. So, we started building.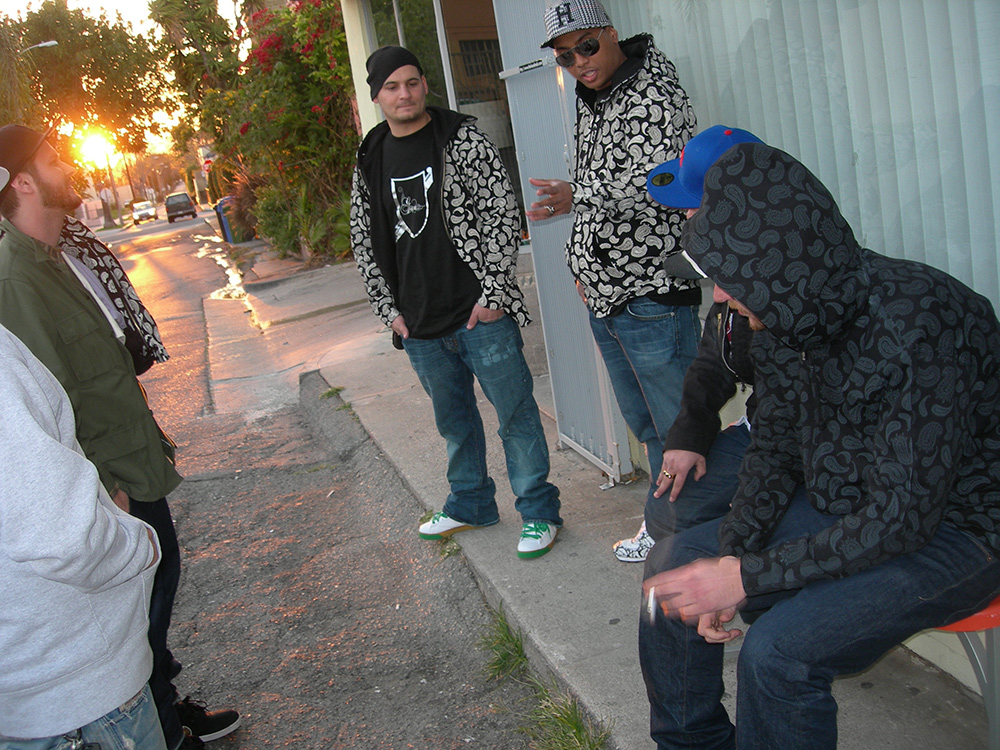 You gotta remember—back then, the rest of the industry brushed us off as just a couple of T-shirt kids in LA. I dropped a couple teasers about the buildout here and there on the website and then we dropped the curtain on February 1, 2007.
Nobody saw it coming. In those days, it was popular for streetwear stores to rely on the Japanese minimalist aesthetic—floating IKEA shelves, grey concrete and a white room. We responded to this with warm, black wood, custom cabinetry and a fluorescent dressing room. There was the "CORN MOUTH" diorama by Tofer along the wall, my art installation out front—2 graves that symbolized Ben and I and our souls being entwined in the store. All of a sudden, The Hundreds took on a whole new tone and people started looking at us differently.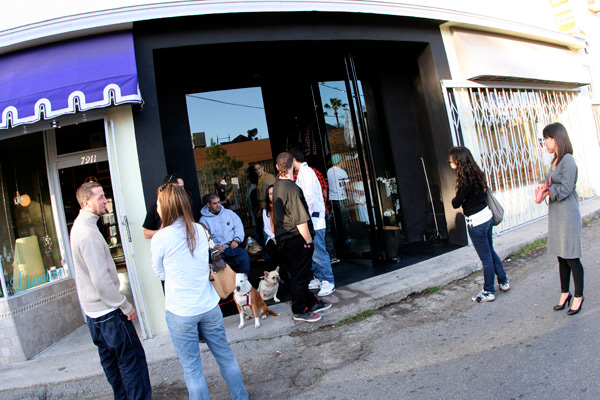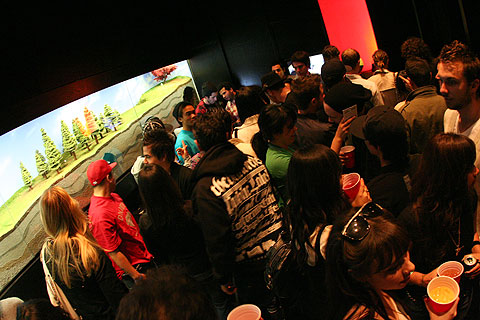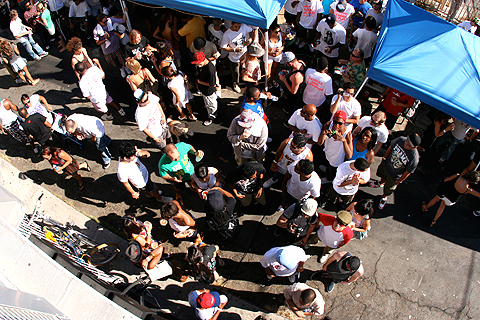 Fairfax happened. You know the story. Diamond, Hall of Fame, Flight Club, Alife. Tyler and Odd Future happened. It wasn't long before the secret got out.
In the eleven years we've been in the Fairfax District, we've seen it all. The celebrities, the city's finest restaurants, the lineups, neighborhood kids growing up to be the best skaters and coolest designers. We watched a subculture go mainstream, the shops turn over from smalltime brands to major player.
We've done it all, too. Block parties and Five's famous BBQs. Legendary Black Friday sales. Jae Bueno's photo show the night after he passed. A few years ago, we took over all 3 storefronts on Rosewood, knocked the walls down, and made one gigantic The Hundreds store.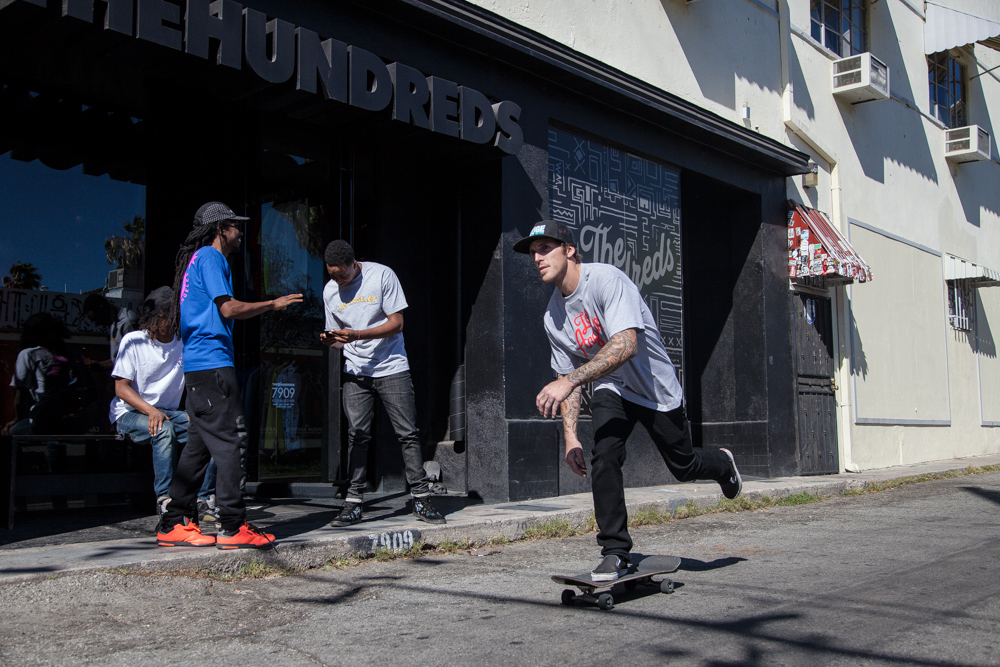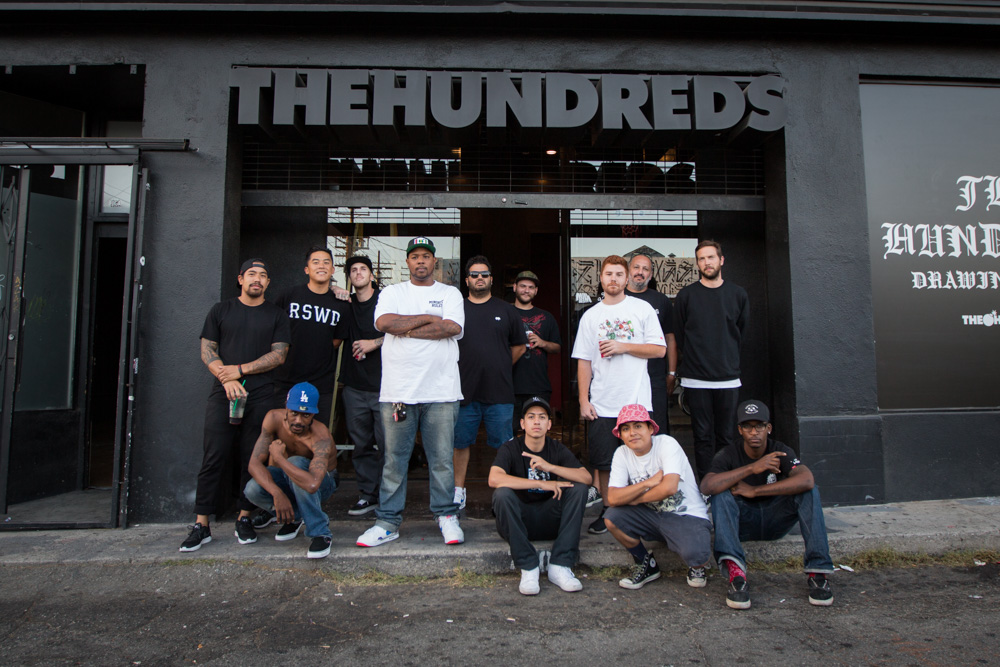 There was one more wall to break through, however. Something we always wanted, but was just out of reach. The corner space. It was originally home to Sal Barbier's SLB and then RVCA. We waited patiently, we even secured the billboard above; we had all but given up on this idea of Fairfax and Rosewood. I'd always imagined the space as ours. It was really hard to pass through that intersection, year after year, and admit it wasn't. Like watching your soulmate marry somebody else.
Then, one day, she calls and says she's available.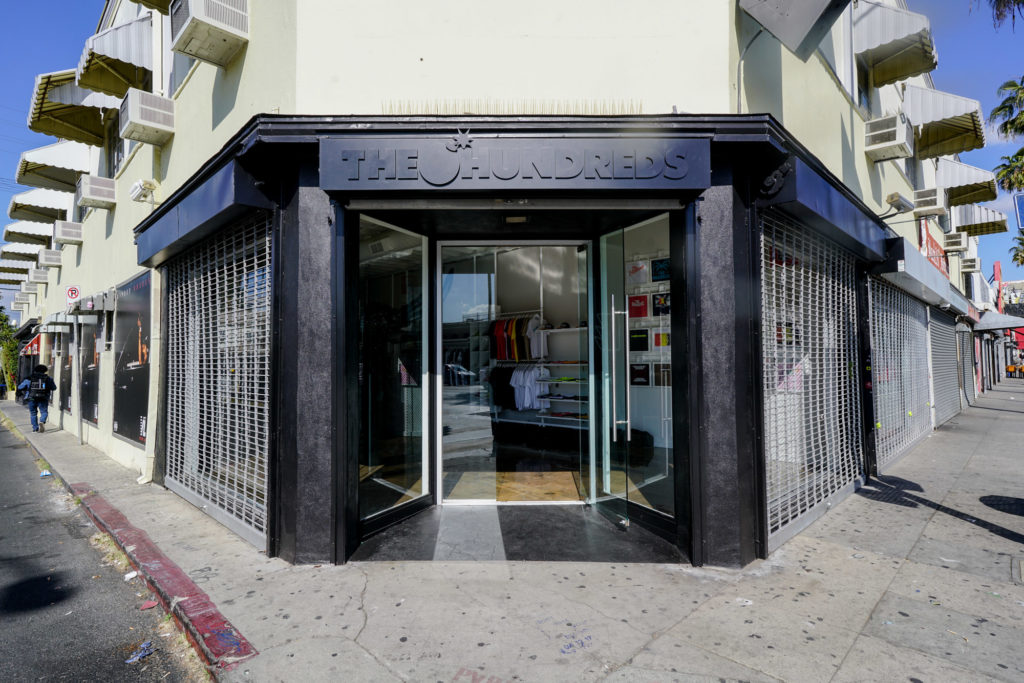 This store is an amalgamation of our history, but it's also the foundation for our future.
There was this old graphic called Death from Below. I always try to have a little commentary with our T-shirts and shine some light on LA at the same time. Death from Below was a flip on the phrase "Death from Above." The idea of rising up from underneath—a tip of the hat to the underdogs.
The reference was the mastodon from the La Brea Tarpits, which is just down Fairfax from us. I often discuss dinosaurs and expired animals in our narrative—to touch on the old guard, the pioneers, and this constant bout with relevancy. We turn 15 this year, which is like 250 in streetwear years, and I wanted to address the elephant in the room.
Literally.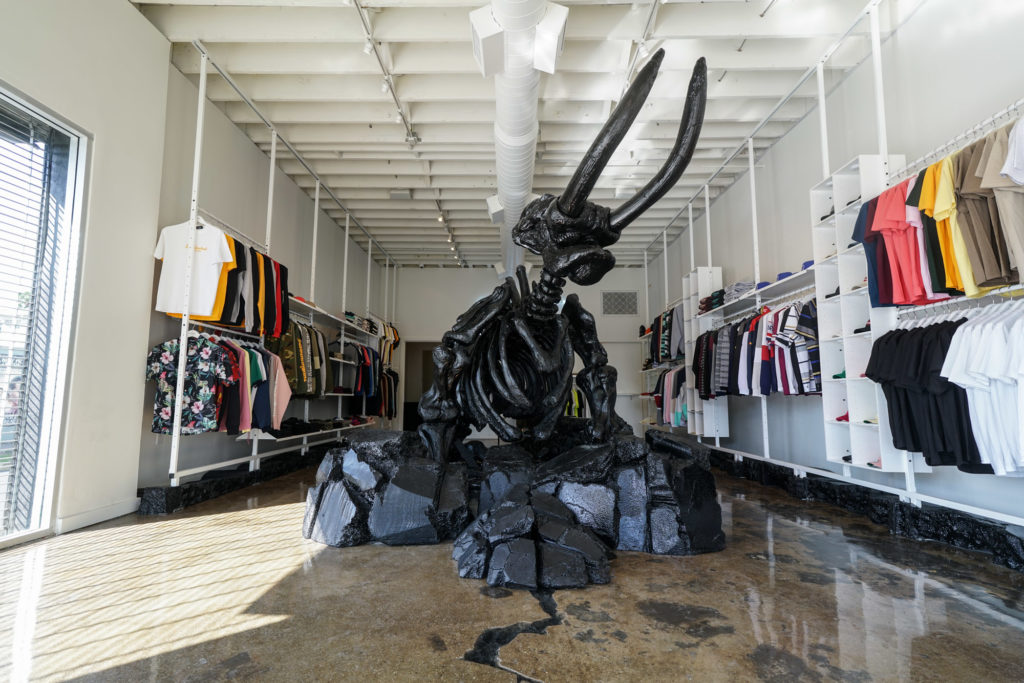 So you can imagine the new store as a pristine, yet expected, flagship boutique in which another unexpected world breaks through. In past locations, we incorporated cultural artifacts that inspired The Hundreds: skateboards and surfboards, Nintendo systems, locs and spray cans. A decade and a half into this brand, The Hundreds has spawned its own culture. You'll find these elements preserved in the tar: a Back to the Future hoverboard, the Ben Baller chain, a brick from our New York store. There's the monster from Tofer's diorama, the RSWD cap that started it all, the camera I shot my blog with.
This store is an amalgamation of our history, but it's also the foundation for our future.
Each of our store concepts have been themed around time. This is all of them rolled into one, coming full circle—a loop with no beginning and most importantly, no end.
***