You don't really get to experience America until you leave the major cities.  I cherish traveling beyond the suburbs and into the vast landscapes, where farms and sky and corner stores intersect.  The way an average American finds the Far East exotic and bizarre, I feel the same way about most of my country.  So when Monami Frost told us she'd be visiting Los Angeles for the first time, far from her home in Liverpool, and decades further from her native Latvia, I imagined a photo shoot with the tattooed model at a roadside motel.
Nothing speaks more of the American tourist experience than a lonely Best Western off the highway.  When I was a kid, my dad would take us on these months-long road trips across the States.  In the belly of a dingy Ford van, we'd connect landmarks with buckets of beef jerky and car games, crawling into a Motel 6 by late evening.  Maybe if we were lucky, he'd find a Denny's on the way in, but usually we'd settle for fast food or a truck stop diner.  You can imagine how fun that was for an Asian family at midnight in the middle of Idaho.
The roadside motel sign was always a bittersweet welcome.  The one-armed, grumbling vet handing you the keys.  The neighbors next door drunkenly arguing into the morning.  The rooms all smelled the same: an earthy musk, soiled in stale cigarette smoke and bathroom mold.  We'd draw the brown curtains, peel off the patterned bed coverings, and dive deep into the cool off-white sheets.  Falling asleep to the rhythmic hum of big rigs barreling down the interstate, their headlights tracing the ceiling overhead, the last thoughts echoing in your mind, "I wonder how many people had sex or died or had sex and died in this bed?"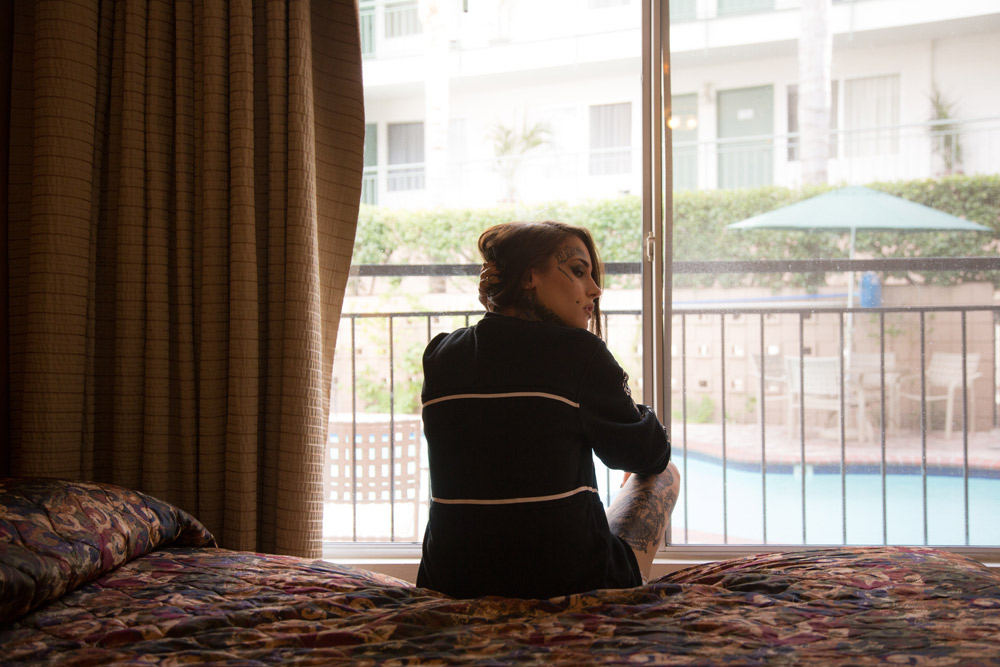 I asked Monami what she thought of America so far.  "Everyone is so weird!," she laughed.  Monami's a bit of a false advertisement in that way.  She's kind and sweet and very much the girl next door.  You know, the one with 80% of her body dipped in black ink.
"Americans are all so different."  So it's not so much that we're strange, but… unique.  Where she comes from, she acknowledges, people aren't encouraged to express themselves so freely.  Individualism isn't in the culture.  Not like how it is in America, where our nation was founded on differentiating ourselves.  Think about it, how cool that is.  That it is a way of life to think independently and be distinct.
Monami Frost is as much of an individual as any red-white-and-blue blooded American.  She spent one hot summer week here in LA, eating raw vegan at Gratitude, visiting the beach, and taking advantage of Uber to get around town.
This was on a Monday.