Remember this photo?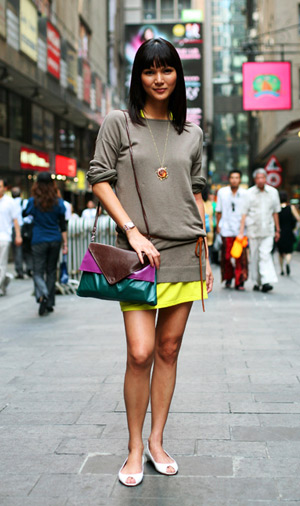 The Sartorialist shot that last October when he visited Hong Kong. At the time, he wrote this: "Sorry not many (any) men's photos on this trip, the men's style, in general, really lags behind the women's…"
To which I was rather confounded, considering Hong Kong is known for being a high-end fashion capital of the world, for both women and men.
Many Hong Kong residents were just as confused by Schuman's comments, so I decided to take it upon myself to stand up for HK and prove Mr. Fartoliast wrong. I got off the MTR at Central's Lan Kwai Fong exit, which dumped me right in front of the Shanghai Tang that acted as the backdrop for Schuman's photos.
And then, I waited..
..For a good 20 minutes, before I could convince this grump to stop for a portrait.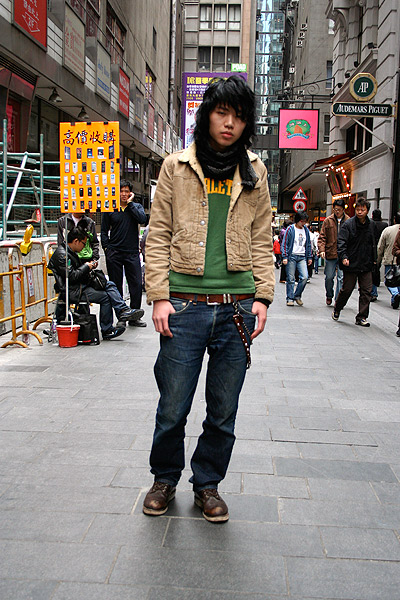 Okay okay, I know what you're thinking. If this guy is supposed to represent Hong Kong men's fashion, then Schuman wins the trophy by a mile. But it's not like I didn't see dudes with better fashion sense. It's just that the last thing they wanted to do on their Saturday afternoon was pose for some website called "The Hundreds." So then I started telling people I was shooting for an American fashion magazine, Men's Vogue, and then GQ. When that didn't work, National Geographic, Hustler, Amateur Edition Sudoku. It really didn't matter, it was like I was asking them to sacrifice their firstborn.
Oh, then this nice gentleman obliged.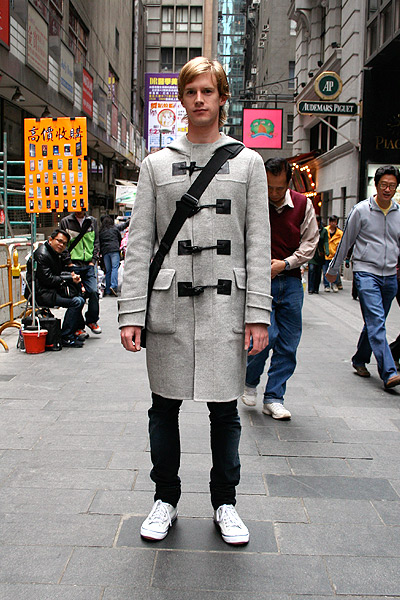 I dig the peacoat with the skinny jeans, and instead of working against it, the messenger bag's bulky strap actually works. So there you go, Mr. Scott Pooman. A Hong Kong guy with style. (And for all you ignorant pricks, yes, there are white people native to Hong Kong).
Sooo back to the waiting game. By this point, I was getting hungry, bored, and people started looking at me funny. A policeman started videotaping me from across the street, probably assuming I was some kind of pervert or terrorist.
These girls were nice.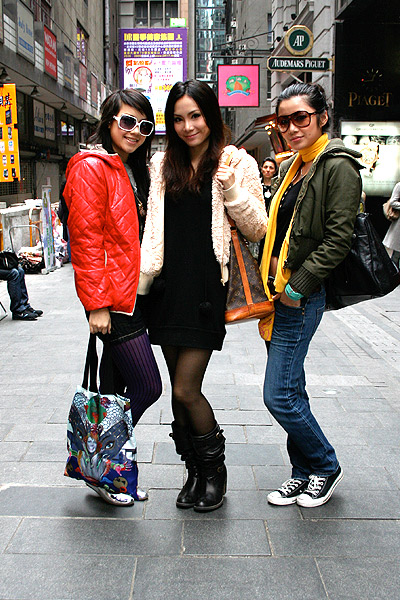 But clearly, these weren't men. So, after 36 minutes of feeling like an intrusive creep, I conceded. You may have won the battle Schuman, but you haven't won the war. With 2 billion Chinese, you're bound to be wrong.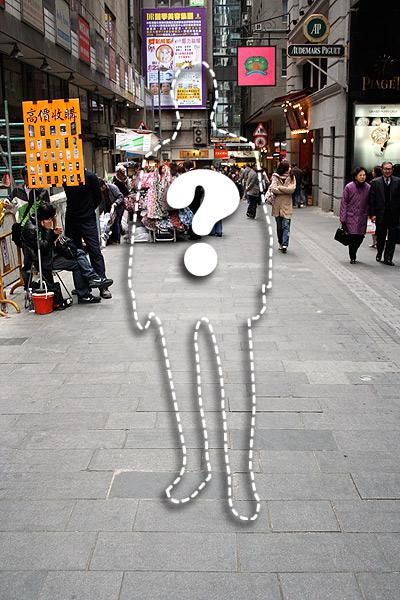 by bobbyhundreds