I don't have many heroes. Nor idols. I have targets (Ha!)
But there are individuals I strongly admire for their discipline and humility in their craft and life.  These are people who I've learned from, yet mostly have never met.  Authors, designers, poets.  Salinger, Watterson, Gonz, Jebbia, Teen Angel, and then there's Ian MacKaye.
If you don't know of him, then there's not much I can do to explain him.  He's more than frontman of hardcore/punk outfits Minor Threat, Teen Idles, and Fugazi.  To me, he has always epitomized the fine-lined walk between success and selling out.  I've always appreciated his practice of professional restraint, art before commerce, and through it all, composure.
Knowing full well what the answer would be (considering he's never authorized official band merchandise under Fugazi or Minor Threat), I bravely asked him once if he'd ever work with us on something. Anything.  His was an immediate, firm, yet resoundingly gracious, NO.  Deep down, of course that was the answer I wanted. I would have been so bummed if he had said Yes.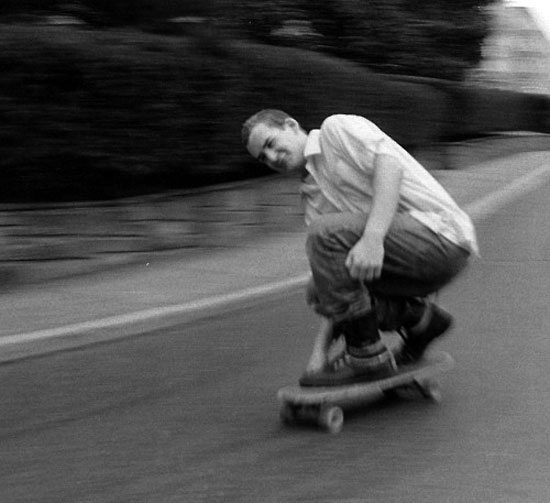 Scotty passed on this Ian MacKaye clip about an hour ago.  It's pulled from yesterday's JENKEM, but it's actually from a year ago when MacKaye spoke at the Library of Congress on the subject of digital archiving.  The reason why I get such a rise from this excerpt is because of how he romanticizes Skateboarding.  Beyond being pigeonholed as a sport or hobby, MacKaye suggests that the skateboard is a tool by which to redefine the world.  I've gotta agree.
This isn't the first that the hardcore cornerstone has spoken out over Skateboarding.  He had that clamp-down on Big Company Skateboarding back in '05.  And four years ago, Atiba interviewed him for The Skateboard Mag, wherein Ian MacKaye expounded further in-depth about skateboarding as a cultural lens.
The most revelatory point that I've gathered – the best and only way that I've been able to understand Skateboarding – was when Jim Thiebaud once told me that Skateboarding can't, and shouldn't, be defined. As soon as we start fencing Skate in with "is" and "isn't"s, we lose its very essence.
Thank You, Skateboarding. And Thank You, Ian MacKaye!