As the third wave of Streetwear fomented after the turn of the millennium, there were a handful of T-shirt-based brands around the world that were likeminded in inspiration, motivation, and purpose.  The Hundreds included, we all sought to differentiate ourselves from the larger, corporate urban and skate order.  We did this by screenprinting on AAA T-shirts, building websites around our lifestyle, and practicing limited distribution in hand-selected, boutique channels.
What we were doing at the time was young, naive, and foolish. But it was brave and risky, and so we sought the camaraderie and fellowship of others down for the cause.  The Internet also made it easier to reach out to any competitors – who, at the time, were more friends and peers to help us build the overall platform.  I remember the first time Ray and Denis of Mighty Healthy e-mailed.  We were already familiar with their aesthetic and mission – they were essentially the New York version of us (We had a popular shirt that read "California is for Haters." They had a New York version running simultaneously).  A week later, we would shake hands for the first time in the parking lot of Las Vegas' MAGIC tradeshow.  That had to have been almost 8 to 9 years ago.
We were just kids back then and a lot has transpired since.  Although Denis eventually parted ways with MH, we still work together on tee graphics.  He is one of the best in the game to do so. And as far as Ray, he's now a proud father and Mighty Healthy continues to charge, capturing the more independent, skate-oriented arm of Streetwear.  This year marks Mighty Healthy's 10-Year Anniversary and you can expect another award-winning collaboration between The Hundreds and Mighty Healthy in the near future.
In the meantime, I asked Ray to run down his Best. T-shirt. Ever. in my continuing series of asking friends and colleagues which is the Best. T-shirt. Ever.!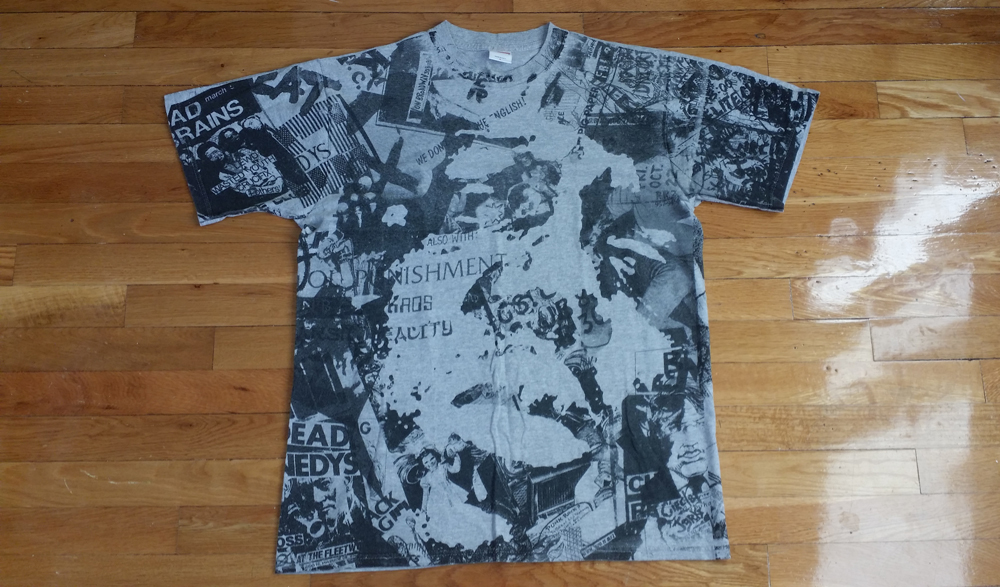 The T-Shirt: You can clearly see Biggie's face in this tee but it's hidden. Besides that it also contains inspiration from punk rock bands Dead Kennedys, Bad Brains and Black Flag. This shirt will never get old and will always be classic. Supreme did this shirt probably in 2000 or 2001. I may be mistaken so excuse the inaccurate date. Supreme will always be one of the most influential brands in Streetwear.
The Story: The really awesome part is that I used to get a few pieces from each drop when new stuff came out. Thanks Aron, Pookie, Alex and Chris Keefe. This stuff paid my rent from the late 90's to early 2000.
What's up, Ray? This is Mighty's 10th year and we have a large list of collabs going on this year. I will mention a few… Black Scale, Visual, Kevin Lyons are some of the few I want to talk about right now. Oh yeah…are we (The Hundreds and Mighty Healthy) doing one?
[editor's note: Yes, Ray!]
Thanks Bobby for including me on this. You guys have been supporting Mighty for years and I really admire what you guys have done over the years. Also, if I grew my hair back I know I would have better hair than you.
[editor's note: I doubt that, Ray!]