I was never quite the sneakerhead, but there was a period of my life where I was an avid sneaker collector. I mean, if you were born in the '80s or '90s, it was a part of Americana, growing up, and coming of age.  When I was in elementary school, suddenly Sports Illustrated for Kids was running cover stories on $75 Nike Airs, kids getting blasted for 'em in dark alleyways, and everyone else jumping 3x higher because of air bubbles and pumps.  Michael Jordan drove much of that hysteria – we all wanted to be like Mike, and if that meant wearing his shoes, then so be it.  The rest of the NBA stars fell in line – these weren't just athletes, they were cartoonized, machine-marketed, pop cultural superheroes.  If you couldn't afford the Jordans, you could get the Barkleys or the Magic Johnson Converse. And if not, so what, there were LA Gear and British Knights.  My mom wouldn't even bless me with some Blood Killers – I had to Crip walk my way down to Payless, put my head down, and walk out with some Pro-Wings or XJ-900s on my feet and pretend like I was happy about it. Or else.
I eventually circumvented the whole expensive sneaker thing by falling back on $25 Converse Chucks at the local swap meet. You could still get away with a pair of All-Stars and no one would make fun of you because they figured you were poor and would kill you because you had nothing to lose, or you were in a gang or Mexican or something.  I was none of the above, but people left me alone anyways. And so I fell in love with the Converse All-Star in black.  To this day, it is my favorite shoe. Ever.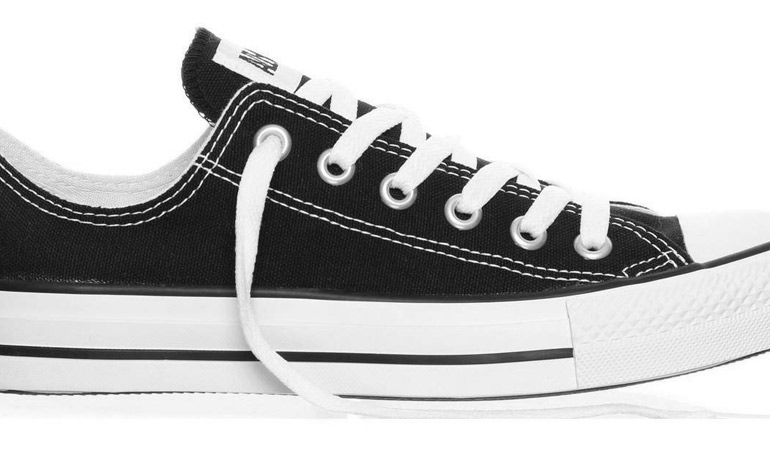 Thankfully, once I got into Skateboarding, I rarely had to step foot in a Foot Locker and get sold a $300 shoe by a fake referee.  These were the good old days when skateboarding wasn't a sport, so skate shoes lived outside the camping stores and baseball goods shops.  And what you got were all these cool, independent skateboarding-inclined sneaker brands, driven by professional skaters that I idolized.  Like Kareem Campbell.  In the '90s, Duffs released the KCKs in a beautiful white leather and gumsole.  With a fresh pair of baggy, overdyed denim (that would bleed a blue ring around the top of these kicks), a Polo shirt, Nautica windbreaker, and Tommy Hilfiger cap, KCKs would be that pop – that accent piece – that made you feel so good inside that you swore you could kickflip higher (totally untrue, btw).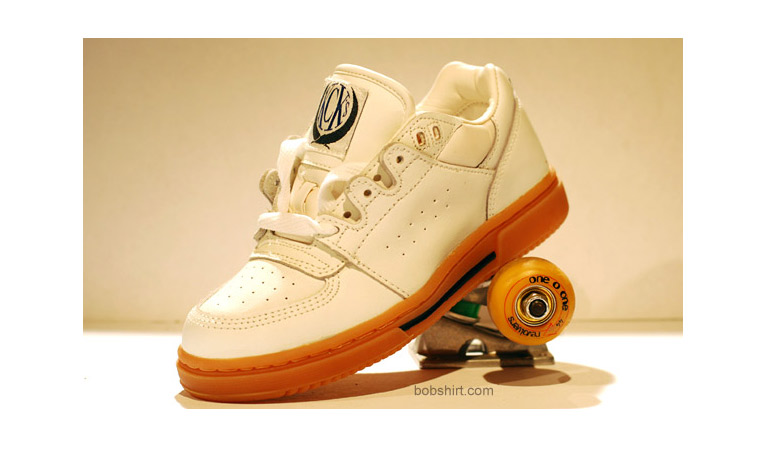 I grew up playing soccer but eventually fizzled out by the time I reached high school. My parents tried to get me to play tennis to keep me out of trouble but I showed up to high school tryouts wearing some ridiculously huge green FUCT shorts, and so the coach wouldn't let me play.  Tennis was super boring since the year 267, but around this time, there was this weird punk rock tilt to the new breed of racketeers.  Andre Agassi was the most notable, banging Brooke Shields off-court, and parading around in acid-wash and fluorescent Spanx on the clay.  Man, this guy was such a rebel that they named a wild and crazy camera after him.
Anyways.  The Air Tech Challenge was the sign of that badass, stylish dude that wouldn't take no for an answer.  But he played tennis, which kinda made him a nerd, but like a really scary, unpredictable nerd.  That was me in the 1990s.  Prescription sunglasses.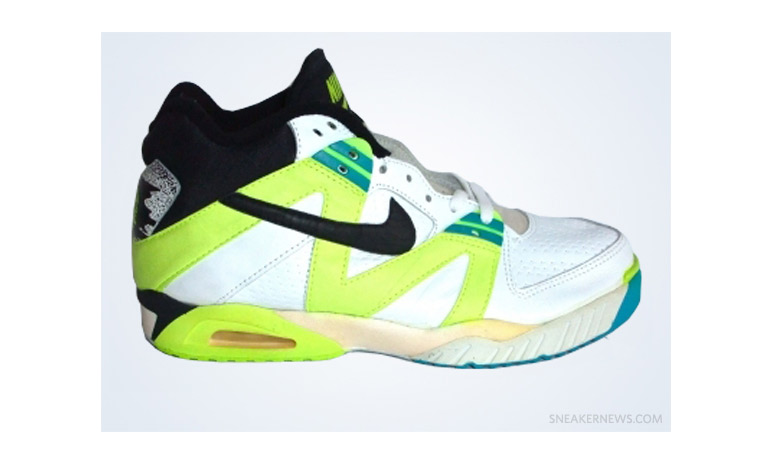 Michael Chang was that other party animal tennis dude.  No he wasn't.  He was a nice Chinese churchboy whose dragon mom probably handed him a tennis racket and a violin and expected him to play both at once (you have two arms!)  Does anyone really remember Chang's tennis legacy?  Probably not, but his signature Reebok Pumps will live on forever.  The big deal about these was that the Pump was the same yellow fuzzy material as a tennis ball!  Sooooooo cute.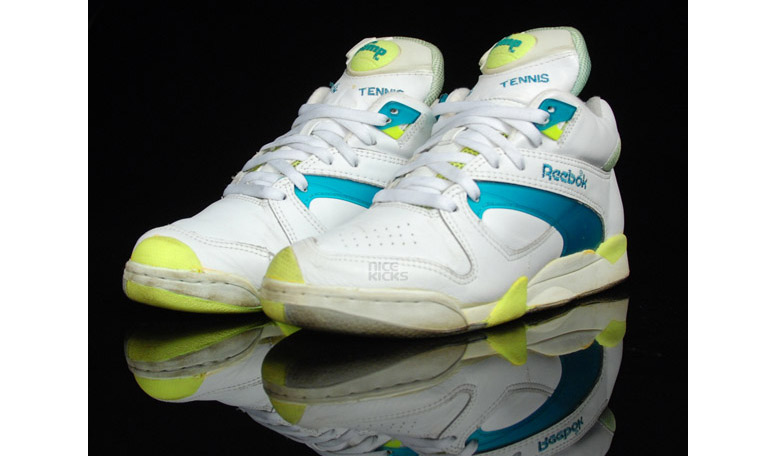 My favorite Pumps of all time are the AXT Cross-Trainers.  I guess Reebok is finally re-releasing them (if they haven't already), but I've been waiting forever to see these revived. Up until a couple years ago, it was near impossible to find a photograph of these anywhere online, so I would just draw sketches of them on napkins in heated bar arguments about the 10 best sneakers of all time.
I think what it was, was that all the Pumps of the era were these cumbersome anti-gravity moon-boots, but these mids were toned down and wearable.  And the color combo was the clincher.  I just learned that the "A" in AXT stands for Aerobics, which doesn't really change my mind about how awesome these sneakers were (but they do make me question other things about myself).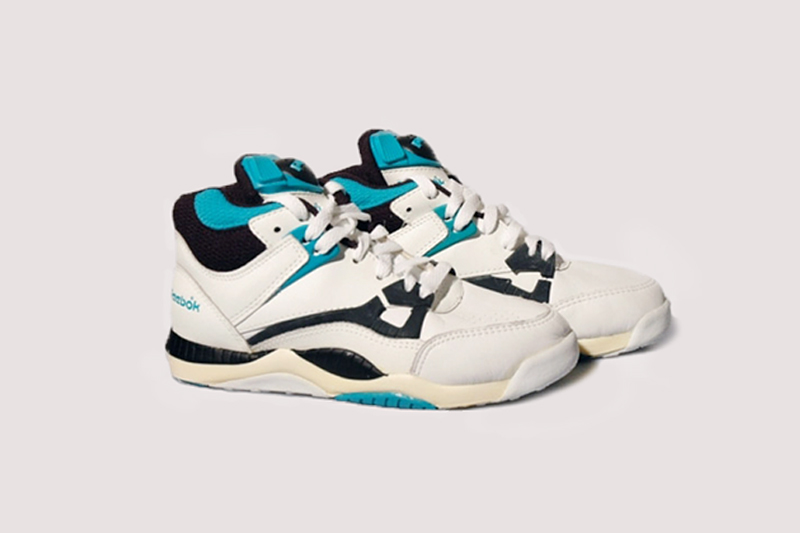 The Etnies SLB 23s may be the greatest skate shoe of all time, and I can say that even considering I got really mad at Sal Barbier a few years ago over a personal matter, and when I saw him at Agenda a few seasons back, he said, "Hey, you still mad at me?" And I was like, "Umm, that whole 'creating the SLB 23' thing kinda negates anything I could ever get mad at you for."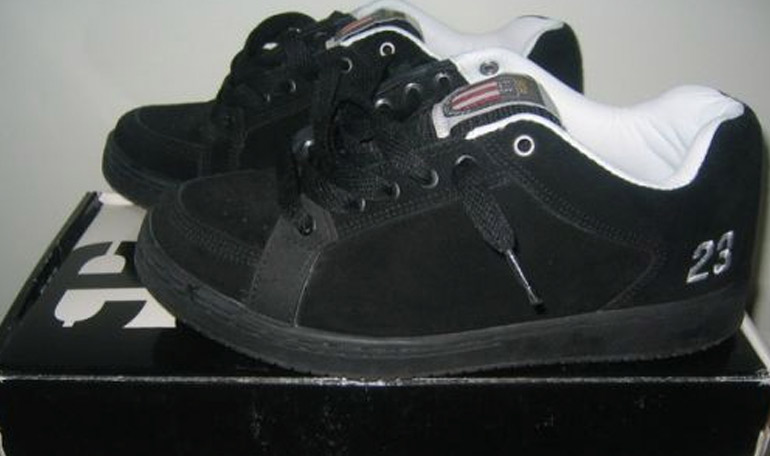 I've never been mad at Muska, and I was never mad at the 901s.  There were a lot of horrible skate-shoe embarassments at the turn of the millenium.  Some of them looked like skateboarders had gotten their feet stuck in marshmallows, or their feet were having an allergic reaction, or they were baking bread in there.  You know which ones I'm talking about.
But then there was the 901, which was Circa's flag in the ground.  In 2014, the design still holds up.  Tech, practical, and that trademark weed stash-pocket, almost big enough to fit a boombox.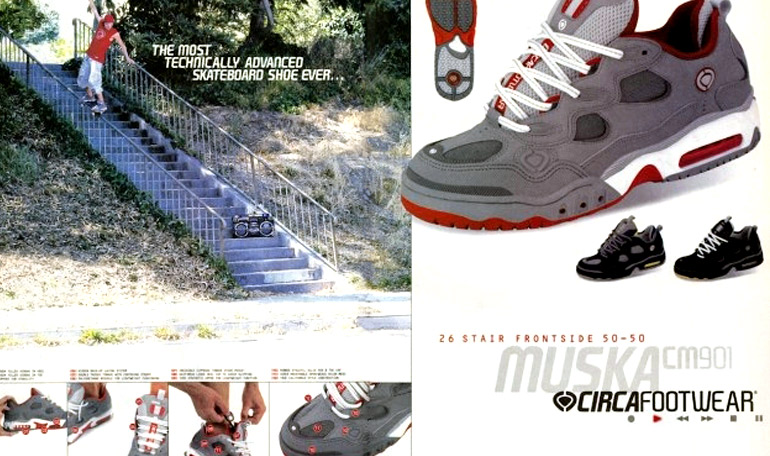 I couldn't make a sneakers list without including the Dunk.  And I love Dunks.  More than the AF1, even more than the Jordan 1.  Personally speaking, the Dunk is the best designed sneaker, aesthetically, practically, and comfort-wise.  The Dunk SB was the catalyst for Nike's skateboarding takeover and its synergy with sneaker/streetwear culture.  A lot of money, culture, and industry was built on these soles.  My favorite Dunk SBs were the first Forbes.  Runners-up would be the Tiffanys, Lodens, Ice Crystals, Stussy Maples, and the Undefeated Splatters.  But of all of those, I still want the Forbes Dunks, and would still wear them today.  My birthday is March 27th.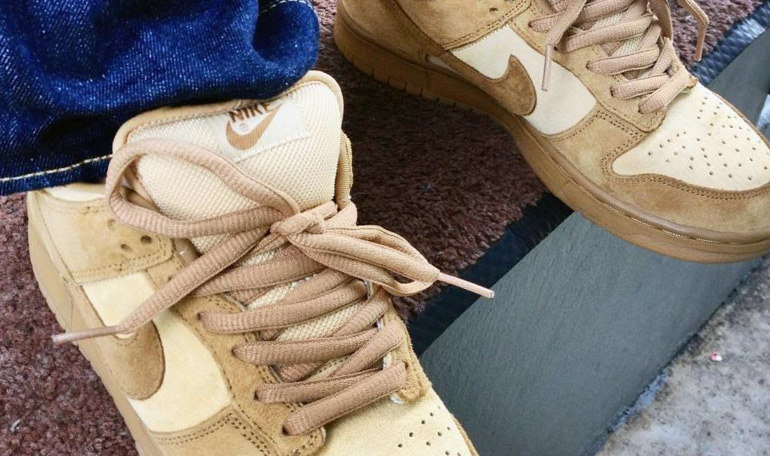 This is off the wall and not even most skate nerds would agree, but the NTS2s were some of the best skateboarding shoes ever.  I loved these sneakers and I didn't even have a legitimate pair.  I found my size in some Korean back-alley while visiting family in Seoul, and they were a military-olive color that I never saw advertised or sold anywhere back in the States.  Since Airwalks were produced in South Korea, I figured they were some factory rejects or black-market goods that flew under the radar. The $16 price tag also tipped me off.  I wore those shoes until the rubber toe-cap shredded off, the laces busted, and a gash opened up in the heel.  One of my favorite aspects of the NTS2 were the design offerings – monochromatic, weirdo-color suede uppers with black bottoms across all SKUs.  Beautiful.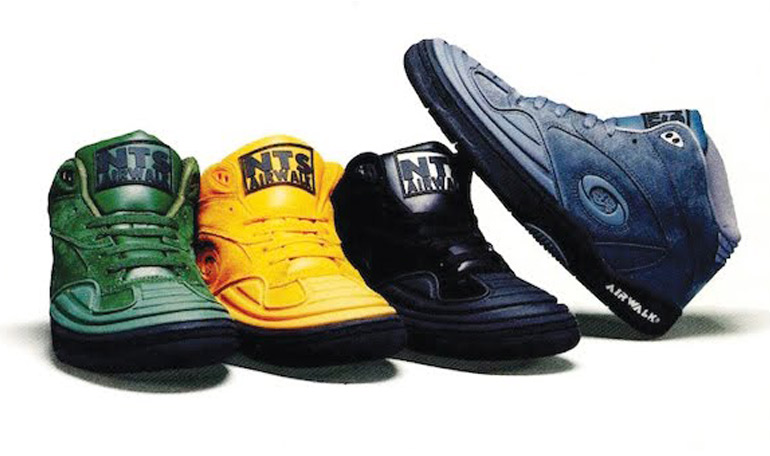 The best sneaker ever.  The fourth Nike Air Jordan.  Depending on the day and how I ate my eggs that morning, I'll see-saw between the white cements and the black IVs as the better of the color-ups.  I dunno, man.  It's unexplainable.  I can't make sense of the design choices – they're just so unexpected and irrational.  But the lines flow together, the panels speak to another, and the textures vibe against each other, to make the coolest shoe of all time.  They go great with camo shorts, with skinny pants, a dress, or tuxedo pants.  I can go on, but I'm preaching to the choir.  I don't need to convince you of this one.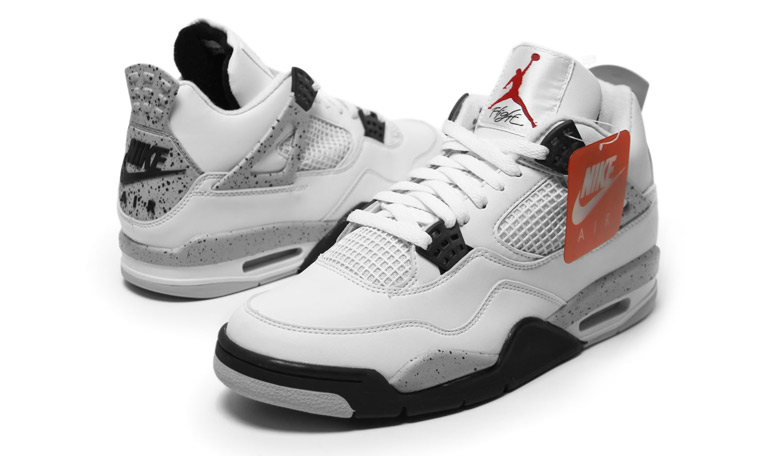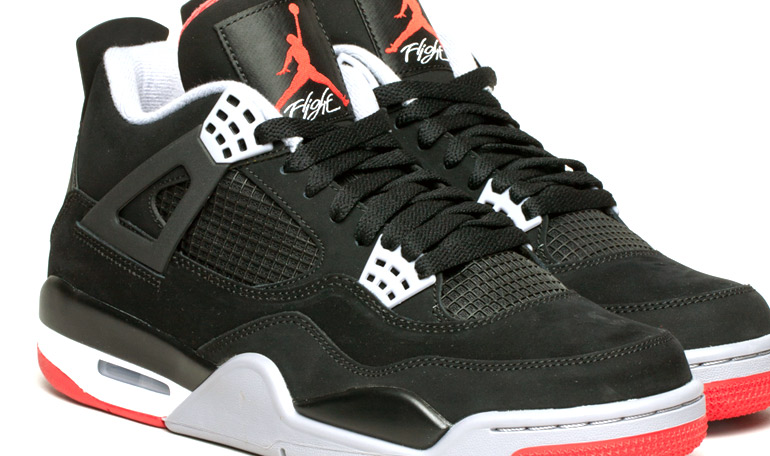 About a decade ago, I came home one afternoon to my apartment to see I'd been burglarized.  I tore through my crib, taking stock of my belongings.  My computer and television were in place, even all my camera equipment.  It took me a moment to realize that the only thing missing was MY ENTIRE SNEAKER COLLECTION.  Gone were my Supreme Deltas, Michigan Dunks, McFetridge Vandals, original Huaraches, DQM bacons…  I was infuriated, but just for a good 18 seconds before I collected myself and thought, "Wow, I'm getting really mad over some shoes."  How was I even gonna explain that to the cops?  "Sir, you don't understand, these were priceless Orca Dunks. They got that name because they're black and white, like a killer whale.  Yes sir, they look like Shamu, but on my feet.  They really meant a lot to me."
Who cares?  They're just shoes.
Perhaps not surprisingly, the thieves had left my Chucks.  Guess what I wore for the next 2 years straight?