Jarod (Meguiar's / Gumball3000) and I have been dealing for over 6 years, but never actually met him until this afternoon. Turns out he's a big white guy and not the beautiful Mexican bombshell I had been fantasizing about all this time. Shucks.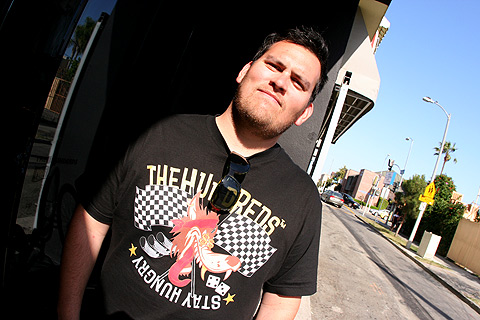 Back in middle school, one of my favorite tees was ash heather t-shirt with an oversized orange octopus graphic on it. On the back was the word "Sjobeck," (with a line over the O) which fast became one of my favorite streetwear brands during the early '90s. But as fast as Sjobeck rose during the early streetwear era, the brand disappeared just as quickly, when owner Eric Sjobeck discovered that he had only a few months to live.
That is, until today. While Jarod and I were discussing thermonuclear physics, this lime-green truck literally pulled up in front of the shop, and Michael here called out, "Just wanted to let you know that Sjobeck is back!"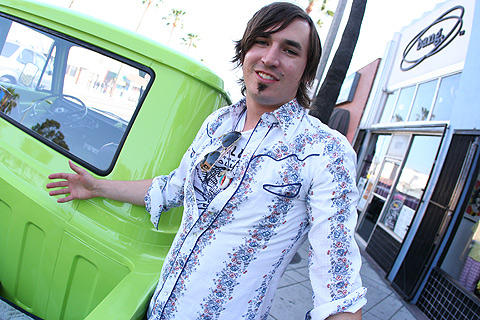 And it certainly is. Recalling on the same men's workwear aesthetic that shaped the brand's foundation, Sjobeck is making a noisy comeback with an entire range of man apparel. Premium denim, hunting jackets, Sjobeck signature pocket and hem stitching, and even an entire library of original graphics that are ripe for picking. And yes, the original crew (including Eric who is very much alive) is back behind the wheel. Michael was kind enough to give us a look at the line, and you can check out the exclusive photos on The Feed.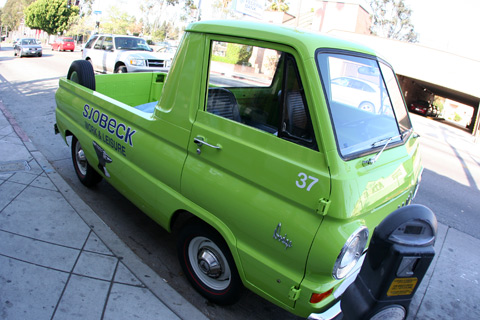 Sjobeck is beginning very strategic distribution, so check back here for updates on the comeback kids. You can also check out their website (which will be re-vamped soon) here.
by bobbyhundreds