We have these photographs up around our office that chronicle The Hundreds' story.. 6 years' worth. This is one of the photographs hanging in Ben's office below. It's a shot I took outside our first real office years ago. What, 4 years ago? We were working late that night, and it was just me and him really. I was probably piecing t-shirt graphics together in Photoshop while Ben was locking up Sales calls. Scotty was shipping out orders for us, and I'm not sure if Alex had started interning yet. You may recognize the frontage because I'm standing on Rosewood Ave., and that's the same space that our first flagship store is now located here in LA.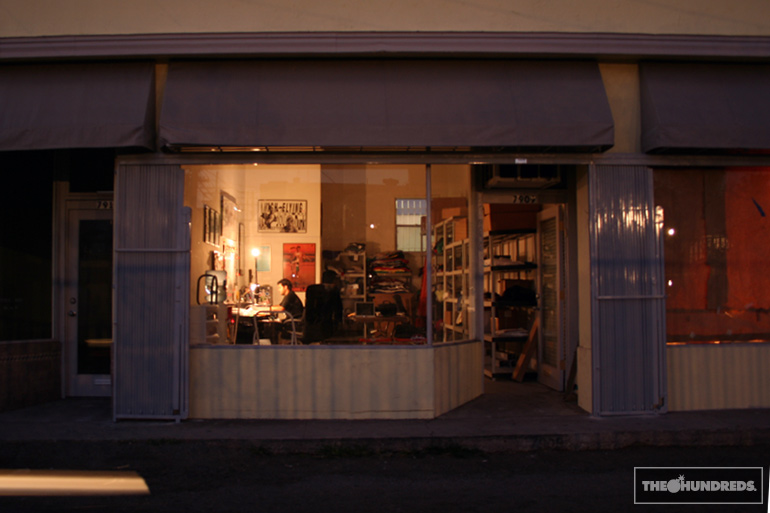 Over the years, we've gone through our ebbs and tides. Dealing with successes and even more failures. Sometimes we've called trends, other times we were the last to know. We started out this game acknowledging the toils of the forefathers, and struggling alongside 25-30 other new independent streetwear brands who were all chasing after a dream. People ask us all the time how to succeed with a clothing brand. I don't know if we're considered "successful," but what I do know is it's not easy. It takes hard work, and a little bit of luck also.
I read 2 interesting stories today from friends of ours who have traversed their own tortuous journey through streetwear brand-building. First is Yoshi and Chad at Foreign Family, a label based here in LA who we've had the pleasure of working alongside over the years. On their blog today, Yoshi drew up a funny, but pertinent, illustration depicting their struggles as a small company, and what they've learned in the process.
Second is Rick Klotz, who you see me talk about from time to time here on The Hundreds blog. Rick is one of a handful of iconic godfathers in streetwear, and he had a front-page story in the Los Angeles Downtown News Tuesday, chronicling the rise, fall, and subsequent climb of his brand Freshjive. It's a great read, and if you're interested in building your own independent brand, there is much to be learned from Freshjive's story.
Either way, I would never discourage anyone from pursuing an apparel brand. Just remember to maintain your PASSION for the project, instead of following any of the other distractions that can ultimately lead you astray. So that even if it fails in the world's eyes, the fulfillment and edification you personally achieved through the experience was more rewarding than any payout or glory.
by bobbyhundreds