Spent the afternoon with our good man Mr. Cupcakes, first name Johnny.. Who just so happens to be on the West Coast to play in On Broken Wings' final performance at the Earth Crisis reunion show this weekend.
Johnny Cupcakes and I have kept in touch since the beginning of both of our brands, and it still trips me out on the phenomenon he's formulated entirely around cupcakes and tongue-in-cheek graphic tees. His brand is almost exclusively sold online (and in his physical store), but has garnered a massive following throughout the world (just check his Myspace page).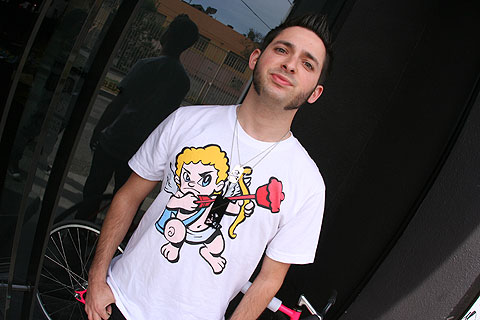 I had the same idea years ago, except it was reversed and based on delicious cupcakes themed around t-shirts. With bread made of ringspun cotton and silkscreen paint for frosting…except it never got off the ground because the idea really really sucked. A lot.
by bobbyhundreds