What you're looking at here is The Hundreds Global. Worldwide. Telemundo. These are our distributors and representatives from across the domestic United States, as well as the individuals repping The Hundreds in 17 countries around the world. This is our family, this is our crew, this is The Hundreds.
After an entire day (the first of 3) of our Fall 2012 International Sales meeting, we all headed over to the bar and then Wurstkuche to grab some hot dogs. And I ended up in a conversation with Alex Corporan, The Hundreds' East Coast Marketing point-person. We talked over some of the line we'd gone over today, but what we were both acknowledging was our respective roots in the hardcore scene. Alex, having lived the New York side of it, and me growing up in the '90s Southern California circle. Alex and I shared the understanding that a great strength behind The Hundreds' name is that we're a solid front, we are that unified crew of individuals who embody the brand ideology – much like hardcore, as a scene, culture, and movement, thrived off the united youth behind it.
We can't stress it enough. People, not product. It's one of our go-to mottos at The Hundreds. Although I wholeheartedly believe that we have the best Streetwear brand out there, that we design the best apparel, the coolest stores and website, blah blah.. The Hundreds still is not solely about that. When all is said and done, The Hundreds is about the people. It's about the individuals who pour their soul into this brand (the staff at our stores, the designers upstairs, the guys in this room), those that inspire us and push us to strive for better, and it's about the people who support us. Yes, this is our crew — but you are a part of our family as well – you, who every morning come here and read this blog, or open your drawer and throw on one of our tees, or tie up a pair of our sneakers. Welcome to the family (I'm the creepy uncle).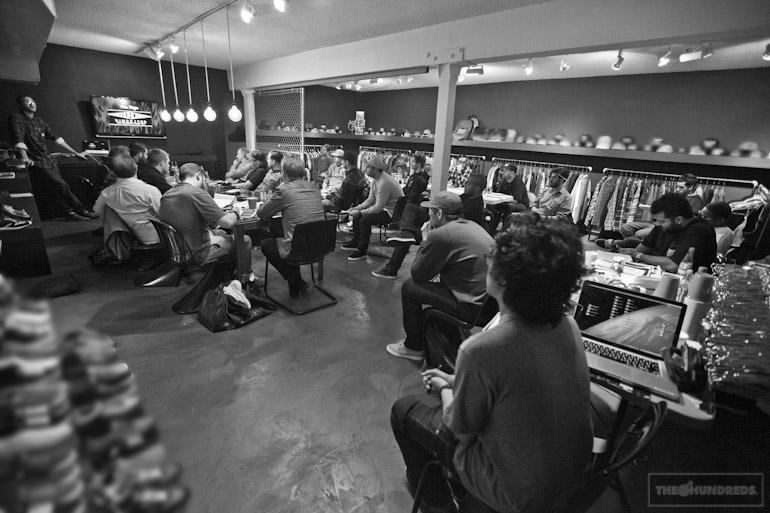 by bobbyhundreds