Had the honor of being interviewed for MoCA TV's "The Art of Punk" film series, by Bryan Ray Turcotte (author of "Fucked Up + Photocopied") and Bo Bushnell. Not only did I get to touch on the influence of Suicidal Tendencies throughout my life's work, but the importance that punk played in my personhood. Bryan asked how – and if – I sill stick to my moral compass – As I get older, can I still follow the same DIY punk ethic? My answer to that was that I never forget, but I am ever-evolving: "Stay true, but don't stay put."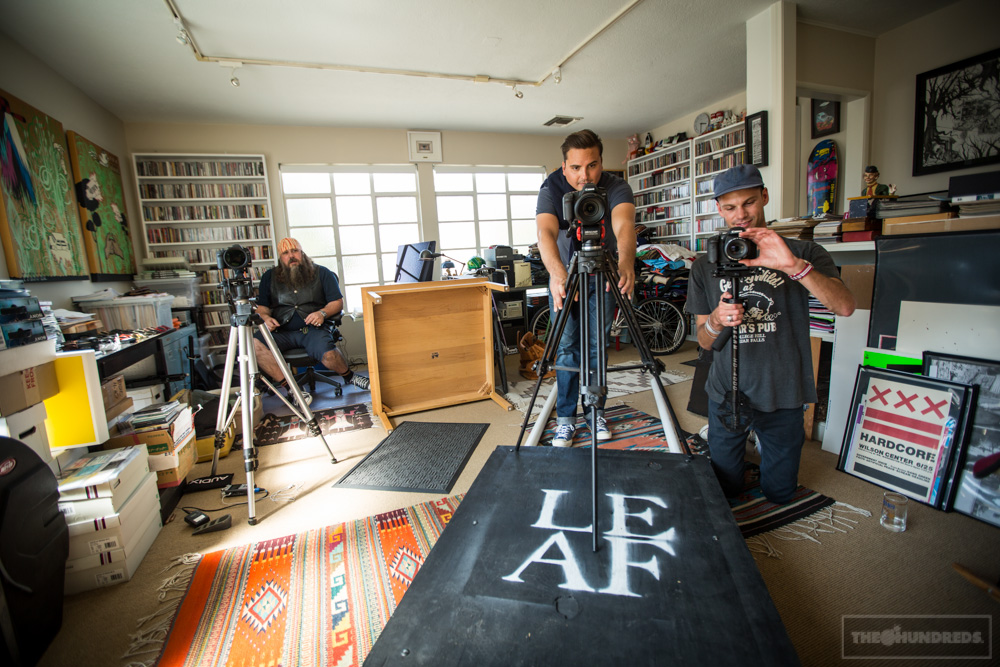 Bryan's studio and workspace in itself is a nest of relics and rarities from punk's past. It's like walking through a music nerd's wet dream. Wall to wall collectables, originals, and one-of-a-kind archives that are fit for a museum, not stacked in heaps on an office floor. But Bryan's opposed to burying most of this treasure behind glass frames. They should be out in the open to touch and experience and breathe in their habitat, like this 1-off drawing Ric Clayton illustrated of Bryan: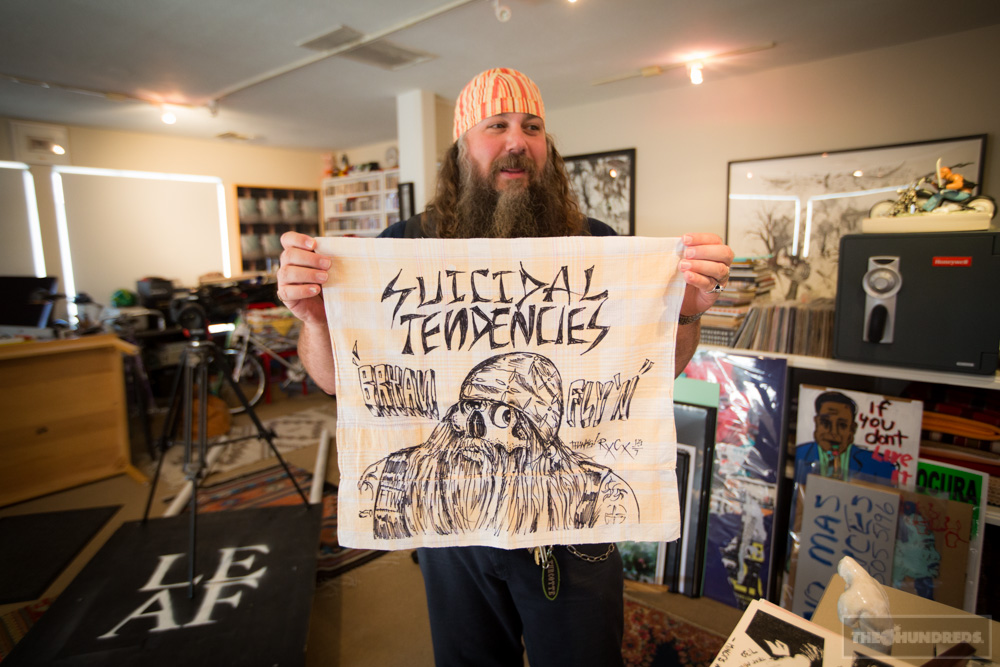 Speaking of Ric's handiwork, here are a couple ST masterpieces that bore his hand: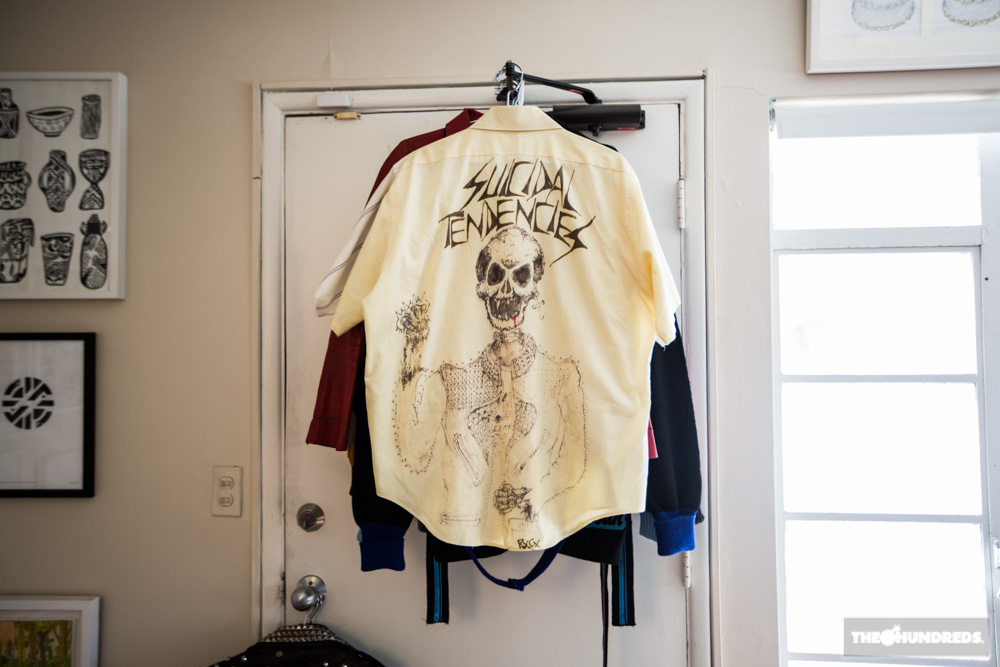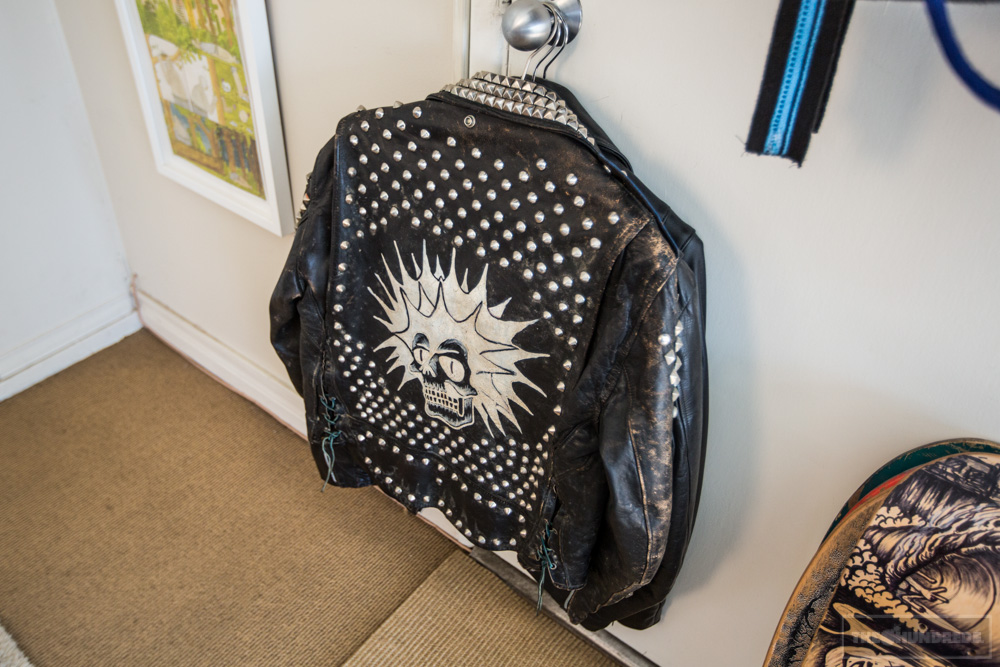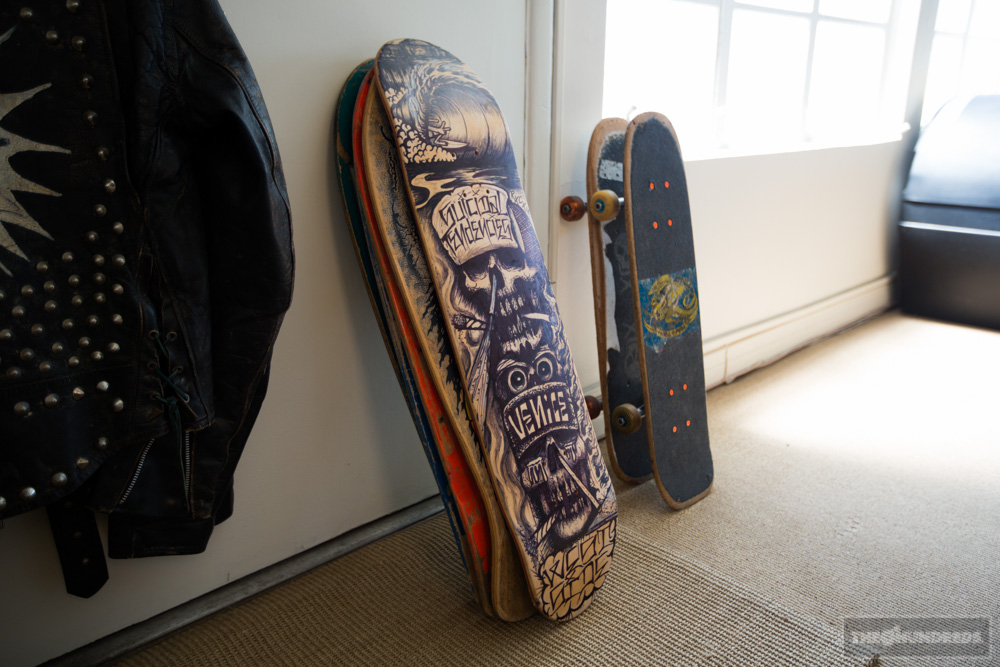 Darby(Germs) wore this!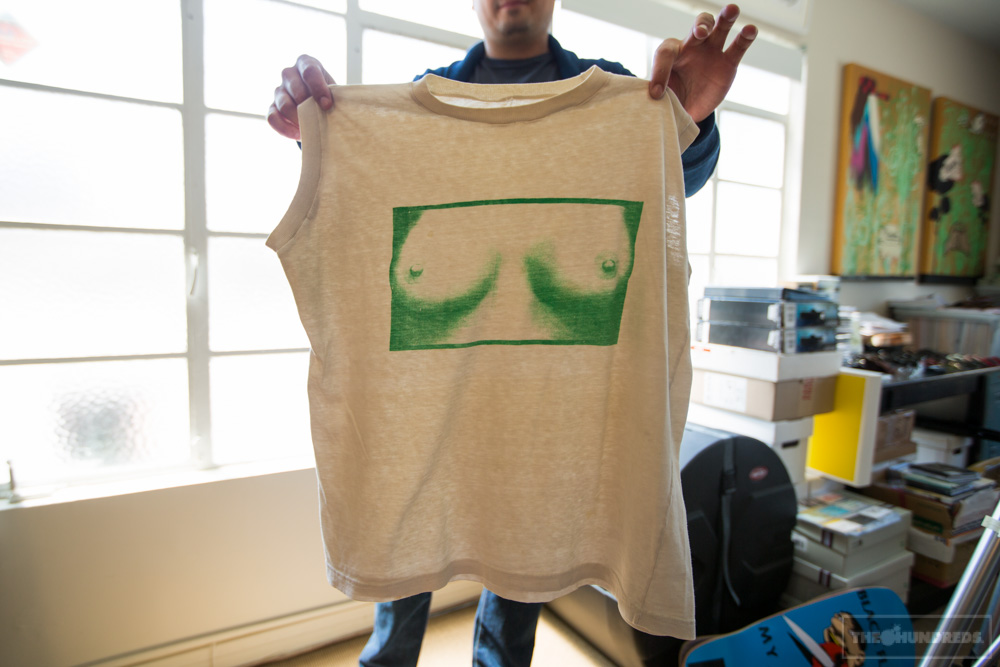 and Sid(Sex Pistols) wore THIS !!!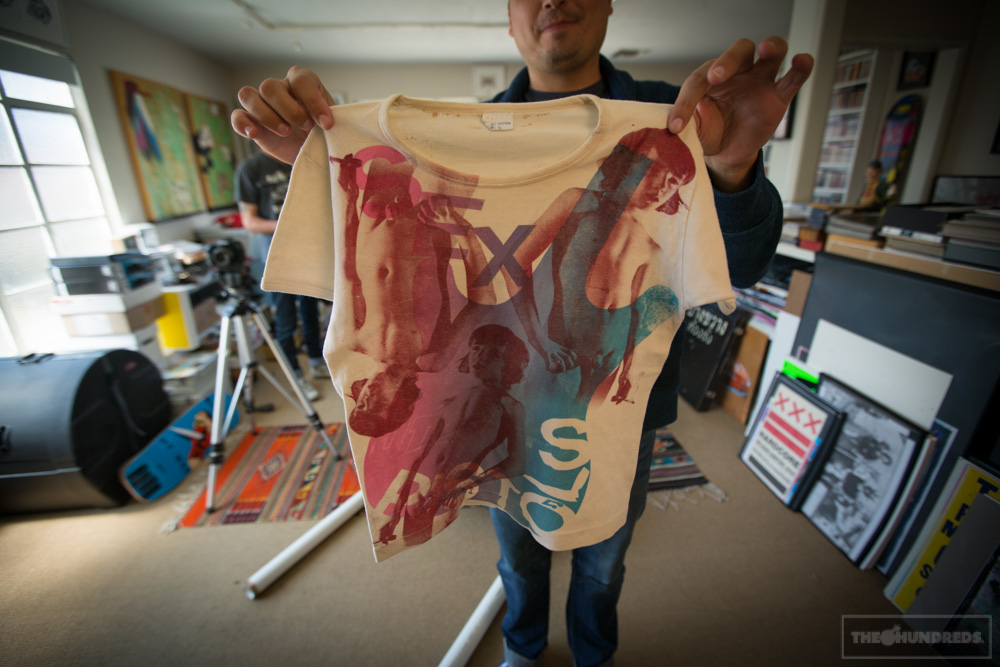 The Extra Smedium tee and pyramid-studded belt that reached barely halfway around my waist are evidence of how petite Sid was. Bryan took it a step further and told me that David Bowie is only 5'2″. Here are some of Sid's personal pins as well: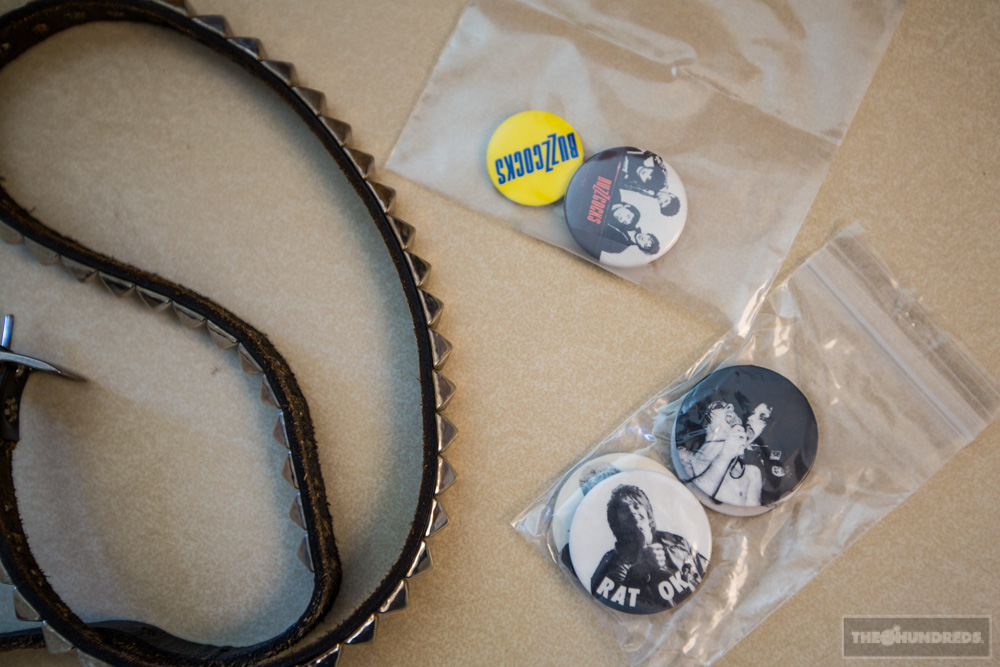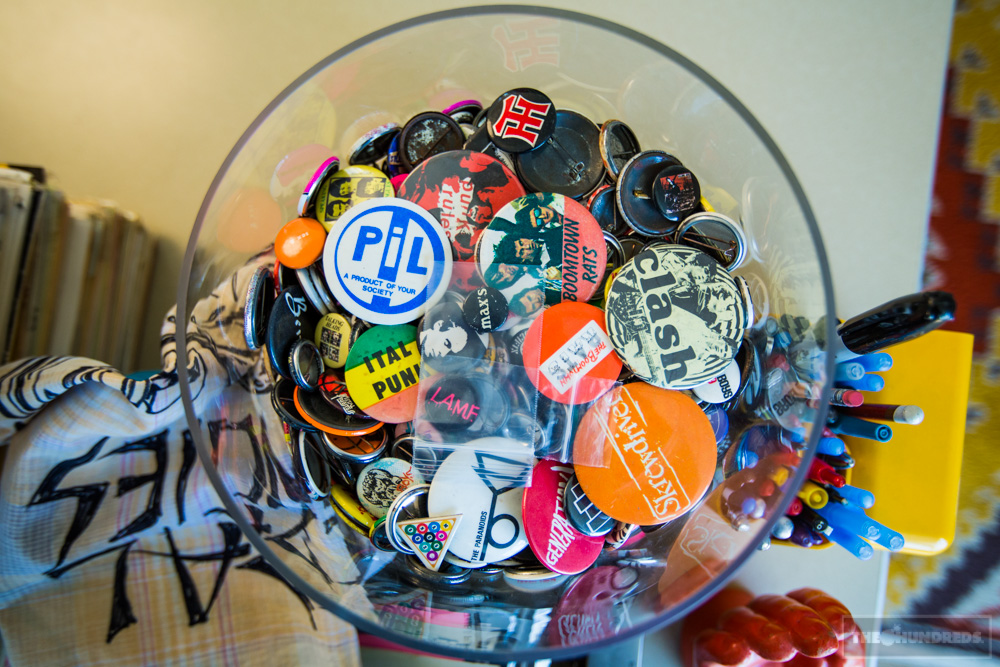 Duuude,Johnny Thunders(New York Dolls) wore THIS!!!!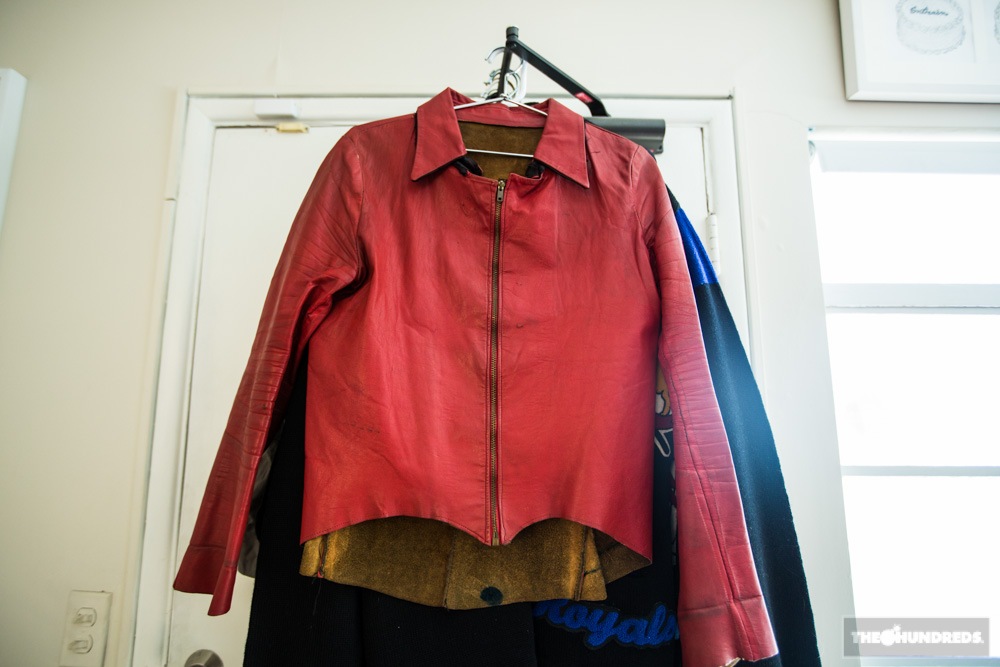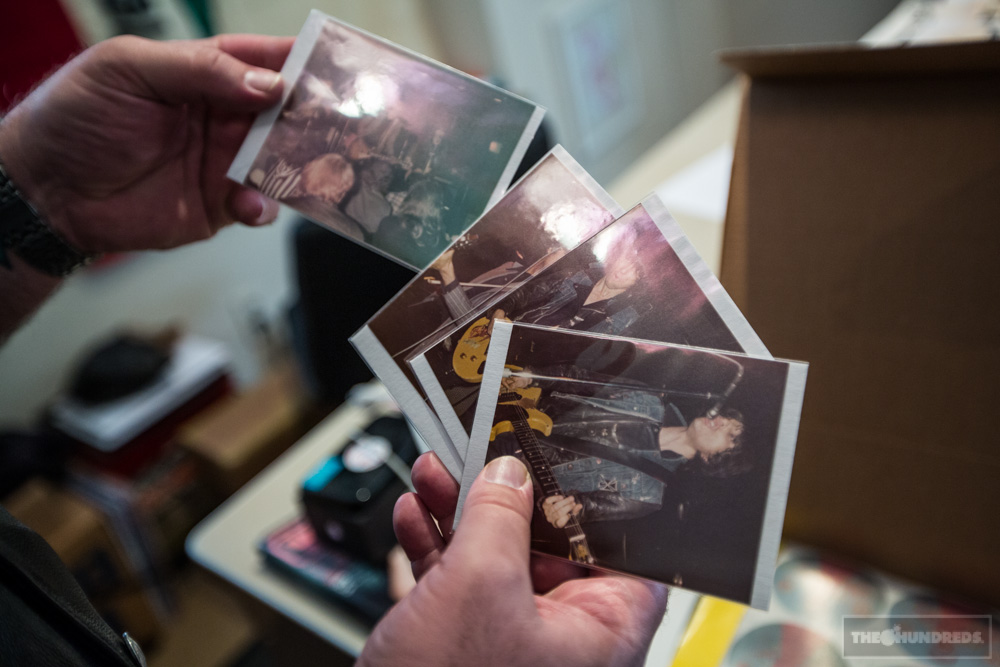 From the cover of Dead Kennedy's "In God we Trust, Inc.":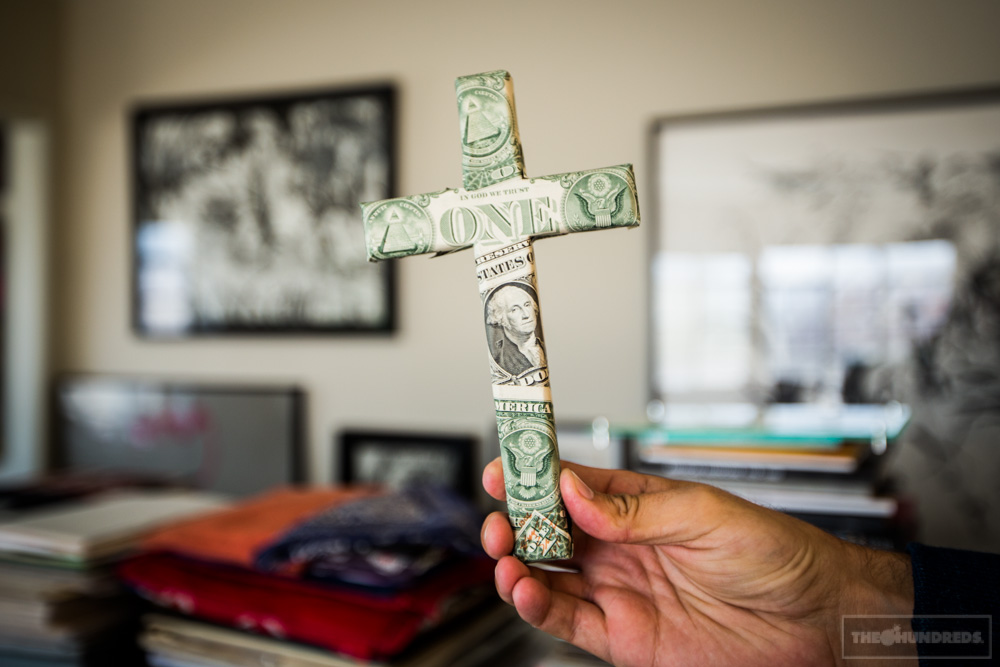 Oh yeah, there's also all sorts of biker paraphernalia sprinkled around the studio: vests, mementos, statues, and other oddities that I don't even want to know how Bryan got a hold of. For example,Sonny Barger's ex-wife had these shirts printed to raise money for him while he was in jail: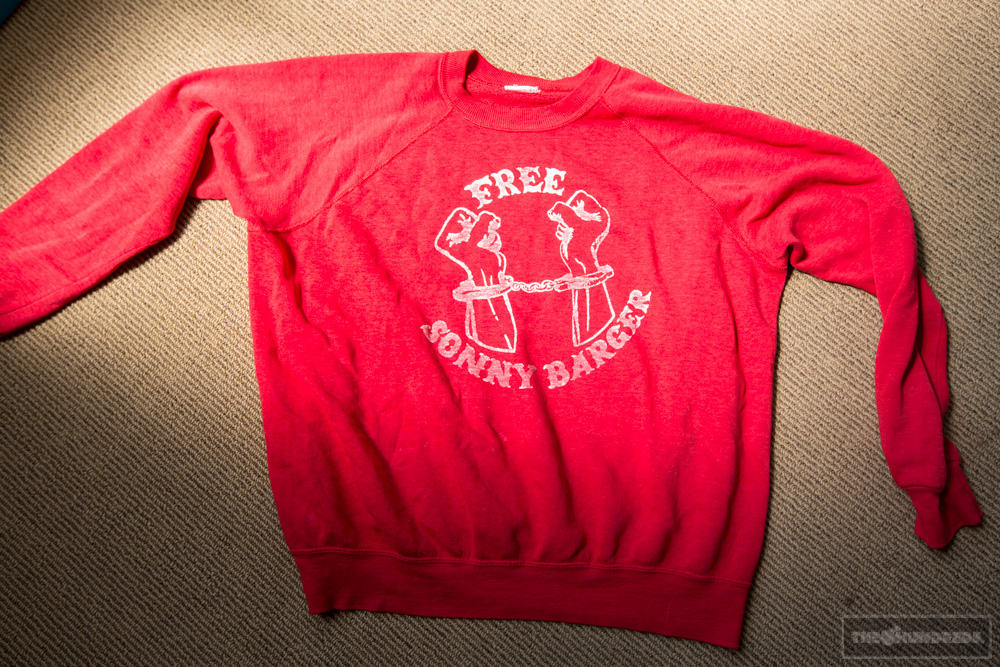 Oh man, maybe my favorite thing in the room. The actual DEVO Energy Dome hat mold!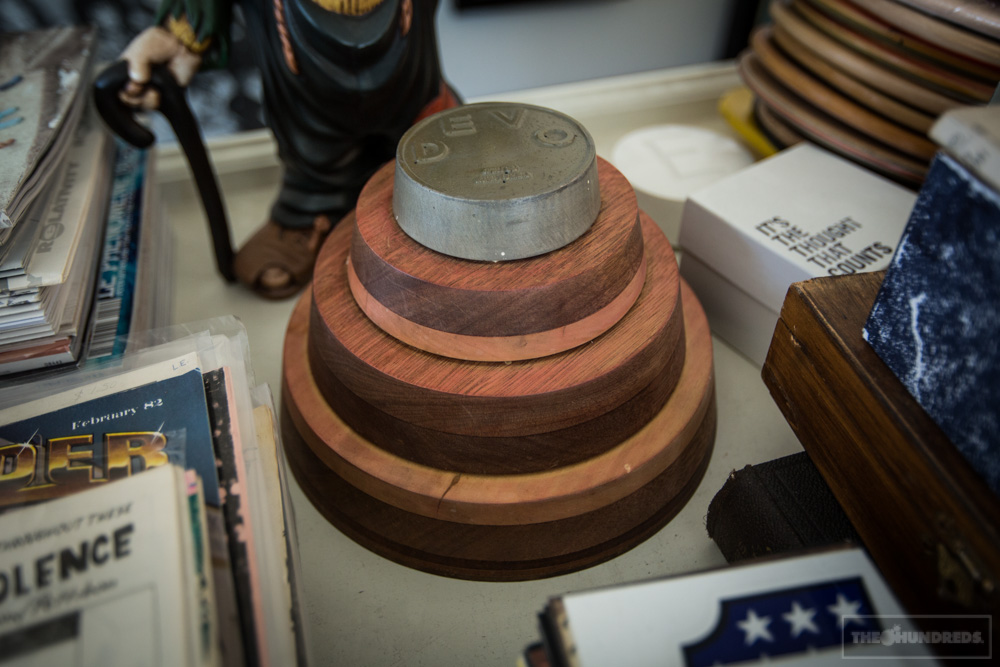 Throughout this MoCA series, Bryan has built so many new friendships with the subjects. Luminaries like Flea, Henry Rollins, Glen E. Friedman, Jello Biafra, and even tattoo artist Scott Campbell, who tattooed the Crass logo on Bryan's arm. Campbell pieced together the gun, homemade-styles, right then and there, and gifted it to Bryan afterwards. Of course, what do you give the man who has everything!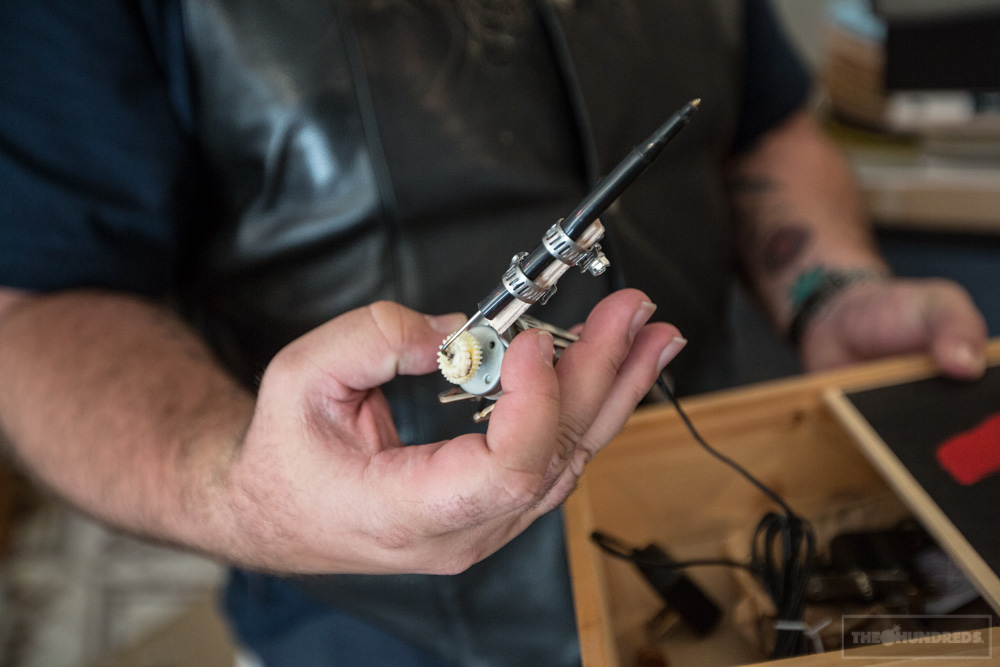 Of course, we're here for the art. I mean, that's what this whole MoCA project is about – the importance that art has played in punk over the years. Check out these original collages for Iron Cross flyers: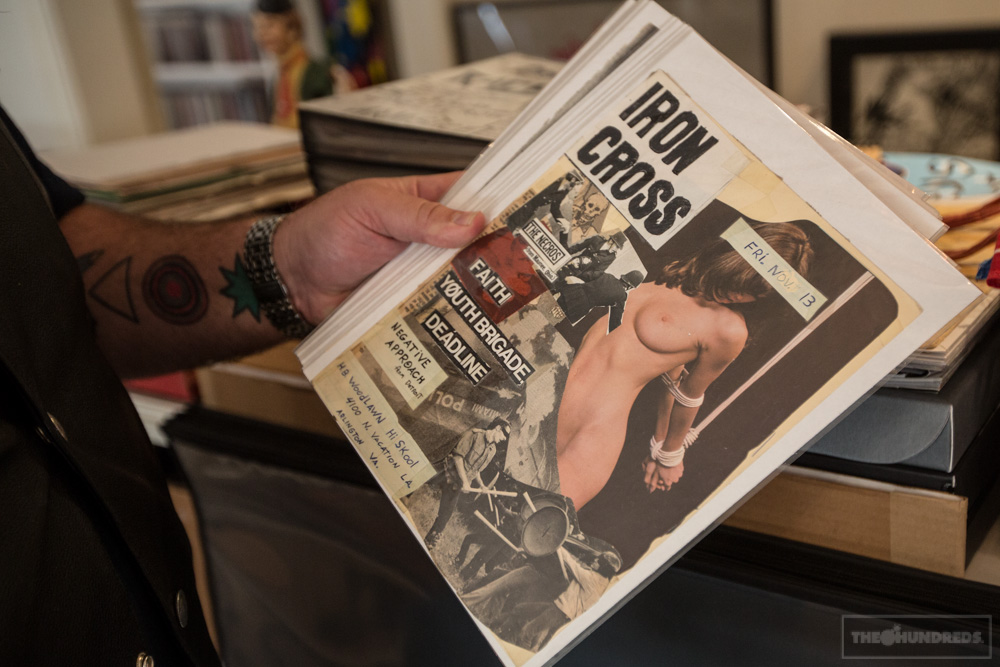 And have you ever seen a collection of original Black Flag / Raymond Pettibon flyers like this? Even Keith Morris and the artist couldn't believe they were originals: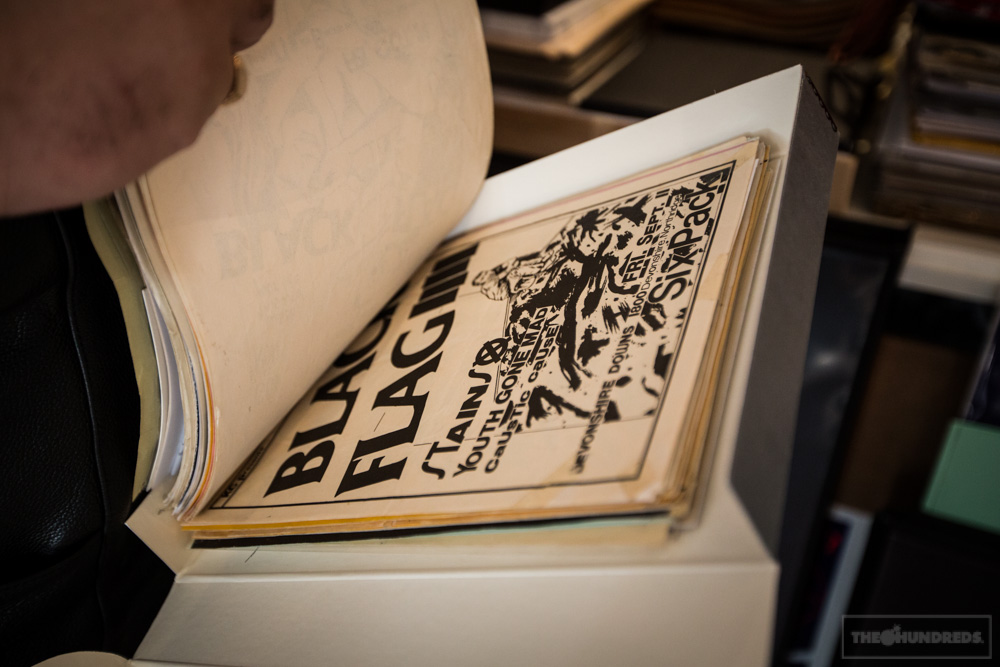 UNCUT: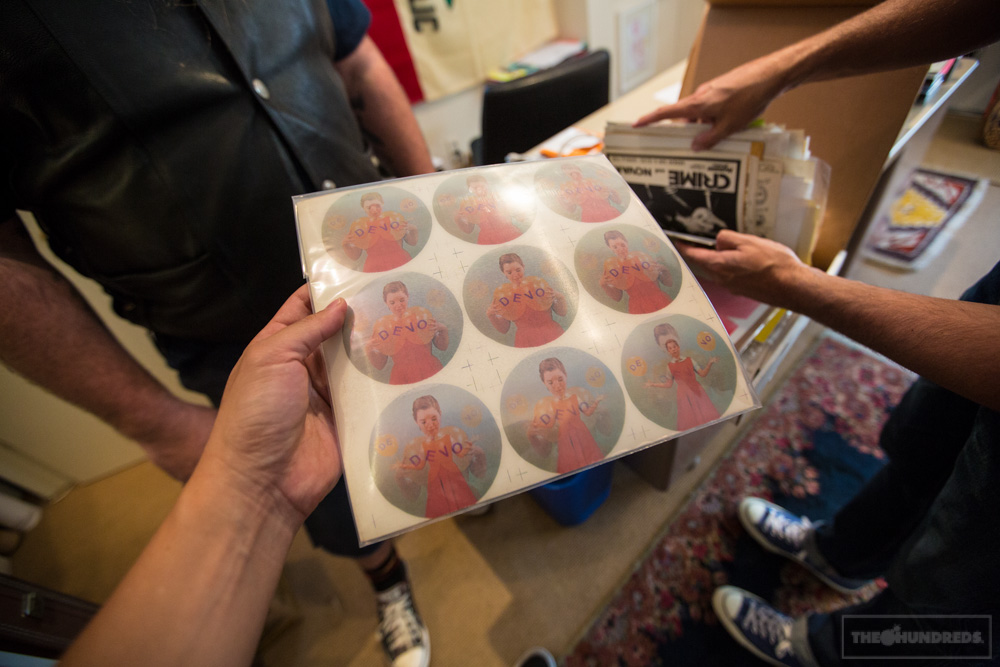 UNCUT: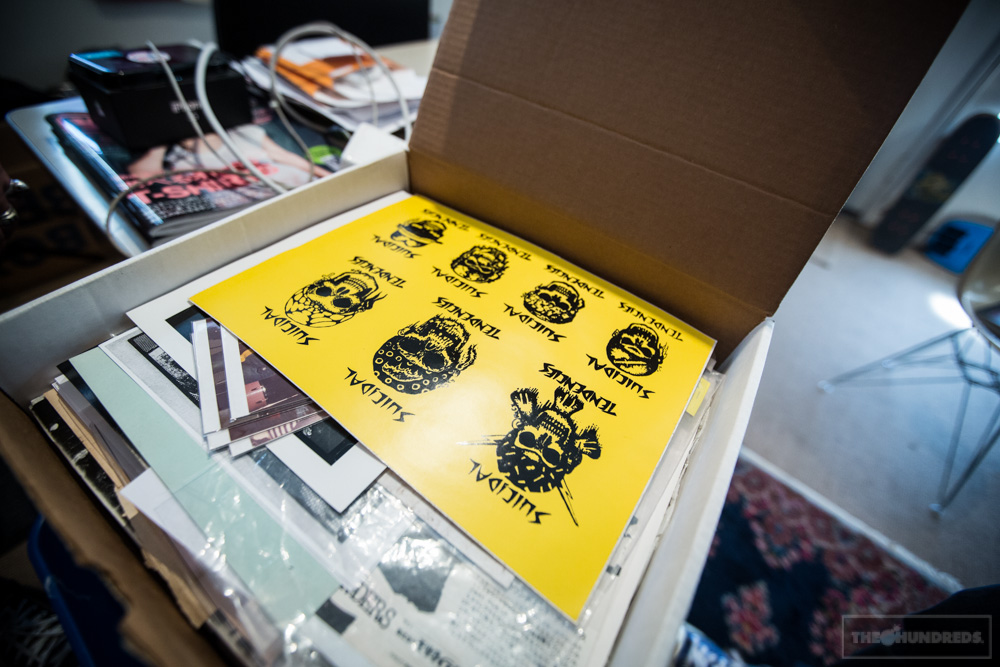 Original. Gangster.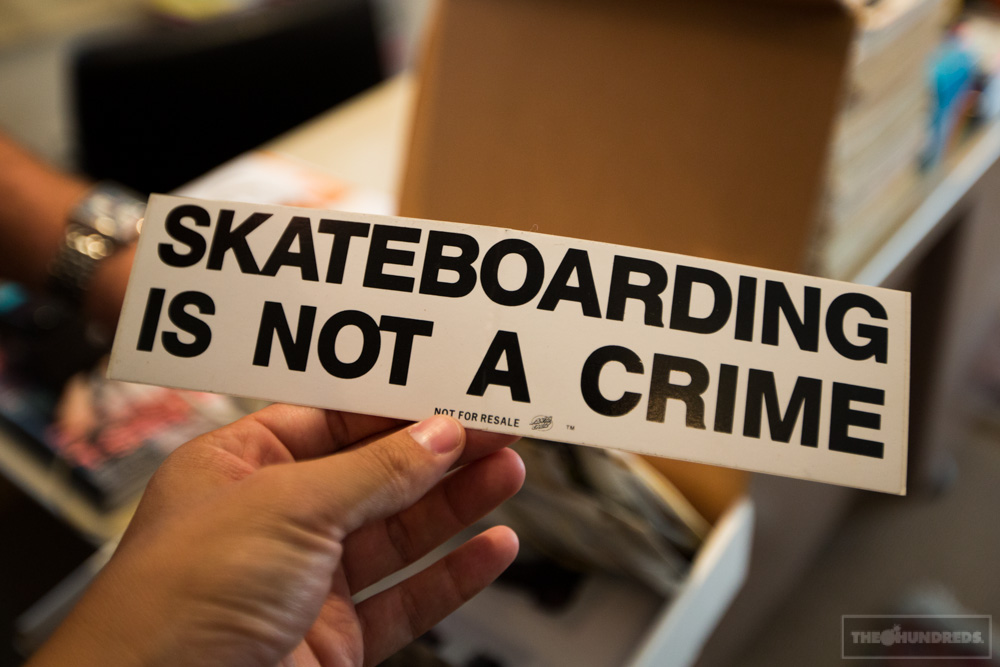 I'm just gonna assume each one of these once sat on the face of a rock n' roll legend.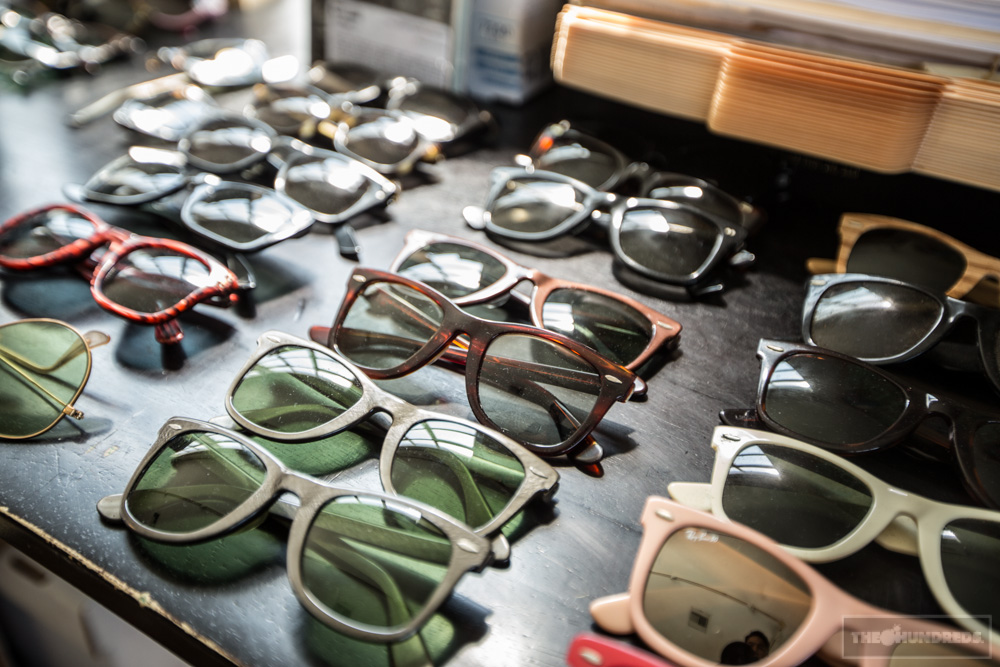 It never ends…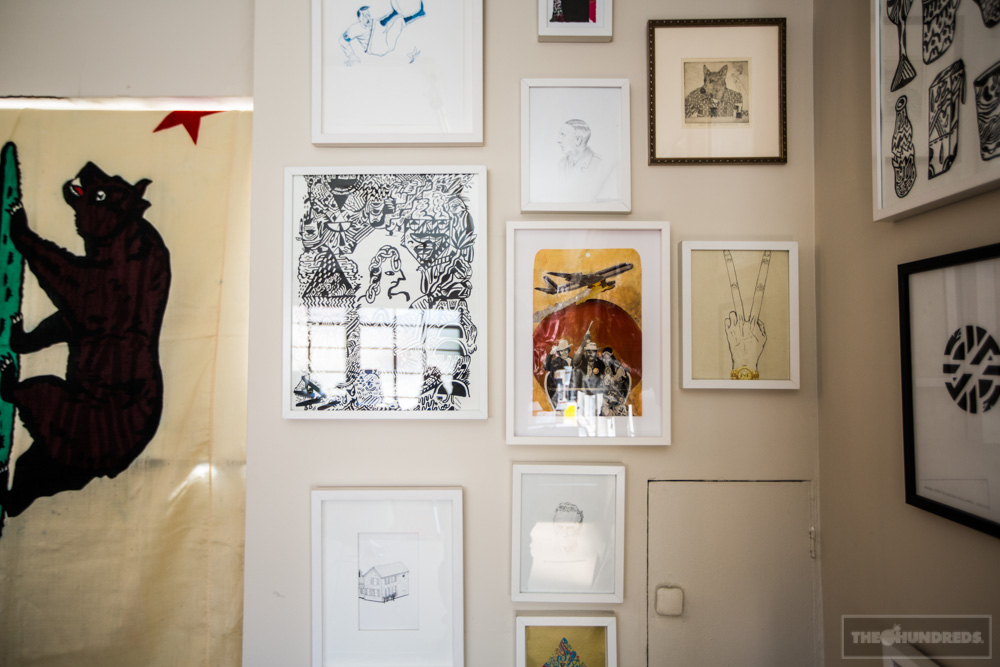 …so we will be back soon. But this time, I'm gonna turn the tables and film it. Punk isn't dead. It's just locked up in Bryan's universe!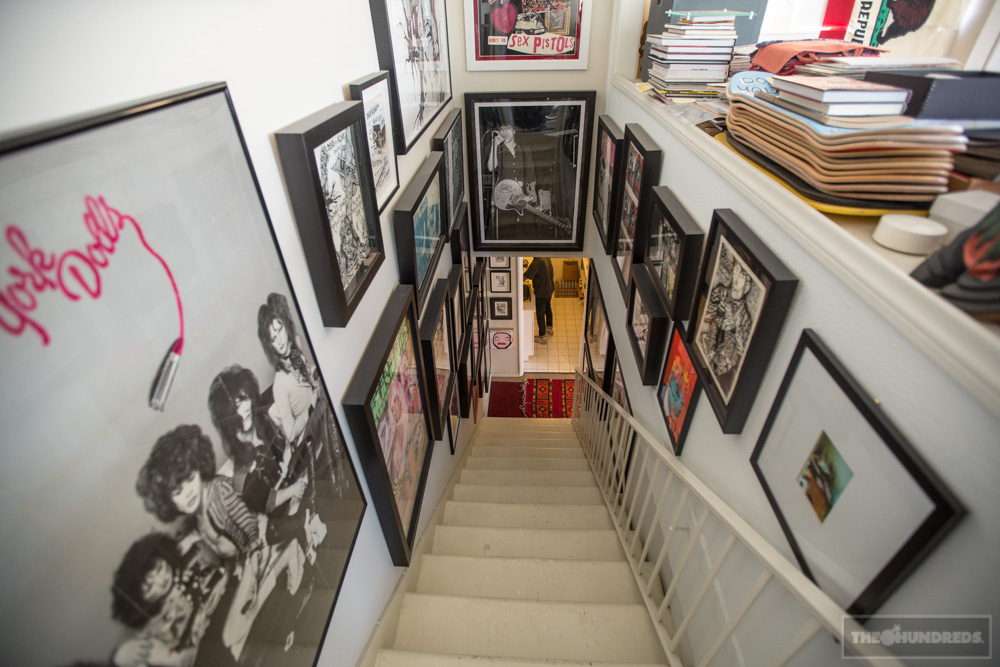 by bobbyhundreds