You've seen it by now and you're probably tired of hearing about it. Banksy's obviously in town here in Los Angeles, riding the wave up to his impending Oscars win for EXIT THROUGH THE GIFT SHOP this Sunday by sprinkling a few of his calling cards around the city. This particular piece sprouted up right down the street from The Hundreds HQ offices on Washington and Compton, employing his traditional b/w stencil art and a crayon substance.
I'm sorry, but can I geek out for a second? Come on, say what you want. Banksy's a scam, a fraud, Banksy's toy, Banksy's played out. Okay, when was the last time any type of artist – let alone, street artist – pulled in this amount of recognition, both underground and above? Just the fact that an individual can draw so much attention and controversy, praise and hate, from art … is impressive and laudatory. He's got you talking, he's got me blogging, the man's doing his job.
Especially in a time when we have convinced ourselves that the path to success mandates self-promotion, public exposure, and gossip-blog facetime. What happened to the days when real celebrities and cultural icons stayed guarded and private, MAINTAINING THE MYSTERY, and fortifying their public image? I loved Michael Jackson because the dude was an amazing singer and dancer and brilliant weirdo, whose lifestyle was so fenced off that it made it just that much more strange and misunderstood and unrelatable. How much would it have sucked if MJ was on Twitter everyday talking about eating a banana in his pajamas? The best part was not knowing.
As with Banksy. It seems that the more Banksy explodes into the mainstream hemisphere, he retracts twice as fervently, more elusive than ever. And the conjectures only grow, the legend looms larger. There's something to be said for that, right? You'd be doing yourself a disservice if you didn't appreciate the fun and childlike wonder of it all. We don't have caped crusading superheroes in real-life but at least we can have a mythic street artist that strikes in the dead of the night, leaving million-dollar paintings on the sides of dilapidated warehouse buildings, and the public awe-stricken and baffled as to his true identity.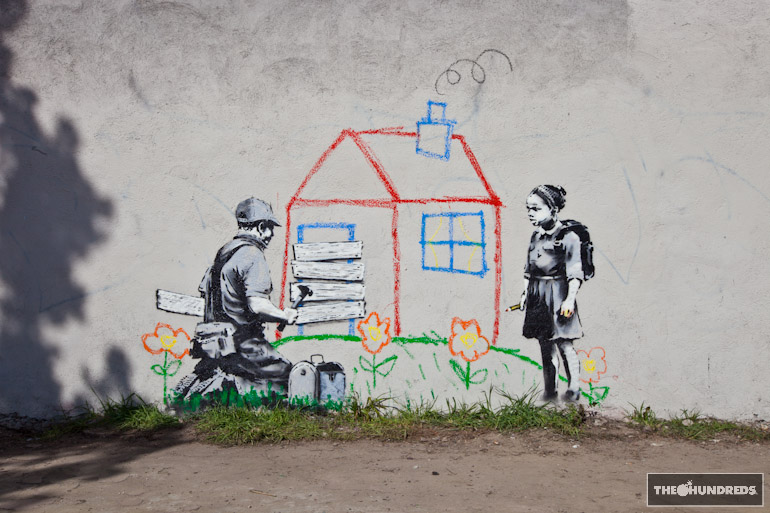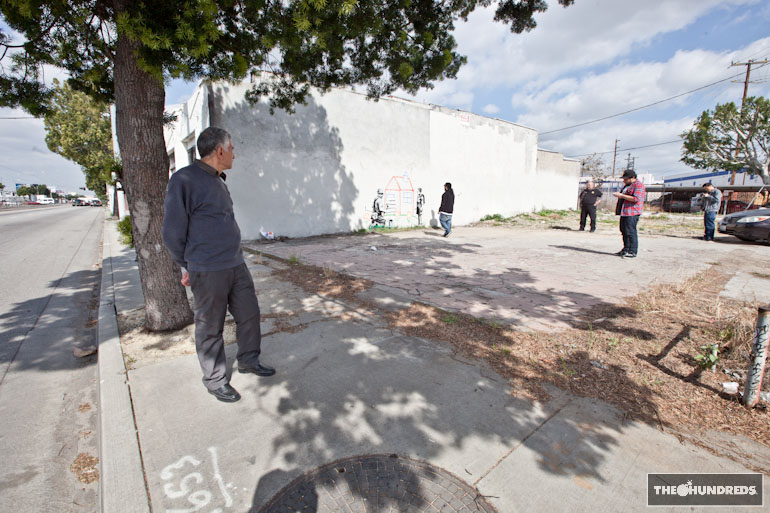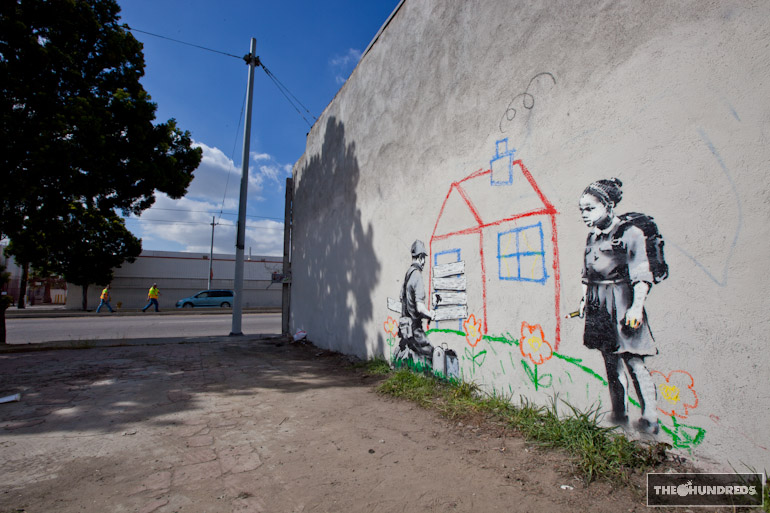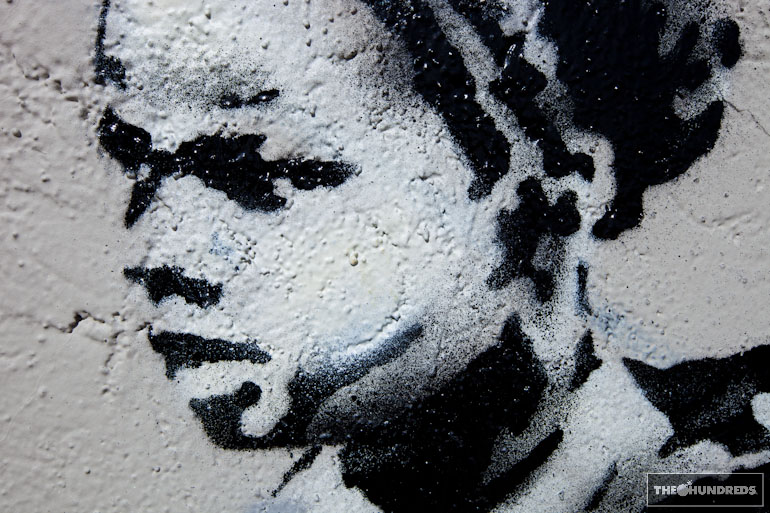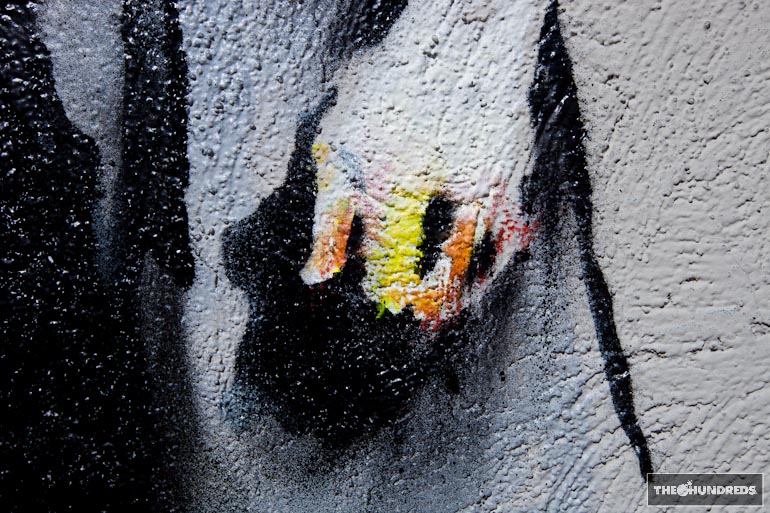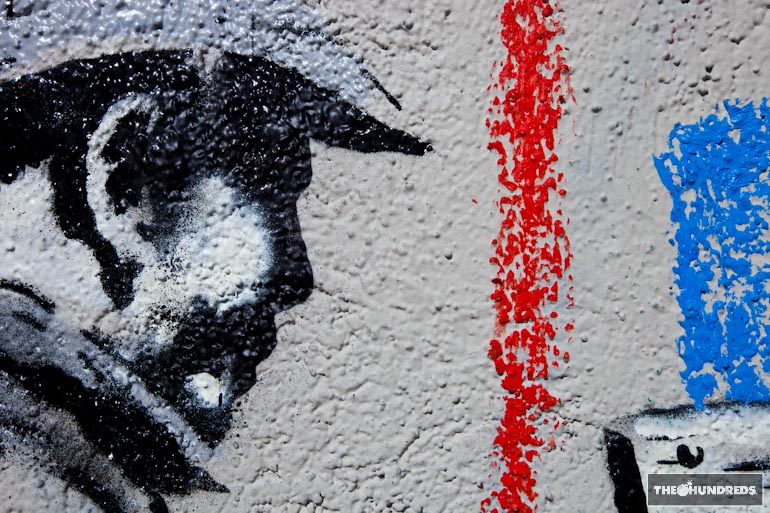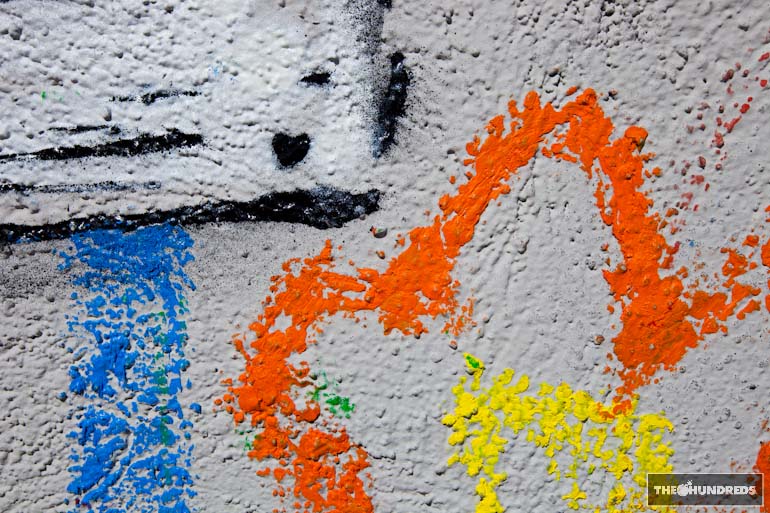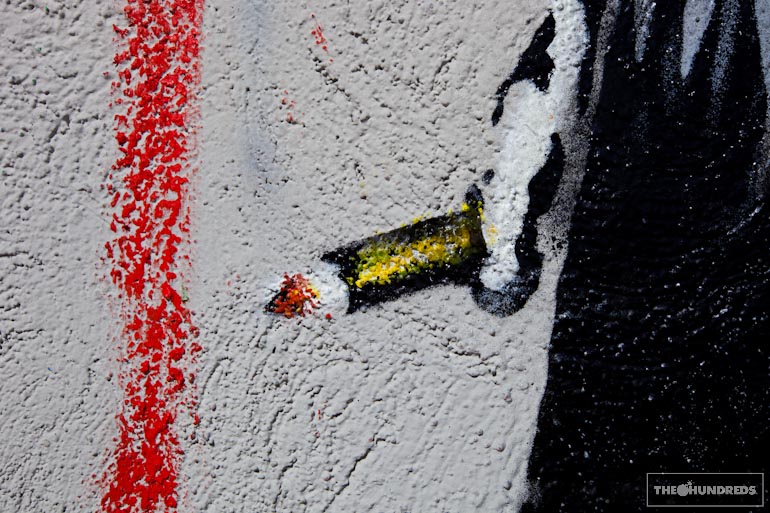 The owner of the building was onsite. He clearly is still dumbfounded and mindblown as to how his week has transpired, because technically, that original Banksy painting is his. I asked him if he understood what was going on, why there were mobs of people flocking to his abandoned parking lot, taking photos of themselves in front of his business that's laid dormant for ages, why he had to hire a 24/7 security guard to make sure fans couldn't get so close as if to prove to themselves that this is a real Banksy painting in their backyard, why Monday morning, he rolled out of bed and suddenly became a high-end art collector…
Through twinkling eyes, and creases that have seen a life's worth of hardships, he smiled, "This is a gift from God."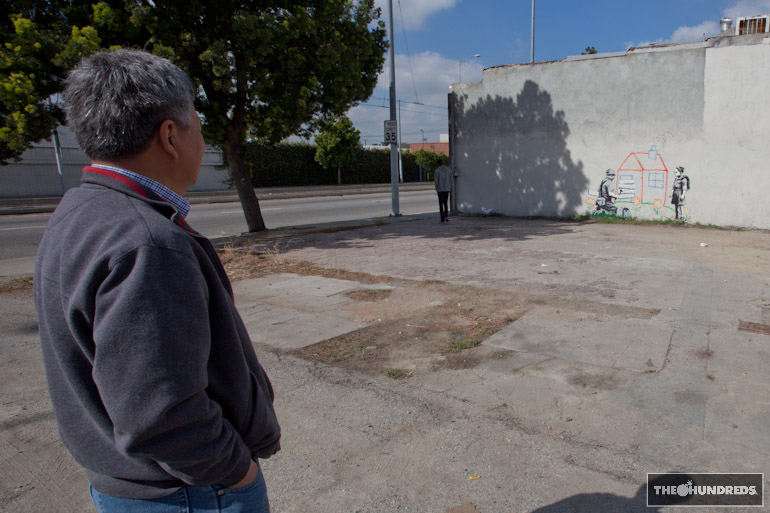 Um….I think he just said Banksy is God.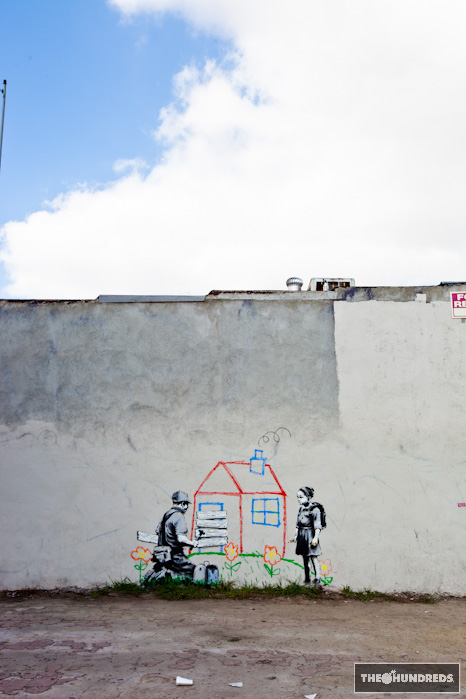 by bobbyhundreds