So...
I had a bad book year. There, I said it.
I'm not sure what it was, but I just didn't connect with most of my reads in 2016. I fell off a buncha times, or finished with a bad taste. Bad writing, bad ending, bad characters. So, for the first time ever, I became a TV person (gasp). Having said that, there were a few clear winners out of the stacks above that keep my faith in the written word. They worked for me, I hope they do the same for you.
DISCLAIMER: Not all of these books were published in 2016!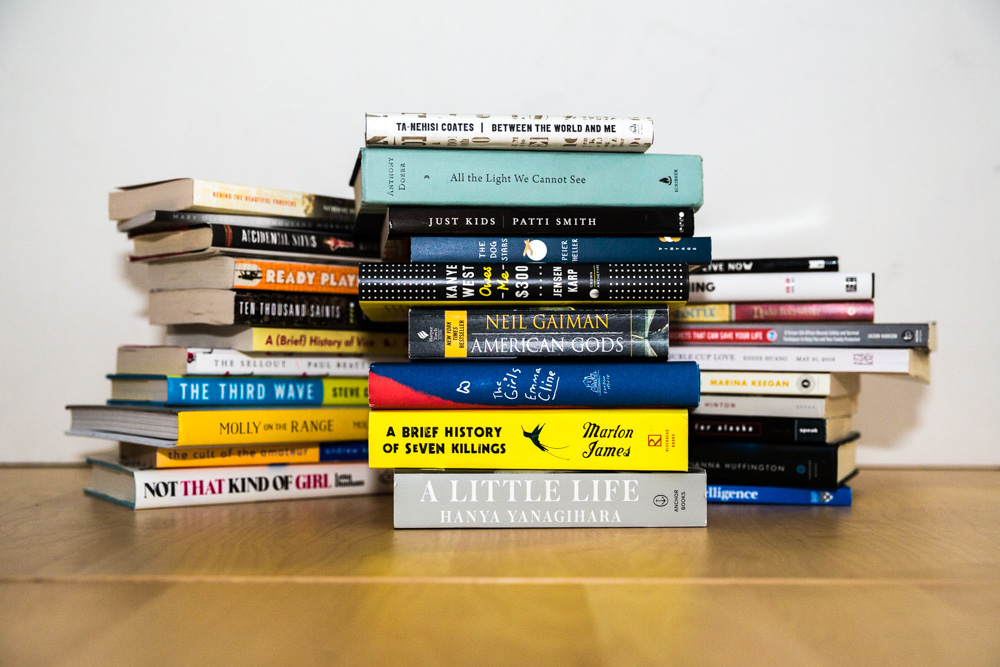 You're entitled to your opinion of Lena Dunham. But, if you hate her, boy do I NOT have a book for you. These days, memoirs are popular with late 20s/30s cool kids who fancy themselves as writers, even though they've got but a couple decades under their belt. Lena, however, has somehow lived enough lifetimes to fill this book cover to cover with wide-ranging anecdotes – from discovering tonsil stones to masturbating next to her prepubescent sister (controversy!). As with most of the books that I like, it comes down to style and good writing, and the actor/author has a firm grasp on both. One thing you can say about Lena Dunham, is there's no one else really like her, nothing like her storytelling – whether that's a good or bad thing, is up to you.
Speaking of memoirs, a few friends had some big ones this year, and I recommend them all! Eddie Huang's follow-up book, Double Cup Love, made a lot of noise. Holly Madison had her The Vegas Diaries, and Asa Akira debuted Dirty Thirty. Jensen Karp is a name you've probably seen if you've been hanging around The Hundreds long enough – or you're a fan of WWE (he's a writer), read Rolling Stone (he contributes), are an art fan (he owns Gallery 1988), or a big tweeter (His Twitter. Trust me). Kanye West Owes me $300 is a memoir of how he essentially became the music industry's first white rapper (right before Em). It's hilarious, a fast fun read if you're not that bookish, and relevant to our social circle. Oh yeah, Jensen also has a podcast, manages Nova Rockefeller, and is responsible for all those James Corden rap battles. This is just a fraction of his bio, can you imagine how good his book is?
If you're wondering whether anything positive came of 2016, I have the answer for you – my book club: Death Sentences Reading Club. There's an associated Instagram, where once a month I choose a different book for us all to navitage together. This is the December DSRC selection and although I'm not done, it might be my favorite book club choice of the year. A Little Life depicts four friends in New York in a coming-of-age story, as they navigate the hardships of career, relationships, drugs, and illness. I like to read as an escape from my immediate world, but I relate with this book in a way that the context feels very familiar – as if I know these guys, they remind me of friends throughout my life. It's a little hard to follow all the characters, but it's written with a lot of heart.
The book that started it all. Death Sentences Reading Club kicked off the year with Ta-Nehisi Coates' bestselling Between the World and Me, a collection of letters to the author's son detailing the American experience as a black man. It's short, but visceral – one of the most honest testaments I've read in the race-related space. I have no idea what it's like to be a black man, and maybe Coates doesn't speak for all, but to his specific experience, this hit me like a Mack truck. If you still find yourself writing over "Black" with "All," maybe this will help you better empathize...
You heard it here first, but there's the possibility (or at least, the hope) that I'll enter the Young Adult space one day... and if I do, I'd love to write something along the lines of Ernest Cline's Ready Player One. The science fiction novel about a teenager in a dystopian future is just fantasy and fiction enough, gelled with nostalgic, pop culture references to keep you grounded. Steven Spielberg is flipping this into a big blockbuster next year, plus Cline's back cover pic is him next to a DeLorean, need I say more?
Honorable Mentions: Ten Thousand Saints, Pastrix, and The Girls by Emma Cline.
***
Death Sentences Reading Club T-shirts, zip-up hooded sweatshirts, and hats are all available in the Online Shop.