Along with the Magic Trade Show here in Vegas, there are also other independent fashion tradeshows going on around the city that hone in on more specific markets. Usually what happens is an entrepreneur leaves Magic to start their own indie trade show that's cooler, hipper, and plays better music.. then that show itself gets big, and Magic buys 'em out for a handsome price. That traditional cycle of Trade Show Mania, along with the streetwear explosion, added up to a mind-boggling swarm of Vegas tradeshows for retailers, buyers, and exhibitors this summer. Right now, there are 6 venues that the streetwear industry is chasing each other around, including Magic, Pool, Project, United, Fo Sho For Show, and the Unity Mansion Show.
We stopped by Project today, which is hosted at the foot of the Venetian. To sum it up nicely, Project is more themed along the lines of a Bread and Butter Barcelona-type show, with a more serious, sophisticated, fashion-conscious attendee. Not to say that Magic folk aren't committed to clothing, but something tells me that 50 Cent and his entourage won't be storming through these aisles anytime soon. Apparenty, Project was the struggling startup just a few years back, catering more to the denim-oriented demo, and playing truly horrible Euro techno-trash through the halls (a la Bread and Butter). But now they're super huge and their lineup runs across the spectrum. Brands our readers may be familiar with like Fiberops, Staple, and Maharishi grace these booths, while Monarchy and high-end couture designer Vivienne Westwood headline as well. Alas, they still play the bad music, but it was.. quieter. And yes, Magic did acquire Project, so here's to the almighty Dollar.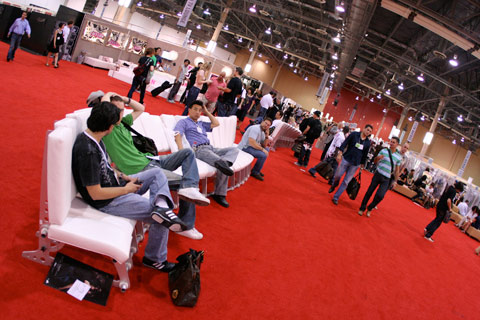 We ran into Ben's cousin, Mike, who runs Jaded By Knight, which is one of those lines that all the celebrities are wearing in your girlfriend's Us Weekly magazine, and you're like, "Dude, those jeans cost $1,000?!? I could eat like a year's worth of Big Macs with that." Bonus skeleton-in-the-closet story: Mike was formerly known as DJ Micki Eyes of South Korea's most notorious rap group, Drunken Tiger. Random. I know.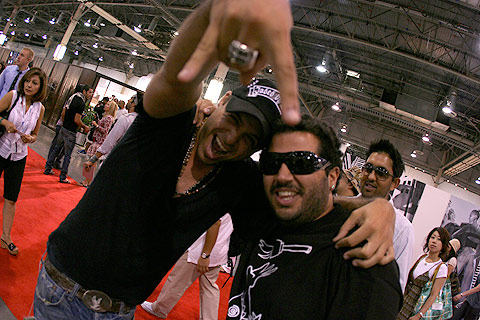 When we walked onto the showgrounds, we saw the very content owners of Seven Jeans, who just sold their company for $775 million (Now that's a lot of Big Macs). It sounds rather ridiculous, but the high-end denim market's primed for such deals. Dee from Five Four runs one of the most-talked-about denim brands of the lot, so don't be surprised if he seems very content in a few years' time.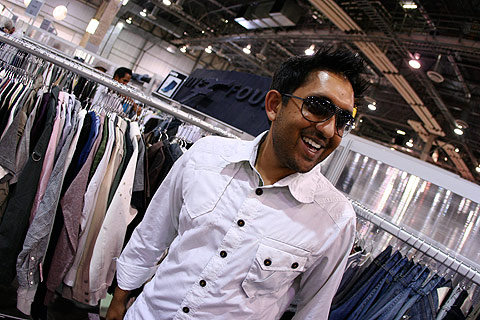 Peter runs Cassette out of L.A., and it's also achieved a strong buzz in the fashion world for it's quality and attention to detail. And that is a hilarious shirt. I'll shut up now.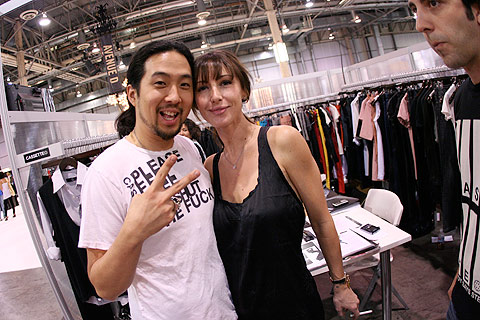 Personally, my favorite part about Project is their computerized guide, which works through a touch-sensitive widescreen that prints out the locations to the booth you're looking for. I need to get one for the house just to find my keys every morning.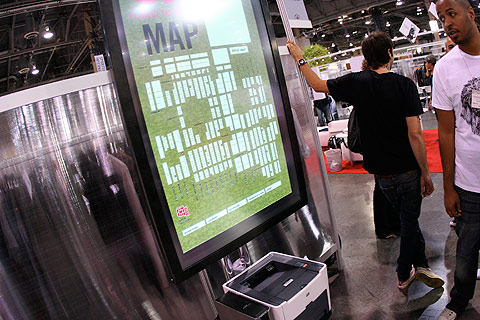 So buyers are always asking us what's worth looking at in Vegas everytime tradeshow season rolls around. This year, it was unanimous. Dao-Yi Chow, the man who was responsible for spearheading Sean John during its heyday, and then Arrive Miami, has now launched Public School. Dao told us about it a bit ago, but when we got into Vegas this week, we were hearing about his label from all ends.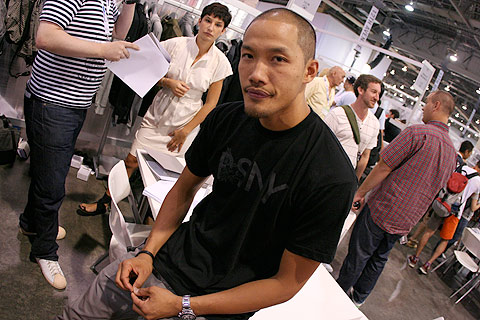 Dao was saying that he admires what's going on with us in L.A., building that Angeleno lifestyle and community around us, and that's exactly what he's doing with his line as well, albeit on the other coast. Inspired by elements of the New York City lifestyle that only a New Yorker would understand, Public School infuses Dao's background with intelligent cut n' sew and progressive pieces that aren't beyond the everyday consumer.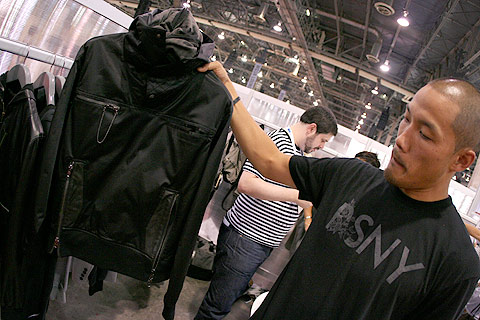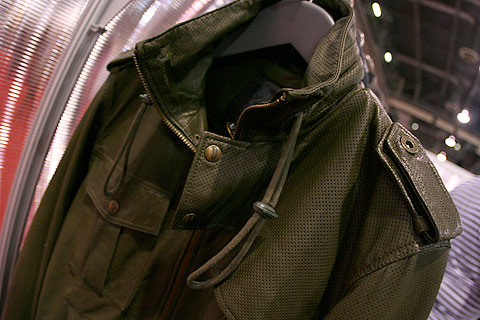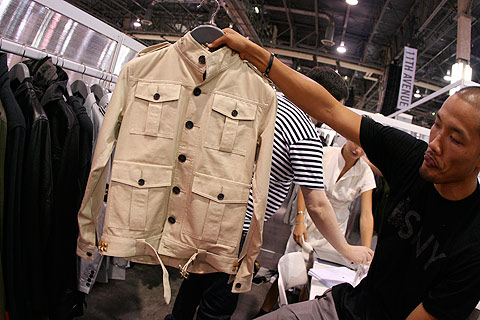 A lot of the pieces incorporate interesting details like detachable straps, uneven corners, or loose appendages that fall around the garment.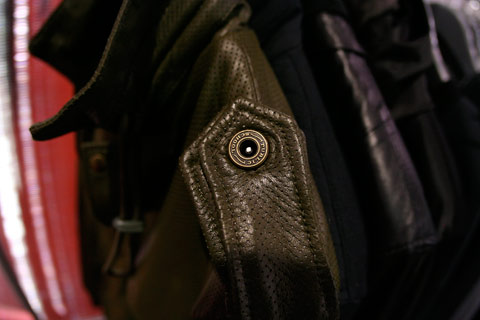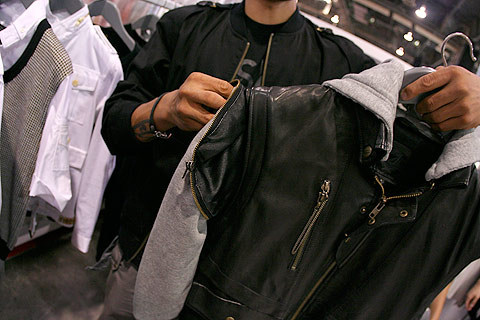 The black apple is Public School's trademark icon and again references Dao's New York City upbringing.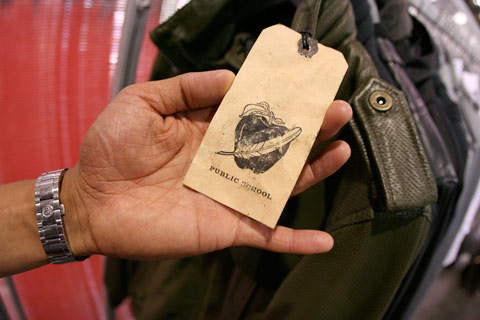 On the back of this shirt are the top high-schools in the nation with the highest dropout rates.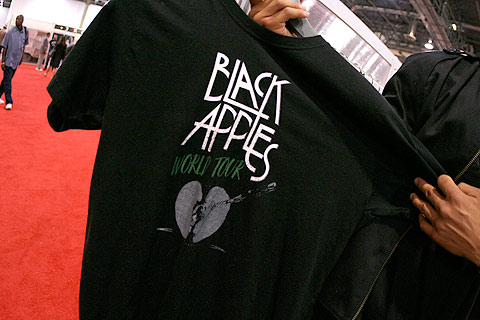 We'll have more information on Public School in the future. Until then, try not to lick the monitor.
by bobbyhundreds