I've never been out in this neck of the woods. I mean, virtually, woods. Up above Los Angeles, I drive further and farther, down winding roads, over rubbled dirt paths and between trees, and when the dust finally settles, I'm at Tim Biskup's house.
Tim Biskup, the well-known and widely reputed artist.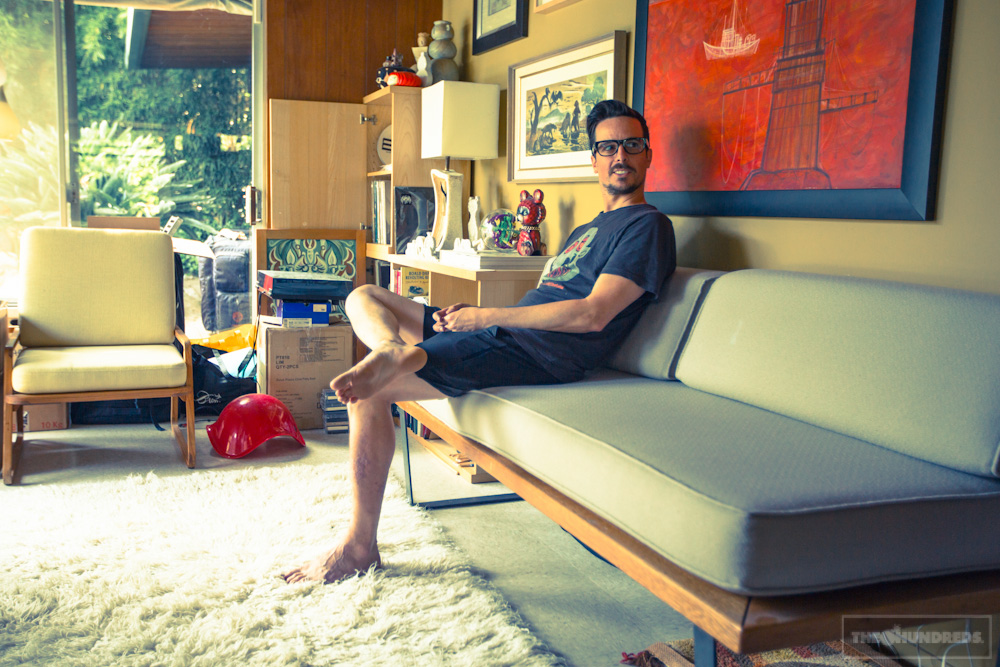 I can't believe Tim is 44 years old because he looks a hair shy of his thirties and has the zeal and enthusiasm to confirm it. This is where he lives and, from what I can tell, does the majority of his work. He is a painter, an illustrator, he is an all-around artist. Wikipedia would tell you he's "lowbrow" or "pop surrealist" and of the Robert Williams school of early Juxtapoz, but I hear nothing of that during my afternoon with Tim. Instead I find that Tim is in a class of his own, a true artist as an expressive individual, beating to his own drum, defining his own personal genre.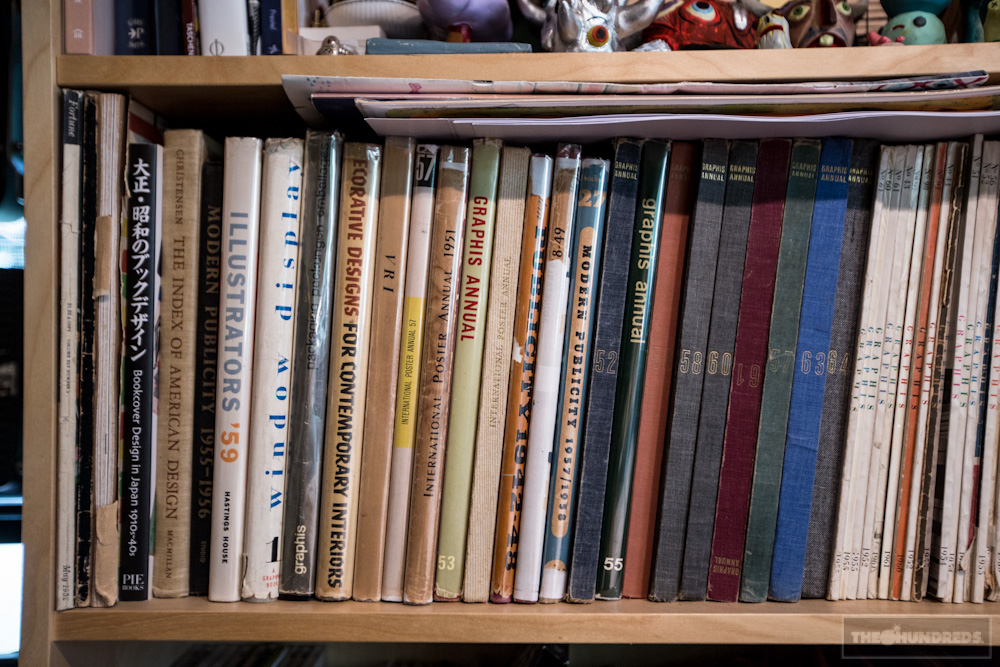 His house is a manifestation of his style and aesthetic predisposition. The vintage furniture and contrasting tones only further highlight the radiant artwork, most of his own hand, but many by friends and fellow fans.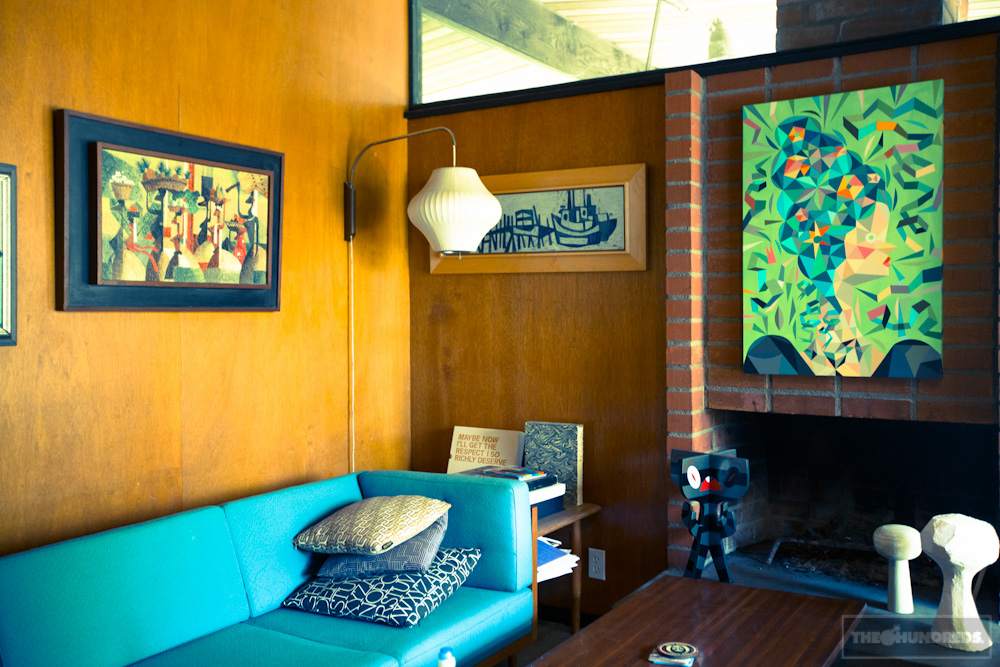 I completely forgot to ask Tim about his drumset, but music is evidently just as much a driving force in his life as art. There he was at Coachella and then subsequently afterwards at Radiohead's appearance in Mexico City. There he was early in his career owning a record shop, and recently, having done the video for Mastodon's "Dry Bone Valley."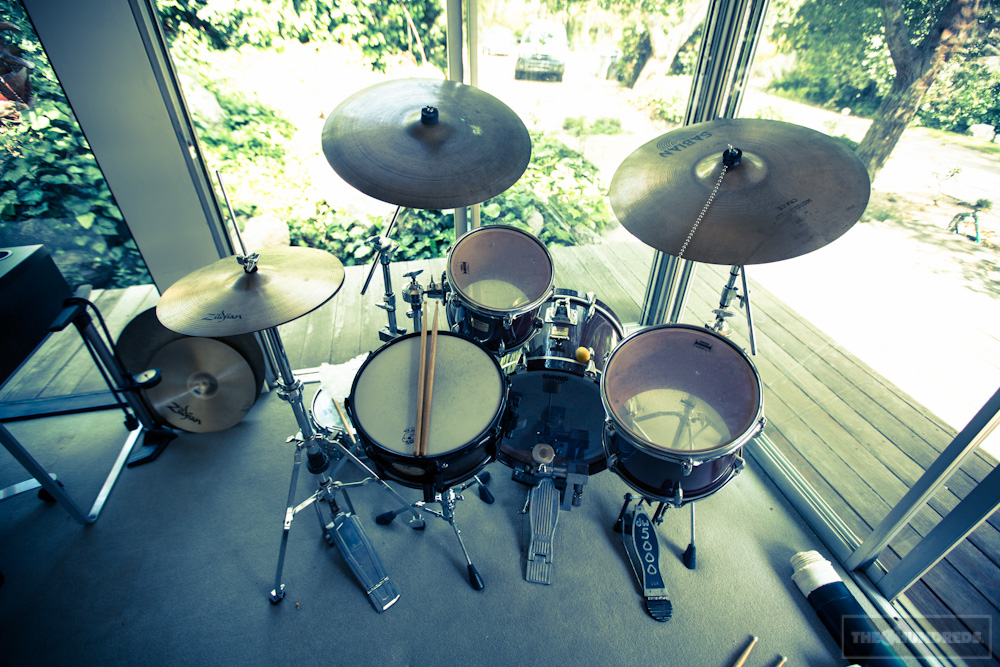 Tim Biskup is a serious artist, but he also has the personality of an old, charming friend. Without pretense, minus the attitude and image, he is already inviting me over for backyard barbecues. His youthful nature is contagious; it's hard not to be inspired or explorative within these walls.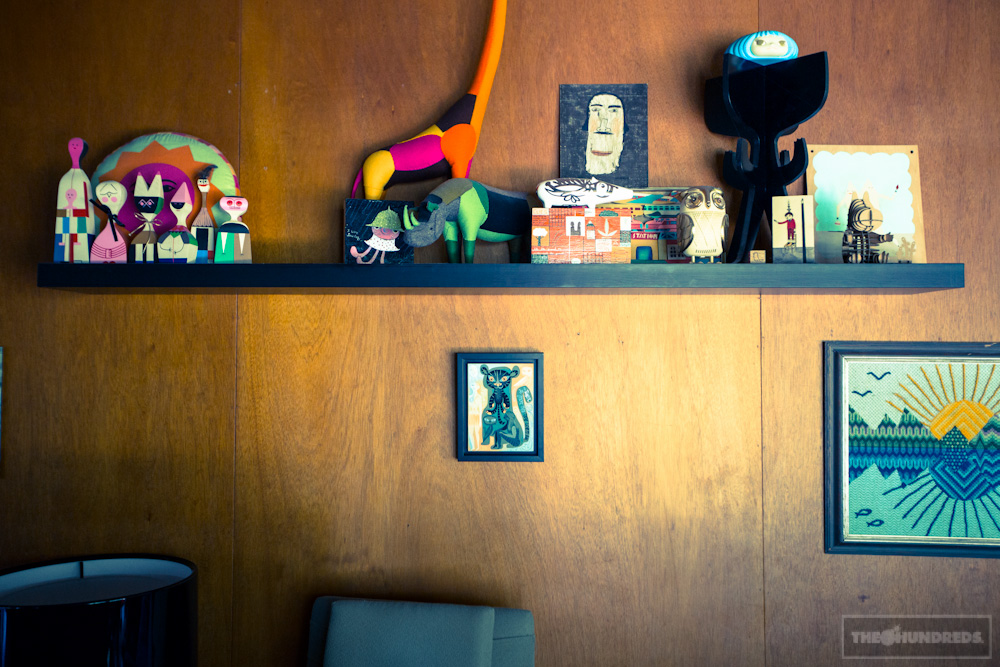 And that contagion has spread, across legions of fans and collectors and admirers. Tim also has plenty of friends within the arts community, he trades toys with Kaws, he collaborates with Dave Choe…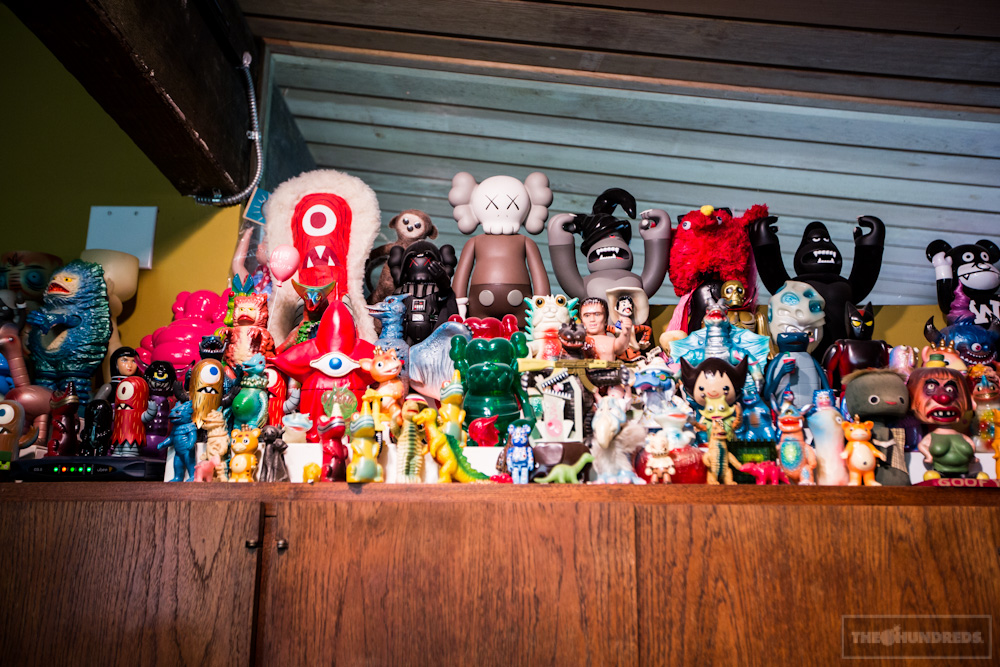 his buddy Mark Ryden drew Tim's daughter Tiger for her baby shower. Done before she was born, somehow Ryden nailed what she'd look like when she entered the world.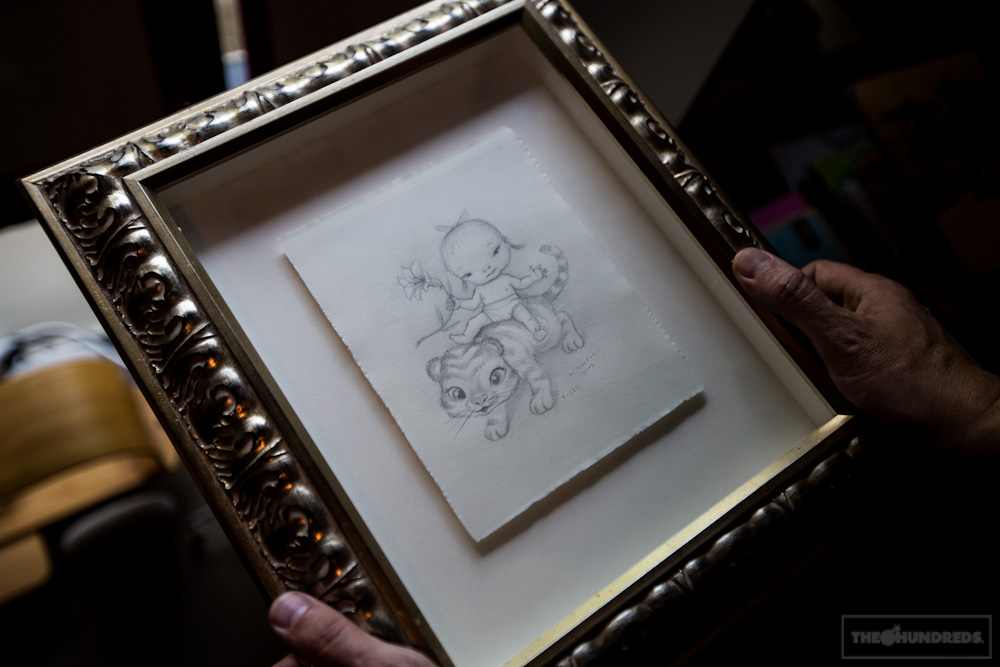 And Tiger is another thematic bell that resonates throughout Tim's life. We can't go 5 minutes in conversation without a Tiger anecdote or reference point. Tim is clearly a proud and dedicated father, and that love disperses throughout his current work. About five years ago, "The Executioner" was a depiction of his own father as an unsure disciplinarian, and perhaps Tim himself in that newfound dad role.
This is probably how you'd best remember Tim Biskup's work if you were more attentive to his art in the 2000s. But he hasn't really worked with these characters and what he refers to as "friendlier art" since. Even "The Executioner" was a slow turn from his poppier, smiley stuff.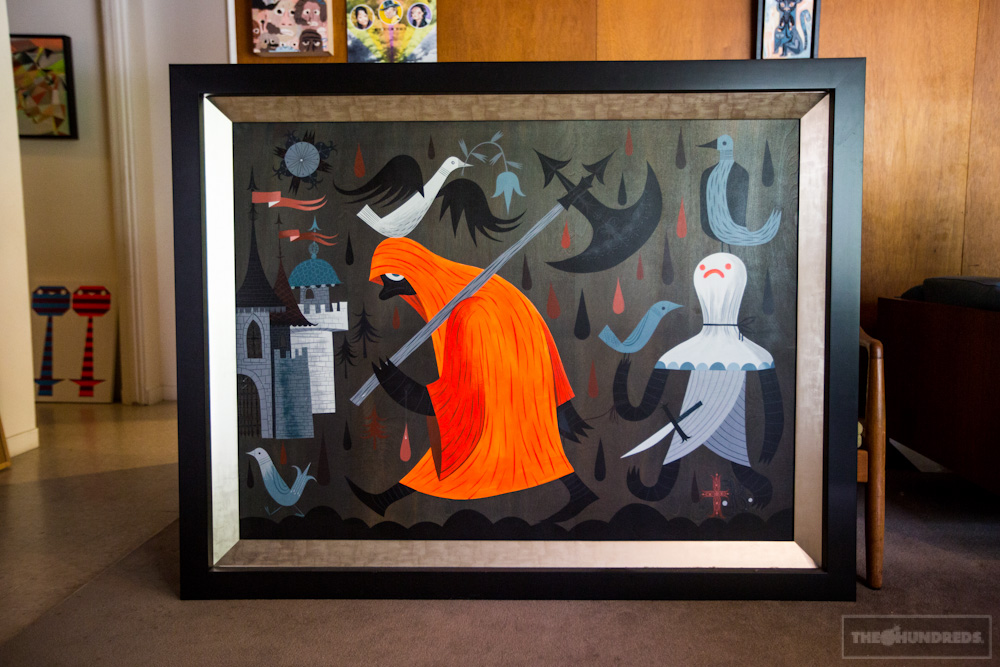 Soon after, he began working within these geometric shapes. This, in fact, was the first of it's kind. You can see a skull off to the side, and layers of eyes and teeth that splinter off into shards of colored solids. For the past five years, this is where Tim Biskup's head, and art, have been at.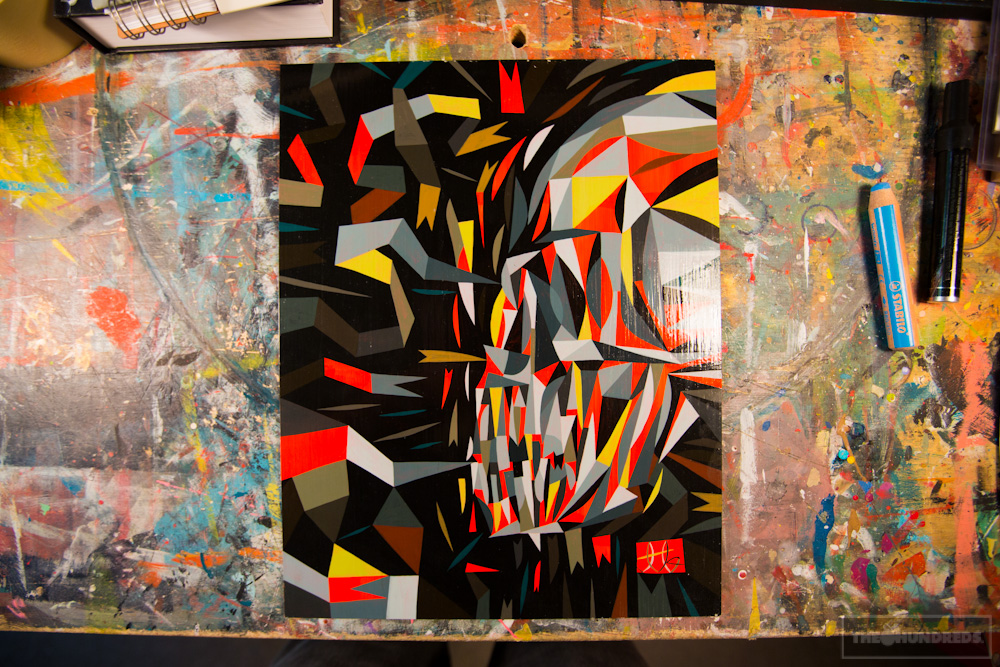 The polygons have unfolded and flourished into new figures and subjects. I love looking at these paintings for their signature color palettes and dimension, layered around flat, unforgiving surfaces.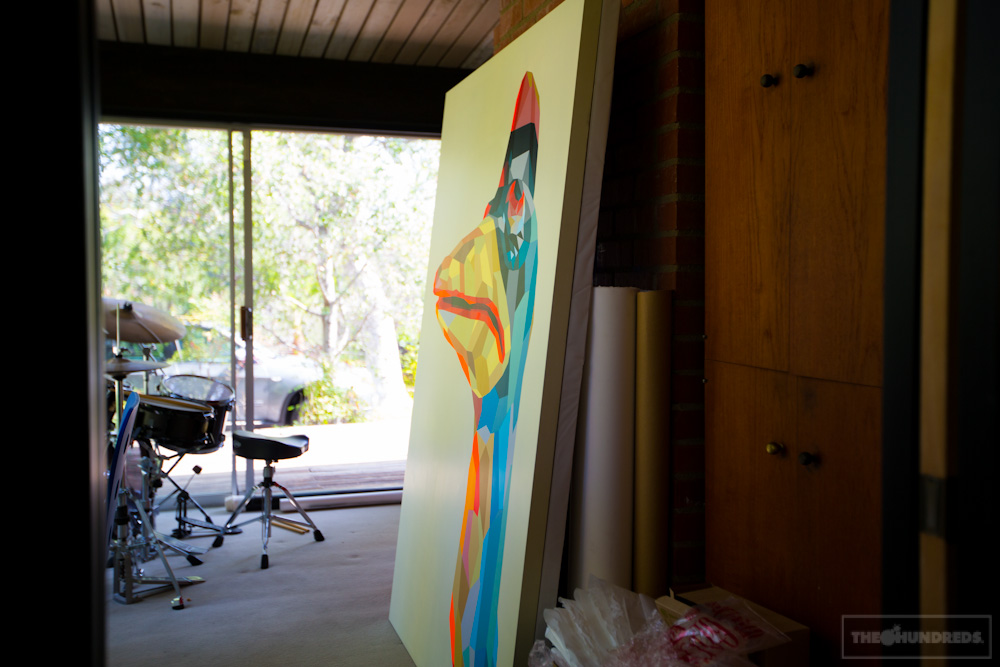 See that crate on the floor?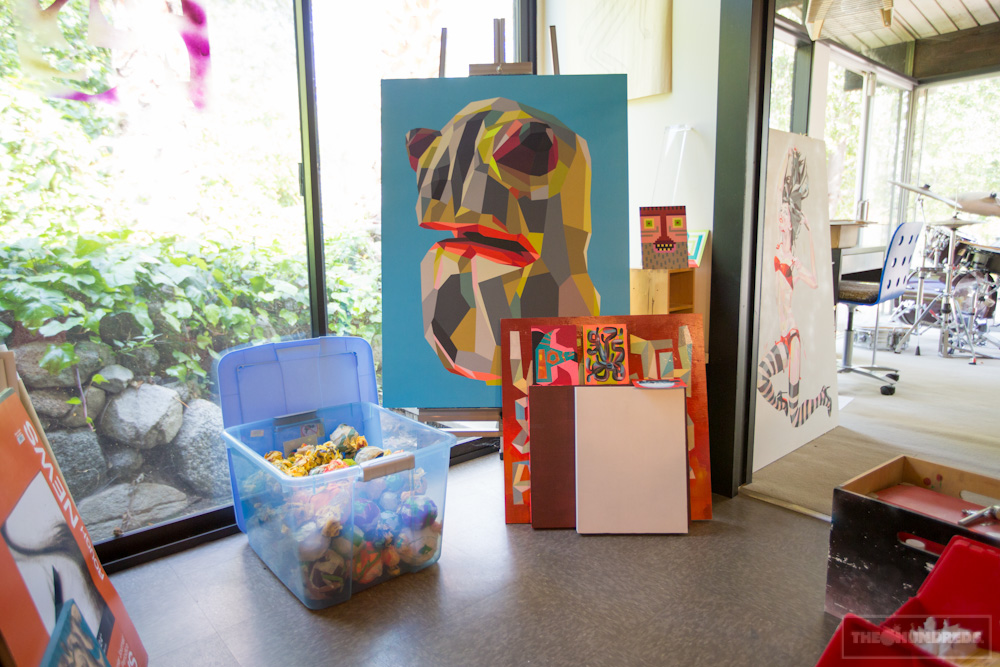 That's how much tape goes into accomplishing these pieces. It's a painstaking process, without the pain. Tim considers these paintings to be meditative, freeing him from having to think, on a guided path predestined by adhesive borders.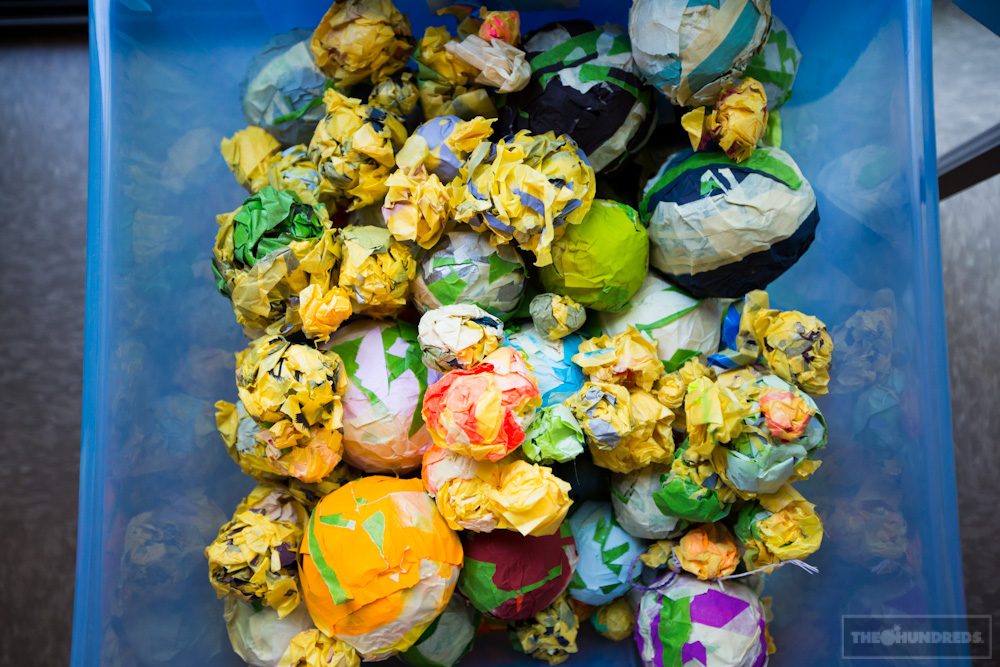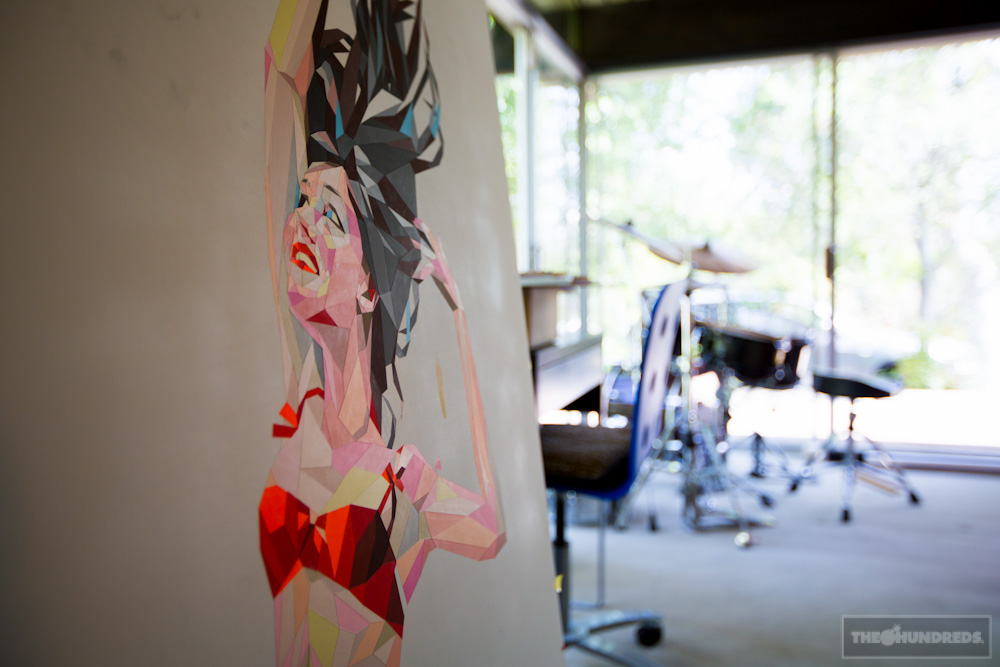 Meanwhile, the rest of Tim's artwork exists beyond borders. Coloring outside the lines. He's like 20 artists in 1; he just did these two a couple weeks back. They remind me of John K. and rightfully so, Tim having worked closely with the Ren & Stimply creator earlier in his career.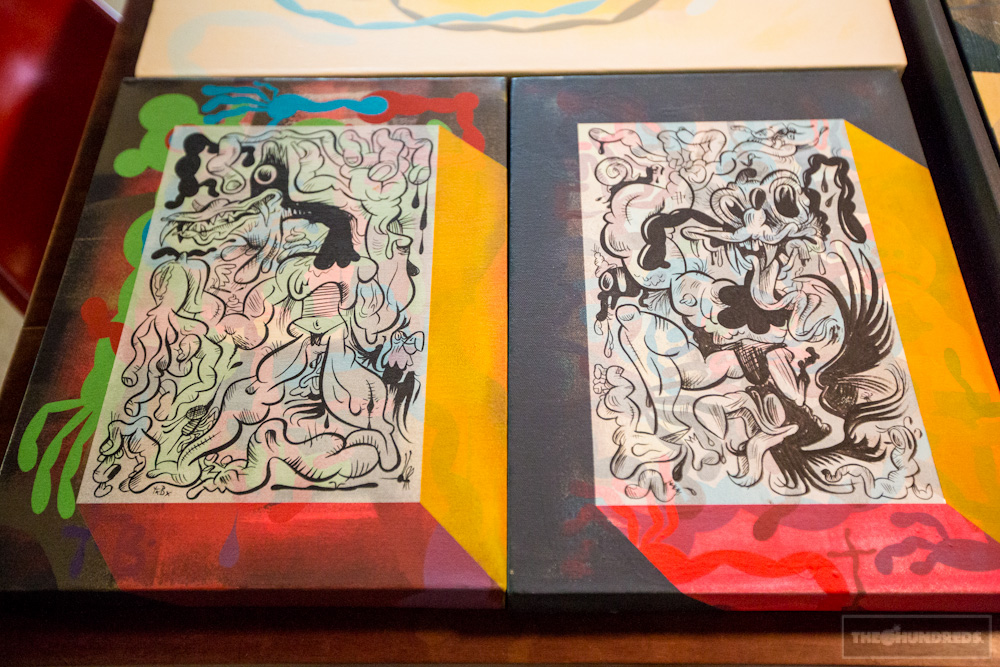 Kelsey Brookes was over earlier today working on a trade. He wanted to leave with this one by Tim: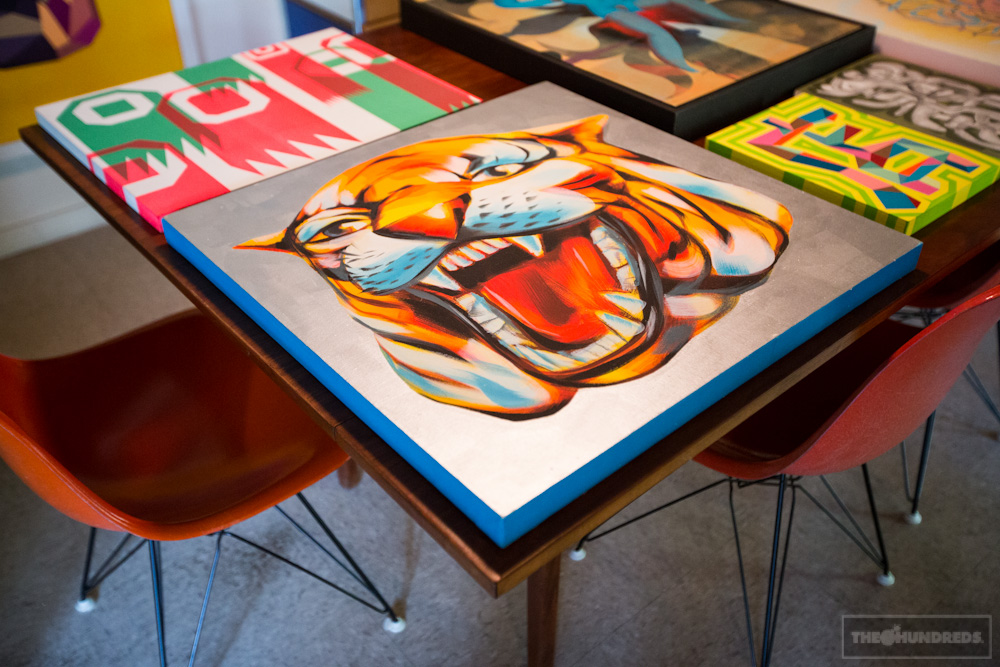 And these are Tim's Lladro porcelains. Talk about ultimate collaborations. Kinduva big deal…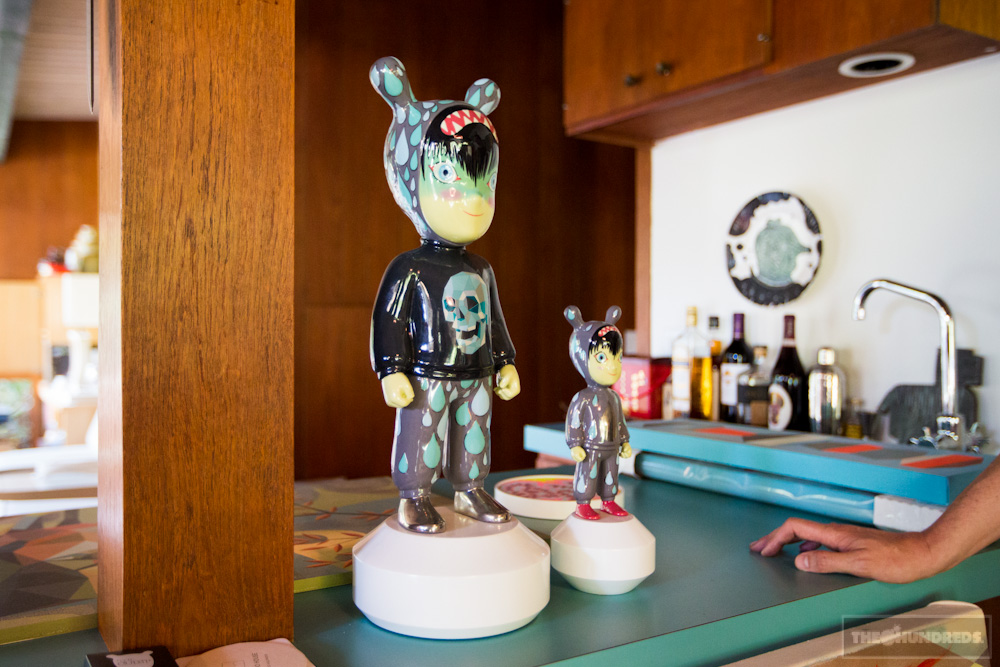 Some more…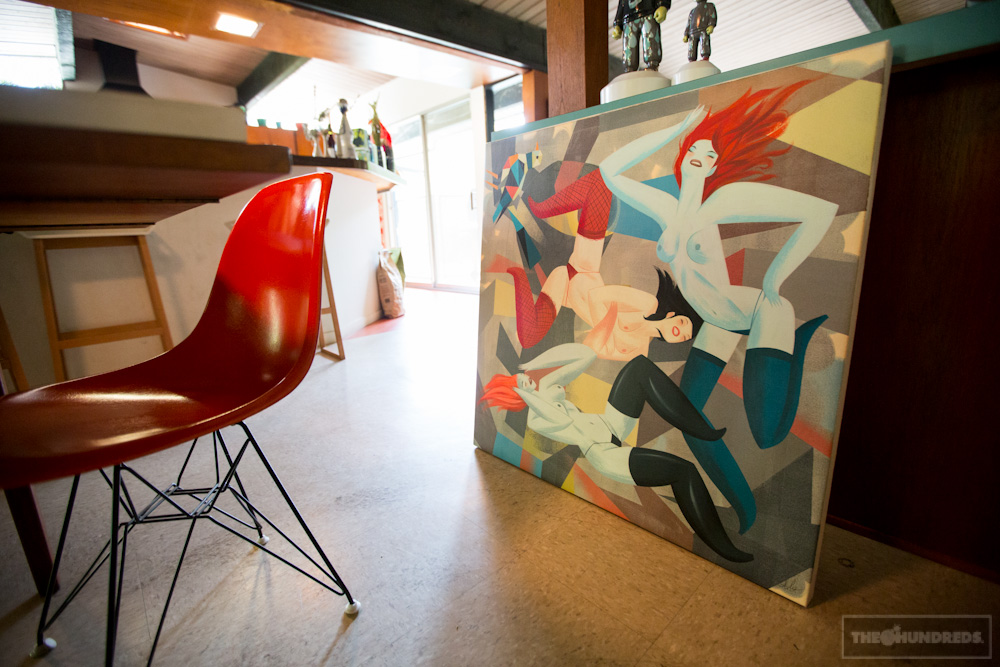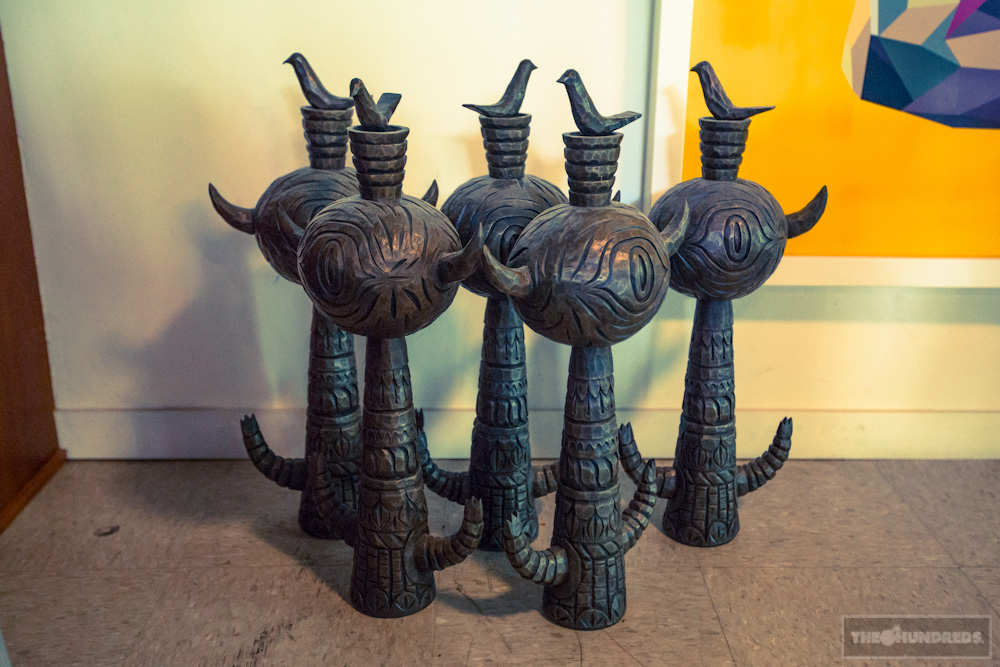 There's an old Picasso fable that a patron once asked him for an autograph. The artist graciously obliged, scribbled his signature down on a napkin, and was about to hand it over before asking for $10,000. "$10,000?!," the man cried, "but that took you 2 seconds." To which Pablo Picasso replied, "No, that took me a lifetime."
Tim's starting the next chapter of his artistic saga, and it comes as a response to the heavily detailed and time-intensive paintings he's poured himself to over the past several years. As an artist, like most artists, critics, and buyers, he has traditionally justified the price of his paintings with the labor invested…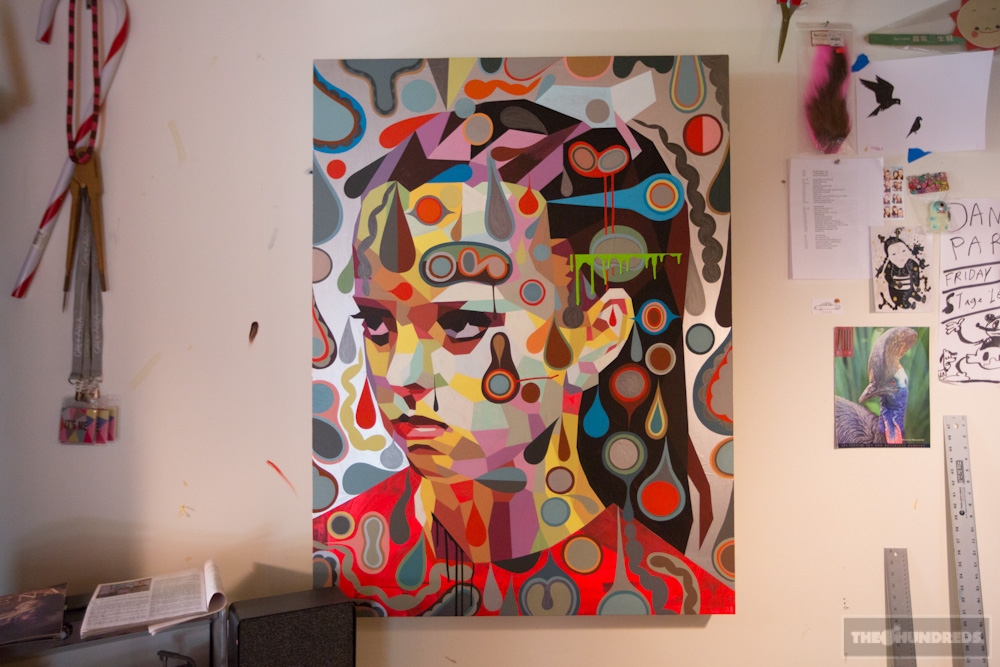 …but now he is pulling apart, and away; he is deconstructing and unraveling. And these works are meditative in an entirely different state, they require more deliberate and conscious choices.
Although they are looser and quicker in production, they still sell for the same bids as his prior work. Why? Because although the piece itself isn't saturated with time, Tim has already paid his dues. This took 44 years to make.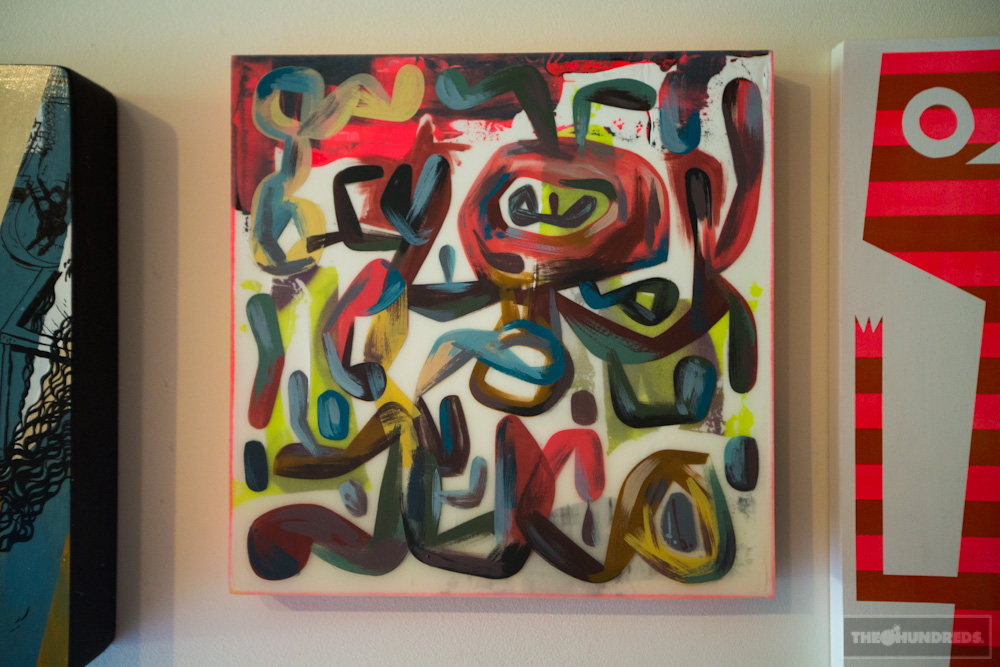 Here's an even better example of what Tim is going through right now. He doesn't have the piece in front of us, so he pulls up a photograph in his iPhoto. But there it is, his lifelong obsession with skulls, his free-flowing handwork that recites the lines and contours from muscle memory; a very emotive and powerful communication, but done in a dramatically shorter period of time.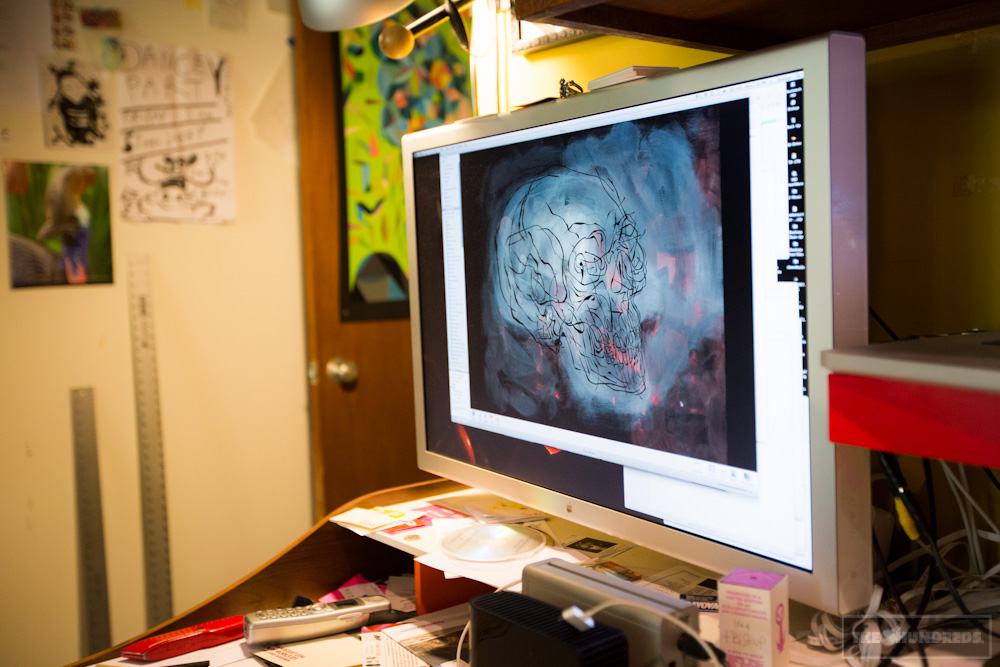 Tim winds it up with a demonstration. He has been really into these graphites as of late, extracting the signature pop colors out of his work and just going straight to paper with these crude, blunt sticks.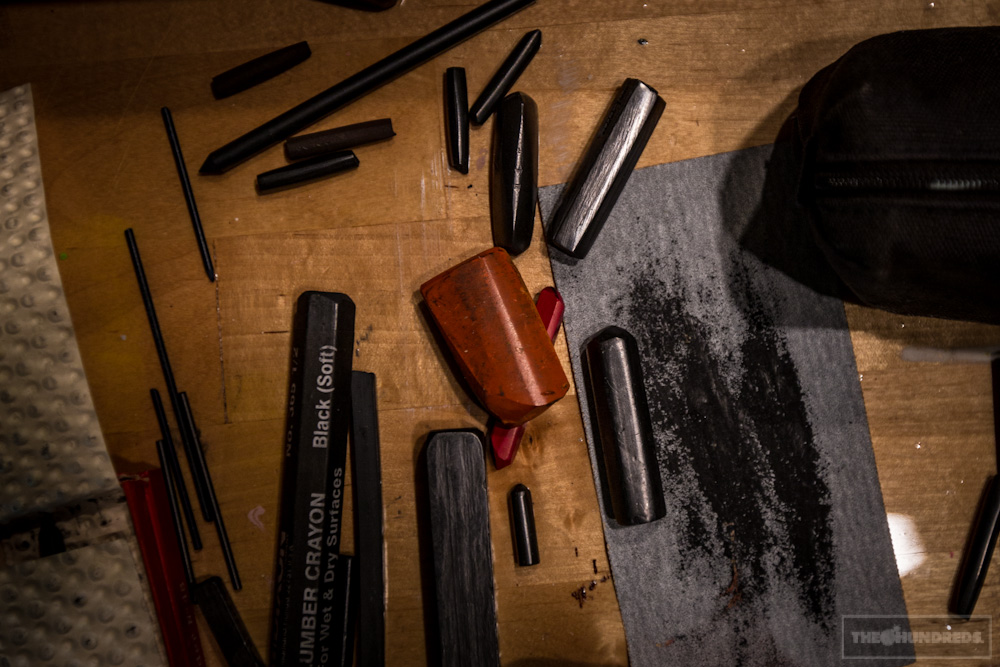 But he applies them in his own way, sideways, and has mastered the unrefined tool. He does so with conviction, he ownsit, and lets the art essentially draw itself.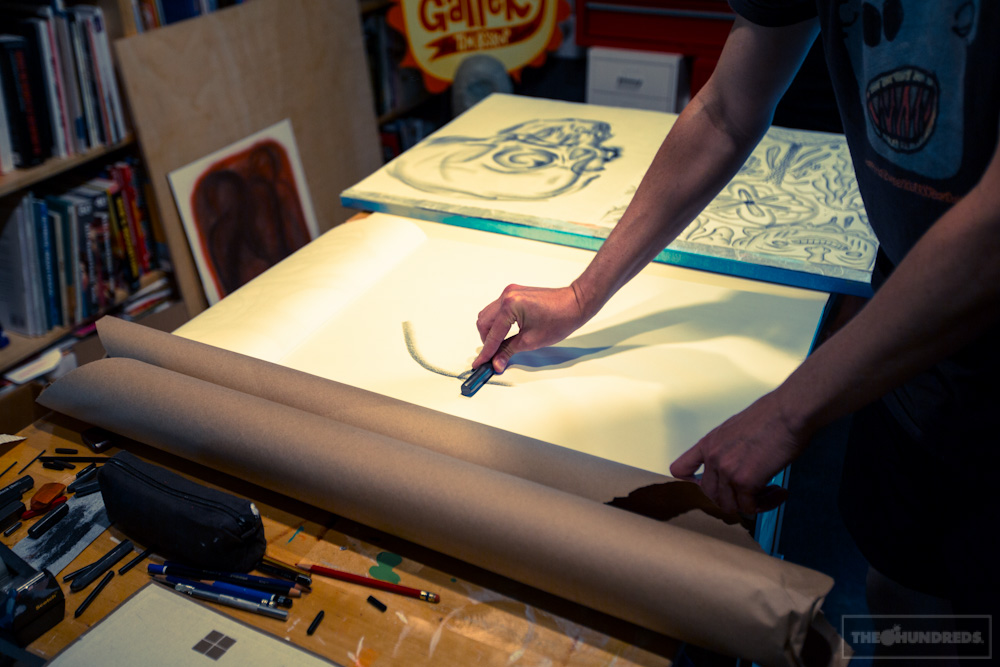 Within seconds, maybe minutes, we have this.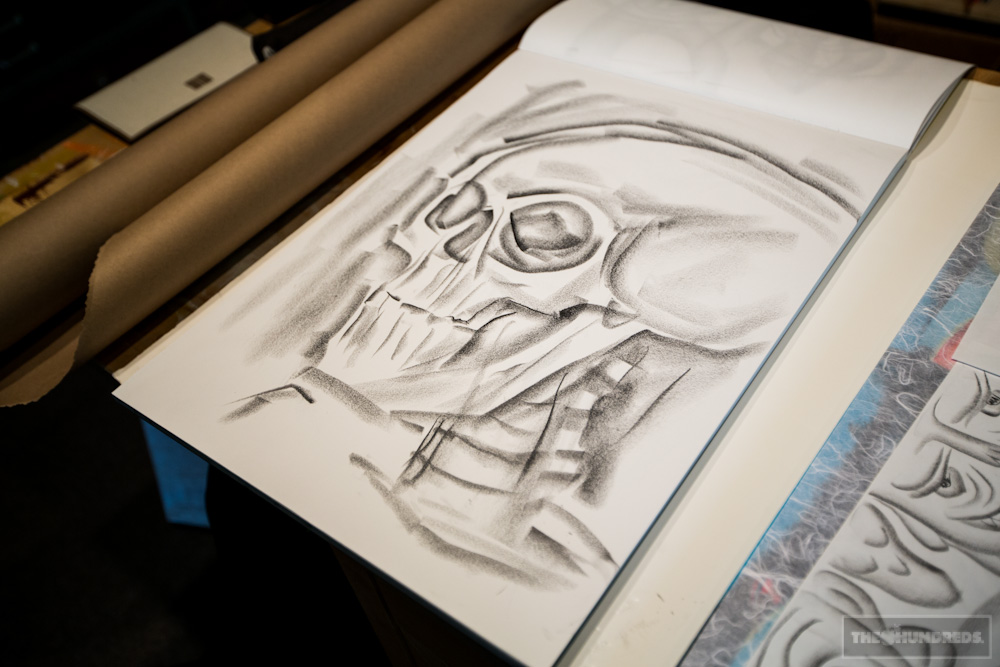 Tim has a couple shows lined up, one at HVW8 in July, which will most likely consist of his graphite drawings.
For more information on the artist, please visitTim Biskup.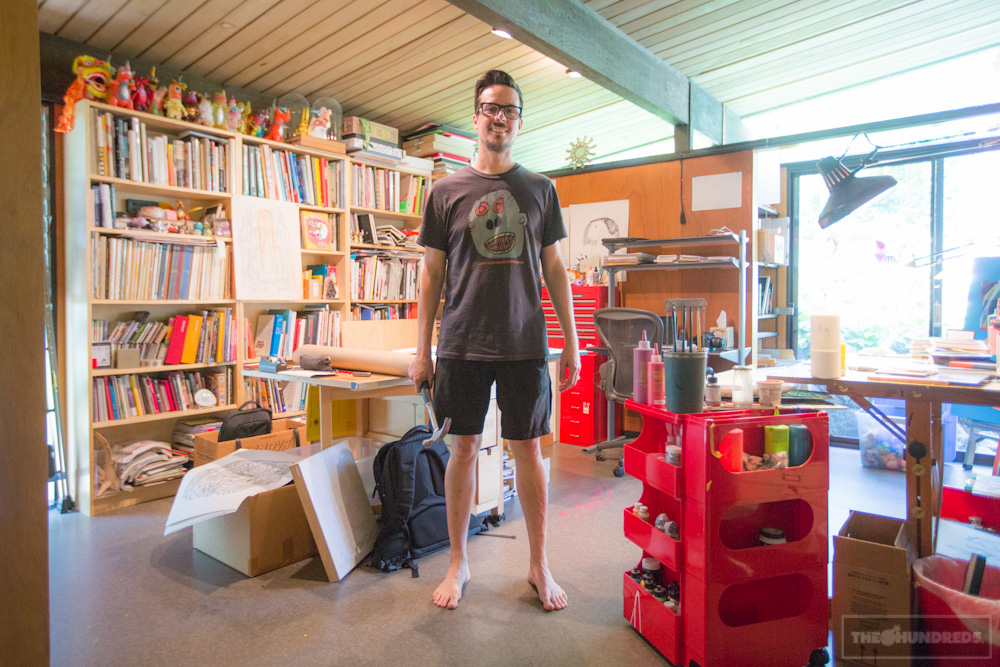 by bobbyhundreds