The Hundreds Summer 2014 is now available in our flagship locations, authorized stockists, and right here in the Online Shop.  Everything we make begins with a story. It's always been important for us to design out of purpose and storytelling, rather than "just because it looks cool" or "Well, if Kanye is wearing it…" or "$$$$$$!!!!!!"  While most of those narratives have already been explained in product descriptions, social media updates, and write-ups, here are some of the behind-the-scenes stories that went into making The Hundreds Summer 2014 that you would've never known otherwise. Unless you had drugged and kidnapped us and forced us at gunpoint.  Or bribed us with Panda Express orange chicken (now with bacon!). Okay then, maybe.
Let's begin with the color choices for the season.  We conceptualize two seasons together, whether it's Spring/Summer or Fall/Winter.  The S/S 2014 collection arose as a response to our prior collections of muted color stories – more or less, this was a return to the classic Streetwear of the early 2000s with bright, punchy hues worn by Pac-Man ghosts.  Here's a selection of some of those Pantone swatches that went into the line: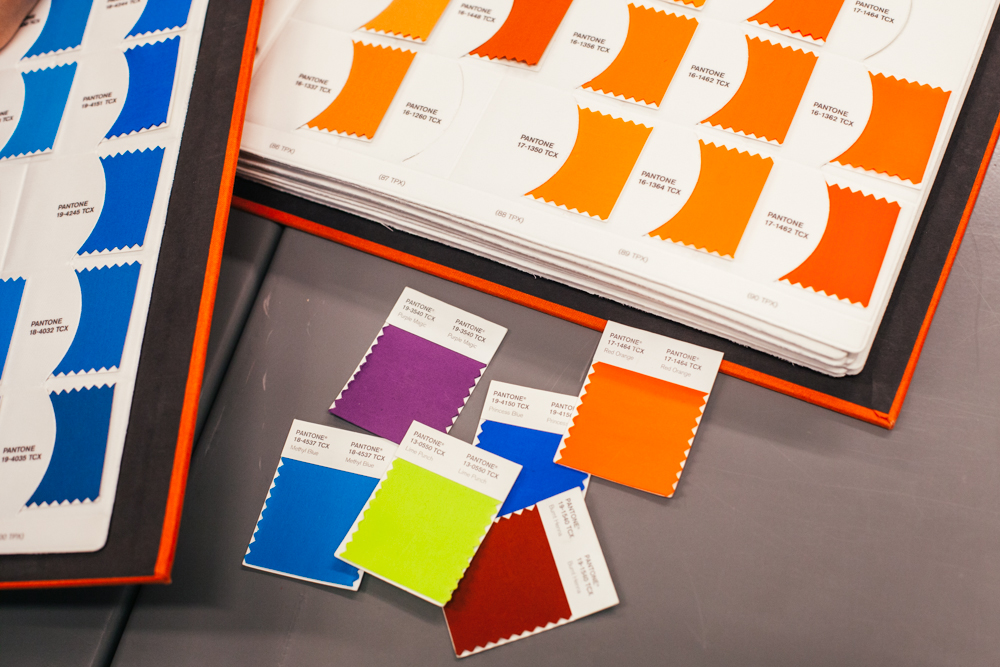 This was the first time that an outsider offered an in-line The Hundreds T-shirt to the public BEFORE we did.  Our collaboration with Nice Kicks, the "Grand Anse" T-shirt, released 2 months ago in a Grenada themed colorway.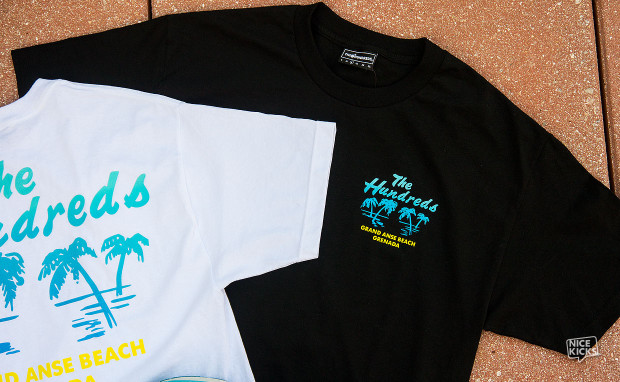 This summer, we released the original shirt, the "Double Palms," with the address reverting back to our own.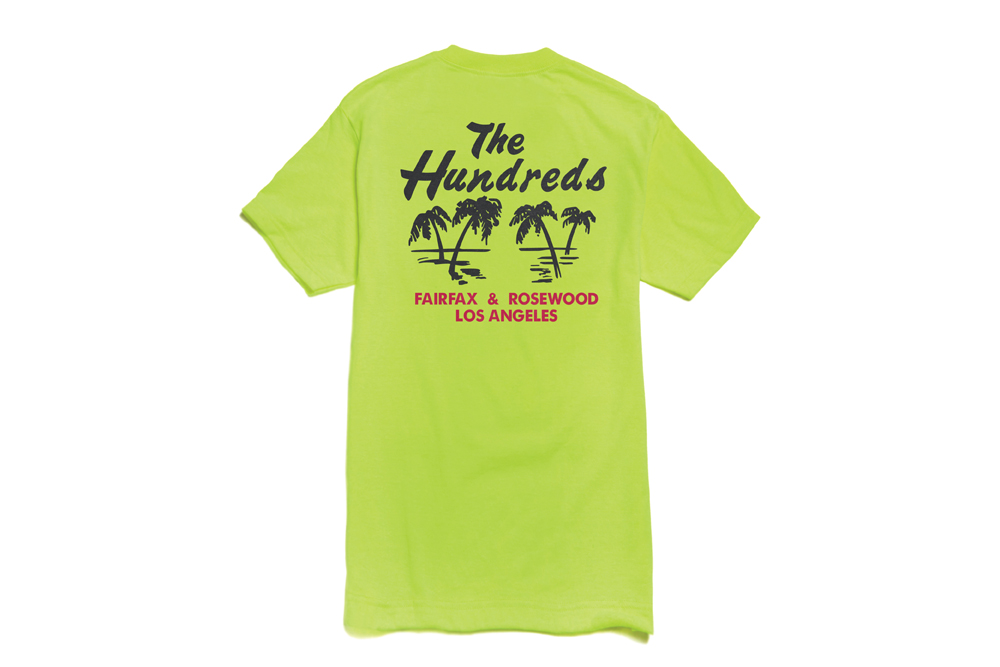 This pattern was never meant to be applied beyond a snap-back.  Upon our first sales showings, the feedback was so positive that we expanded the "Case" pattern to a bucket hat, woven button-up, and even a T-shirt.  We would've made a Case patterned life-sized statue of Ben but the factories threatened to drop us.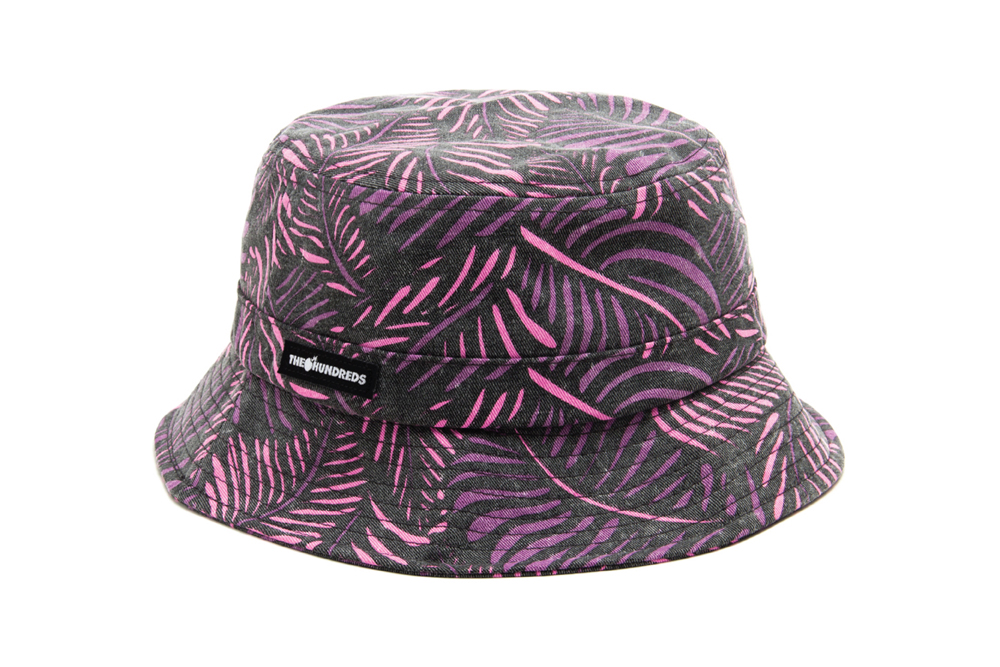 Remember when the Design team traveled to Cabo San Lucas, Mexico last year to work on this collection and run away from our problems?  While we were walking around downtown one night, we fell in love with a sportfishing T-shirt similar to this out in the street market.  One of the best parts about having your own clothing company is that sometimes, you get to make things that no one will understand, but it has some sort of personal significance to you.  Or you just think it's absolutely hilarious in your deranged mind and you're like, "But, IRONY!"
The "Baja" T-shirt is a souvenir of our Design trip together, and to the environment that inspired our Summer collection.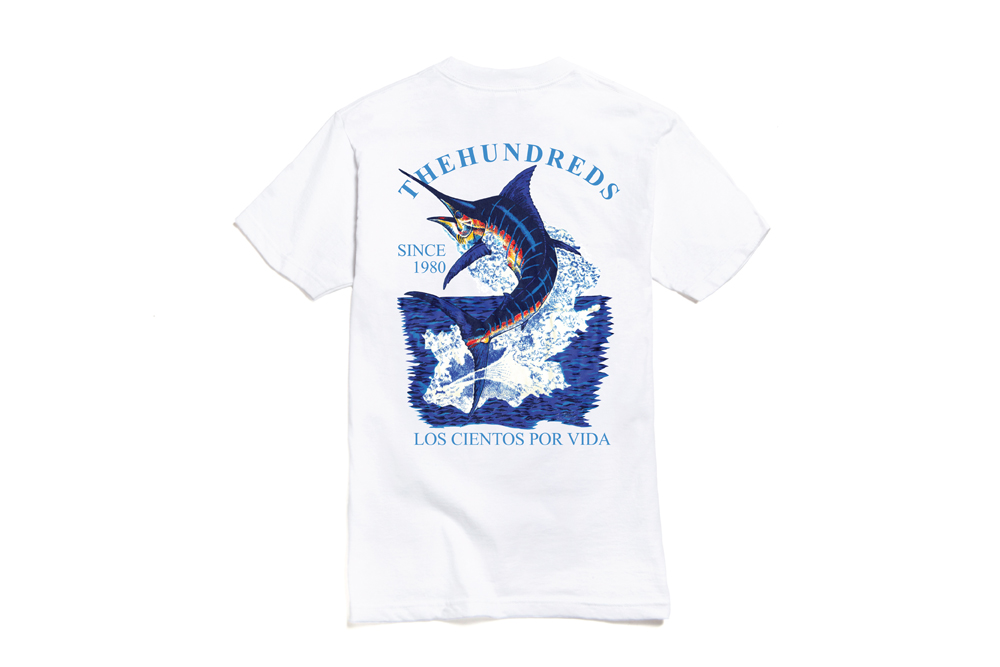 The spray-painted striped pattern that you see running across this poplin is a subtle nod to the brush-painted stripe pattern from 2011.  That season was the first time our now-Creative Director Patrick Hill designed apparel for The Hundreds, so he threw this one back in there for old time's sake.  Also, Pat is Canadian and HATES ORANGES. (And orange).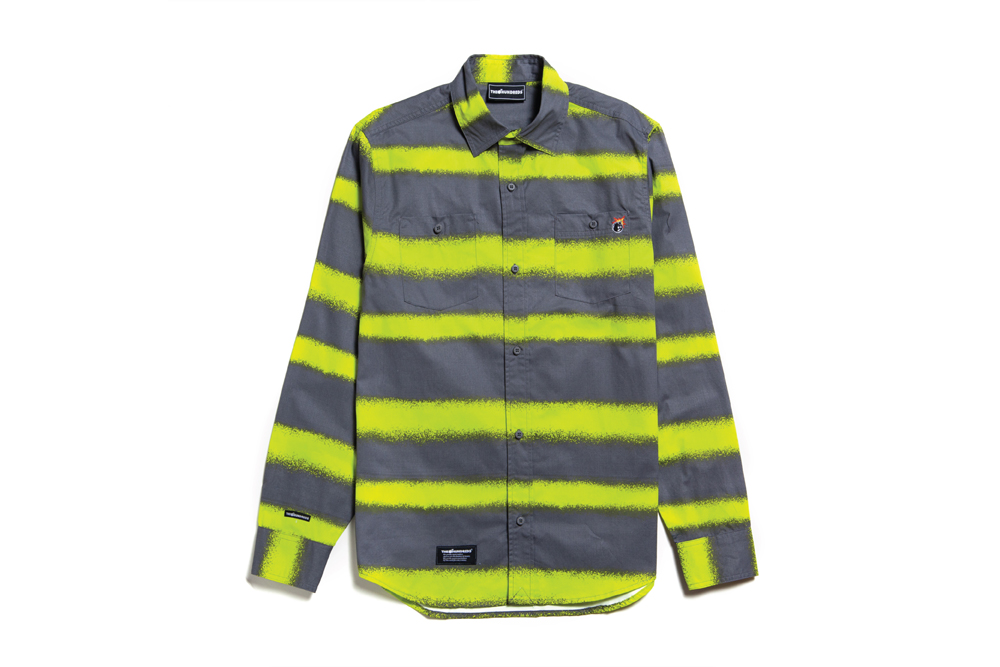 Our '90s-inspired pieces took cues from not-so-obvious reminders of the decade. Like the Magic Eye pattern, for example.  You remember these posters, the ones where you'd have to half-cross your eyes, rub your tummy and recite the Bible backwards to see a dinosaur pop out of the wall?  Or a sailboat.
Our intent was to actually achieve the Magic Eye effect and we got pretty close, except a big part of getting the trick to work is having a shiny or reflective surface. Like glossy paper or the glass frame in front of it.  Since our clothes are typically flat in texture and not spangled like Michael Jackson's prom dress, it was a lost cause.  So what you see is what you get.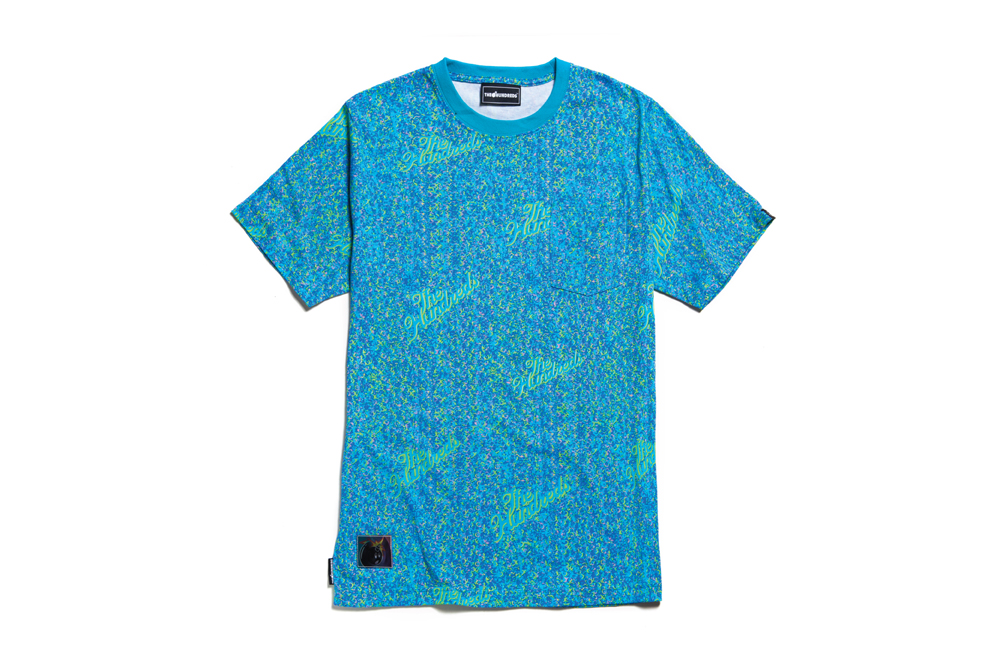 Yes! We have acid wash jeans this Summer.  I never quite understood how the process was applied so I consulted a reliable source in fashion production: Wikipedia.
Acid-washed denim, (a misnomer since no acid is used in the process, acid would react violently if mixed with sodium hypochlorite bleach releasing dangerous levels of chlorine gas and destroy the fabric), is washed with pumice stones and chlorine until it is bleached almost white. Members of the 1960s counterculture, especially surfers in California, prized Levi 501s that had been bleached by the salt water due to their authentic, "lived in" appearance. As natural wear took weeks, or even months, it was not uncommon to hang a few new pairs of jeans to fade in the sun, then turn them over to fade the other side. For many surfers, this process simply took too long, so they sped up the process by soaking the jeans in diluted bleach and some beach sand. Simple chlorine bleach and muriatic acid were readily available at this time, as they were used to sterilise swimming pools. 
Everything makes sense now!  Exhale.