A lot of strange things happened to Streetwear in 2013, but at least things happened.  Whereas years past have been denoted by certain pieces like snap-backs, or specific styles like Comme des Fuckdown, 2013 was more about a shift in persepective – away from full-zip hoody Streetwear of the early 2000s, removed from limited distribution models set in motion by early New York and Japanese street retail, and more galvanized by rapper and pro skater affiliations.  For better or worse, Streetwear is definitely on the move in all sorts of directions.  The veterans are busting through the shopping malls, the incoming class is either following suit and coming in heavy or reverting back to keeping-it-coolguy.  Sure, this year was about floral print, bucket hats, and kooky socks.  But this is what Streetwear (and Street Culture) will remember 2013 for: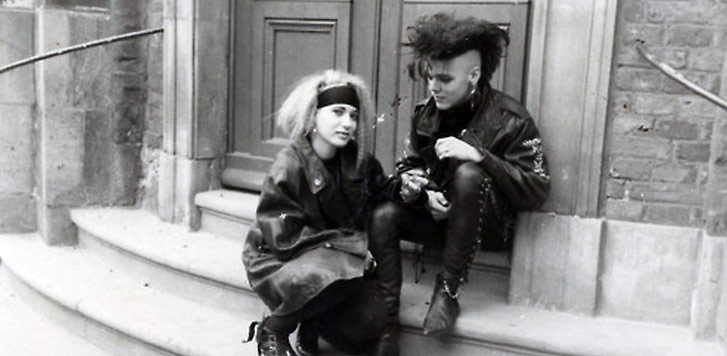 Street Goth
I didn't understand this movement, but then again, I don't think I was meant to.
For those who are unfamiliar, Congratulations!
But really, Street Goth is this New Age Streetwear trickled down from Kanye and A$AP, of hip-hop enthusiasts rejecting the Skittles-bag aesthetic of urban apparel and climbing the high-end fashion pole of dark artists like Rick Owens and Givenchy.  The whole Jimmy Kimmel leather jogging pants commotion?  That's what this was about.  Grown men in dresses, bondage outfits, white stars and Satanism, everything short of a Christian Death lunchbox.
I sorta miss that '90s Goth look, I'm not gonna lie, pasty heavyset white girls in bauhaus tees still get me going.  Even when it transitioned into Emo in the 2000s, I could still get past the spiky bangs.  But to see it go belly-up in my private Streetwear universe this year?  Didn't see that coming.
It's cool if you're into that sorta thing.  Good luck with that.
______________________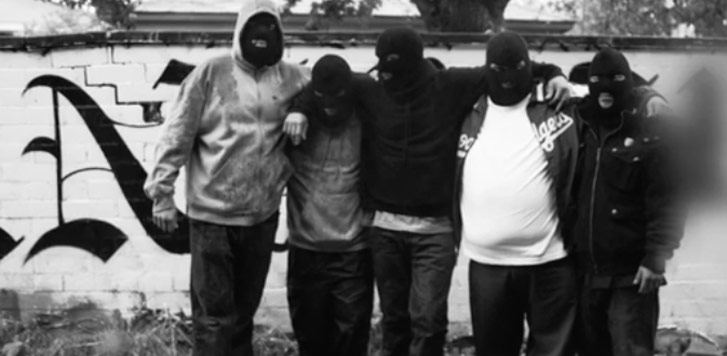 Born X Raised
This is Streetwear's Newcomer of the Year.  And this is why.
Born X Raised upholds the philosophy and practice of true Streetwear, the sort that's defined in the introduction of my Complex Top 50 Streetwear Brands of All Time list.  Limited, pricy, t-shirt based, and not specifically designated for one subculture.  These days, the idea of authentic Streetwear has been muddied somewhere between rap stars, big-box stores, cheapening, and the exodus towards high fashion.  Meanwhile, BXR stays rooted in graphic t-shirts, local heroes, and distribution in stores like Union – the retail archetype of multi-brand Streetwear.
Does this model of Streetwear even exist anymore? Is BXR the last of its kind or the first of a renaissance?
______________________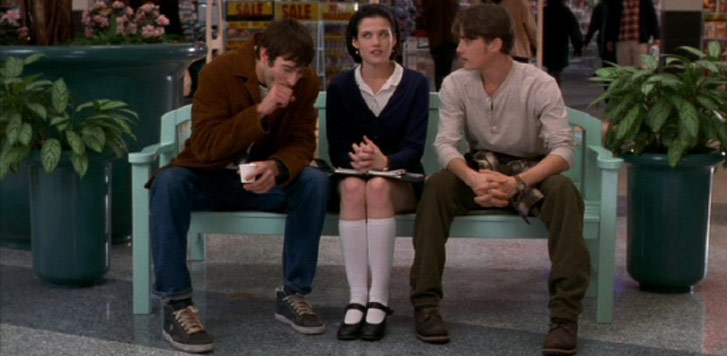 Malls
Easy transition.  Zumiez, Pac Sun, Tilly's.  This was the Streetwear story of 2013.
We (the collective "we," which includes every major American Streetwear brand on the market, as well as newcomers) had long held them at bay (although crossover brands like Diamond have sold to the mall for over a decade now).  But there are infinite reasons why you start opening mall doors: make more money, more notoriety, capping out with your existing boutique accounts, or the independent stockists give up on you (Cool is defined – and fated – by not being Cool forever).  The essence of modern Streetwear is about staying limited, exclusive, and out of reach of the mainstream, yet at some point in the last several years, the underdogs became the top dogs.  We used to make and wear this stuff because we didn't want to look like everyone else in Ed Hardy or Southpole or Abercrombie.  But today, we stand as the Goliath.
A brand like ours can counter the distribution issue because we have 4 flagships to showcase exclusive offerings, unavailable at your local shopping mall.  Plus, we have our higher-tier Public Label, which is only stocked in ten stores worldwide.  But how does mass distro jive with a lifestyle rooted in specialty?  Does the consumer even mind anymore or will they rise against, establishing the next school of Streetwear brands that are impossible to find?
Streetwear in malls will either serve to bolster the system, reinforce infrastructure, boost capital, and increase exposure… or undermine it completely.  We're trying to be here in the next 10 years, 20, 100.  Malls or not.  Choose wisely.
______________________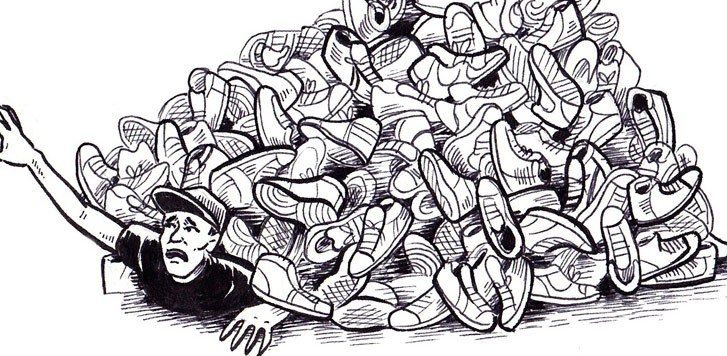 Skateboarding
How Skateboarding behaved this year was not unlike how early Streetwear fired up.  Both fought back against an oversaturated, uninspired, and processed marketplace, spoiled by corporate interference and devoid of passion.  This was the most excited I've been about Skateboarding since I was a teenager, before the contests and soda drinks and athletic-shoe giants got involved, before Skateboarding became a "Sport."  In July, JENKEM published a much-anticipated interview with Marc Johnson that pulled no punches, expounding upon the state of Skate and putting it back in the skateboarders' hands.  This, in the climate of legacy skaters tearing away from their corporate sponsors to found their own independent brands (3D, Magenta, Sausage, even Huf); it was the '90s all over again.  And then Active announced that in the new year, they would be dropping Nike from their shelves, a highly-publicized move to make a statement about the Swoosh's place in authentic Skateboarding.  One thing is clear though.  Skateboarding will never be the same, but that's exactly why we fell in love with it.
Because it never.  gets.  old.
______________________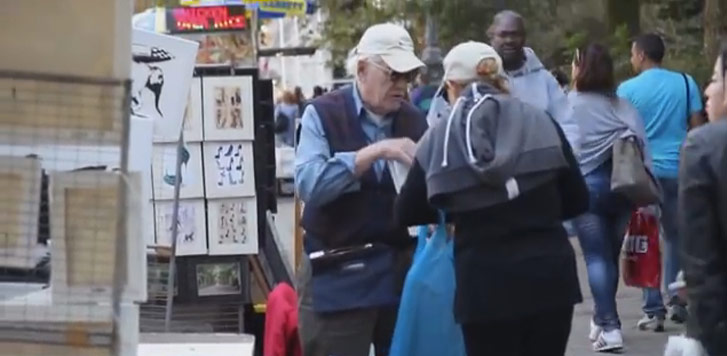 Banksy "Better Out than In"
Admit it.  This was cool.  Even better, it was fun.  Throughout the month of October, the British artist performed a month-long residency on the streets of NYC, from elaborate installations to signature stencils to this bootleg-but-not pop-up shop on the corner.  I dunno, the art critics and experts dinged it, saying Banksy had lost some of his verve or that he'd run out of tricks.  But the entire project in itself was one sensational spectacle.  "Better Out than In" made people think and chase and wonder and talk.  Isn't that what good art is all about?
______________________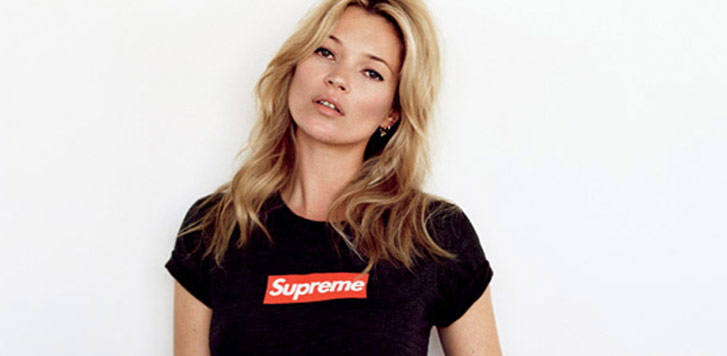 Supreme
Streetwear Brand of the Year, right?  And while most fans would nominate the New York brand as #1 past, present, and future, 2013 truly proved Supreme's time-tested value and integrity.  Remember.  Supreme has always drawn line-ups, but in years past, they weren't necessarily down the street or composed of a mixed crowd.  There were seasons where Supreme was relegated to more condensed line-ups of Japanese resellers, then Hong Kong vultures, before attracting all sorts of kids from different backgrounds and cultures.  You could say it was Tyler's influence or the odd coupling of high fashion and Streetwear.  Maybe it was that while the rest of Streetwear was going bigger and broader, Supreme dug in its heels and stayed insulated and core.  But I think it was just sticking to the timeless rules of good branding.  Stay true, committed to the brand's personality, weather the stormy waves in the market's ocean of arbitrary trending.  Supreme stays consistent.  Consistently.  That's why they're not just Streetwear Brand of the Year, they're Streetwear Brand, defined.
______________________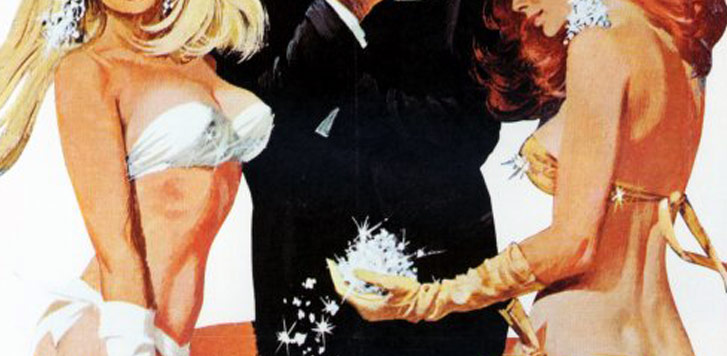 Diamond
They said it throughout 2013.  Only problem is they say it every year.  "Dude, Diamond is done."  Even back when we started, I'd hear this (sometimes I was the one saying it).  Diamond is Skate, and doesn't belong in Streetwear.  The Dunk made Diamond too mainstream.  Diamond oversaturated the market with that Crimson Skull t-shirt.  The Iron Maiden t-shirt.  The (whatever hot Diamond graphic is that season) shirt.  Diamond sells to Pac Sun. Diamond sells to Zumiez.  Diamond sells EVERYWHERE.
And they did.  In 2013, Diamond was the most prolific Streetwear brand on the planet.  As to how Diamond got there, it comes down to the rap celebrity associations, the brand value of the name "Diamond" in itself, the Fairfax flagship's limited drops, Nick Tershay's (I still refuse to call him Nicky Diamonds!) pervasive Instagram reach and #diamondlife-style.  In my opinion, Diamond's longevity and success should be mostly attributed to its tie-in with legitimate skateboarding and skateboarders.  It has long been proven that relevance in the urban space is short-lived, whereas in Skate, you can live eternally.  By establishing an urban/street apparel brand built upon a skate hard-goods foundation, Diamond patented a secret recipe.
You know what they say.  Diamond is forever.
______________________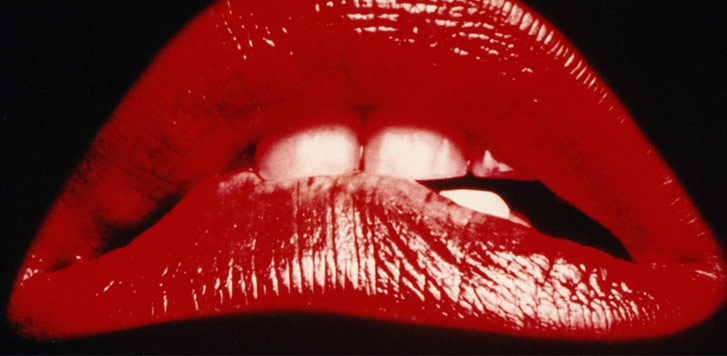 Been Trill
The brainchild of Heron Preston, Matt Williams, and Virgil Abloh, Been Trill was the most ubiquitous hashtag in Streetwear this year (pun intended).  The DJ crew / coolguy clique re-energized all-over plastisol print t-shirts with a Rocky Horror typeface and timely, social-media friendly iconography.  With cosigns by Jay Z and Kanye, Been Trill went from being inaccessible to everywhere overnight, inking a deal with American mall chain Pac Sun – taking both it and the fashion retailer to the next level of contemporary Streetwear – not just in terms of profits, but notoriety and statement.  All eyes turned to Pac Sun, who would go on to host Yeezus' merch and get an onstage "Thank You" from 'Ye at the Honda Center.  And all eyes were on Been Trill, as it started popping up on the backs of youth across the States.  I personally love the brand and the aesthetic, I appreciate what Been Trill stands for and what it brings, but most of all, I am enamored with the upset.  A year ago, if you had hinted that anything like this could happen in 2013, I would've chased you off with a camo snapback.  Streetwear is about the unexpected, and who could've foreseen a phenomenon like this?
______________________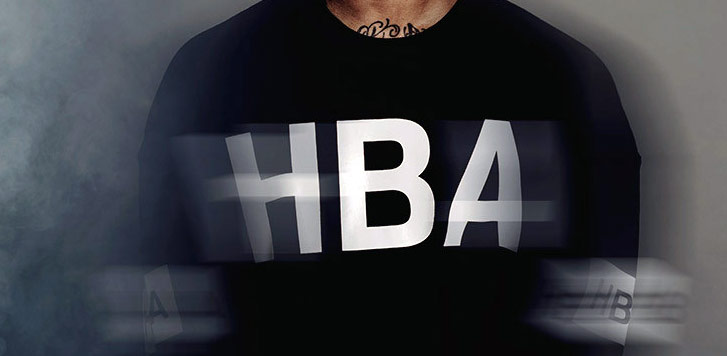 HBA
In the same vein, Hood By Air was another phenom that snuck up on us.  Propelled by the black & white Nascar look, and adopted by fashion-forward rappers like A$AP Rocky, HBA went hand-in-hand with Been Trill and the Street Goth thing to articulate what Streetwear meant in 2013, a postmodern, Internet-painted, nihilist reality where black leather and man-dresses supersede colorful fleece and basketball sneakers.  That's about all I have to write on the subject because I admittedly don't know enough about it, nor did it speak to me.  Cool stuff though.  Edison gave me a couple shirts last season and I wear them proudly. So I ain't no hater!
______________________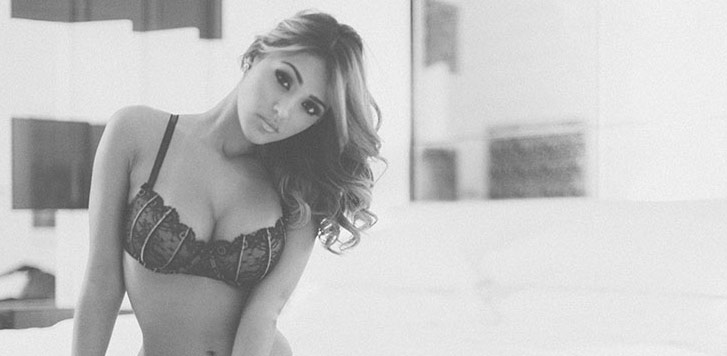 Van Styles
thehundreds.com contributor Van Styles seals a hallmark year as street culture's go-to photographer. Having got his start as a filmer in skateboarding and adult, Van has invested the past couple years capitalizing on his photography, shooting pornstars, landscapes and street scenery. But it wasn't until he began documenting the girls next door – the diamonds in the rough he'd mine off Instagram and Tumblr – that the street community really started to take notice. In 2013, Van Styles had every teenager's dream gig, hanging out with the coolest Skate and Street personalities, disrobing beautiful women in their bedrooms and getting paid to make art of it. The only other thing a kid could ask for would be his own Streetwear brand, and so Van tackled that as well. His The Hundreds blog, V/SUAL, served as a springboard for a t-shirt line featuring his photos, sold in Pac Sun and boutiques alike.
______________________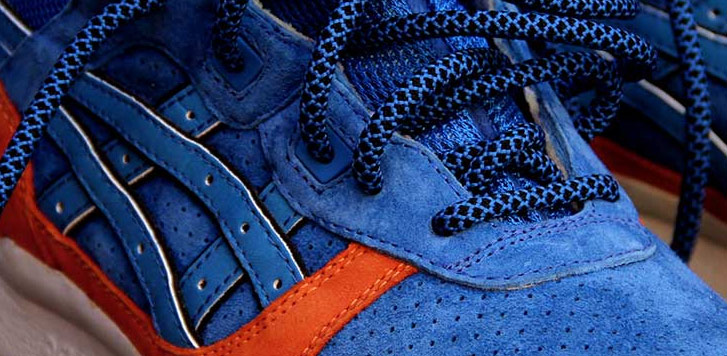 Asics
While the athletic shoe giants sliced up the Skateboarding pie and claimed their respective rap artists, there was one sneaker brand that quietly stole the hearts of sneakerheads in 2013: Asics. With the assistance of collaborative designer Ronnie Fieg, smart special projects with tight distribution, and distinctly creative stylings, Asics stayed in its lane and free of distraction, focusing their efforts on making awesome shoes and nothing but.
______________________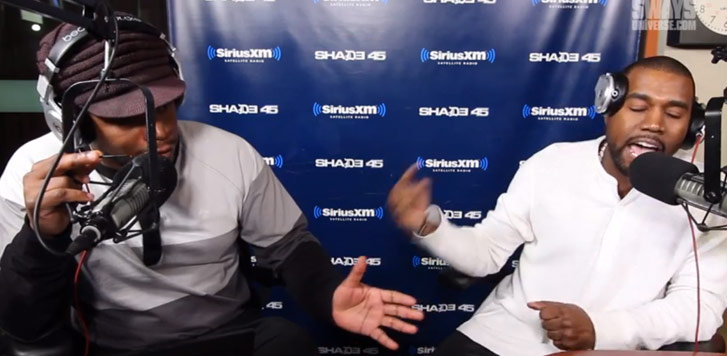 Kanye West
Leather jogging pants. Male dresses. Wes Lang merch. Confederate flags. Exiting Nike. No one person shaped and affected the perception – and outcome – of mass Streetwear in 2013 as Kanye West. But what do I know? What do I know about any of this stuff?? I ain't got the answers, Sway!
______________________
And in 2014? 
Watch Only, Hall of Fame, CLSC, Those Folks, and Dertbag.  If 2013 was about the uprooting, then '14 will be the regeneration…
______________________