Chicago-bred, LA-led rapper Vic Mensa is a whippersnapper only in regards to his age — an adorable 21 years. His mature money wisdom has been swirling a while. When Atlantic offered him a contract at 16, he declined. "Yeah, that deal was chump change," Mensa says. "It was like 3300 dollars." At the time, he was making more than that slinging weed.
Mensa's economical tendencies bled even into his name, inspiring him to drop the "h" that originally/officially caps off his last name. "Yeah, it didn't weight out right," he says. "Vic is so short and then I think Mensa without an 'H' is just more aesthetically pleasing."
OK!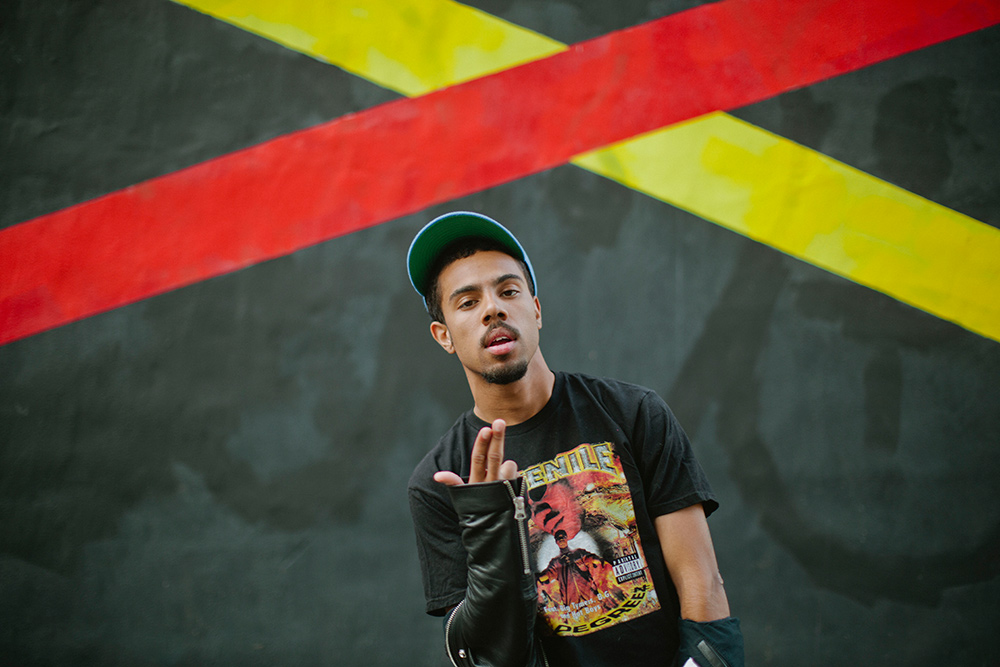 Since the Atlantic diss, he spent time with Chi-Town hip-hop collective Kids These Days before they dissolved in the summer of 2013. Vic debuted his solo velvet flow on Chance The Rapper's mixtape last year, Acid Rap. His nose-scrunching hedonism and posh swagger won hearts across the Internet, especially Tumblr.
"You look like you have a Tumblr," he tells me. Meh, guilty.
"You probably got a Tumblr, too," I counter.
He laughs. "I do. I wasn't saying it in a condescending way."
Naturally, conversation drifts to fan fiction, specifically this single excerpt I found while preparing for our interview before his A3C festival show in Atlanta. I read aloud what the site would let me access as a guest — but Vic wanted more.
"Where is this going?" he's grinning. "It doesn't end there. …I think fan fiction is so cool… I didn't know that shit existed. I didn't know people just wrote fictional stories about their favorite rappers. That's tight, though, because it just contextualized Internet fandom and Internet popularity [in] rap music and all of this instant Twitter clicking. In like a kind of intellectual kind of way." Mensa reclines on the couch in a way that casually appears coolly confident. But looking more closely, it seems precociously calculated.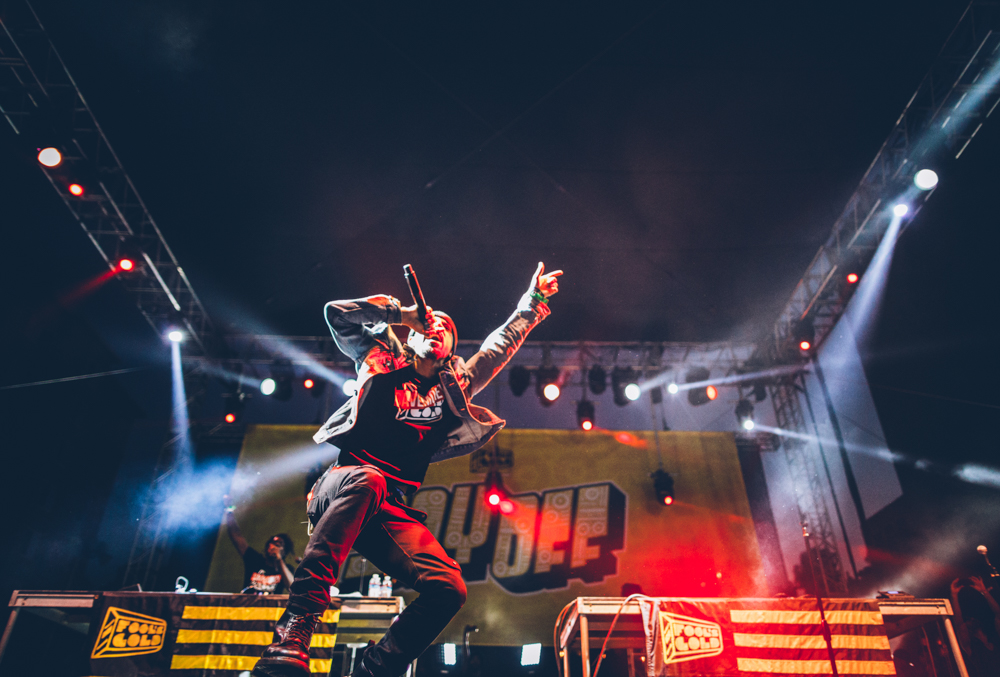 Vic Mensa at Fool's Gold Day Off LA, shot by German Vizcarra.
From our first meeting – when he and his also quite young manager posed a goofy shot of the rapper hover over a vintage arcade game for an Instagram post – to later on, when he teaches me an impossibly complex handshake we then reenact for his I Have No Idea How Many But Likely A Lot of SnapChat followers. He even removes and hands me his Puma sneaker when I ask about them with zero hesitation – Mensa cheerfully shrugs it off. "I can't help it," he says. "Bitches just tell me I smell good."
If Mensa didn't pair his generally jocular 'tude with ferocious passion and drive, it wouldn't work. He might not be obvious, but he's always paying painstaking attention. He brings up a specific incident in which he test-drove last summer's hump-heavy, club-thwapper, "Feel That."
"It was tight because when I played 'Feel That' in the strip club that night it turnt up," Mensa says. "This other girl got a lot of money off of it too… And somebody just started cashing out, my home girl got mad money off it. She made the most money that night that I saw anybody make. 'Feel That' cashed out that time, we was just cashing them out."
Mensa keeps his eyes and ears open amidst the thick clouds of smoke. "I think it's something I always do when I go for the clubs and shit like that, especially in other cities," he says. "Just being around the world is just like – watch the sounds that evoke energy from people… I be writing that shit down in my phone…" And it's true. I catch him taking a handful of subtle notes during our conversation.
He's due for a flight to Canada in the morning. Plane-hopping is something Mensa knows well, however, he's prepping for an LA break.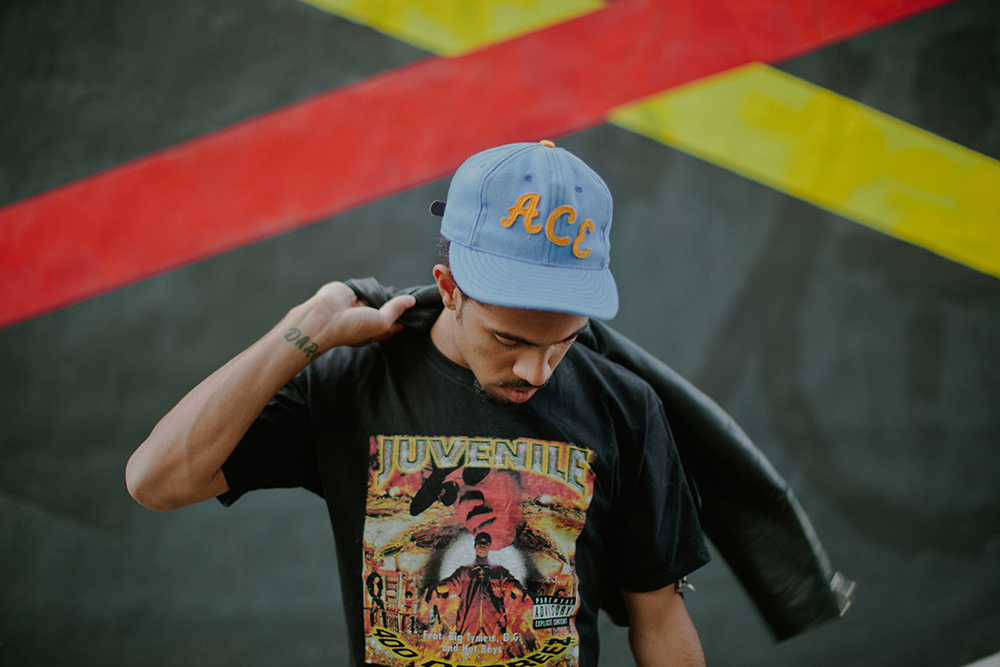 "I'm going back [to Chicago]," he says. "I don't even think it's a bummer. I just kind of miss home. I get sad as shit… I'm going to go get a place in Chicago for a little while I'm not even in LA very much. I'm everywhere more than I'm anywhere – if that makes any sense."
I ask how he likes that aspect of his rapping career.
"Not specifically, but you know, it's all in stride," he says, easy smile slicked across his mug. "It's all in stride. It's all part of the grind. Part of the hustle. I don't dislike doing what I gotta do… It's definitely part of the bag and I'm trying to get the bag."
::
Special thanks to Sarah Gormley for shooting the portraits above.