Urban Industry is one of the UK's OG streetwear retailers and is without doubt partially responsible for making me the monster I am today. It makes me sick thinking about it, but the undeniable thousands upon thousands of pounds that I've sunk into feeding my obsession for t-shirts, headwear, footwear, and the rest of it is a very real problem. I mean, why can't I have a normal addiction to empathogenic drugs and house music like most people my age?
But hey, let's look on the bright side. I wouldn't be here writing for The Hundreds today if it wasn't for my early fixation with graphic prints AKA the gateway drug towards caring about silhouettes, colour palettes, and trend projections. Instead of rocking up to the club like, "Hey bro, what's a guy got to do to get some molly around here?'"– I'm more like, "Hey bro, that French Terry cotton is exquisite. Nice work."
We recently linked up with Daniel King, the founder of Urban Industry, for a tour around their store and warehouse facility in Eastbourne, on the UK's South Coast.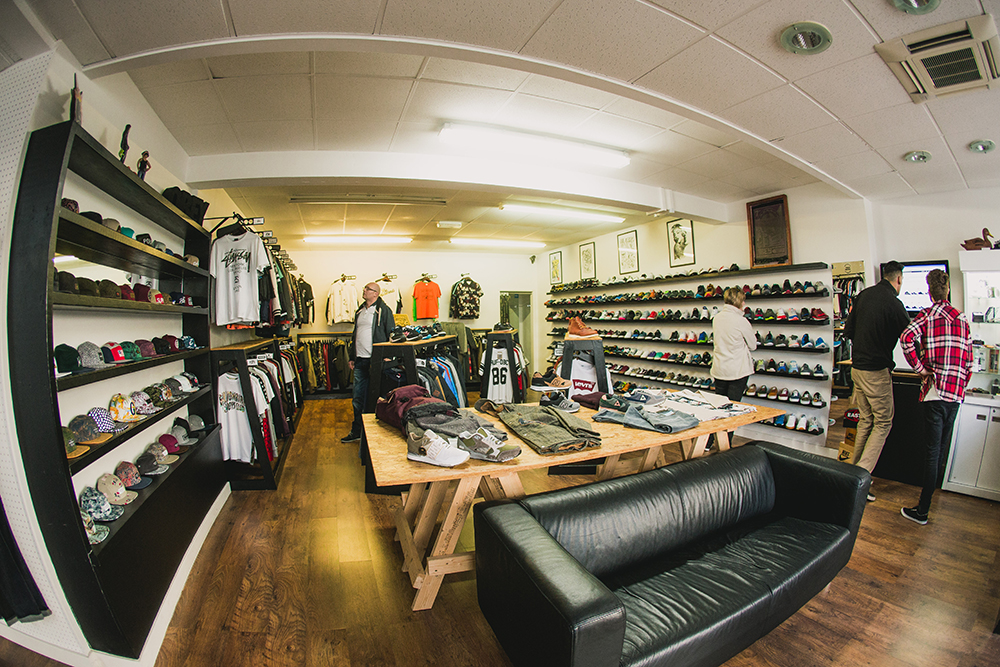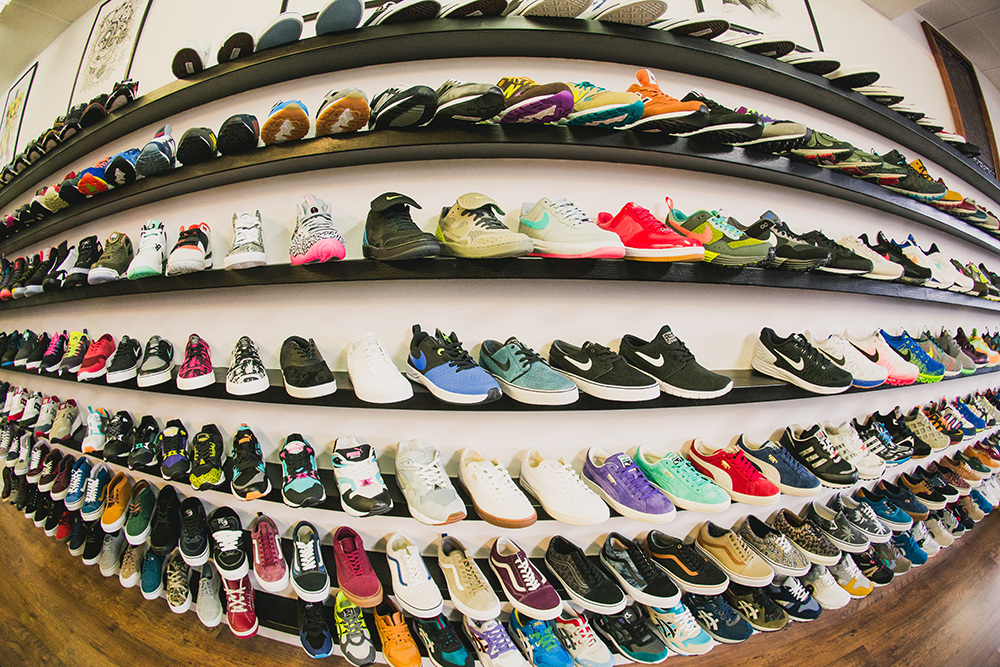 Urban Industry's refined stock selection ensures that they've only got the best of the best on deck.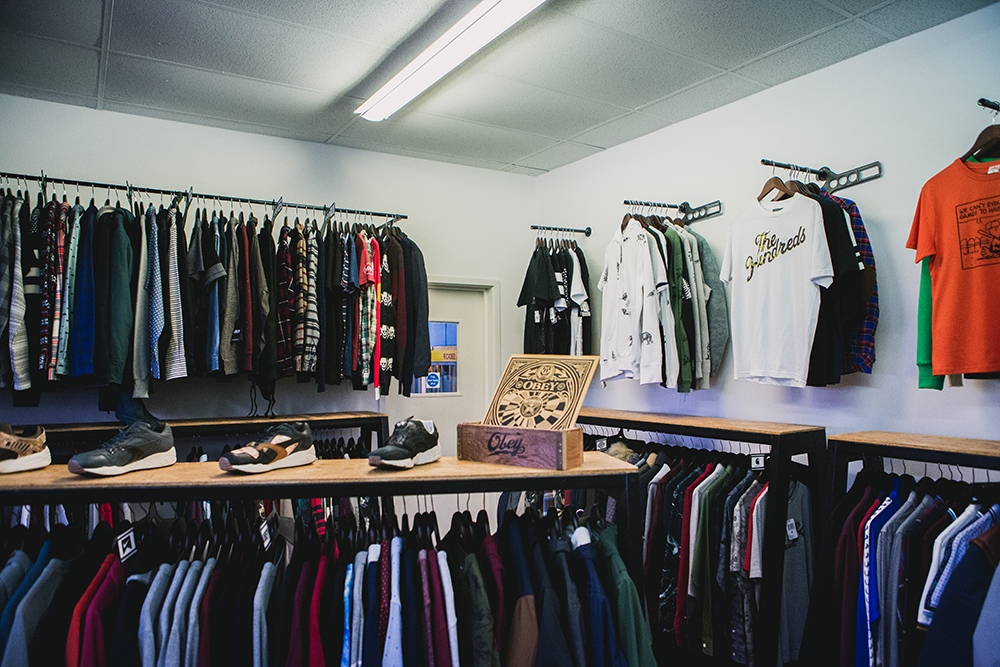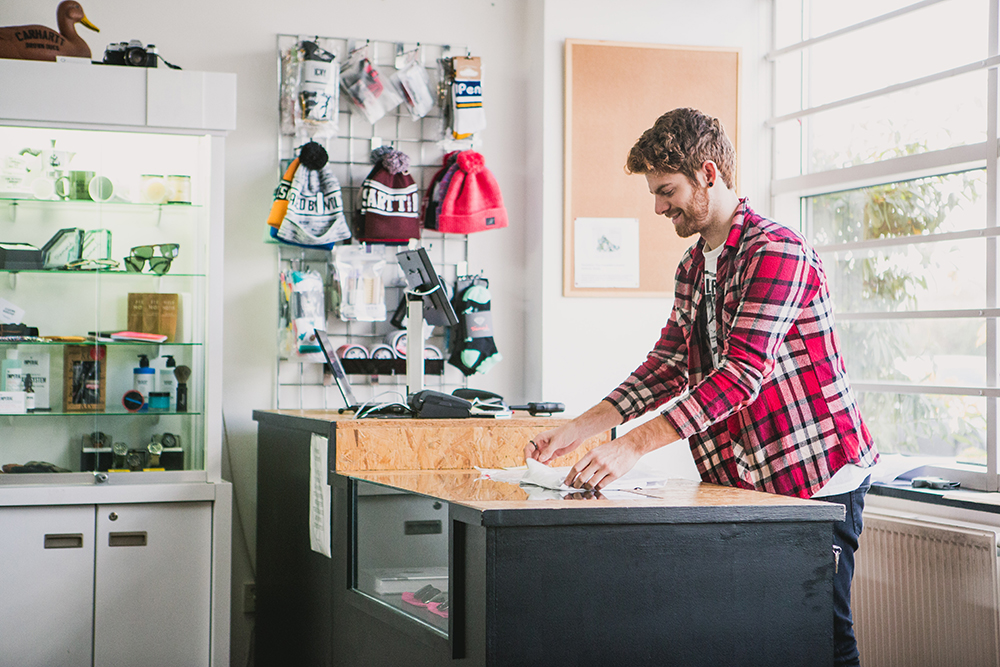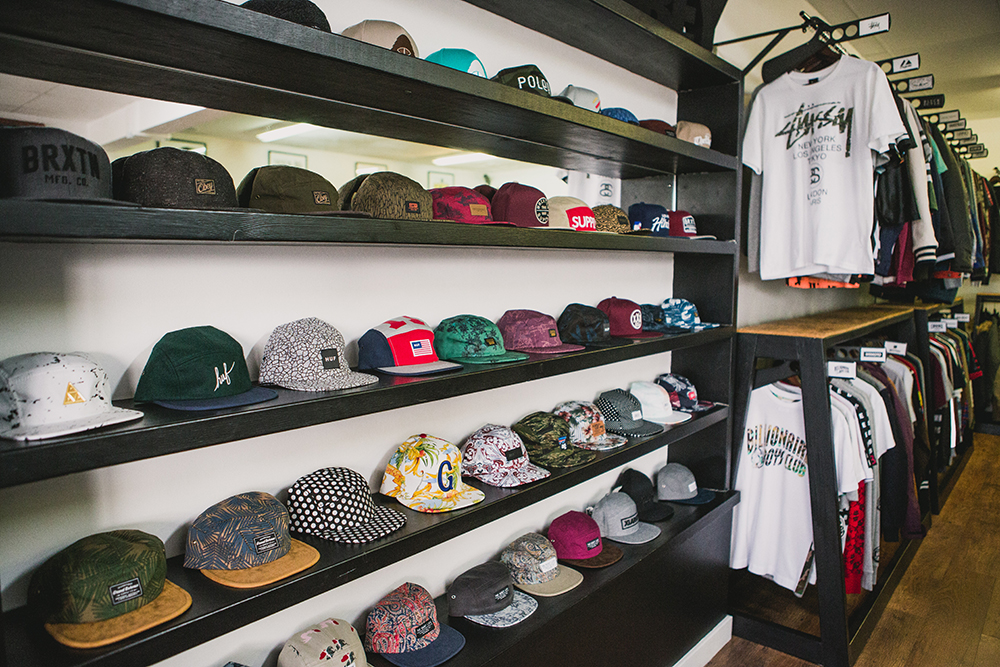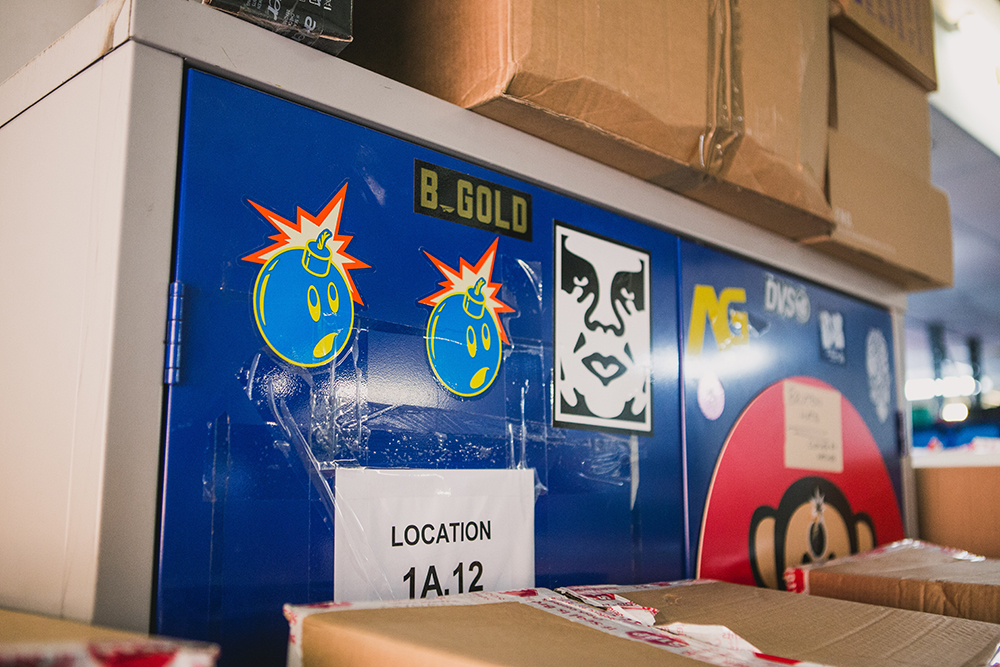 Adam Bomb has successfully infiltrated Urban Industry HQ, appearing all over the warehouse.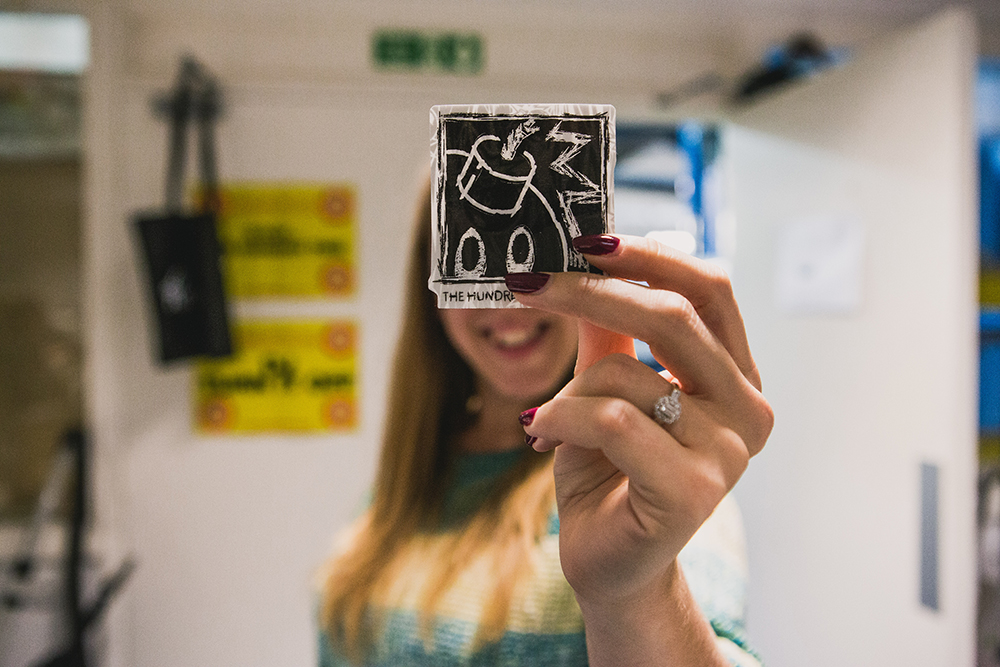 To follow up, I sat down with Dan to soothe my inner demons by discussing how Urban Industry was born, has grown over the years, and continues to thrive within an exceedingly saturated market. We also touched upon how he first discovered The Hundreds and the evolution of and current state of UK streetwear today.
::
TOM WINSLADE: Hey Dan, so what are the origins of Urban Industry? How and when did it all start?
DANIEL KING: We started back in 2002, but the the path leading up opening our own shop stemmed from having my own clothing brand from around '94/'95. Me and a friend had a brand called Dirty Habit, a mountain biking clothing brand, which we ran out of my house as an expensive hobby, really. Fast forward a few years and I was at university studying a business degree, with no clue of what I really wanted to do. I finished that around '97 and moved to London for a couple of years to try and work in marketing, running the brand at the same time in my lunch breaks and things like that. I eventually moved back to Eastbourne with my girlfriend at the time, now my wife, and started a new job at web development company, again, still doing Dirty Habit on the side.
My wife (girlfriend at the time) hated her job and eventually I suggested, "Let's open a shop. I have a full-time job that can support us, you can run the shop and then we also have a base for Dirty Habit." That was always the goal really, just to build up and run the brand using the shop as a platform. We started looking at units, and shortly after I actually ended up getting made redundant from the web development job, totally out of the blue. Then, about a week later, we found out that Vicky was pregnant with our first child. We'd also just taken out a mortgage on a flat, and it was just a case of, "Right, what are we doing here? Let's just give the shop a go. We've got nothing to lose." Our backs were really up against the wall. So, we started the name Urban Industries Limited in July 2002, with a small shop opening its doors in Eastbourne during November that year.
I was working the shop full-time, as Vicky was heavily pregnant at this point, so I ran Dirty Habit out of the basement and had the full shop upstairs – stocking a minimal amount of brands. The original plan was that it would be a mountain biking/skate shop, but I wasn't really aware of the whole exclusivity for certain brands, per store, per town thing. There was already a skate shop in Eastbourne stocking all the brands we were looking at, so we couldn't get any of them. Etnies, DC – all those brands that were big at the time. So that forced us to look more at streetwear, although I suppose it wasn't really called "streetwear" back then.
What were the first brands that you remember stocking?
If I remember right, we opened with Addict, Mooks, FLY53, Freshjive, Alphanumeric, Westbeach and of course Dirty Habit downstairs.. We had women's stock as well as men's, so it was 50/50. I guess that combination pushed us into doing more lifestyle-led product. A real crazy mix of brands, to be honest.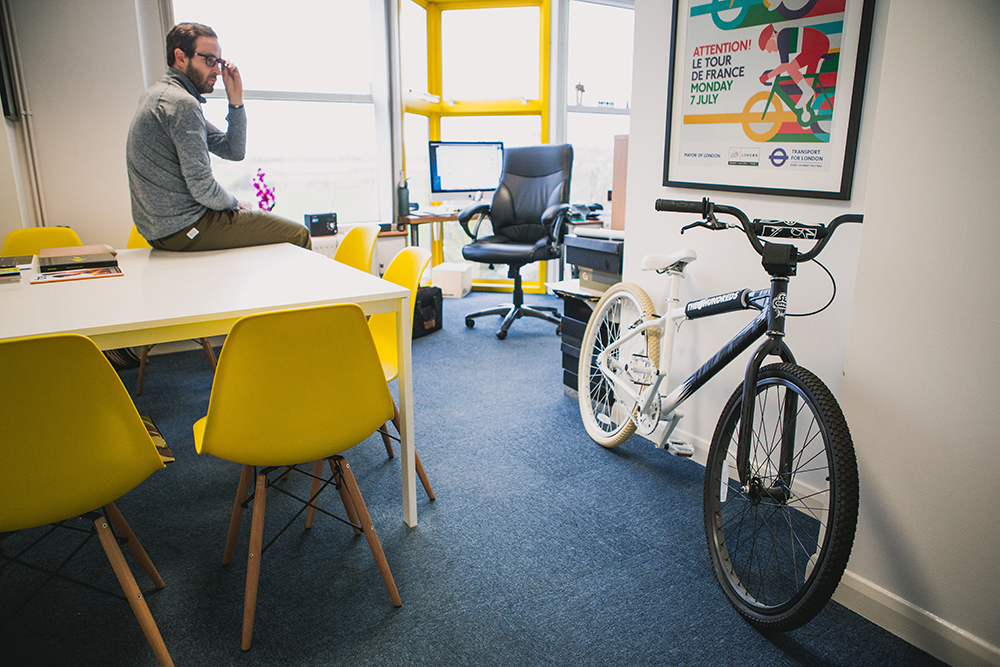 The Hundreds x SE Bikes 'PK Ripper' BMX from 2009 sit's in Dan's office.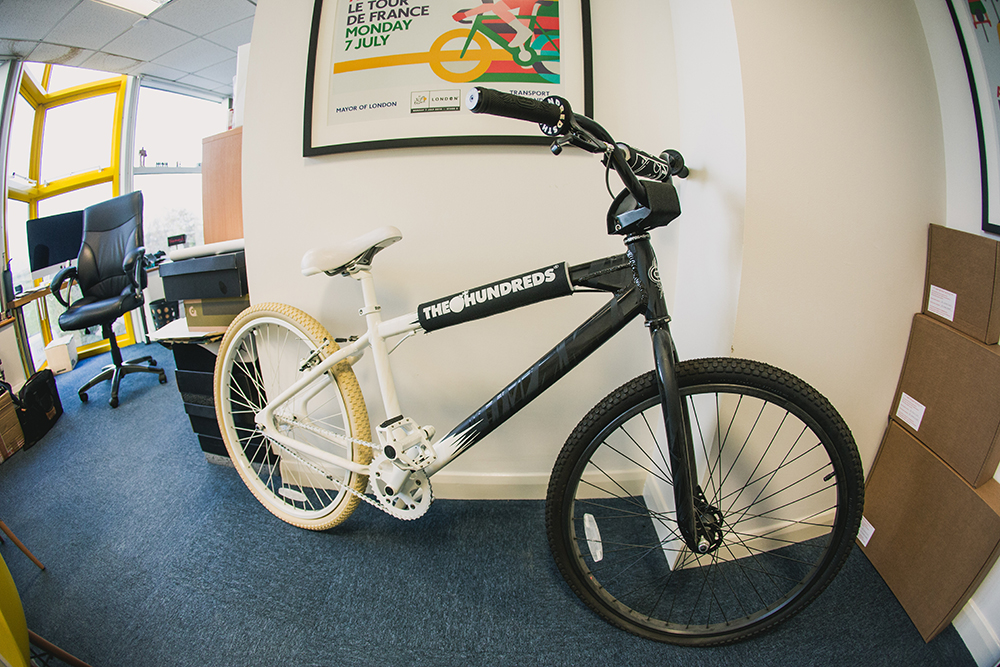 Limited to 300 pieces worldwide. Man, I'm jealous.
2002 is pretty early on in terms of the UK's adoption and awareness of 'streetwear,' or whatever it was then. Did it take a while for people to catch on to what you were doing?
Yeah, especially with us being located in Eastbourne. It was just never going to happen [laughs]. Streetwear has only become a genre of clothing since then. Like, Stüssy was the first brand I really heard called "streetwear," so back then it was just about stocking product that I liked, personally. I was doing all the buying, so it was just clothing that I quite liked the look of, supported by branding that I liked too. For example, with FLY53, I'd already been buying that for at least 5 or 6 years previously. It was a London brand and it was always quite "techy," which I liked, so I just hoped that our customers liked it too.
In Eastbourne, it was always going to be a struggle, though. We had two years of really poor sales and it grew very gradually from there. It wasn't until around 2009/2010 that streetwear really kicked in for us. That's when we saw a boom, with streetwear finally exploding in the UK. Snap-back caps and 5 panels paved the way. I mean, there were trends starting to come through before that, but that was the real tipping point. We struggled for 4, 5, maybe even 6 years before that – always growing, but struggling. It was the website that really helped us grow. We had that from 2003.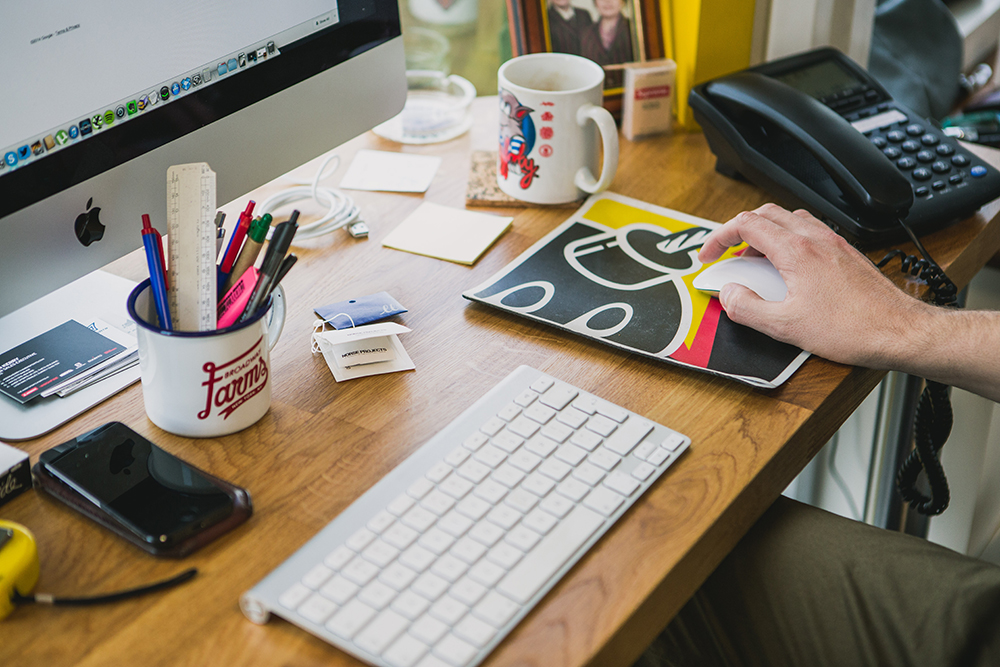 This Adam Bomb mousemat has been through the wars. Stay strong, soldier.
Would you say the website helped define Urban Industry, then? Maybe not immediately, but that was the backbone?
It still took a while, but you could see the potential when you're looking at the bigger picture, outside of one town. The website was really just to support the shop, though. It was survival. I would sit at the back of the shop with the till on one side of me and the iMac on the other, working on the website whenever the place was empty. Facebook and these other social networks we have now weren't a thing, we just about had MySpace, but I was mainly just sat there managing stock, replying to emails, and changing banners on the website itself. After around 4 or 5 years of building it up, we could see that the web sales were massively overtaking the shop sales and that's when we switched our focus.
It's certainly not easy to open a store from nothing. You've really got to be in it for the long haul. What were the main hurdles you faced early on?
Getting money. No one tells you about the sleepless nights you're going to have, sitting there at 3am, stressing, trying to work out which bills to pay off first and how we were actually going to pay them with the very little money we had coming in to begin with. It was a case of making just enough to buy the next bit of stock to survive until the next season.
After that, the main struggle was trying to stock the brands that we really wanted. That was an organic thing that came with time. Back then, Stüssy was the brand you had to get – it was the keyholder brand. If you stocked them, you pretty much had access to everyone else. It took us 3 years to finally land Stüssy. They came and checked us out to see if we had the right environment and the right association of other brands, and they eventually deemed us worthy. After that, everyone else came knocking.
So that's when it started to really fall into place? With all those other brands wanting to be seen on the same shelves as Stüssy, that set the tone and put you on a certain level.
It was kind of seen as, "Right, if they're good enough for Stüssy, they're good enough for us." Stüssy were notoriously picky, so if you were stocking them, you were worth talking to. It was definitely the benchmark for while. We wanted MHI by Maharishi for ages, until they did a secret store visit on us and called us up afterwards to say, "Okay, now you can stock us." That was such a big deal for us at the time. It all just gradually came together like that. Piece by piece.
You mentioned before that streetwear came into existence quite early on in Urban Industry's timeline. What were the core streetwear brands that caught your eye and made you see it as something separate to skate or whatever else?
There were tiers to it, really. So you had Stüssy, MHI and all of that first off. Then it would have been; The Hundreds, Rebel 8, Benny Gold, Rogue Status, Addict. Addict was actually the big one from the UK in terms of pure streetwear. Weirdly, we're currently working on some bits and pieces with Chris Carden-Jones who was one of the former owners, and he would agree that it's a shame Addict slipped. That could still be a core streetwear brand today. HUF came onto my radar slightly later. Then Mishka, 10.Deep. All of them were just true streetwear brands, through and through.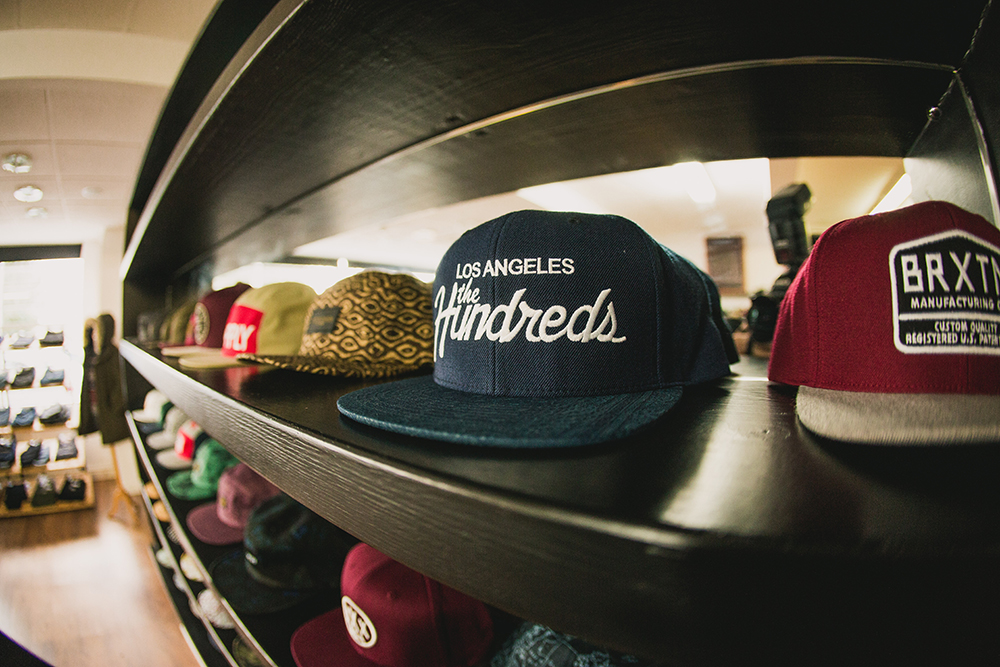 I've obviously got to ask, do you remember how and when you first heard about The Hundreds?
If I remember right, at one point The Hundreds was being distributed directly into 3 or 4 UK stores, one of which was a store in Brighton called Triage. They used to stock really high-end product, like Tenderloin – Japanese selvedge denim, and all kinds of mad stuff like that. So I originally heard about The Hundreds through those few stores and a little bit online too. Then I remember speaking to Ross [of Out Of Step Distribution] at the Park trade show in London about some new brands he was bringing across the pond, and when he mentioned The Hundreds I was like, "Ah, brilliant! We wouldn't mind getting some of that." Bear in mind this was way, way back in the day, but I'm pretty sure we eventually went and met Ross at his flat and bought the stock directly from there.
Wow, really back in the day then! Streetwear itself has obviously grown and developed exponentially since then, which is obviously great for business, but from a personal perspective do you feel like it's almost too accessible now?
Honestly, yes. I think it's all relative though. From a business point of view, we're trying to grow a little beyond streetwear now, in a way. For example, we're stocking a slightly wider range of more commercial brands and our new website is a lot more mature. We're swaying more towards menswear as we're seeing our customers getting older and head more in that direction. The problem is, when streetwear really kicked off, you could only buy it in certain stores, so it was just the people in the know that would buy it. It was kind of a uniform. Of course it's easily accessible online now, or available on the high street itself. It's all relative to the growth and progression of any successful business or movement though. Times change and it's about holding on to your core values, whilst adapting to survive.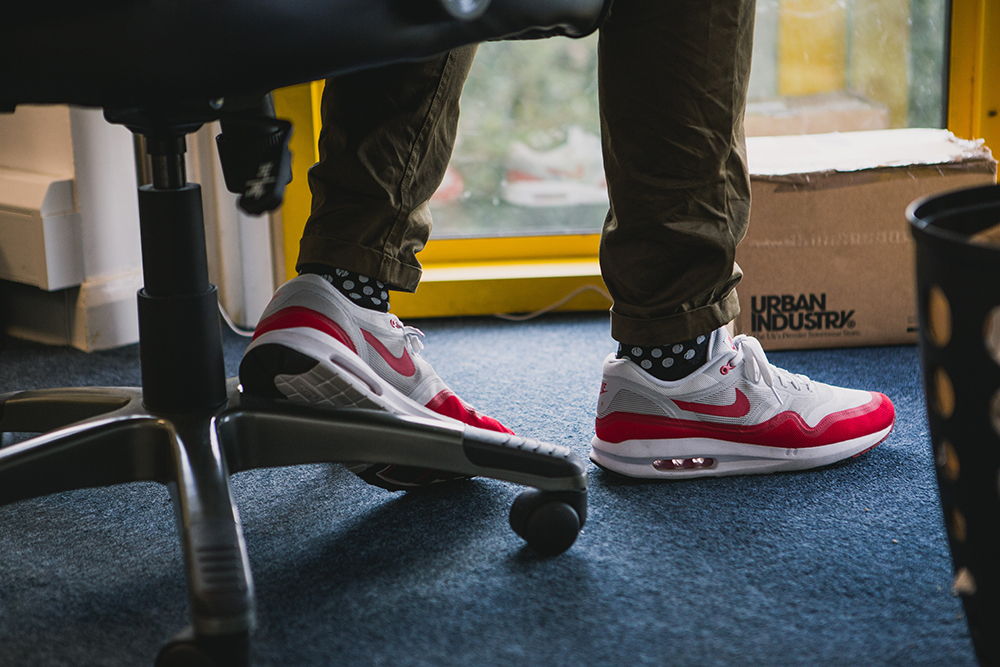 Hey Dan, I see you with ICNY 3M socks.
What's your perception of UK streetwear at this point in time?
I'd say it's just fragmented, really. We've had a few brands that do well, such as indcsn, Too Much Posse, Grind London, Villainous Vizard – but for the most part, there isn't much in the UK that tends to stick. We don't stock Palace, as much as I wish that we do, but I kind of take that out of the equation with British streetwear. It's become a separate entity entirely.
I'd agree that Palace almost transcends being a UK brand. As with any younger brand now, location doesn't have as much bias because of the Internet. Even though it's a London skate brand, it really blew up within US hip-hop culture first, before filtering back through over here.
It just feels like it was so well-polished as soon as it came out, that it really blew everything else in the UK out of the water. It's incomparable, really. Don't get me wrong, there is no shortage of brands over here, and there is of course a thriving streetwear scene, but in terms of true, British streetwear brands producing a product comparable to the American brands we covered before, we're lacking in that.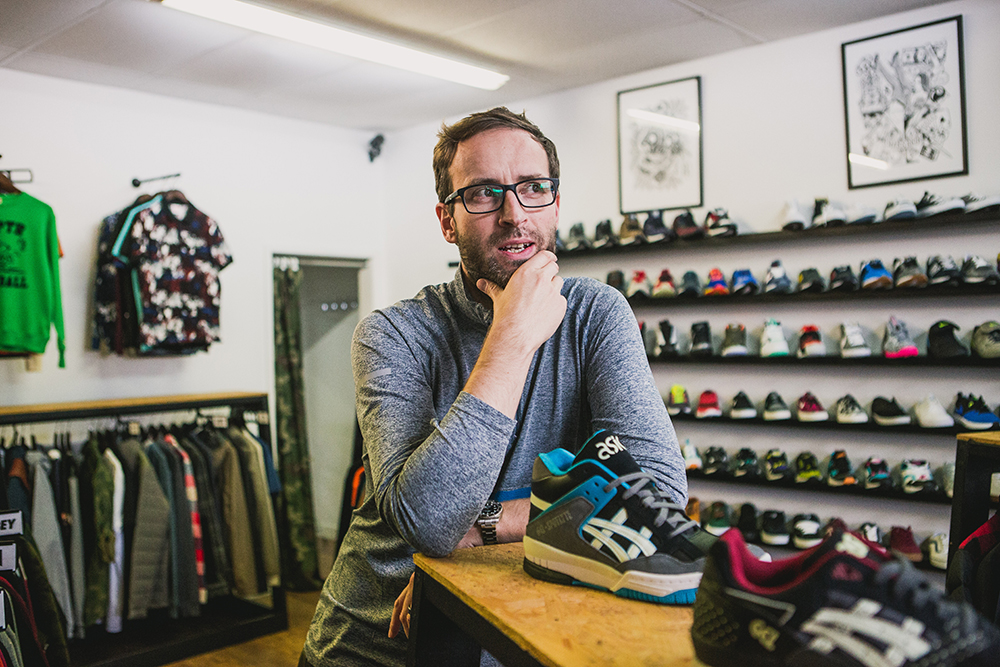 So, who is Urban Industry in 2014? It still seems like quite a close-knit company, despite your growth. Being 12 years deep, how have things changed?
We've worked our way up to become one of the country's go-to stores for streetwear. Starting out as a small store tucked away in a small town, we always aspired to grow and be at the forefront of what we do, even though we weren't sure of how to get there. Right now we have our largest store to date, which is located on site with our warehouse, where we run all our distribution for the website. There's an aspect of it where we are now a target for other UK stores, where they'll try and emulate certain things that we do – which is a nice thing, with imitation being the sincerest form of flattery and all that – but it's getting harder to set yourself apart. A lot of stores stock very similar product now and it's even more difficult to differentiate yourself from the rest when they're copying you [laughs].
That whole imitation mentality bemuses me, especially in this business, as surely the main reason you've started your own store/brand/whatever is because you want to do things differently?
Exactly, it should start as a response and remain that way. I try and hold back with speaking about it because it just causes beef, but we get really annoyed with it, to the point that we just say "Fuck it, we can't stop them. Let's just focus on what we're doing."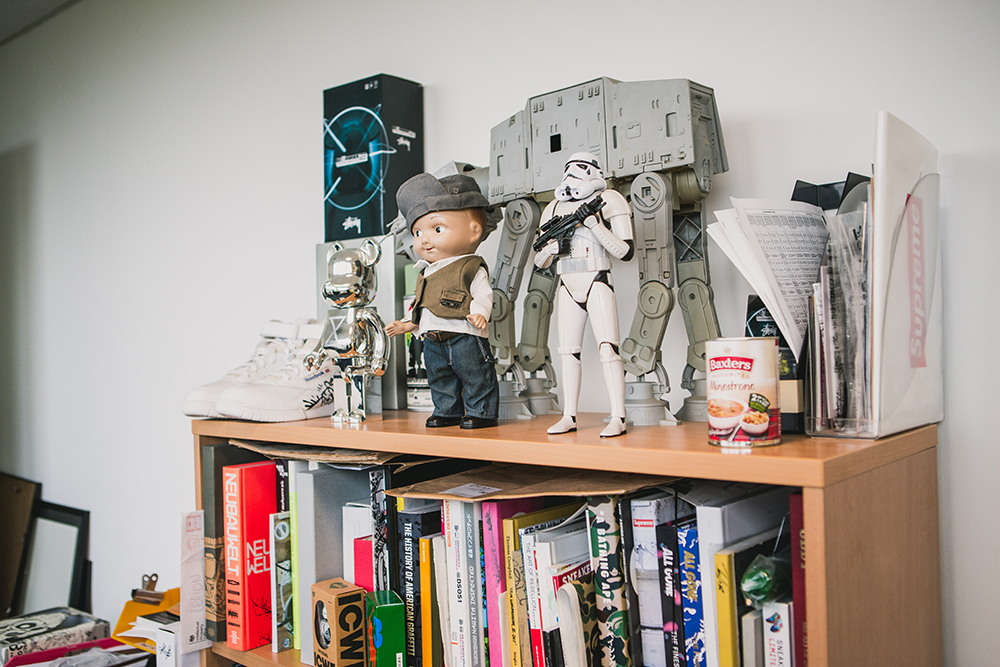 A bookcase of inspiration and sentimentality in Dan's office. Note the v rare Baxter's soup.
You recently rebranded yourself with a new logo and website. Is that something you had been wanting to do for a while?
It took us over a year to bring it all to life. The website is massive now, so it took us a long time to get that designed and built. We just knew we had to move on and mature ourselves a little, like I was saying before. It was a conscious decision to make ourselves look a little older, but still hold on to what we've always been about. I'm getting older myself and I'm starting to wear different stuff, so it's a reflection of that too. It's a business, but it's always been a personal extension of who I am and what Urban Industry stands for.
Urban Industry has expanded a lot over the years in terms of outgrowing stores, warehouses, online etc. Are you content with where you're at now, or is there still room to grow?
We're happy with where we are now, but we do have to stay on the treadmill. There's always an eye on our growth, but it has to remain organic and sustainable. The website is built with that in mind, as is the new warehouse system. We'll hopefully grow with stocking the commercial brands, like Fred Perry, Levi's, Nudie Jeans – but we'll still always have the new, relevant streetwear brands coming up underneath that at the core of it all.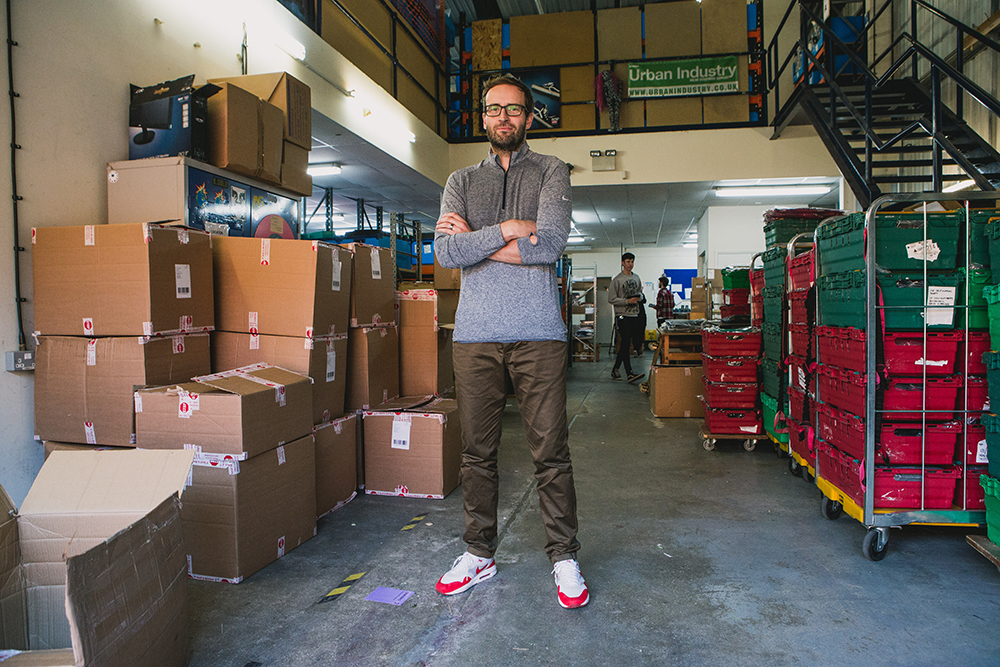 What's next for Urban Industry moving forward?
We'd like to do some more collabs with brands, so that's something to look out for, but it's mainly just about keeping on at what we've always done well and hoping that continues to push us on in the future.
::
Head on over to the Urban Industry website to shop their latest offerings, including The Hundreds.
And if you're not sick of me already, everything you need to know is here.