UNA (pronounced YOU-NAH) was a shopgirl working in Harajuku, the street fashion mecca of Japan, when she was discovered during her lunch break by street fashion photographers from a Japanese Nylon-like magazine called Zipper. That was only four years ago. The girl from Okinawa with 15 years of ballet experience up her sleeves soon became one of Harajuku's most recognizable street style icons, regularly gracing the pages of Zipper, Nylon Japan, Ollie, and Kera. In 2012, Una launched her singing career under the wing of Asobi System, the same powerhouse that brought us the traumatically cute Kyari Pamyu Pamyu. She's since proved to be in a league of her own. After the release of her first single "JUICY JUICY", which is a maximalist hyper-auto-tuned 80KIDZ-produced baby trap ringtone-pop number (AKA what I think the future sounds like), she's really shown how ambitious and diverse her musical palette is with songs like "Lonely Flower" and "Skater Girl", which she only performs live.
Last week, Una stopped by The Hundreds Homebase with a 7 deep posse and spoke with Mac and I before leaving to prepare for her first show ever in the US at the El Rey with New York glitch-rock band Anamanaguchi – a show organized by IHEARTCOMIX. Scroll through to read our interview with Una and find what tokimeku means, why she didn't know who Stone Cold Steve Austin is even though she was sporting his vintage jersey, her thoughts on street style in Japan, and the committed motivation and strength that she gleans from critique.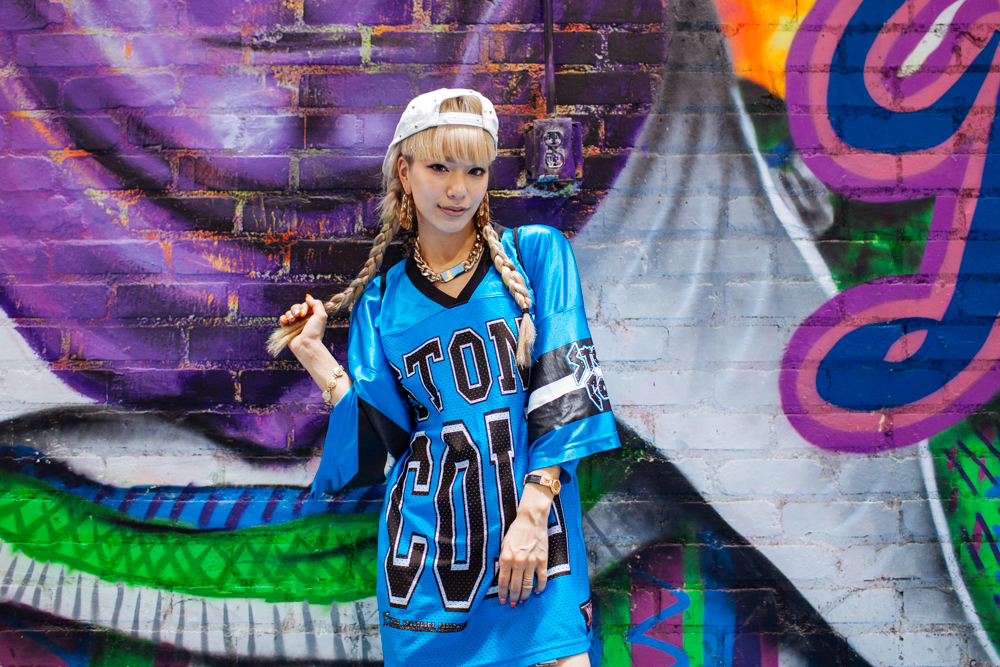 ALINA: I read that you made your debut as a model from a street fashion snap in 2010. What magazine was that and when did that happen? 
UNA: The street snap was for a Harajuku style fashion magazine called Zipper. Back then, I was working at Bubbles, a clothing store in Harajuku. I was on my lunch break and I was walking to go buy lunch. The people from the Japanese magazine Zipper came up to me and asked if they could take a snapshot of me. That's how it all started. After that, I exchanged information with them and became an actual model for Zipper.
What was that like?
I've been reading Zipper since junior high, so at first I couldn't believe it. I'm really proud and happy to appear in and be associated with a magazine I grew up reading!
Can you tell us what the Harajuku area means to you?
When you think of Tokyo, Shibuya and Harajuku are the top spots that people talk about. Harajuku is one of the most famous places in Tokyo. I'm originally from a small island called Okinawa, so I had such a strong sense of admiration for Harajuku even before I came to Tokyo. When I went to Harajuku for the first time, I was struck by the sense of freedom everyone had in their fashion. I could feel that everyone was really expressing their personal tastes and interests through their clothes. People try to categorize what "Harajuku style" is, but you can't define it into one style. It's so broad, and everybody has their own individuality. I was so shocked when I experienced Harajuku for the first time, and to this day it's still a city that I love.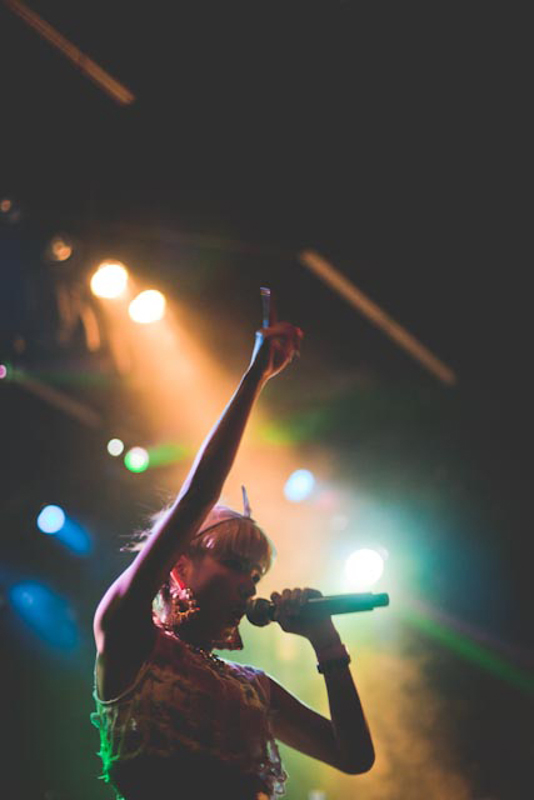 Sidenote: We learned that in Harajuku, approximately 95% percent of all vintage clothing sold there is sourced from the US… And the fashion lovers and vintage fanatics who rock Raiders jerseys and kente cloth there usually don't know much about the cultural weight and history of the apparel. Harajuku lovers don the clothing for the sheer feeling of what they call Tokimeku, a word without quite an English equivalent that means a flutter of excitement, a hypebeast's frenetic "must cop." It's an honest love-at-first-sight that doesn't really require any backstory. I kind of equate this approach to fashion as the opposite end of the spectrum from "Heritage" wear.
What are some of your aesthetic influences? What are your favorite street fashion trends right now in Japan?
I'm inspired by LA culture and music, and '80s and '90s music culture. I incorporate those elements into my fashion. What I'm wearing today looks different, but I'm often inspired by hip hop music... My favorite store is called Pin Up. It's a vintage clothing store, and they sell things like deadstock sportswear. They sell a lot of Raiders uniforms there. I shop there regularly.
[Wearing jerseys as a one-piece is] starting to get popular in Harajuku, and I've been doing it for a while, but girls have been wearing oversized baseball, basketball, hockey sports team jerseys worn as a one-piece dress.
What are some of your favorite brands that do sportswear and streetwear?
My favorites? I don't really have brands that I like, I prefer vintage.
You broke onto the scene with "Juicy Juicy" and now you're signed to Universal Music Japan. How has the transition into singing from modeling been?
I started out as a dokusha model [literally "reader models"—refers to an amateur "it girl" model scouted from the street], but I always wanted to expand and express myself more. I had been practicing ballet for 15 years, and I always loved singing. After joining Asobi System, I wanted to expand my horizons more, so I decided to become an artist.
JUICY JUICY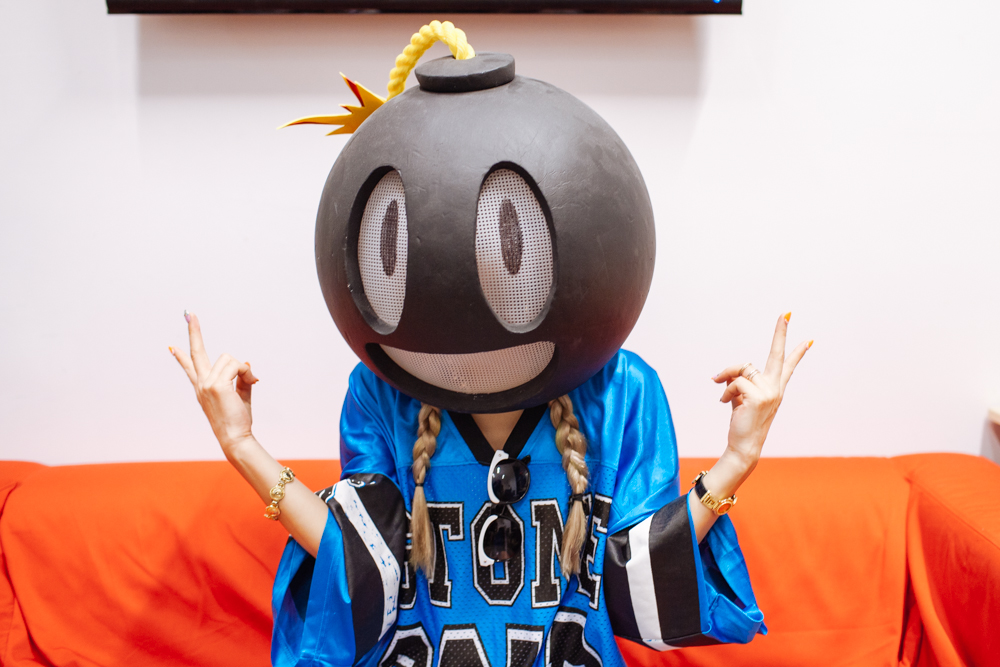 I read in an interview that when you transitioned from model to singer, that you lost some followers and friends. How has the journey been moving into this new stage in your career?
It was something that I had predicted might happen. I wasn't shocked by it, but I did get criticized more than I thought I would. People were saying, "She's just a model who became a singer." That kind of criticism hasn't disappeared, but I don't care what people say. I have come to a place where that criticism makes me want to work harder.
Do you have any dream producers you'd like to work with? 
In Japan, there's a famous producer named Verbal from the group M-Flo. I'd love to work with him. He's a DJ and rapper too. [Verbal is also creative director of the brand 'Ambush' and longtime member of Nigo's rap group Teriyaki Boyz.]
Are there any tour stops that you're particularly excited about?
I haven't been to Osaka in a while, but I'm going to Osaka soon. I don't know why, but I have a lot of fans in the Kansai [western] region of Japan. So I'm looking forward to Osaka since I haven't been there in a long time.
Do you have any tips for shopping vintage?
I always focus on size and fit. It's gonna be a totally different look if you wear something fitted vs. oversized, so I pay a lot of attention to how I want to wear the piece. Also with vintage pieces, each item is unique, so it might even be deadstock. I love it when the clothing has a historical background that stands out. So when I see a vintage piece that I'm drawn to, it's like destiny. Finding those one-of-a-kind pieces is important to me.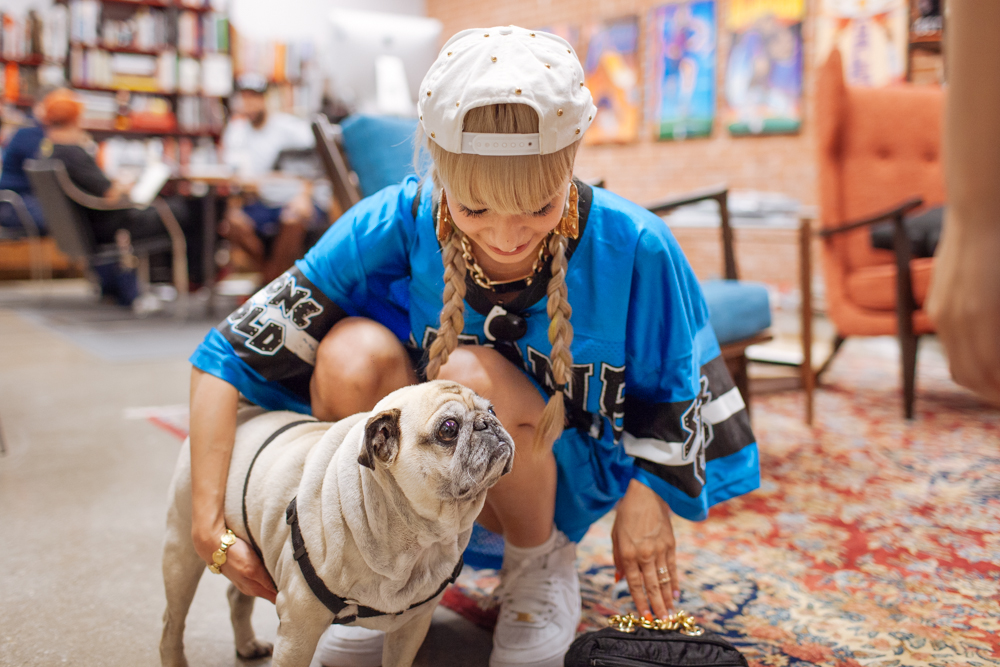 WARRACE!!
MAC: The Hundreds is really into the '80s and '90s. What is it about that era that you like? 
It's always hard to say, "I like this clothing because of this reason." I go more off of feeling. When I see a piece of clothing and think, "I love this," I'll ask people who know more than me about the backstory, or do research on my own. The most important thing for me is that first impulse of, "This is so cute!" That feeling is the most important thing to me. It's Tokimeku, which is a lyric in "Juicy Juicy." [Tokimeku as a verb in Japanese kind of means butterflies in your stomach]. It's hard to explain, and the word probably doesn't exist in English.  You know, it's that feeling of... "Wow!" [laughs]. That feeling is the most important thing to me. Tokimeku is like that feeling when you fall in love.
MAC: That jersey that you're wearing is really funny because when I was a little kid – when anyone our age in Southern California was a kid, we all watched WWE wrestling. So Stone Cold Steve Austin really hits the heartstrings of suburban youth. [referring to her STONE COLD jersey]
When I buy these clothes, I actually don't know what the backstory is at first. But what I love is hearing stories from people who were around back then, and hearing the nostalgic stories that they might share about that era.
So it's not about the story, but about the aesthetics and how it makes you feel. Tokimeku. That's so interesting. When can we expect a full album or for your music to be available in America?
I'm aiming for this year, maybe it might take longer. But I'm trying my best!
What's your favorite song you've released so far?
There's a song that I only perform at my shows. It's called  "Skater Girl" but it's my favorite song out of all the ones that I've made. When I perform it live, it always make the crowd go wild!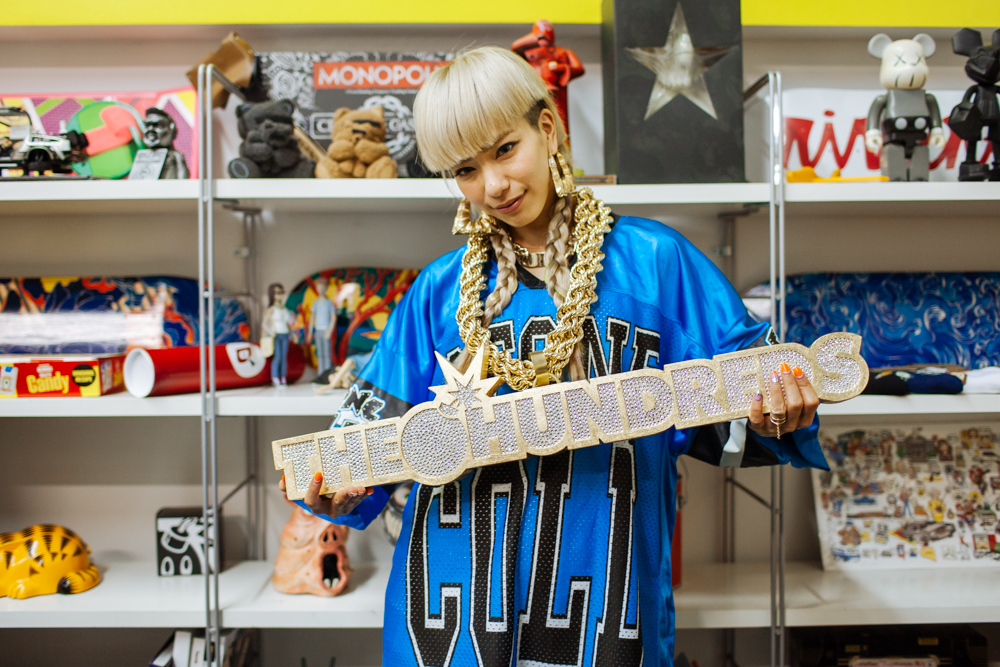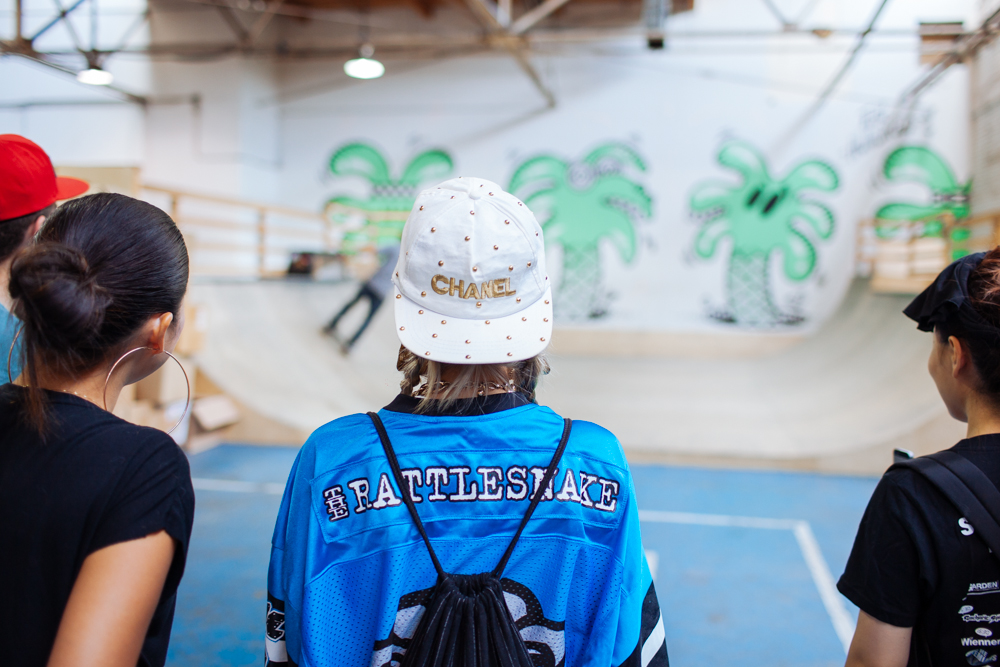 ::
::
From the show with Anamanaguchi at the El Rey: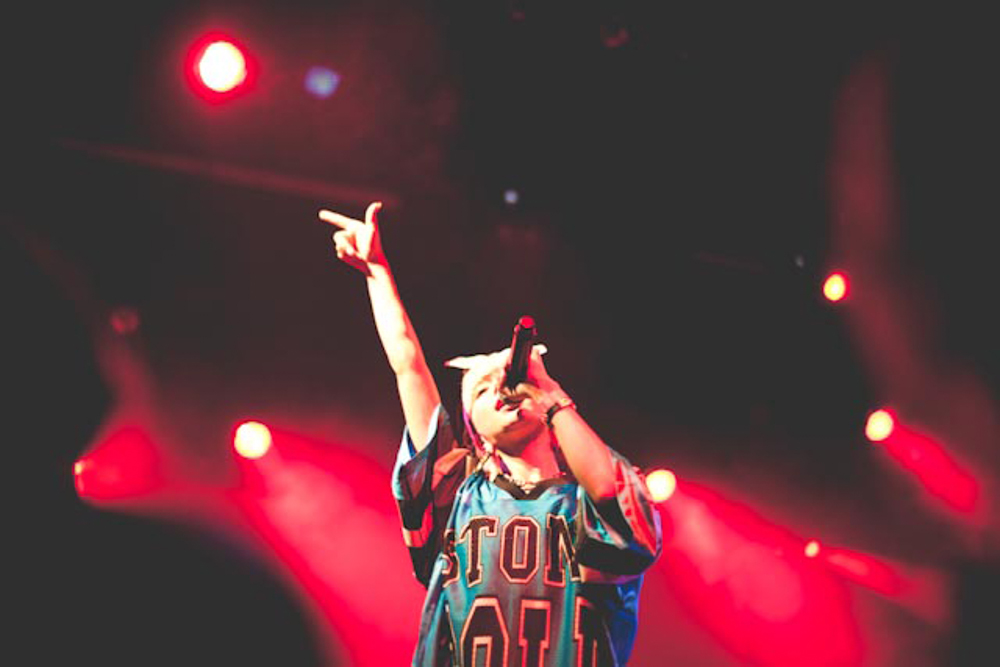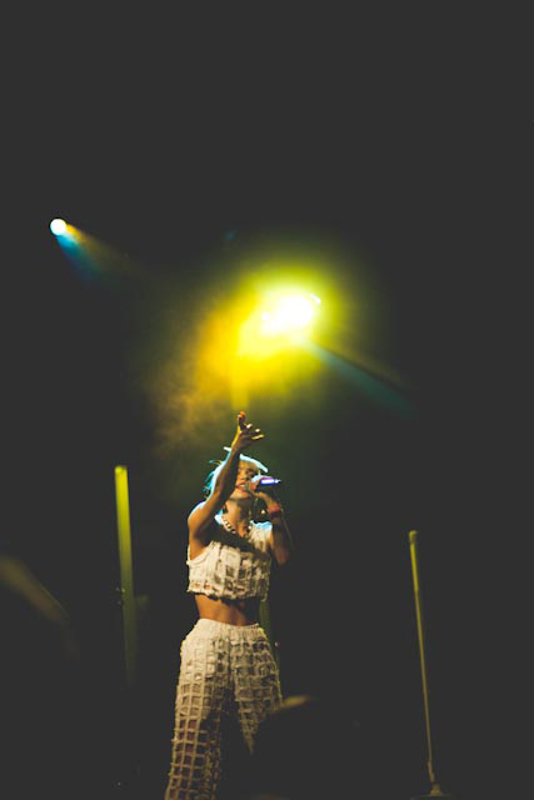 Follow Una on Instagram at @unakinoco and catch up on all her latest videos here. Translation assistance courtesy of Hashim Bharoocha.